Talking in rock and roll tongues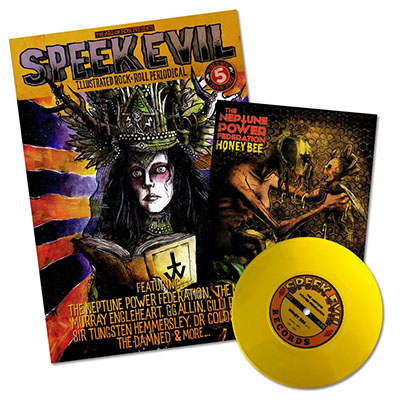 Speek Evil: Illustrated Rock and Roll Periodical (The Art of Fox)
Reviewing what's a visual feast served on paper pages is a challenge at the best of times but who doesn't love a test? "Speek Evil" is neither a zine or a comic – call it a zomic if it makes you happy - because it combines the best of both, and it's chock full of dark imagery and rock and roll attitude.
Which should come as no surprise, as it's the product of the mind and pen of Mike Foxall, late of Nancy Vandal and more lately guitarist in The Neptune Power Federation. Foxall is one of the pre-eminent rock and roll graphic artists of the Sydney underground scene.
He's a member of a club that boasts Ben Brown, Ray Ahn and Glenno Smith, and his imagery adorns the covers of his current band's albums, plus posters and T-shirts for Crapulos Geegaw, King Parrot, Frenhal Rhomb and The Australian Beef Week Show. He's also an animator.
"Speek Evil" is a lavish, full-colour 80-page production printed on high-quality matt paper and is produced quarterly. It plumbs similar cultural depths as "Unbelievably Bad" used to, but with Foxall's own punk rock pre-occupations and peers in evidence. It's up to five editions.
Rather than a plethora of reviews, "Speek Evil" focuses on a handful of topics, a first-person story from a rock and roll luminary and a feature record each edition. So you can dive into what happened in the wake of Robert Johnson selling his soul, how Grindhouse a survived their last night with Lemmy and Ron Jeremy in Los Angeles, and what went down when Gilli Pepper (of Nancy Vandal) met her hero Johnny Teen.
If you're a Neptune Power Federation fan who wondered from where The Imperial Princess Screaming Loz Sutch came, edition five will enlighten you. And if you were unaware of how record propducer Sir Tungsten Dudly Hemmersley changed the course of punk rock history, prepare to become enlightened.
Author Murray Engleheart, Tim Rogers, Ray Ahn and JJ Speedball all get page space. There's sage advice, too, when we're told to listen to '70s Nuge and not the contemporary version.
Visually, "Speek Evil" is stunning, with heavy use of grey tones and a general ambience of decay dominant throughout. Skeletal ghouls and barely there, strung-out caricatures abound. Cop a peek here. The humour is omnipresent and most definitely black.
Originally funded through Pozible with subscribers copping bonus stuff like this Neptune Power Federation single. Hopefully the subscription thing will re-open now "Speek Evil" is on its feet. Keep up with the publishing schedule on Facebook.
Tags: frenzal rhomb, neptune power federation, speek evil, mike foxall, nancy vandal