A personal look back at Rock 'n' Roll Damnation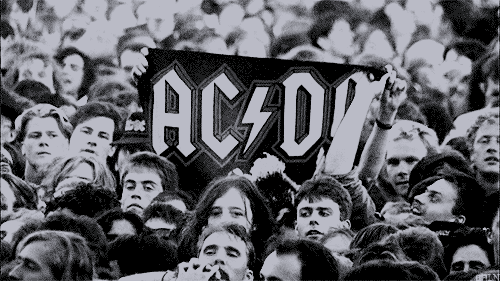 As fans around Australia rejoice at the news of AC/DC's upcoming national stadium tour this November and December it's worth reflecting on how rough, but yet ultimately triumphant, the past 12 months have been for the band.
Almost exactly a year ago whilst working a camera shift for the ABC's 7.30 programme I had the enviable task of working on a story about AC/DC: one of my all-time favourite rock bands. But the feeling was bittersweet: troubling rumours were swirling around about the band's rhythm guitarist and unofficial leader Malcolm Young, elder brother of the more recognisable schoolboy uniform-sporting lead guitarist Angus.

The word was he was suffering from an undisclosed debilitating sickness, rendering him permanently unable to play guitar and therefore leaving the band's plans for a 40th anniversary tour and new album in ruins. The band was to call it a day. Such an integral piece of Australian cultural history: no more?! The 'other greatest rock 'n' roll band in the world' (next to the The Rolling Stones): done and dusted?
That story never went to air on 7.30. True to form the obsessively private and no-nonsense AC/DC never made that expected retirement announcement (in fact the sad confirmation that Malcolm was suffering from dementia only came six months later in the briefest of statements). Later that day, the media's attention turned to another retirement, this one official: the resignation of NSW Premier Barry O'Farrell, whose premature end was brought on in the form of an uneasy relationship with a bottle, not unlike the fate of AC/DC's legendary original singer, the late Bon Scott.
To be fair Barry's problem was singular, Bon's was plural. Barry's: one bottle of Grange, Bon's: an insatiable thirst for Stone's Green Ginger Wine.
A quote that always stuck with me whilst gathering interviews for that ill-fated 7.30 story came from James Young, co-owner of Melbourne's rock venue the Cherry Bar (appropriately situated on AC/DC Lane): "Every kid at some point gets handed a copy of AC/DC's Back in Black album and never looks back: it's like a rite of passage." It got me thinking about my own introduction to the band: seeing the band's video clip for "Who Made Who" on Rage as a five or six-year-old.
Later on my parents took my brother and me to a pop-up cassette sale in Canberra's industrial suburb Fyshwick (infamous at the time for two of AC/DC's favourite recurring themes: fireworks and adult entertainment). We each chose an AC/DC tape. My brother chose wisely with the part-soundtrack/part-'best of' compilation "Who Made Who" while I was lured by the danger of the cover artwork for their follow up release "Blow Up Your Video".
At that tender age, the image of an airborne Angus in school uniform, guitar in hand smashing his way through a CRT television was the ultimate expression in rebellion. These days my own kids of a similar age are being lured in by Angus' infectious riffs and Cliff Williams' and Phil Rudd's stomping rhythms found on the band's latest album "Rock or Bust" (the cover art is still an attraction too: a hologram of the band's logo, perhaps prophetically, exploding to pieces).
Another remembered exchange whilst preparing the story was between myself and a colleague who was gathering stock footage of the band's electrifying live performances. My enthusiasm for the band was not shared: she "just did not get them, Led Zeppelin I can understand - not this!" To which I responded AC/DC is like 12 rounds in a boxing ring next to Zeppelin's rock symphonies of light and shade.
They deal in brutal power: Phil Rudd's snare drum acts as a relentless jabbing to the guts while Malcolm and Angus provide left and right hooks to seal the deal. Taking the boxing analogy further: much like Australia's world boxing champion Lionel Rose, AC/DC took their rising power to the world and conquered it against all the odds. And just as boxing champs like Rose find their legacy ultimately resting on raw statistics: win/loss ratios, championship belts and winning streaks, AC/DC's title as the 'world's other greatest rock 'n' roll band' is undisputed. The numbers prove it.
The aforementioned "Black in Black" has to date sold an estimated 50 million copies - more than any Beatles album, more than any album from the Stones, Zeppelin or just about anyone who isn't called Michael Jackson. Their last tour of Australia is still biggest grossing here over $90 million, selling out multiple football stadium shows in each city they played (the Stones in Australia have since been relegated to smaller arena shows). During that tour the band still proved an ever powerful force on stage, champions still at their peak.
Something else shared between the legacies of AC/DC and Lionel Rose can be found set in bronze. Towering over the Victorian town of Warragul is the imposing statue of the gloved Rose with steel eye determination, fists ready to strike. Across the country in the seaside city of Fremantle, a statue of Bon Scott can be found: microphone in hand, open denim vest, twinkle in the eye, belting out a number.
Another comparison is the iconic film vision from 1968 of the Melbourne CBD in shutdown as more than a hundred thousand people lined the streets cheering on Rose as he returned from Japan, newly-crowned world bantamweight boxing champion. Eight years later in 1976 Swanston Street would again come to a standstill as AC/DC rocked out on the back of a flatbed truck, recording the iconic film clip for their anthem "It's A Long Way to the Top (If You Wanna Rock n Roll)."
Although comparisons to the sport of boxing are not always favourable. Weeks out from the release of Rock or Bust, drummer Phil Rudd was arrested and charged with possession of methamphetamine, possession of cannabis and threatening to kill. Seemingly threatening their comeback, now with Malcolm and Angus' nephew Stevie Young filling his uncle's blue singlet on rhythm guitar, the band have since moved on announcing a world tour (selling out Wembley Stadium in 12 minutes) and have found a replacement drummer in Chris Slade, who previously drummed for the band during the early 90s.
But Rudd is foreseeing a comeback of his own. In a speech given to TVNZ sounding theatrically similar to Sylvester Stallone's fictional boxing character Rocky, making another of his many defiant declarations to regain the world boxing title, Rudd declared, "I want my job back, I want my reputation back, and I'm gonna get it back. I'm gonna fucking take it back. I'm going back to work with AC/DC. I don't care who likes it or who doesn't."
Sadly for Rudd it's looking less and less likely a Rocky-esque fantasy comeback will come to fruition.
What is more likely is AC/DC once again dominating the Australian stage and giving their rabid fans what they want: honest, rocking good times with the some of the world's best known anthems. No-nonsense, blues-based tales of life on the road, wild women and rock n roll. Theirs is a sound that could only have been born in the sweaty Australian pubs of the 1970s and is now known and loved across the world. Long may they ride on.
AC/DC tour dates
Wednesday, November 4 – Sydney
Thursday, November 12 – Brisbane
Saturday, November 21 – Adelaide
Friday, November 27 - Perth
Sunday, December 6 – Melbourne