A trip in the Delorean with The Flaming Hands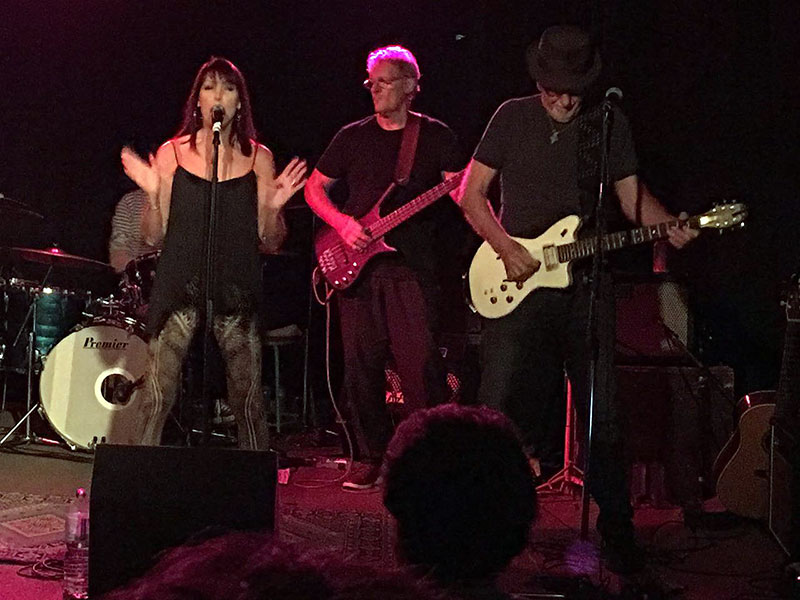 Half of the Flaming Hands: Julie Mostyn, Warwick Gilbert and Jeff Sullivan. Drummer Baton Price is obscured. Murray Bennett photo
In preparation for their upcoming support slot with the Sunnyboys at the Enmore Theatre, the band calling themselves "The Strangers" - aka The Flaming Hands - lined up a show at Marrickville's Factory Floor.
The Thursday night crowd gathering outside the venue contained many familiar faces of gig goers and musicians from what was loosely termed the "Detroit Scene" of the late '70s-early '80s from which The Flaming Hands emerged.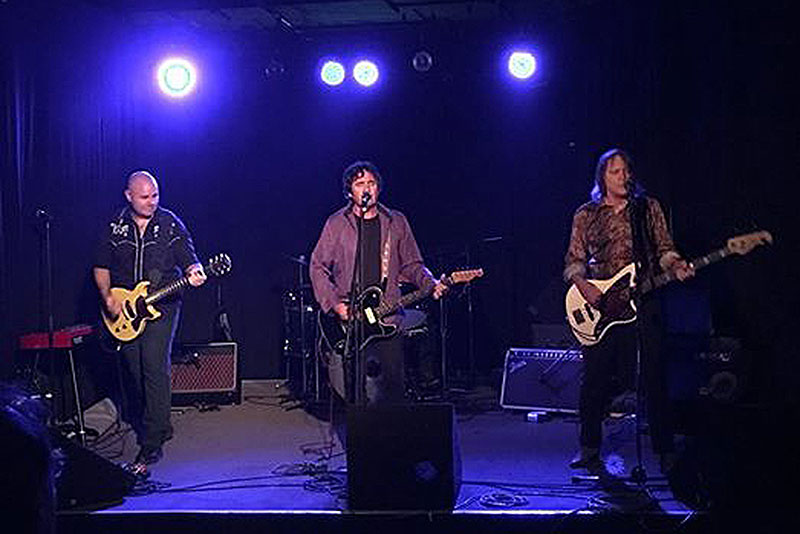 Jon Roberts, Glen Morris and Clyde Bramley of The On and Ons. Murray Bennett photo
First up, The On and Ons, who were not quite at their blistering best, compared to the sizzling Newtown Social Club set they recently delivered, supporting Even. This bracket was marked by the introduction of more of the new material they have for their upcoming second album. The new songs appear to be less straight ahead "classic power pop" than the older ones but they contain a diversity in tone, so their sound is evolving nicely.
Happily, in contrast to my previous criticisms of the mixes given to bands at this venue in the past, the mix was fine and neither bass heavy nor overly loud.
The Flaming Hands took to the stage, after a few selfies and group shots supervised by a certain Celebrity Roadie . The first impression was how Julienne Mostyn Gilbert looked rudely healthy and had barely aged. Had I hopped into the Delorean and gone back to the Rock Garden or Brownies?

Her voice was just as I remembered it too, a fine blend of soul and pop influences. The band seemed a little hesitant at first, easing into the set and the mix of some instruments wasn't quite there. While this line-up is bursting with experienced players, Peter Bull (ex-Paul Kelly and The Messengers among many), Barton Price (ex-The Models and others) and Warwick Gilbert (ex Radio Birdman, The Hitmen and more), there is nothing like the test of a live show to really hear it all gel together.
Once the sound was sorted, however, and the band relaxed, they began to really cook along, with "The Stranger", the B-side of their first Phantom release, being a particular highlight. They concluded with the classic (to my mind anyway) "Love Execution", a song, which had its roots back in The Passengers, and it was back in the Delorean again to 1980 and 1979. Bliss!

The set contained new material as well as old favourites and perhaps this may point to more gigs and recording to come? We can only hope.
Tags: live, sydney, on and ons, flaming hands, factory floor