Anne McCue live at Django Bar in Sydney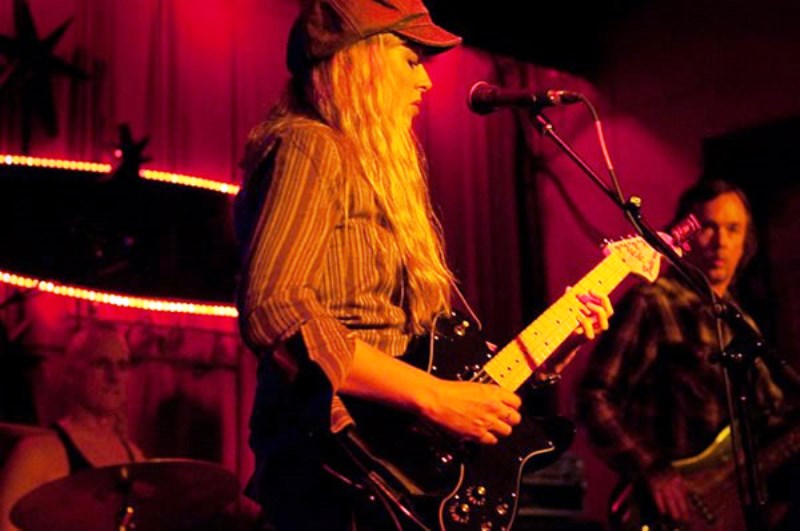 Jill Stokesberry photo
If I was to choose a Sydney venue for the launch of Anne McCue's remarkable album Blue Sky Thinking, it would be the Django Bar.
I was aware of the venue upstairs, Camelot, as one of the better bars in Sydney's inner-west for the last few years The Django bar is downstairs and it is everything Django. Django sculptures Django oil paintings, Django drawings - such a Django Rhineheart vibe.
I was so early for a gig (7.15pm) and already it is packed; I knew was a sell-out but this was so startling. Even at that time I was able find a seat way at the back of the venue with mid-'70s Tom Waits footage on a large screen, blaring across the room. There seems to be big expectations for this show.
Unfortunately an Anne McCue gig in her home town in Sydney is very rare these days. Anne has now found an international audience and spends her time touring and recording between her home in Nashville Tennessee, LA, Texas and Europe. The last time this minstrel was here was almost five years ago at an equally sold-out Notes in Newtown
Just before 8pm, support Clare McCallum with guitar player Cam Kinsey take the stage; Clare has a mighty set of lungs with musical theatre background. Her set began with the Kurt Weill "Alabama" song, closer to the original then the Doors version, and then floated between a few jazz standards and even a big Southern country holler.
The highlight of her set was covering headliner Anne McCue's song, "The Light of Day", a sensitive and heartfelt interpretation with tasteful guitar from her companion Cam. I would have liked to seen a few originals slipped in this short set, and surely these will come with time. Very good.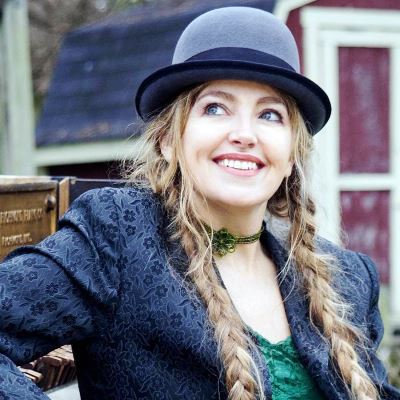 "Driving Down to Alvardo" from Anne's third album "Koala Motel" is a driving rootsy rock song and opens the headliner's set. The sound is crisp and clear, with Luke Herbert on drums and Jonathan Zwartz on double bass "I Want You Back" is a perfect song with folk overtones, and it's now 13 years since her album "Roll" was released. This song was a breakthrough. Sounding fresh, with Anne's vocals startling: It's not hard to work out why Lucinda Williams became a fan of Anne.
"Stupid" is live perfect alternative country rock song: intelligent, with melody plus and again driving. We here to here for the launch of "Blue Sky Thinkin'" which is a real departure from her previous record. An album that is her ode and personal search of Pre-WW2 music with such a startling mixture of influences from New Orleans swing and Delta blues to jazz. Pure class. The album's dominated with some the best players from Nashville and LA, and layered with many instruments and it would be interesting see how this would be undertaken with a stripped-back band.
Nish Manjunath jumped on stage on clarinet and saxphonne: and the album launch begins. "Things You Left Out In The Rain" is a brilliant ballad with that Southern swing and a soulful vocal performance that is even stronger then on the album. Mark McCue joins her on stage for another album highlight. "Devil in the Middle" has the band in full flight with exceptional double bass work by Jonathan Zwartz.
Anne grabs her piano stool and sits down. I recalled from a few years back how blown away by McCue's take on the Delta:blues and her deep understanding of this earthy roots music: many can play the notes and the slide. Anne feels the notes.
The slide cries and bellows, and often when it emerged in the 1930s it was picked up by Southern musicians who heard the Hawaiian sounds and adapted them, calling it the crying guitar at the time. Many years ago I was in small intimate café and sat and listened to the master of folk blues, Rambling Jack Elliot. Much of the set was story telling. That it is part of the folk and Americano tradition.
Explaining her next song, Anne also masters the events around the writing of her songs and characters: this is part of performance she has crafted with her warm and humble interaction, engaging her audience with her story-telling and a bucketful of humour. It would be rude not to listen to McCue song, as explaining the meaning. "The Milkman's Daughter" Anne opens up with tales about her childhood and her family with her personal introductions of to the blues.
"Hangman" is pure Delta with ghost of Son House and Charlie Patton sitting withing her lap steel. Refined and perfectly played and Anne's natural bluesy vocals and performed with integrity.
The set returns to several more tracks from her recent album including "Knock On Wood." Nish Manjunath contributes exception smokey, get-down, sax playing and a solo. Anne is an exceptional guitar player - anyone who witnessed her interpretations of Hendrix songs in the past realises that she was a master apprentice and exceptionally confident. At this point of the set., her amp begins to overdrive and starts fall apart. Anne soldiers on, ending with several extended guitar work-outs and some driving rock songs.
After a standing ovation, Anne returns to the stage and does a version of "Cowgirl Blues" as her encore song: sweet romantic and cool way to end her two-hour set. What made this performance so exceptional was the fact Anne could have been the main act at the State or the Encore Theatres: even with humor and intimacy, there was a professionalism that really sets apart from your day-to-day gig. It didn't matter how many people were in room: she delivered an exceptional, seriously high standard gig.
The mythology of the Blues; the legend of the cross roads. A young Robert Johnson hung out with the local blues man of Charlie Patton and Son House already established and seen as the sound of Delta blues in the early 1930s. They knew the kid had talent but, damn, he would always break their strings on their guitars. At one time he disappeared; hit the road for years. He came back like a demon possessed he has played like no other and was light years ahead of them with his playing and where he took the music: in fact, he developed a style that would be foundation of rock n roll. It was said how this happen he was as the crossroads and he sold his soul to the devil play like that.
Well, I am pretty sure Anne McCue has not sold her soul at the crossroads. Maybe in reality like Johnson it is based on years of practice. Her's is raw talent and gig after gig, with intense dedication has made her so damn good. And supreme at her craft.
Tags: live, marrickville, anne , mccue, django, blue sky thinkin'