HITS + Bitter Sweet Kicks + The Heartbrokers + James McCann & The New Vindictives + La Bastard
The Tote, Collingwood
Friday, February 18, 2016
Caroiine Burston photos

It probably took until World War I for the relationship between Australia and France to be properly forged: Australian troops found themselves in the blood-stained fields of northern France, holding the line against the German troops trying to execute the Schlieffen Plan and overrun western Europe.
There are still villages that bear plaques erected by grateful French citizens celebrating the efforts of Australian soldiers during those horrendous times; there are more Australian bodies buried there than any other location outside of Australia.

But the contemporary rock'n'roll relationship between the countries is a different creature – sorry, beast – altogether. Rock'n'roll in France is a niche interest, celebrated with all the national pride of a serve of English fish and chips. But over in Rennes, a few hundred kilometres west of Paris, can be found Beast Records, a haven for French rock'n'roll fans, and a passionate patron and supporter of Australian rock'n'roll for the past couple of decades.

Seb, the founder of Beast Records, is in Australia for his regular trip down under to sample the local musical wares. Like his last visit a few years ago, Seb's Australian friends have leapt at the opportunity to provide Seb with a two-day festival of the loudest, toughest, dirtiest and best local rock'n'roll, at Melbourne's spiritual home of rock'n'roll, The Tote.

Friday night is split over two stages: a tiny make-shift area in the corner of the front bar, and the main band room out the back. We arrive mid-evening, in time to catch the last part of La Bastard's set in the main band room. The band lurches between silt-laden blues and rich Memphis soul, while Anna Lienhop's emphatic vocal style would cause Berry Gordy to squirm with excitement. It's music delivered with enthusiasm and passion and the barest hint of theatricality.

We navigate our way back to the front bar where James McCann and his recently minted New Vindictives are setting up their gear. McCann came out of the same Perth garage-blues-rock hothouse that begat The Drones and the Kill Devil Hills; after splitting with the original incarnation of The Drones, McCann spent some time in Sydney, enjoyed a modicum of Triple J success before re-locating to Melbourne where he's conceived, fostered and discarded bands with Rod Radalj-like consistency.

With the New Vindictives, McCann's taken a turn toward a harder rock edge. His backing band includes the brilliant – and enigmatic – Tim Deane (Ron Peno and the Superstitions, Hired Guns) on guitar and a bloke who looks a helluva lot like Tim McCormack (ex Downhills Home) on bass, but turns out to be Dan Sullivan. McCann has a rock'n'roll sensibility like few others, the garage rock equivalent of a boxing ring serenade with Muhummed Ali and a late night fracas with Joe Frazier.
McCann tears a new arsehole in Spencer Jones'" Life in Jail"; McCann looks across toward Spencer, who's seated against the wall and pays tribute to the rock legend. Spencer hasn't been well of late, and he spends the evening greeting well wishers eager to see him back to his best, and back on stage.
McCann pummels through a profanity-laden, self-deprecating track written originally in the throes of nocturnal excitement while on tour in Europe, before inviting Penny Ikinger up to lead the band through another Spencer track, "Trick My Boat". Rumour had it that Spencer might get up and play, but he remains seated, his appreciation shining through his weathered face.

Half an hour later we're back out in the band room, ready to see Van Walker's most recent outfit, the Heartbrokers. Van Walker is Melbourne rock'n'roll's man for all occasions. On any given night you can find Van picking country folk tunes at the back of a Brunswick watering hole, mining the silt of Delta blues in a dingy makeshift North Fitzroy venue or surfing a wave of powerpop at a Collingwood hipster haven. We haven't seen much of The Swedish Magazines for a while, but we can always hope.

While the name of Walker's newest band might suggest a nod to Johnny Thunders' smack-addled proto punk rock, Walker's Heartbrokers take their cue from the Rolling Stones' early 70s southern-fried boogie-and-country-tinged rock'n'roll. Every song is a potential hit, and every moment could be the best time you've ever had in your rock'n'roll life.

Apparently there's an album in the wings; a smart man told me on Friday night that it could be the best record you've heard. And even if it isn't, you should get a copy.

Bitter Sweet Kicks have been off the scene for a while due for logistical reasons – mainly, the re-location of key members overseas. Tonight the Kicks are back and it by fuck it's a welcome return. Every time I see Bitter Sweet Kicks I wonder if they were as good as I remember – and within a few minutes, I realise my fond memories were understated.

According to legend, Bitter Sweet Kicks were discovered by Spencer Jones one afternoon in St Kilda, and from there became the heart and soul of the decaying St Kilda scene.

Lead singer Jack Davies is a maniac, flailing his body like an amphetamine-ridden circus performer. Tom from local band Sheriff turns up on guitar, and the Kicks' original drummer (name eluding me again – it's that sort of night) is back on the drum stool after leaving the band before it went on hiatus. Johnny Kicks keeps his kit on for the first time in a while, though you get the sense he's keen to challenge local decency laws for the hundredth time. This is brutally good rock'n'roll, picking up by the collar and pinning your spindly frame to the sweat and beer-stained walls.

It's not clear if the Kicks will play again soon, but absence makes the heart grow fonder.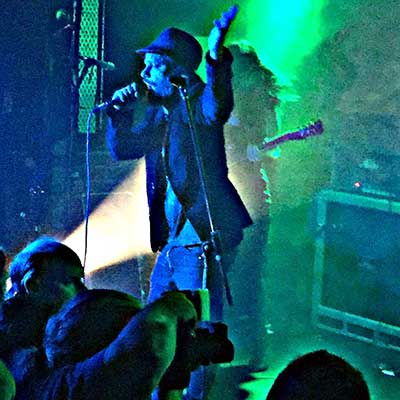 And then there's HITS. Is there a better rock'n'roll band in Australia? This is a band that has everything: songs, attitude, intensity, arrogance, empathy, musicianship. The inimitable Dick Richards out front, his pork pie (augmented with what appears to be an anarchy symbol stuck on his forehead) giving the appearance of the Lord of the Dirty Rock Pig Manor.
Every song is a confessional, an expose into Richards' tortured rockn'roll soul. He's got the thousand yard punk rock stare – is he re-living the pain or preaching redemption to those who might follow his plight? We're transfixed, and no-one's leaving here alive.

The fact that HITS are blessed with two of the most potent guitarists on the planet in Stacey Coleman and Tamara Bell is simultaneously significant and irrelevant. It's significant because, as a general statistical observation, not that many killer rock bands have two female guitarists – a statistical musing that merely serves to highlight the latent and overt misogyny of rock'n'roll. But it's irrelevant because gender identity doesn't make jack shit of a difference to the utter brutality of Coleman and Bell's attack.

It all has to end at some stage, and around 1.30am it does. Dick Richards has left the stage by now, taking his usual leave in the final stages of the set, from this rock'n'roll place to a place of rest. The band continues for a few more minutes, and Bell and Coleman jam the night out to its Velvet Stooge conclusion.
In a text message earlier in the day James McCann promised me tonight would be special. And that it was.