Celibate Rifles
Leadfinger + Circus Chaplians
Carmens Miranda, Sydney
Friday, March 17, 2017

Celibate Rifles
Circus Chaplains + The M-60s
Narrabeen RSL, Sydney
Saturday, March 18, 2017

Shona Ross photos
First, Midnight Oil would be taking to the stage at Narrabeen as unannounced guests of the Rifles, warming up for their world tour.
Kent Steedman's connection to the Oils via membership of Jim Moginie's band, The Family Dog, was one clue. The other was the rumoured inclusion on the bill of "a bunch of old blokes" going by the name The M-80s ("the mateys".)
Numerologists/conspiracy theorists could extract the "M" and the "0" from that band name and come up with an approximation of Midnight Oil's initials.
Seems legit.
The second rumour was that these shows would be the last for the Rifles, due to general malaise and some ill-health on the part of one of the members. More on that later.
But first to Miranda where people going to shows featuring original rock and roll bands in a local room is a distant memory.
Back in the '80s, Carmens was one of the best live music venues on the south side. The place was a nightclub on Fridays. Every Saturday night, however, was independent music night and the likes of the Saints, Died Pretty, Wet Taxis, Trilobites, Lime Spiders and many more "owned" this room.
That hasn't been the case for many years. Caringbah Inn, Cronulla Workers, the Sutherland Royal, Cronulla Leagues and Sylvania (aka Promises) joined Carmens on a circuit of Shire venues that fuelled a vibrant local music scene.
Times have moved on and you'll be lucky to find a live band that doesn't play 20 cabaret hits at restrained volume in the notoriously insular Shire nightspots these days.
The Shire rocks, no more.
Tonight, MIranda pub's front bar is the appointed assembly place and it's like half the rock and roll fraternity from Sydney's inner-western suburbs were granted visas and made it through passport control to be here.
Rifles shows are far between and special people are making an effort - even with The Shire regarded as being a long way from most homes. Quite a few of the blow-ins were relieved to have made it past Checkpoint Charlie.
Circus Chaplains are the opening band and are playing to an already good-sized crowd by the time they hit the stage. A northern beaches four-piece who formed two years ago, they already have two EPs out (reviewed here and here.)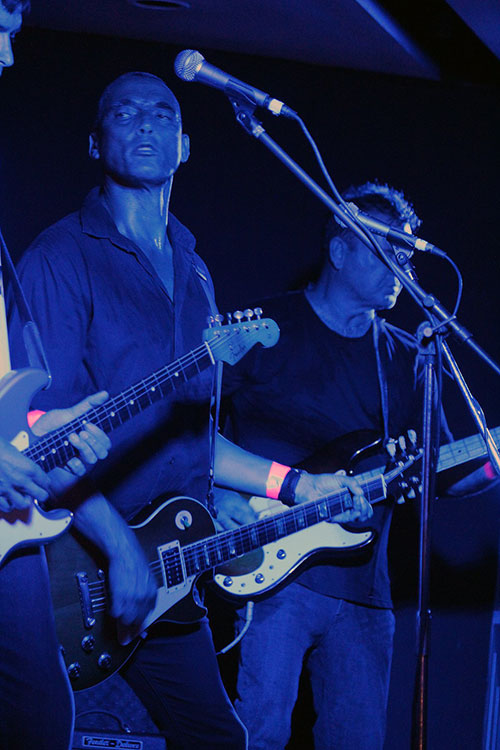 The Circus Chaplains.
Veteran guitarist Phil Van Rooyen (Panadolls, Fruitworld and currently Chickenstones) handles most of the vocals with Luke Lovelock chiming in now and then. Mark Bevan and Peter Bourke (bass) form a capable engine room and the band plays dirty, Detroit-inspired rock and roll. They're confident and rocking with Van Rooyen and Lovelock (yes, Damien's son) peeling off some fiery leads. This is a band well worth your trouble looking out for.
Leadfinger has the main support tonight and it's a fair bet that many in the by now near-capacity crowd are seeing them for the first time. Their last appearance at the nearby Sweaty Betty's room in Miranda RSL drew a paltry handful of the faithful, so there's a sense of that wrong being righted tonight.
It's been said many times here that Leadfinger are one of the best rock and roll bands in the country and they play with intuitive ease, born of hundreds of shows up and down the Australian East Coast and as far south as Adelaide. Tonight is like most of their shows - spirited and full of soul, no matter what size crowd they're playing.
Favourite moment: A very rocking "The Man I Used To Be".
By the time the Rifles make their way to the stage the crowd is packed in so tight you couldn't drive a 10 penny nail in with a sledgehammer. It's just like Old Times in The Shire.
Also like Old Times, the odd fuckwit is being dealt with by bouncers for pushing the already surging crowd. It must also be said that it's a very geriatric mob squeezed in here, cheek to jowl. There might be plenty of dry eyes in the house but there's no shortage of grey hair. At a rough estimate, the audience is 90 percent male.
The Rifles announce their arrival with some ragged chording and the energy levels jump up a notch.
The Shire is one of Sydney's bible belts so it's as good a place as any to play "Jesus On TV". They then make their way through a 90-minute set of mostly older material, laying waste to the room with only the occasional pause for breath.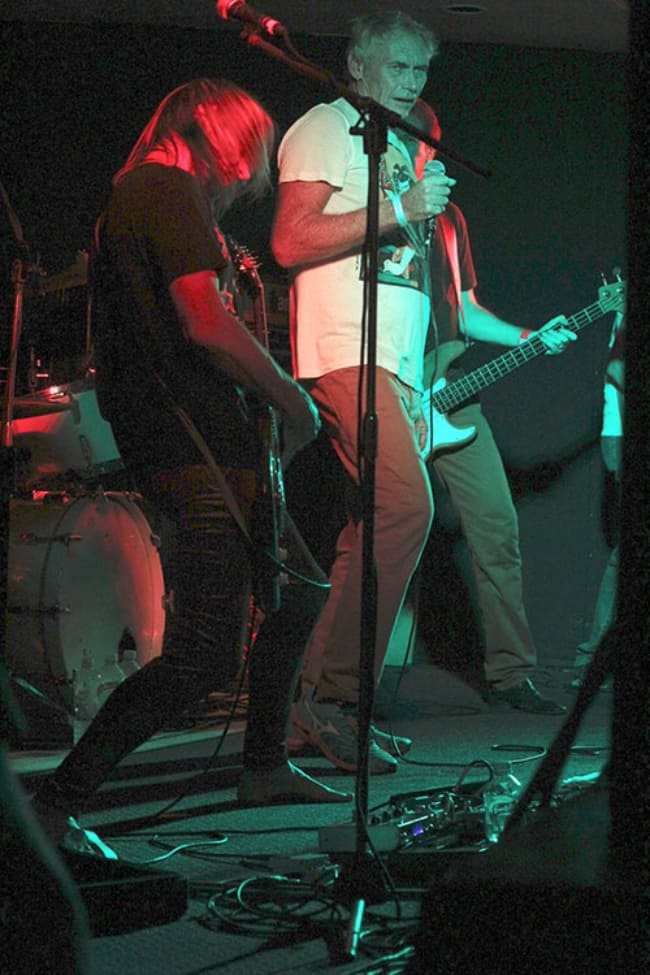 Kent and Damien.
Damien Lovelock is rock and roll's driest wit, making droll observations how it had been 30-something years between Celibate Rifle shows at Carmens and maybe the bookers were waiting to see if they were good enough to have back.
The Ken Steedman-Dave Morris partnership remains a stellar thing of sonic beauty. Steedman might seem to dominate but appearances are deceptive. The Rifles wouldn't be half as potent without Morris's weaving licks and awe-inducing tone.
Did you ever think you'd hear the Celibate Rifles of 2017 playing "Killing Time", the pointed opening track from their 1983 debut album "Sideroxylon"? Me neither but it's in the set tonight and it powers. The sardonic "It's a Wonderful Life" is dedicated to Damien's son (ouch!)
"Back In The Red" brings up the rear of the set in devastating form but for me it's "Electravision Mantra" that's the essence of a Rifles show. Just unadulterated rock and roll churn, accentuated by the rolling rhythm and Kent's choppy accents. It hurtles like a runaway freight train riding a rise-and-fall wave of power.
This was a special show that made going deaf pleasurable - all over again.

The Oils rumours just won't die online and the House Full sign is up at Narrabeen RSL on Saturday night. Apparently, Jim Moginie is in London so they were never going to front. I'd like to think the Cellies would sell out on their own reputation anyway, and I'd probably be right.
So here's a tip: If you ever go to Narrabeen RSL, take a GPS. If you don't have one, make sure you leave a trail of breadcrumbs. It's one of the most unlikely locations for a rock venue in Sydney. Whenever I go to the Northern Beaches I feel like I'm in the Shire, but with zoning restrictions, and high rise -free Narrabeen winds the clock back a few decades.
The RSL is deeply nestled in suburbia, ringed by well-to-do weatherboard houses and down a street that's barely wide enough to drive two small sedans at the same time. You can't even get a decent 4G signal. It's a quaint step back in time once you're inside, with pokies and pokey little bars, plus a 350-capacity band room, with the ambience of a large surf club hall.
Long may it remain so. It beats a yuppie ferns-and-polished-wood brasserie every time.
The openers take to the stage. I'm not sure if they're called The M-80s or The M-60s. Allegedly, it's the latter, I'm told, because nobody in the band is aged under six decades but I take that with a grain of (sea) salt.
If Carmens Miranda was a trip back in time, Narrabeen RSL is even more so; it's like returning to the community halls and surf clubs where kids not yet old enough to get into pubs regularly got their kicks with equally underage punk acts. At least they did around Cronulla.
The M-80s/60s could have been plucked straight from one of those shows, give or take 40 years, a few grey hairs and lots of laughter lines. Their cover-heavy set is Ramones-like in its approach ("Rockaway Beach" even gets a guernsey) and well-executed for the most part. There's a big-arsed take on Neil Young's "Rockin' In The Free World" just to mix things up. It's not so confounding, however. Most Sydney garage bands of a certain vintage had a Neil song in their set list.
If it's punk with a Birdman/Rifles bent and that's no surprise. This is how bands used to do rock and roll around Sydney's beaches. It's very much a family-and-friends audience in attendance at this stage and isn't that ex-Rifles and Mushroom Planet member Phil Jacquet on drums? It's all good fun.
I missed a fair chunk of Circus Chaplains tonight due to a pressing need to rest weary limbs in one of the bars. The Celebrity Roadie and I also had to plan our forthcoming reality TV show (working title: "Band Rescue"), but what I did catch confirmed the previous night's positive impression. The first hint of rowdiness in the now jam-packed room comes as the Chaplains slide into a razor sharp version of Birdman's "I-94". Security deals with the punchy antagonist and it's back to rocking business.
Tonight's crowd is younger than the previous evening and more gender-balanced. It's probably running 70:30. The fuckwit factor seems lower. Crowd surfing, on the other hand, hasn't gone out of vogue up this way and the Rifles are barely out of first gear before it starts. Call me old fashioned but if you want to make a spectacle of yourself on a stage, join a fucking band. Your stupid, attention-seeking face deserves to find a home on the hardwood floor.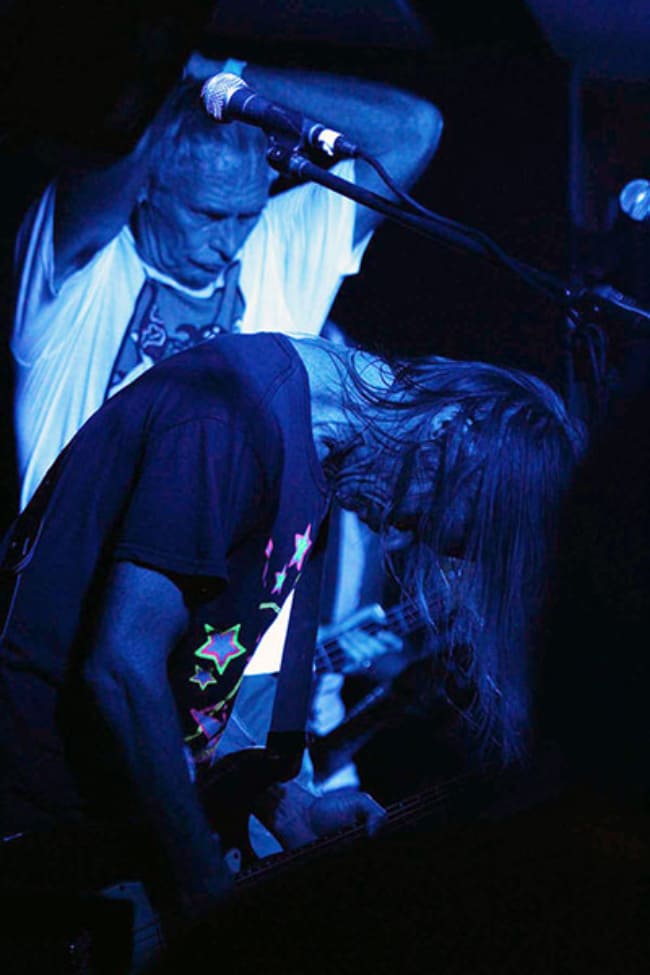 What a set. The song list mirrors last night's with a heavy emphasis on old material. "Buttland" is the most recent tune. Who can resist the groove in "Johnny"? "Ocean Shore" is tonight's jaw-dropper. The latter is either a toilet break or a magnet for the guitar afficiandos to admire Kent's prowess while he sets the controls for the sun in the free-form passage in its second half.
It's a deceptively constructed song, at least on the surface. It crawls along and Lovelock's dark, atonal vocal makes way for howling sheets of distortion from the guitarists. It's Kent Steedman's signature moment, swathed in delay and feedback, and he coaxes bent notes with a pump of a bare foot on his wah-wah pedal.
The Rifles truly are a force of nature. No band does what they do better. It's intense yet casual, opinionated and sometimes wry. The band members' enjoyment is as obvious as that toothy grin on Damien's face. There's no more musical drummer than Paul Larsen-Loughhead, as The Celebrity Roadie observes, and Jim Leone is an Andy Shernoff-like presence with his busily melodic bass-lines.
There's not a dissatisfied face by the time the light go up and the amps cool down. Except for the middle-aged drunk who was turfed out and can't get an Uber ride home. (No, it's not me.)
And that rumour that the jig is up? No way, Jose. Damien reveals that the Rifles have been writing and recording and plan to get a new release out, one of these days. Now that's better news than a secret Midnight Oil show.