Dig It Up! Hoodoo Gurus Invitational 2013 in Melbourne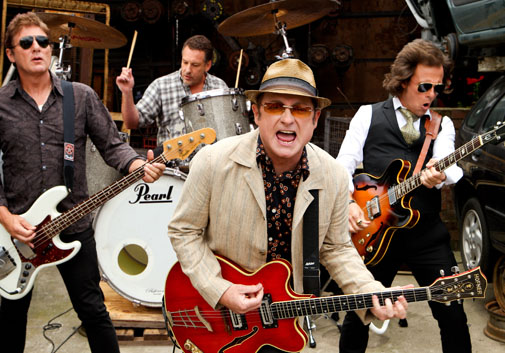 Rocked up to the Palace in time to see The Stems. Dom, Ash et al nailed it, with just the right mixture of volume, stage presence, and of course, great songs. They make it look easy, but that's due to starting a long time ago, and continuing to keep us happy, due to the "lerv" of the music they play, and those pesky bills. Spied Compleat Angler shop owner Chris Baty in the crowd next to me, without his customary fishing tackle in- hand - so I knew I was close to the bar.
April 25, 2013, The Palace, St Kilda
The break before the next band allowed me to nip next door for a brisk pizza/beer/wine combo, while watching the story of the Magpie demolition – it certainly helped my stomach settle.
The Buzzcocks came on, and I left two songs in – I only knew "Ever Fallen in Love?", and Shelley's solo effort "Homosapien", so I checked out Roland S' younger brother, Harry Howard, upstairs in the Attic Bar, with Dave Graney on bass, and Clare Moore on drums. Edwina Preston on keys and backing vocals rounded out the sound, which had a distinctly post-punk, 80's edge – angular guitar and keyboards over cryptic lyrics, with plenty of sardonic comments in between songs.
Nipped out again. This time, to the Spleen Bar, to catch Super Wild Horses, who'd been a delight at BDO a couple of years ago. The small space was too full to allow me to get to the performance area, so I settled for watching a broadcast on the TV at the bar. Very comfortable way of doing it, although I ended up having a chinwag with various punters (local and/or Adelaide) rather than concentrating on the girls performing.
Decided to give the Groovies a miss (hadn't got into them, either), as I was really here to see Mickster, Off The Hip record shop and label proprietor, play in his resurrected Sydney band The Crusaders. The place went off! Sporting their trademark eye masks and Crusader tunics, the boys pummelled out song after song, with appropriately self-deprecating remarks about last visiting Melbourne in 199? in between. Fans old and new, young and old, pissed and pissed, threw themselves around with abandon, and lots of energy, considering it was only Thursday night.
Back downstairs for Blue Oyster Cult, who I first encountered in the '70s via "On Your Feet or on Your Knees", courtesy of my old music sounding board, Mr. Heaphy. The fanatical fans, who'd waited decades for them to travel down under, ensured that anyone near the stage was swept up in the 4-axe front-of –stage assault (3 guitars, one bass) and transported to BOC music heaven. Smiling faces, pumping fists, and high-fives were the order of the day, and I left suitably impressed.
One last trip up the stairs to see Peter Case in solo mode. This guy was a bona fide troubadour - strong growling voice, great guitar and harmonica licks, minimal between-song patter. A fitting entree to the main course, downstairs.
The Hoodoos showcased "Mars Needs Guitars" this year, but it didn't really matter what they played. I can't imagine them doing anything less than a fun, groovin' rock show. "Kamikaze Pilot" and "Poison Pen" were the ones that stuck in my blissful brain cortex, but the entire show was a journey into that land that you dream of as a kid when you are staring at the clouds and the dinosaurs are eating the schoolkid bullies while giant cats consume crap TV programs. And I was only on vodka and lemon.
A great day was had by all. Coming assignments are Babba and Creedence Clearwater Recycled, re-enacting past glories at the Watsonia RSL!
Tags: blue oyster cult, dig it up, buzzcocks, peter, hoodoo, gurus, case