Dishing the Lachlan Valley Dirt on a Sydney Saturday night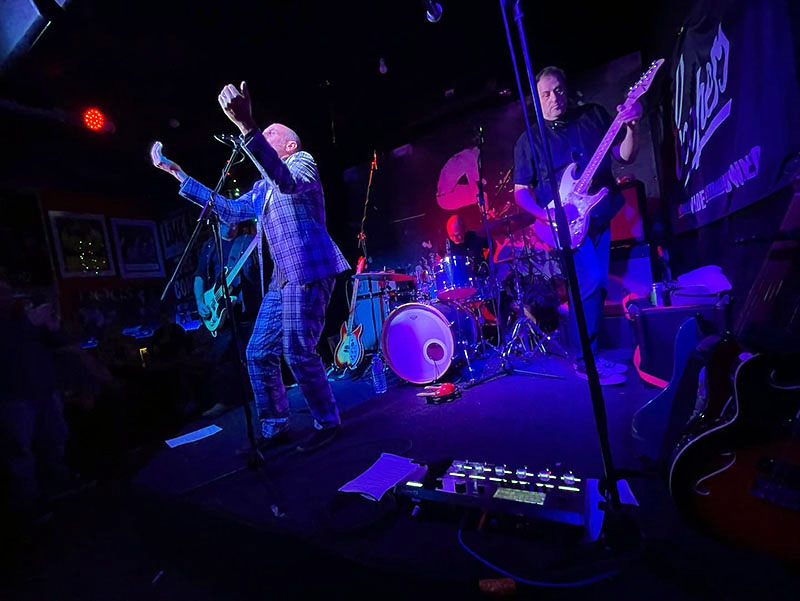 Joeys Coop.
JOEYS COOP
+ THE SMART FOLK
MoshPit, St Peters, NSW
Saturday 26 March, 2022
A Sydney night of intermittent rain stifles the post-COVID nightlife revival. Or so it seems. The Best Little Small Bar in Sydney, The MoshPit, has other ideas - and so do Joeys Coop and supports The Smart Folk.
It almost goes without saying that pandemic lockdowns have put obstacles in the way of everything. Joeys Coop put the release of their second album on ice and tonight is the Sydney leg of a much-delayed world (read: New South Wales) tour to launch "Lachlan Valley Dirt" at The MoshPit in Sydney's inner-west.
The impacts of the dirty little virus live on. A whole bunch of MoshPit patrons who were at the King Street Crawl gigs a fortnight before were taken down by it. An unrelated infection forced The Smart Folk to play the Sydney Rock 'n' Roll & Alternative's Sixities Stage without bass-player Keith Claringbold.
Tonight's news is that another wave of COVID infections and the seven-day isolation rule has shut down a two-band bill at the nearby Golden Barley Hotel. A few punters and unaffected band members make their way to this show.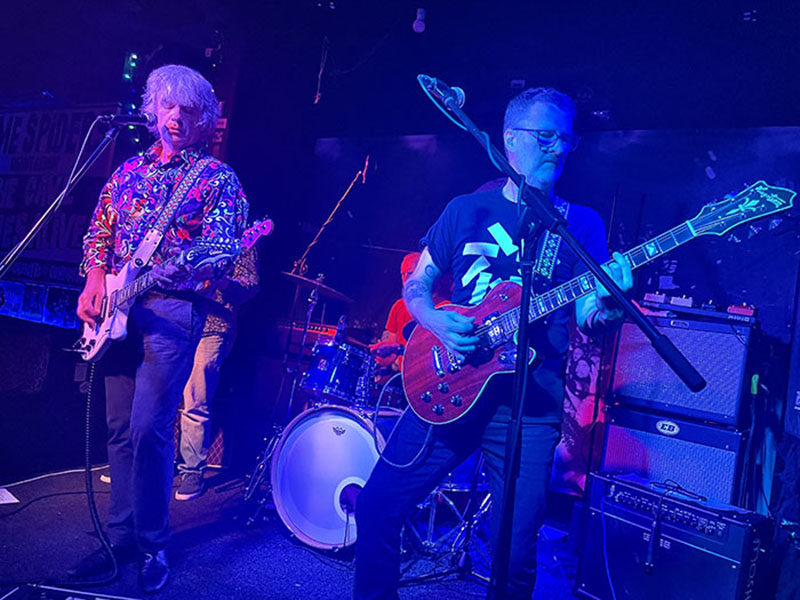 Pete Kowal and Chris Newton of The Smart Folk.
The Smart Folk kick off the evening with a nicely paced set of their mod and psych-tinged pop and roll. The band has a debut EP and album behind them, but sometimes their live sets lack variety. Not so much tonight. They sound lean and keen. New drummer Peter Timmerman has injected fresh life into the ranks and the new songs aired tonight bode well for their next release.
Highlights are "Not Quite a Match", the single "Shadow Of The Panther" and "Foreign Affairs" which all provide ample jangle and groove.
Mark Roxburgh formed Joeys Coop after the shit-show dissolution of his old band, Decline of The Reptiles, with the express aim of playing with people he'd always wanted to. Top of the list was Died Pretty guitarist Brett Myers and the duo is the song-writing core of the line-up. Also there from the start was drummer Lloyd Gyi.
Along with Leadfinger's "Black and Silver," Joeys Coop's "Lachlan Valley Dirt" is in a dead-heat for THE best release of this year so far. Thjis was their launch and it was always going to belong to Joeys Coop.
Maybe it's the fact the album is finally out or pent-up frustration from not playing out much, but the band proceeds to deliver a stunning show. Ten of the 13 songs in the set come from "Lachlan Valley Dirt". If anyone in the now swelling crowd has a problem with that, they don't show it.
The players focus on sound and aren't carried away by volume. The intimate nature of The MoshPit plays in the band's favour with every sonic nuance clearly heard.
Roxburgh's (still) one engaging frontman and his energy burns fiercely tonight. He's never sung better and his banter is on the mark, too.
Myers, whose speciality these days runs to rare four-string guitars, replicates the range of alternately warm and distorted tones he brought to the record, and he peels off some spectacular trademark leads.
The new songs seem to be more economical than those from the predecessor album, "Service Station Flowers". There's an undeniable similarity to the sound of Died Pretty circa "Trace" or "Lost" in what Joeys Coop does but that's hardly a negative (or surprise) with any band boasting Brett Myers and his distinctive sound.
Lloyd Gyi lays down immaculate feels, and adds percussive accents in all the right places, resorting to mallets and then twinned sticks at one stage. Roxburgh refers to him as "our Charlie (Watts)" - and he's not wrong. He did equally well as Died Pretty's fill-in on last year's disrupted national tour.
And bassist Marc Lynch might be dressed like Jed Clampett's neighbour from back home in Bug Tussle, Missouri, but he masterfully cajoles that Rickenbacker bass to sing its own sweet, low-end songs.
Already one of the gigs of the year.
Tags: joeys coop, brett myers, mark roxburgh, lloyd gyi, the smart folk, moshpit, lachlan valley dirt, marc lynch