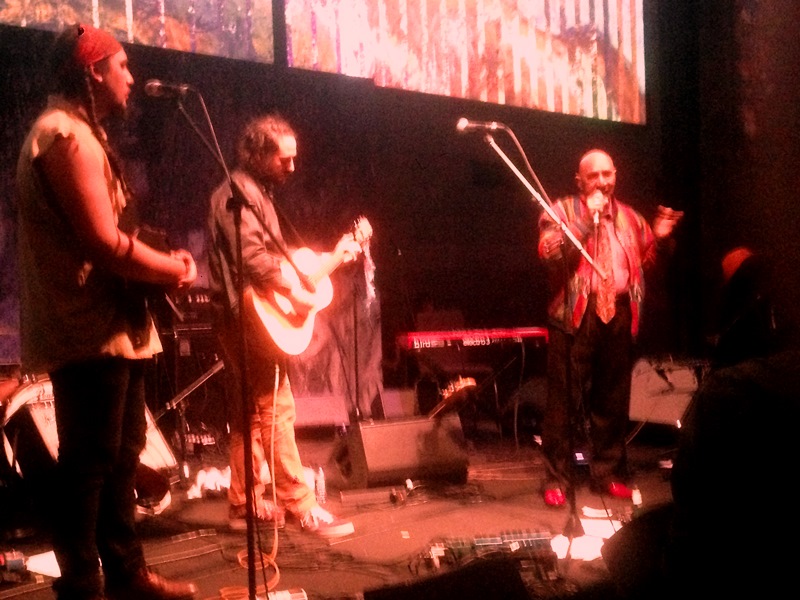 Kahl (in bandanna), Luke and Vic Simms.
The Painted Ladies
with Vic Simms & Clinton Walker
National Gallery of Victoria, Melbourne
Friday, August 12, 2016

Guest vocalists on the "Stranger in My Country" record were Paul Kelly, Ed Kuepper (who also added guitar to the rock-boppin' "Hey Sherrif", one of two bonus tracks that weren't part of Vic's original "The Loner" repertoire), Coloured Stone mainman Bunna Lawrie and the "Black Elvis", Roger Knox, who released a Jon Langford-produced album on Chicago's Bloodshot label some years back.

Since the album's release the band has become a performing entity, and they made their way to Melbourne's NGV for an exclusive show last Friday night. And it is a 'show' these guys do; with a strictly defined setlist, an intro and a number of interlude pieces by author Clinton Walker that explain the project and put it into context, and the addition of Simms himself halfway through the set.
It's a fairly stage managed affair,wWhich is not to say it's dull. Luke Peacock is a great frontman with an easy going manner and a good voice, at times reminiscent of a young Jeff Tweedy or Paul Westerberg. In addition to Luke and his beautiful, vintage gold number, there are three other guitarists, including noted Brissie roots-country guy Danny Widdicombe on lead and some gnarly slide, and Kahl Wallace of Cairns indigenous hardrock/grunge outfit the Medics on acoustic. Kahl also contributes some beautiful harmony vocals and a brooding bandana'd machismo that gives a vague vibe of militant chic that suits.
Kahl's Medics band mates, bassplayer Charles Thomas, drummer Jhindu Lawrie (Bunna Lawrie's son) and lead guitarst Andrew Thomson, are also present and play with a feel and groove that belies their modern hard rock roots. There's also keys, a two-piece brass section and a trio of females on backing vocals. Overall the ensemble plays with a loose but comfortable and soulful vibe that reminds me of everything to the early '80s Saints to "Being There" Wilco, and the gas cross-cultural dynamic of early 70s Doug Sahm and band in particular.

The set kicked off with a bit of rabble rousing from Walker (not quite Brother JC Crawford-style, but hey, the NVG ain't exactly the Grande Ballroom) before the band came on and kicked into the great "Poor Folks' Happiness", followed by a handful of rockers. Walker then came on to chat with Luke about the origins of the project, then Kahl and Luke harmonised on stripped-back version of Vic's great prison ballad 'Living My Life by The Days' , during which Vic Simms came out to join the proceedings.
Vic's slightly crooning style on the quieter numbers are slightly at odds with the band; despite the hard knocks and a lifestyle that led to prison in the '70s and a stop-start career ever since, Vic has a tendency to turn on the smooth vocally, in a manner not unlike that of old nemesis Jimmy Little. He's also of the era when singing was about entertaining and he still tries to engage a crowd in a way which is slightly at odds with the expectations of modern audiences.
A version of the elongated "Stranger In My Country" is the highlight, with a yelled chorus from Karl prompting Vic to let loose with some spine-chilling howls and moans that take things to another level. And when Vic sings "I Wanna Bop" - a song he first cut for Festival as a kid in '62 (he was a young rock'n'roller before he became the incarcerated troubadour of legend) – the years melt away and he sounds every bit the teenage hellcat he once was.

Peacock and the Painted Ladies have done us all a great service by bringing the great songs of Vic Simms to life – more alive than ever in some ways when you consider the slightly fairly tepid backing afforded the original recordings. This is not just important stuff in the context of Australian Aboriginal music, but in Australian music and Australian rock'r'roll in general. It's vital stuff – and it's fun. If you dig rock'n'roll with heart and soul and real meaning, buy the Painted Ladies' album, and if you get a chance to see these guys play – and I believe the band may soon run its course as all involved move onto other things - don't miss it.
Both Simms and Peacock will, I believe, be involved in the live roadshow of Clinton Walker's Buried Country project, so watch out for that too, and Peacock has a solo album out and is set to make another. His stuff is worth of worth hearing. Kahl Wallace is also doing solo stuff, and the Medics still play.

Vic Simms himself is set to have another crack too – he enters the studio in coming weeks with his mate Rusty and Rusty's band of You Am I'ers to finally consummate a marriage that tentatively begun over a decade ago (which is another story…) Hopefully You Am I will be the electrophonic tonic that will set Vic to howling and moaning once more and bring that teenage hellcat out for another round.