Tight and outta sight: HITS return to their second home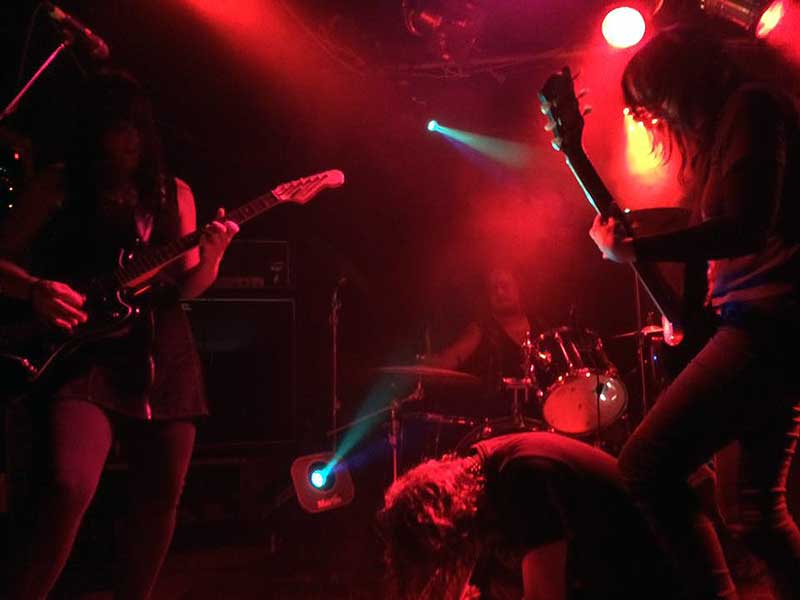 Tamara, Richard and Stacey on-stage at the Tote. Matthias Baratheon O'Meara photo
It has now been six years since was lining up at the Excelsior Hotel in Sydney when Jim Dickson (New Christs and Radio Birdman bass-player) told me about this band from Brisbane that I had to check out. Knowing Jim for three decades from his time selling Indian food down at Max's in the late '80s, I had never heard him express how blown away he was by a local band.
It's 25 HITS gigs later for me. I've been seeing them from a time when only about five of us living outside their home of BrisVegas were convinced that they could be the greatest exponents of dirty, street-level rock 'n' roll in this country.
Nowadays, HITS are the band on everyone's lips. That's why I am flying down from Sydney to to see my favourite Aussie band to play The Tote in Melbourne, not long before they're due to embark on their second tour of Europe.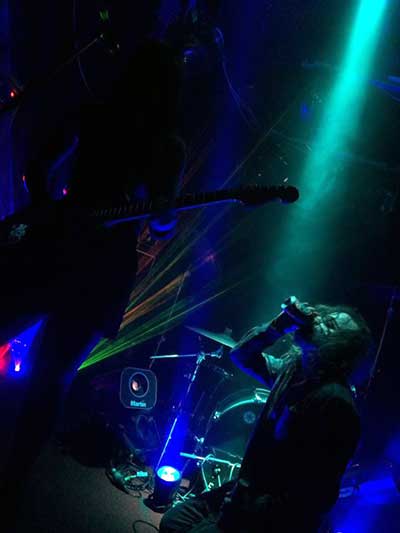 HITS
+ James McCann and The New Vindictives
+ Cable Ties
The Tote, Collingwood, Australia
July 2, 2016
Matthias Baratheon O'Meara photos

Part of my HITS experience has been seeing them in Melbourne whenever I can. Outside of Brisbane, this was the first city to pick up on their brilliance. Of the gigs that I've been seen, many have been south of the border.
Apparently the Sydney gig with HITS the previous night went off. It is the most difficult city locally to break into. A small house was present at The Factory Floor (typical) but wildness prevailed; pills and assorted symbols of appreciation were thrown onto the stage. Facebook was abuzz about the gig.

I wasn't there. But I'm now at The Tote. I go to the bar and order a pint.
Cable Ties open the gig. A three-piece with one brilliant single "Same For Me" under their belts, they're in the territory where art meets punk. Their music is is intelligent and angsty and full of attitude. This is blast from the past, reminding me of Sydney's XL Capris of 1979 meeting Wire.
The brilliance of this band is in their sparseness and jaggedness. Harsh brittle jabs from the Telecaster and then a Big Muff-overdriven guitar cutting in, building and repeating. A technique that reminds me of the latter day The Fall records.
Only a band with a dynamically expressive and chilling vocalist can really get away with this. Even with a rhythm section sometimes lacking in dynamics and locked in at the same tempo, it works and places all the attention to the singer and her passion. She makes a solid political outburst - and it's timely with all talk of why we entered the Gulf War. Blair, Howard and Bush were all mentioned in her monologue which was an attack on corporate greed. It makes a Jello Biafro rant seem like a Country Women's Association scones and cuppa affair. This band comes from the right place.
It has been a few years since I have seen James McCann play. It was the Beast Records night at The Retreat in Melbourne. I always was a bit of fan of his band Harpoon in the mid-'90s and my band at the time played with them a couple of times. Harpoon was a solid rock machine with twin basses, playing monster metal psych-blues. Indeed, they were one of the best bands playing around Newtown in the mid-'90s.
Along the way, McCann was in Nunchukka Superfly and was a founding member of The Drones. James can write songs. Anyone who questions James' talent only has to hear him perform "Where Do You Go" solo and with acoustic guitar. He's now fronting a band called The New Vindictives and they're next up.
Opener "Ambition" (lifted off the debut album) is an early song from the days when Kim Volkman (Love Addicts) was in his band. It's noisy garage rock and his band is pumping. They're nasty with swagger and a solid rhythm section of Jackson Kite (drums) and Dan Sullivan. It's a solid rock engine room that never overplays and give the songs room to breathe.
With a nod to Spencer P Jones, McCann delivers an impassioned version of his song" What Gaol Is Like" followed by the old Harpoon song dug out from the vaults, "Tar On The Lip" There is strong interplay between James and guitar player Tim Dean. The band delvers a set with with altitude, andMcCann is in great voice.
McCann is now sporting a new black Les Paul. That is courtesy of the local music scene. Unfortunately the band fell victim of scumbag thieves and (as the Melbourne scene does sp well) a benefit was organised to get them some new gear.
"I Can Control" is a strong song co-written by McCann and Penny Ikinger. It's an emotive song and precedes "if You Dare", another track from this band's brilliant debut album. This is a solid set and again demonstrates that James McCann is one of the strongest songwriters floating around Melbourne. Now wonder he has a strong following in Spain. He's underpinned by a committed and damn fine band.
The Tote suddenly fills as HITS opens with a new song, "Leonard Lake". As ever, the band is moving forward as a creative unit, working in new material that's earmarked for album number three. This song pumps. The sound at the Tote is LOUD and crystal clear. It's great to hear the band with an awesome mix, but I sense my ears will pay a price the next day.
"Take Your Pills" rolls on like an express train. It's rolling melodic garage rock atop rolling power chording. The HITS twin-guitar attack from Tamara and Stacey so much embedded into their sound. It's been suggested that this is the best best such pairing since Radio Birdman. In many ways, it is more powerful and straight-forward.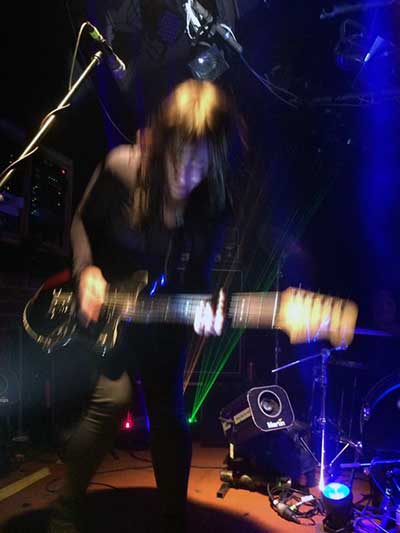 Over the past six years, it has been fascinating watching Tam (pictured right) develop as a player. These days, with her extended pedal board, Tamara experiments much more and adds extra colour to her playing. The once punk queen now explores more scales and melodic licks. Sporting her new guitar, a Fender Jazzmaster (black face with humbuckers), her sound overwhelms with its tone and warmth.
Stacey works with her power chords, backed by a rhythm section that's as tight as any in the land. Andy Buchanan's running bass lines are understated and at times very melodic. That's backed with the beer keg pounding and solid, meat and potatoes backbeat of Gregor Mulvey.
"Big Black Car" from their debut album, is explosive classic punk rock. "Somme" is an equally powerful song: written from respect for singer Richards's great grandfather who with thousands who lost their life in a war almost a century ago. It is a song that in many ways has marked the development of the band. "Evil Dick" is another in HITS who has grown over the years. As a frontman, he controls the stage and delivers the lyrics. Over the years, he's explored characters like a demented Joker and the bastard child of Hunter S Thomson. These days we get more of in-tune Richard. He's there with his songs and his hard 'n' tough delivery.
"Something's Wrong" is another new song. "Loose Cannons" explodes.
Underpinning HITS has always been the backing vocals of Tamara and Stacey. Both guitar players have been singers in previous bands and their harmonies and counter melodies always add another layer to the powerful Detroit edge and balances the garage rock. It always set the band apart from the mob. As much as MC5 is in their list of influences, so are The Breeders.
The set clocks in at 60 minutes and we are served up the standards and some older songs like "Touch of The Shorts". The band is tight with furious and bellowing guitars and don't miss a beat. The Tote is going off and demands more. An encore is delivered.
Those who have seen the band for the first time tonight will come back again. They'll want to see the band again and again. So they should. HITS are gold.
Tags: live, Hits, tamara, stacey, tote, james mccann, new vindictives, cable ties, evil dick, andy buchanan, gregor mulvey