Iggy's still doing all the things a five foot one man can do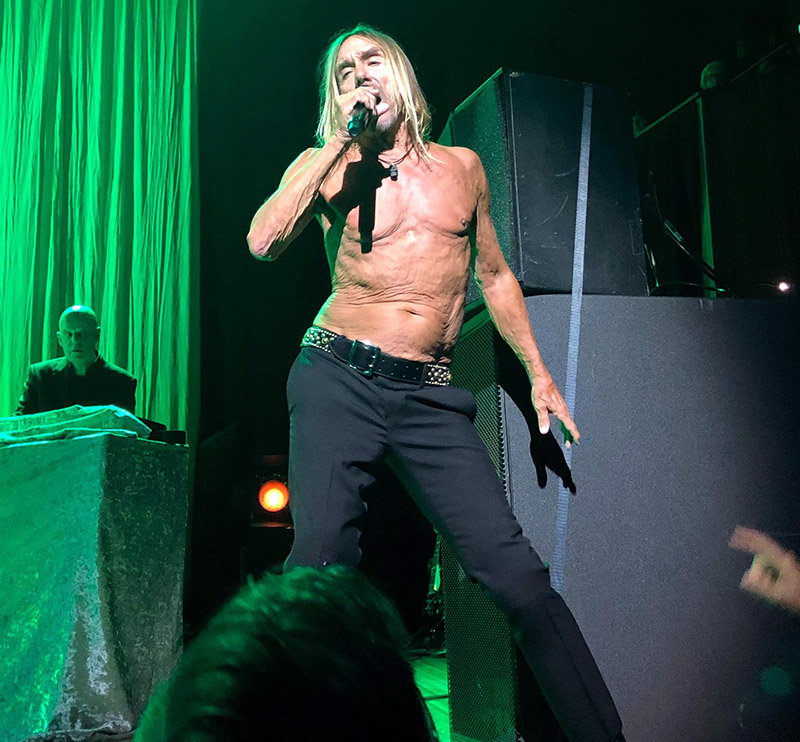 Iggy Pop
Sydney Opera House
Monday, April 15, 2019
Lisa Doust photo

Firstly, you have probably all heard that Iggy still has it and he does. But the damage is there. You can see how fucked his leg is. And when rugby prop forward size fans manhandle him, you see that he's actually a five-foot-one man* in his 70's who may have shrunk an inch or two.
Stage security takes much greater care of him. Iggy also takes more care of himself, adapting the old poses into well timed rest breaks. Once or twice, he lives on his back. He feigns leaps into the crowd only to step back. He has learnt how not to be dragged off stage. He makes robot like motions to cover the limp. He uses the stairs.
And if you think that is criticism, you are wrong. Iggy not only still puts on a tremendous and dangerous show, he does so heroically, on stage for an hour and three quarters and you'll still want more. Most people his age and with his war wounds would opt for a sit down with a nice cup of tea.
And he is singing great, choosing songs that fit his range and having a band who know how to take it down. Take it all the way down. He's certainly in stronger voice than he was at the Hordern Pavilion last time but he's not competing with Williamson's patented wall of sound.
Theatrics are employed subtly but to grand effect. Watch for the egg shaker. Watch for the shadows when Iggy puts on the cape. It's a bit of smoke and mirrors to hide the needle and the damage done.
The band this time around lacks familiar faces but succeeds in being one of the best Pop lineups I have seen (and I've seen more than a few.). They base their sound largely off of the sound of the Idiot album but not the tin machine-y touring band of that time.
There is some added brass but it is not slapped down like carpet.
It's a little more arty than you may be used to but they do great work with the Stooges classics. There's a fair smattering of Idiot/Lust era songs but nothing off "Post Pop Depression".
Throw in a couple of more obscure surprises (no spoilers) and you have a near perfect set. And probably a goodbye. But, in true Iggy style, he is going out on a high point.
This is certainly one of the best shows I have seen him do and only an idiot would miss him if he comes to your town.
Hint: Cave never did it half as well as Pop.

* Iggy is 171cm tall.
Tags: iggy, iggy pop, live, australia, sydney opera house