Into Our Arms: Nick Cave and the Bad Seeds triumph in Sydney
Lax Charisma photo
Alexa Clayton-Jones and I went out to see Nick Cave and the Bad Seeds last night at Sydney's voluminous and brand new International Convention Centre.
It blows my mind that for a few weeks in 1984, I played in the Bad Seeds, and I'm remembering bouncing around Europe in an old GMC wagon and some of the more colourful venues we played.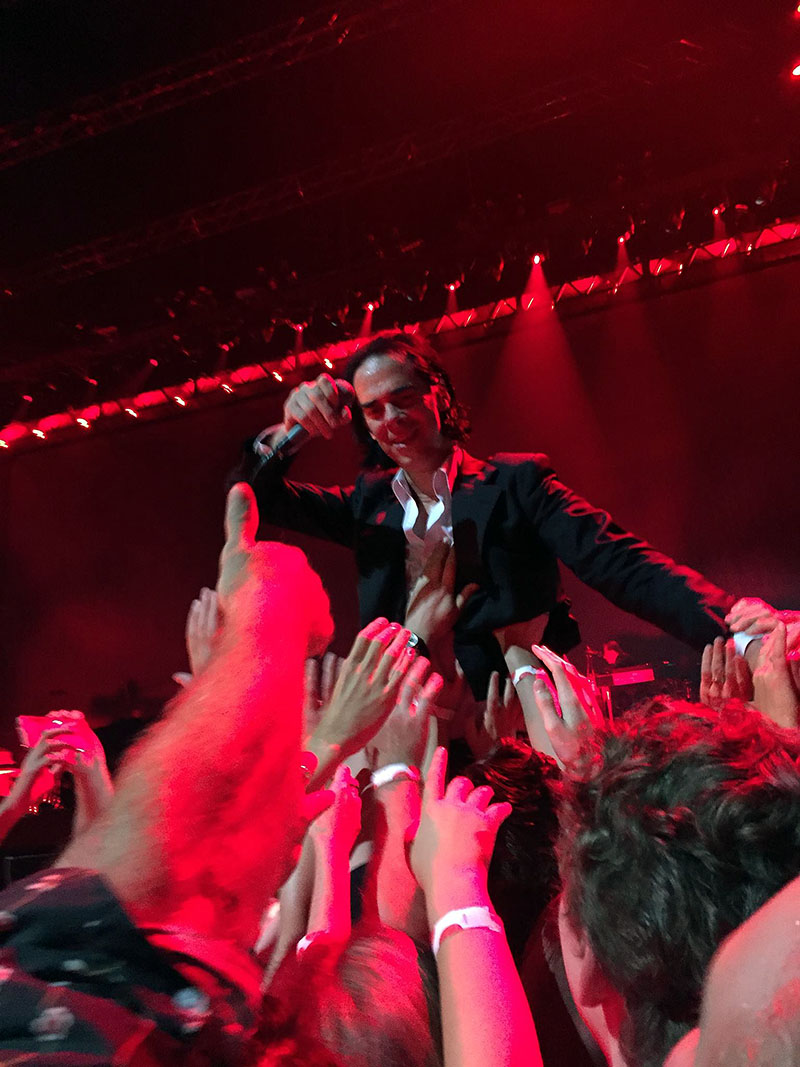 Kate Concannon photo
Nick Cave and the Bad Seeds
ICC Theatre, Sydney
Saturday, January 21, 2017

Seeing Nick's career lead to packed houses over two nights in Sydney - a sold-out Australian tour, in fact - is surreal in its scope but well and truly deserved.
Nick has the ability to make a huge room like the ICC Threatre feel like an intimate club gig, He is unafraid, as ever, to get amongst the crowd, to touch hands and faces and play with them. He tantalises, he enjoys his control over the crowd, he jokes and seduces, but he never seems to laud it over them. It's a pretty friendly relationship.
There's no doubt in me that Nick has mellowed and changed over time but he remains the dynamic performer of more carefree times. With the loss of his son last year, Nick's sadder lyrics carry a poignancy that fills every heart in the room; a deep and lasting sadness that thankfully few of us have had to deal with. In those moments with 8000 fans filled with love, one can feel Nick's loneliness and know there is nothing that can be done to free him of that burden. It's never mentioned of course but it's there.
The show was the most polished and professional performance I've ever seen Nick Cave and the Bad Seeds deliver and I think, without reservation, that they are one of the best bands in the world today. Nick has moved up another rung on the ladder of success in the music business.
As my friend Mark Mordue and I mused, with Leonard Cohen's passing, a new car space has opened up and Nick has moved into the upper echelon with Dylan, Bowie and Cohen as a giant in the rock music world. I'm honoured to have served alongside him. Even though my tenure was brief, it was as unforgettable as last night's stellar show.
Thanks Nick Cave and the Bad Seeds, you are all truly great.
Anthrocene
Jesus Alone
Magneto
Higgs Boson Blues
From Her to Eternity
Tupelo
Jubilee Street
The Ship Song
Into My Arms
Girl in Amber
I Need You
Red Right Hand
The Mercy Seat
Distant Sky
Skeleton Tree
Encore:
Nobody's Baby Now
Papa Won't Leave You, Henry
Breathless
Stagger Lee
Push the Sky Away
Ed Clayton-Jones is a Sydney-baed singer, songwriter, musician and recording artist. A.former guitarist with The Wreckery, the Fabulous Marquises and, briefly, the Bad Seeds. His latest project, Chordblood, has an EP out now. Get it here.
Tags: live, bad seeds, sydney, nick cave, sydney x, the wreckery, skeleton tree, ed clayton-jones