Crash-landing in Erskineville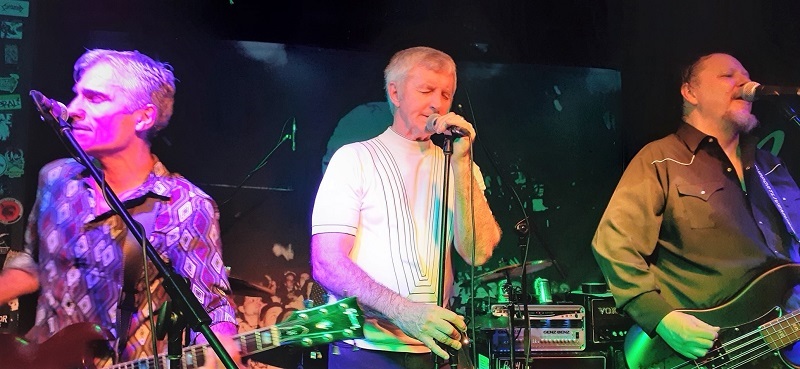 Angelo, Jay and The Celebrity Roadie front up for Jupiter 5.
Jupiter 5
+ 50LgE
The MoshPit, Erskineville
Saturday, May 1, 2021
The Moshpit is such a great venue. Located down the Sydney Park end of Newtown, this is the sort of establishment you would walk past during the day and not even be aware that it existed.
It is, virtually, a corridor with some lounges inside the entrance, a bar, some tables and chairs then the stage. Fantastic intimate vibe with a lot of band memorabilia lining the walls, craft beers on tap and friendly staff and clientele. The Moshpit is currently celebrating three years of operation with many great bands playing - so now you have an extra excuse to visit this iconic venue and check it out.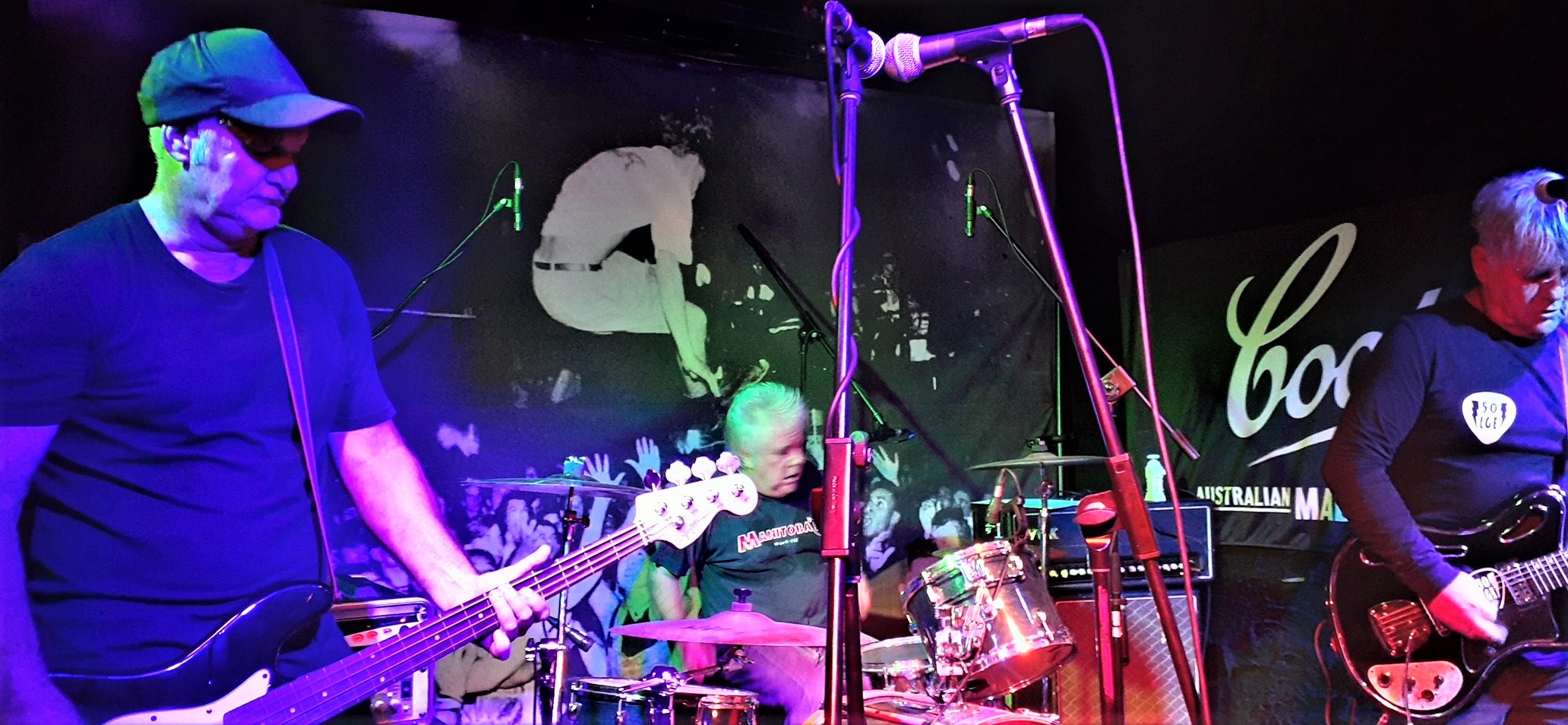 DB, Hefro and Kid Sunshine crank it out with 50LgE.
Tonight was 50LgE's CD EP launch and they exploded from the outset, playing dirty, raunchy rock with some power pop thrown in for good measure. Being a three-piece - comprising ex-The Eastern Dark drummer Geoff Milne, DB (The Tellers) on bass and vocals and Kid Sunshine (ex- Psychotic Turnbuckles) on vocals and guitar - did not hinder them in any way. In fact, it came to mind that the same fantastic trio chemistry was one of the features of The Eastern Dark back in the day.
This band is intense live and it's strongly recommended that you check them out. They come from the NSW Far North Coast so you may have to travel.
Jupiter 5 were in fine form tonight, tight and unforgiving. Starting proceedings with the mandatory nod to "Lost in Space" intro tape and then straight into powerhouse rock.
Jupiter 5 were releasing a debut single, "H-Bomb" b/w "Supersonic Hero", a live show only CD version being present with the vinyl available for pre-order, which had been teased in snippets and was played in full tonight. What a damn fine song it is. Jupiter 5 are truly rock and roll royalty with membership from such diverse groups as the Psychotic Turnbuckles, The Conspirators, Thurston Howlers and 69BC amongst others.
From their debut gig back in August 2019, this band has gone from strength to strength. They were great then and have only gotten greater. Look forward to see where Jupiter 5 will be taking us next. Maybe a full-length album?
My only regret is, as I was catching the train home, I realised that I hadn't bought either bands "launches" with all the excitement of the evening. Oh well, another reason to catch them live again. Great night.
Tags: launch, moshpit, 50LgE, jupiter 5, h-bomb