Leadfinger with Soberphobia, the C-Bombs, The Toss, Drunky Blunders and Ben Gel & the Boneyard Saints in Adelaide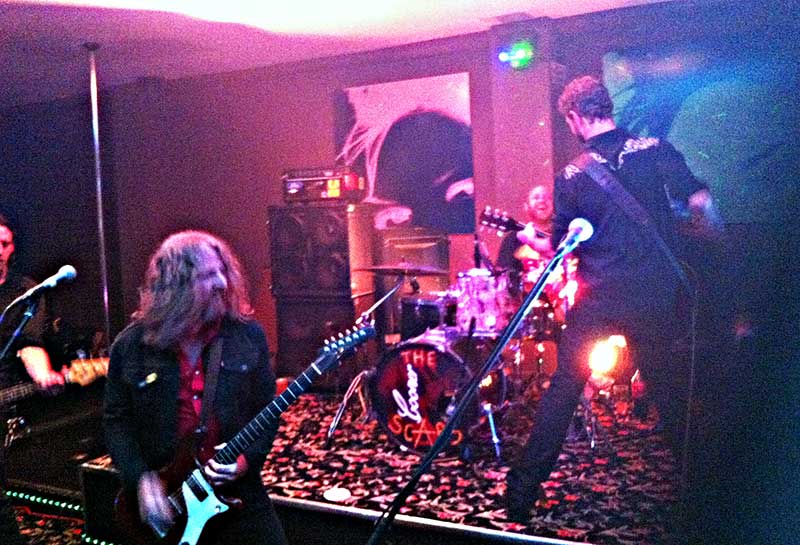 As far as I was concerned, the night belonged to Leadfinger.
It ain't often in this town that you wish you could attend three gigs at the same town. However, when I was young and malnourished, in the '70s to about 1983, there was sometimes one brilliant gig, and a handful of 'hmm, may as well, nothing else is on' gigs, and always about three or four parties every Friday and Saturday.
Adelaide parties of the very late '60s on were sometimes legendary… the ones which didn't stop all weekend were rare but they happened from time to time. A band would come from interstate and play Thursday, Friday, Saturday nights, often at the same place, and I remember … uh, I may be about to digress.
The point is that in the actual '70s, you just would never have anything like this; two gigs showcasing 12 or so bands, all the bands good enough to dance to and fling beer over, some much better and some even better than that. So there. You can't go back. But by fuck you should get out to more gigs. Sod the kids, bring 'em along, put 'em in a sound-proof booth like what Pete Townsend bounces around in and drip feed 'em over the top.
The Land of Promise Hotel, Adelaide
Saturday, April 25, 2015
So, there were three old-school events were on this night, as well as two huge football matches (round ball and squashed ball) in direct competition with this gig, and you simply cannot be in three places at once. Anthony Punter managed to catch Dave Graney ("he was bloody excellent") at the Wheaty, where he will be playing a little later on today, which I will also miss because I am loaning the car to someone whose car went splurk and they need it for work.
Local legend Pascal had his 50th as well, involving a lot of bands including the marvellous Green Circles, the impossible-not-to-bop-to Slingshot Dragster and the frankly fucking fucking Fear and Loathing; initial reports from those with the less worse hangovers assure me that it was a brilliant beano.
On the one hand I wish I could have a couple of clones, on the other hand I'd be the only people who would enjoy this.
Bugger. Another digression.
Right. Leadfinger. They're down to earth, not up themselves, know what they are. The lowest of the low. Musicians.
Pete 'The Stud' Howlett is responsible for bringing them to town; and singer/ guitarist Stew Cunningham sent a message to Pete's Facebook page:

"On our way Stud Pete Howlett ...can you please ensure limo is waiting at airport before we arrive as we don't like waiting around, also ask chauffeur to make sure champagne is moderately chilled with 4 glasses. Not sure if the folk at Studmuffin Tours got our tour rider but can you check masseuse and Reiki practitioner are at hotel before we arrive? You can disregard the request for a bowl of red smarties as we don't really need those....Thanks mate, you are a champ! — at Virgin Australia Terminal Sydney Airport."
Why did the Stud bring them here? "Stewy Cunningham is basically the ultimate Australian rock guitarist, combining talent, honesty and uncompromising integrity with his 'Detroit meets '70s Oz rock' sonic guitar attack, implementing true punk rock in its purest form. I've never seen anyone play a Replacements or Big Star song as good as Stewy, including Big Star themselves."
Modern, but with deep, intelligent roots in the '70s. C'mon, the first thing you think of when you hear the name is: Badfinger. Bad Company. Led Zeppelin. King's Lead Hat. Leadfingers' logo proudly declares: 'Pinball and rock'n'roll since 1976'.
And they ain't nothing like none of them, but flip a switch on Stewie (Griffin's) time machine and they'd not only fit right in, they'd trash a goodly hunk of the competition. They'd be stars.
At this point I must ask: where the fuck are the big record companies? I've made the point before, we're living in an age of the most brilliant bands. Some of the bands I loved in the '70s and early '80s who went on to fame and assorted fortunes (but were all signed) weren't as good as this… I realise we have to have Delta Goodrem and Guy Sebastian and Katie Perry and sad sods like Green Day, they bring in the dosh so that record companies can have a broader palette and thus increase their market share and maximise their industry. Remember the days when we used to be fond of certain labels because of the artists on there, who might not have sold as many as Status Bloody Quo or Deep Bloody Purple but we knew they respected the art, or at least pretended to?
No? You don't remember those days? It was probably just me then.
Adelaide's tuff underground guitarists love this band; Sean Tilmouth and Pete 'The Stud' Howlett were both front and centre, utterly delighted to be watching two shit-hot guitarists set up complex, smart, sharp, catchy chord structures and progressions which, at first glance may seem throw-away, but are, on subsequent encounters, like a series of gathering hooks, tunes and waltzes. Everybody but me is dancing like an idiot, boinking into each other and apologising and bokking about and spilling drinks who's that on the table?
The set list they stuck to for about four songs, then relaxed and decided to do this; the covers have the originator in brackets.
Leadfinger Theme/Crank it Up, We Make the Music, It's Much Better, The Price You Pay, Ghost Ships (The Saints), Gimme the Future, Come & Dance, When My Baby's Beside Me (Big Star), Mean Streak, Cruel City, See You Tonight, Million Miles Away(The Plimsouls)
Yes, they covered Big Star and City Slang, they may as well have been their own compositions.
Fuck, but Leadfinger are fucking fucking fucking good. They're tight as a gnat's anal passage and that means shitloads of practice. Barely glancing at each other's instruments as they play note-perfect, perfectly timed songs which run the gamut of emotion and technique. Uncommon, you know? They look at each other's faces, communicate. They're the gang, the unit, the inseparable unstoppable force. Leadfinger's songs are beyond three-dimensions, got it? What other people think is a song, they think is a note for a song. And yet they make it look so easy, and a lot of fun.
Stew Cunningham's voice is a real singing voice. And it's beautiful.
Just quickly, then, because it's 2 pm and I've hardly slept.
Dillon Hicks' drums are well-tuff, he's all over the kit with consummate precision and the kind of humour most drummers are incapable of (except Terry of Fear and Loathing, a particular favourite).
Reggie Screen's bass is damn good. He could be all over the place, showing off. He doesn't. He keeps things simple, elegant, sets up dark liquid cables for the drums to pound around and the guitars to boil about.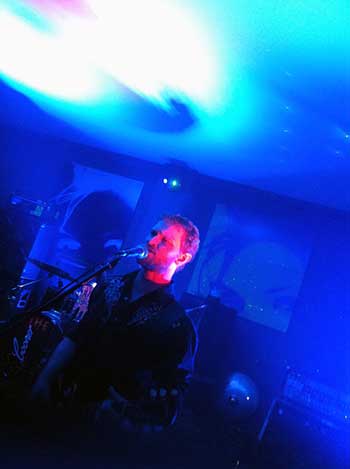 The guitar of Michael Boyle (he's pictured right) is in perfect empathy, and I mean simpatico deluxe, with Stew Cunningham's. They're in lockstep, not in a nasty German way, but a naturally affinitive way. They have worked damned hard together to achieve this raging, controlled twin guitar assault. You can hear both guitars perfectly, and they mesh like the fingers of a twelve-fingered man. If he wanted to, Stew Cunningham could be a proper fucking dickhead, by the way, but he's not. The way the songs work out, Stew and Michael trade traces, flick back and forth, back each other up in a crunching blizzard is captivating.
'You're in for a treat', one of Adelaide's finest assured me, with a huge goofy smile all over his face, before joining in with everyone else in making a perfect goose of themselves. Rather wonderful; I haven't seen quite this much smiling and dancing and love belching off an audience since probably the last Buzzcocks gig.
Now, let's set the scene, shall we?
The Land of Promise is a local pub, quite well appointed, and the staff are friendly and reliable. One of the reasons they thrive in such close proximity to The Gov, just down the road, is that they have pokies and strip shows and The Gov doesn't. This means that, while one band are breaking down and the next setting up, you can scamper to the front of the place to ogle ladies woggling their pointy bits. The Land of Promise have cleverly created a little niche. Here's a link.
So the drummer's riser is quite large, about a foot high and covered in carpet, like the rest of the floor, and has a fetching silver pole on either side of the stage. The axemen stand before the stage and before long there is copious intermingling of crowd and audience, accompanied with occasional leaps from the drummer's stage.
Of course Leadfinger weren't on first. There were four bands on before them, and the bravely named and very brave Soberphobia followed Leadfinger.
So. Dick Dale's current outfit Drunky Blunders had not, as Dick unwisely revealed to me, practiced in nine months and it seems that they had spent most of the day drinking. Dick's performance was typically dickish, and as the band pounded and got through their short set (all bands save Leadfinger played for 30 minutes tonight) while Dick spent most of the time running around, humping mike stands, peoples legs, licking people, rolling around and buggering up his mike cord. Yes, this was going to be a fun night.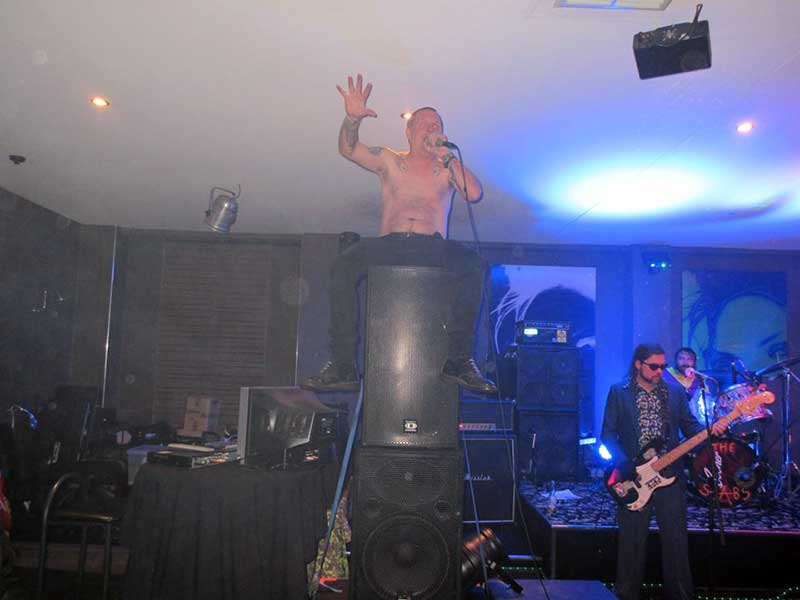 Scott Harrison photo
At one point, somewhat unclad, Dick clambered to the top of the teetering and rather thin speaker stack, his head about a centimetre from the ceiling. It ain't just his antics, nor Dick's self-deprecatory sense of rage and humour that makes him one of Australia's lost stars. He's also a good song writer, and mover and shaker; he makes horror films and forces lost adelaidians to act in them, and make their own. Then he hosts a festival. This is his facebook page, where someone has put a phonevid (with the usual sound problem) which you probably need to see.
A three-piece, Ben Gel and the Boneyard Saints are good, punch-you-out, meat and potatoes r'n'r. The guitarist from Dick's outfit unplugged his guitar from one end of the stage, plugged in at the other end, and instantly had a different sound. They're a band to watch, when you're not busy dancing. Our singer plays the crushing bass and assured us he wasn't taking his top off, and the guitarist struck every pose and played every classic structure. Ben Gel do have a CD out.
Another three-piece, The Toss wore their 'Super Tools' guernseys (possibly an AFL joke) and raised the musical bar somewhat. The guitarist is damned good, the drummer knows what he's about and so does the bass player. I thoroughly enjoyed them and will be making a point to return to them. I think they also have a CD out.
The brilliantly-named C-Bombs consist of former members of Grudge, and Sean Tilmouth, a man whose musical genius I have long admired. Lank of hair and perennially unshaven, snaggle of tooth and shy of soul, Sean is one of the few musicians in this town who consider what they do to be art - and he's right. The bass player wears his vintage motorcycle jacket with the pride of long-term musician, the drummer looks normal but treats the kit like an angry man treats a worthless pimp, Sean simply gets his head down (you rarely see his face) and plays, at one point adding a pint of Coopers Ale to his strings.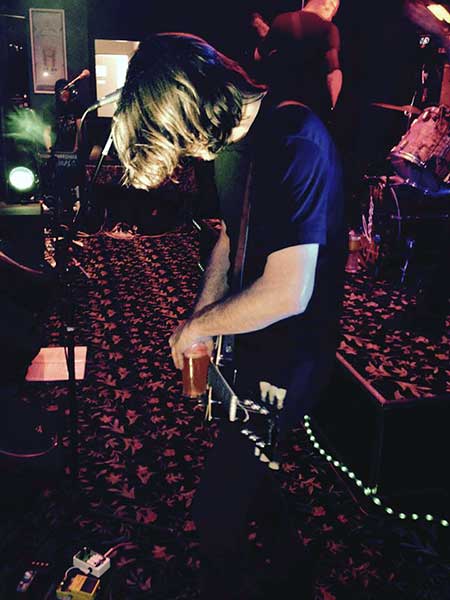 Tony Toss photo
They're tighter than the last time I saw them. They're getting damn good. Only one cover in the set, Stevie Wright's Black-eyed Bruiser right at the start. And … Tony. Fucking hell, the man is captivating on a stage, particularly this one, which he paces all over like a caged panther. He looks like he doesn't want to be there, like he can't find the words to tell you, then he pours it out, pain and confusion and wretchedness but it ain't miserable. Someone said he can't sing much, really, but I disagree. The emotion radiates off him, it's a palpable thing, you could hold it in your hand like a bolt of cloth. Frankly, it's really hard to move your eyes anywhere else but Tony. The man knows how to hold your attention and keep it there without apparently trying.
Leadfinger were up next, and then Soberphobia. I regret I only caught a bit of Soberphobia but what little I did I enjoyed; and apparently one of them proposed to his girlfriend from the stage. I'll have to revisit them too.
If I was giving a score for Leadfinger, you can guess. Buy Leadfinger CDs, LPs and headcleaners here.
But I'd rather give it for the night in general, and it would be five fuckings, Mr Barman (looking forward to seeing the little symbols, by the by), and I would repeat my demand for the record companies to get up and out and rediscover that dirty world of the pub, where genius rises and flares out like a rare blossom, over and over again. More fool you if you don't recognise it.





Tags: leadfinger, live, stewart, cunningham, soberphobia, c-bombs, the toss, ben gel and the boneyard saints