Lucky Country as the curtain comes down

Midnight Oil
Hordern Pavilion
Monday 3 October 2022
Photos by Jonathan Armstrong of www.bigjphotography.com
The 1982 Capitol Theatre run of shows in Sydney was a crossroads for Midnight Oil. They were broke and had already notched 500 gigs since September 1977, which was the date that they decided to go full-time after a Bondi Lifesaver show.
Midnight Oil was equally the largest drawcard on the Australian live circuit but it was not reflected in record sales. It had cost a lot to record their third album, "Place Without a Postcard' overseas with legendary producer Glyn Johns (Rolling Stones and The Who). "Place" was a rocking, earthy and colloquial album. The production was warm - yet it was of the past and sounded like it had been recorded it in 1970.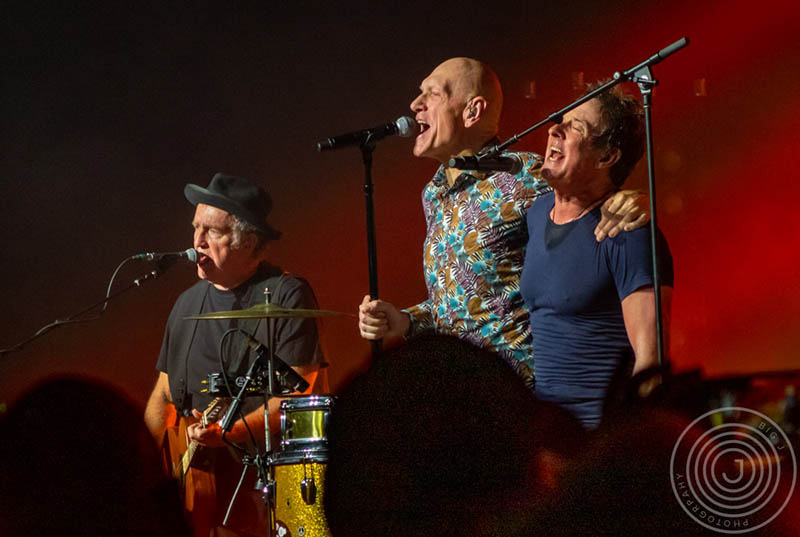 It was now time look forward as their audience was young and new sounds were exploding in everybody's' lives. It was a time for the Oils to make their mark as a modern, progressive band and stake their claim on the world stage as a band for the future. The hiring of young genius producer Nick Launay (Gang of Four and PIL) was a clever choice. The Oils had set themselves on a path to leave the other local pub rock bands in their wake.
The band was dedicated, hungry and with the visionary "10,9,8,7,6,5,4,3,2,1" album just released – a record that was miles ahead of anything else from an Australian band in confidence and arrangements - the Oils had taken an artistic risk. It paid off.



The live footage of the Capitol Theatre shows them launching "10…1" , and so many people who are still fans attended those five sold-out shows. The audience was all ages but predominantly seemed to be kids in their last years at school or early stages of university, or just entering the workforce. It was a tribe of surfers or live music geeks from the Northern Beaches or the Sutherland Shire, joined by a large slice of people from the western suburbs and a sprinkling of inner city hipsters. The fanbase was already hard-core and loyal.
The Oils were seen as outsiders who voiced their concerns – some of them dangerous to the establishment. They were the model of an alternative band, even back then. At a Midnight Oil gig, the audience and the band were one.
Its 40 years since the Capitol Theatre shows. Those same innocent, fresh- faced teenagers are now at the end of their working lives, some of them grandparents with mortgages and an eye on their superannuation funds. That is the span of Midnights Oils' career; a working lifetime.
I was already completely blown away by Wednesday night's show at Luna Park in Sydney. The band played for more than two-and-a-half hours and delivered a fair haul of "golden oldies" from the pub rock, surf days. They had exploded on-stage with a blazing "Knife Edge Razor Day" on a night that Peter Garrett declared would belong to the guitars. Which suited me fine with that legendary twin guitar attack from Martin Rotsey and Jim Moginie.
If that had been the last show for me, I would been a happy camper. It was a night spent with the ghosts of the Coogee Bay and Royal Antler Hotels of the early '80s. A red hot, blazing rock and roll show.
The highlight was the "10…1" album played from start to finish with some songs that had never been played live. It was stunning and demonstrated the depth and layers of this band. The album really was a remarkable piece of work and live it was even more explosive.
Fast forward to last Monday: the last show of the tour. We knew we were in something special as the RESIST Tour had been marked by the band pulling out its obscure older songs, some of which had not been played for decades. There was a sense that all that had come before was a preparation for this final show. Maybe the last ever Oils show, which is still in debate.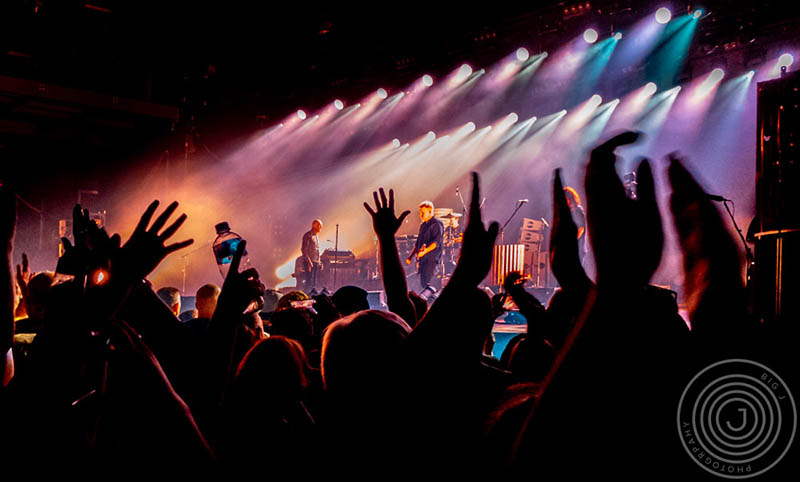 The faithful had flown in from across the world for this gig. Let's get this straight - the Midnight Oil fanbase is the most loyal and dedicated ever seen for a local band. There's a strong brotherhood (and sisterhood).
It was gathering of old mates, and families with almost three generations in tow, meeting in pubs, and making a day of it. The massive line-up at the merch stand showed how many wanted a memento of the occasion – and extra-large (and above) T-shirts were big sellers. For some, the Midnight Oil show is the only gig that they will see all year, and they're spending big on everything - from tea towels to mugs.
"Lucky County" opens the gig at 7.10pm. The ode to the Donald Horne book that is a cynical study of our country's future being wasted by a class system and lost opportunities. The song was written while the band was in the UK and is sentimental in a sense with some cutting social observations. A theme of the Oils' lyrics has been an examination of Australian clichés and icons, with the country's landscape as their background.
Sydney nights are warm
Day time telly
Blue rinse storm
Dad so bad he lives in the pub
it's underarm and football club
Flats chats, Pine Gaps and in every home a Big Mac
These images were clear as the 5000-strong crowd sang along. The themes are carried into with many Oils songs – like "Passion and The Passion". The Oils took on the mantle of being the social commentators of their time.

We're all singing in unison with Pete Garret tonight.
"Used and Abused" follows and we're taken back to 1977 with one of the earliest songs that predated the first album by a year. When this was written, the Oils were an act on ABC afternoon TV show "Flashez" and were still a small-time band playing to a couple of hundred punters on the Northern Beaches and in the inner-city. After year of being written, the song had become more even more blistering and almost a nod to Radio Birdman in their attack.
Suddenly, Garrett stops the show. We are taken back to 1980 in an overcrowded sauna of a beer barn pub. When fights broke out in front of the band backj in the day, Garrett would stop the show until the fool was removed and only then would the band return to playing. The same thing occurs tonight.
The classic, blazing, four-on-the-floor, high-powered Oils was served up with songs like "Is it Now?" and "Only The Strong" dominated by Moginie and Rotsey with their weaving lead work and power-chording.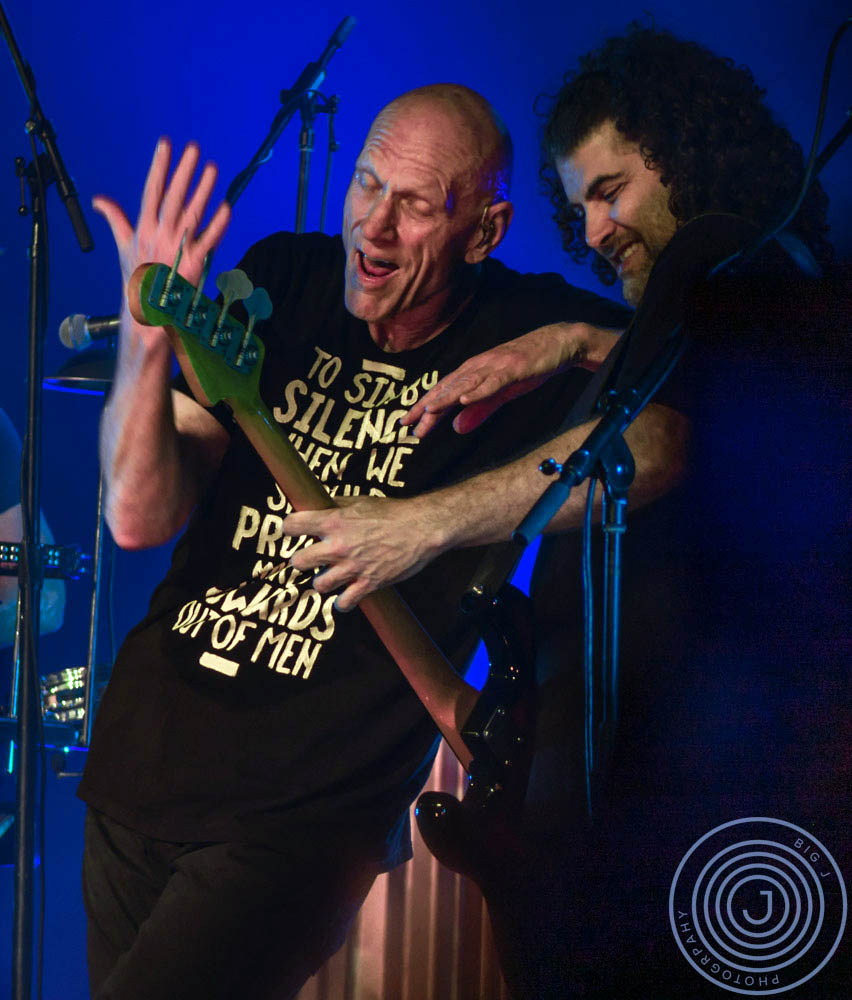 I have always said that the Northern Beaches of Sydney were the only place from which Midnight Oil could had emerged. The history and sound of that area's bands there can still can be heard today. It's music made by folk with sand between their toes as they play. It's the surf culture influence. In the '70s, the Oils were involved in the cleaning-up of Sydney's beaches with The Surfriders Foundation.
Fitting, then, to hear "Surfing with A Spoon", an anthem from the so-called debut "blue album" which was a hybrid of punk and prog rock. We are also served with "Surf's Up", a superb pop gem with melodic guitars from the underrated "Breathe" album of 1996. "Koala Sprint" is a highlight that captures that unique sound of the early records, which were steeped in such a variety of influences. They're summed up in the first two hours of the set.
Rob Hirst is simply one of the best and most explosive rock drummers in the world with all the fire and passion of Keith Moon. Bass man Adam Ventoura plays without frills but is as solid as concrete. The man had the massive pre-tour task of learning 94 songs and following in the footsteps of founding member Andrew "The Bear " James, Peter Gifford and Bones Hillman.

"Stand in Line" is a standout with that huge bass line locking in with Hirst as Rotsey enters with razor sharp jagged rhythm. Moginie goes to town with a mixture of delays, sprinkling of Arabic scales and then a psychedelic, early Pink Floyd-style trip out.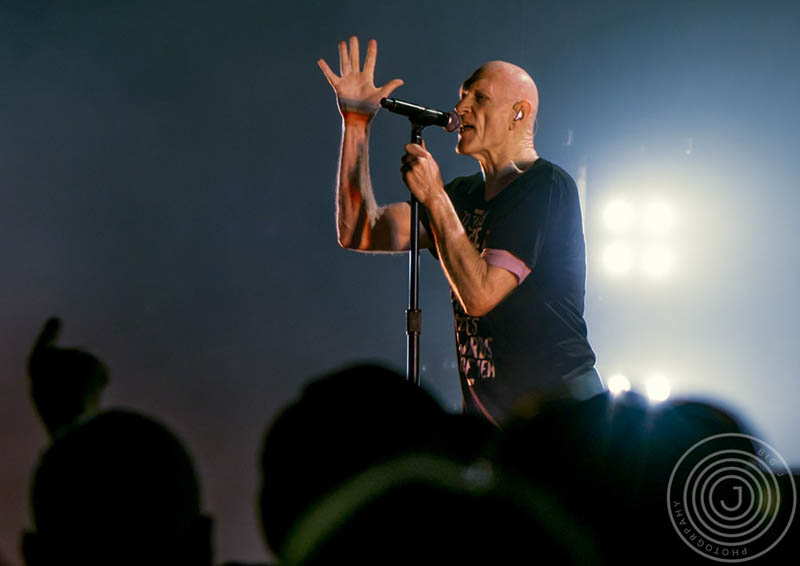 "We Are Not Afraid" from "RESIST" is breathtaking: it now stands as one of my favourite Oils songs in their 44-year career. Its performance tonight is chilling and apocalyptic as its intro builds and its lyrics capture the essence of a post-COVID world and a doomsday reckoning with climate change. As the world turns to shit, it's Moginie and Garrett's dark vision and as haunting as Midnight Oil ever gets.
It was "Diesel and Dust" that cemented The Oils on the world stage. Internationally it was a massive MTV hit, charting in most countries with "Beds Are Burning". The album was followed by "Blues Sky Mine". There was a time in the early '90s when the band spent months touring overseas and we'd see them appearing on shows like "Letterman". The tours were gruelling and the band was now a major festival act. where even at stage Bob Dylan played prior to them (and was counted as a fan.)
It might have been hard for original fans to grasp how huge the Oils became with hits such as "Blue Sky Mine" and "Forgotten Years" when these songs were played tonight but the whole audience were as one singing along tonight.
Back-up singers Leah Flanagan and Liz Stringer have been sensational with their harmonising. It's a reminder that as the band developed their craft, it was Peter's vocals that evolved as the band's career grew. From a bellow to a whisper on songs like "My Country" and "In the Valley".
One thing you can't accuse Midnight Oil of is getting on a bandwagon. Guest Dan Sultan joined the Oils and his powerful baritone was in harmony with Garrett as they performed "Gadigal Country". For more than 35 years the band has been bringing the message of reconciliation to Middle Australia.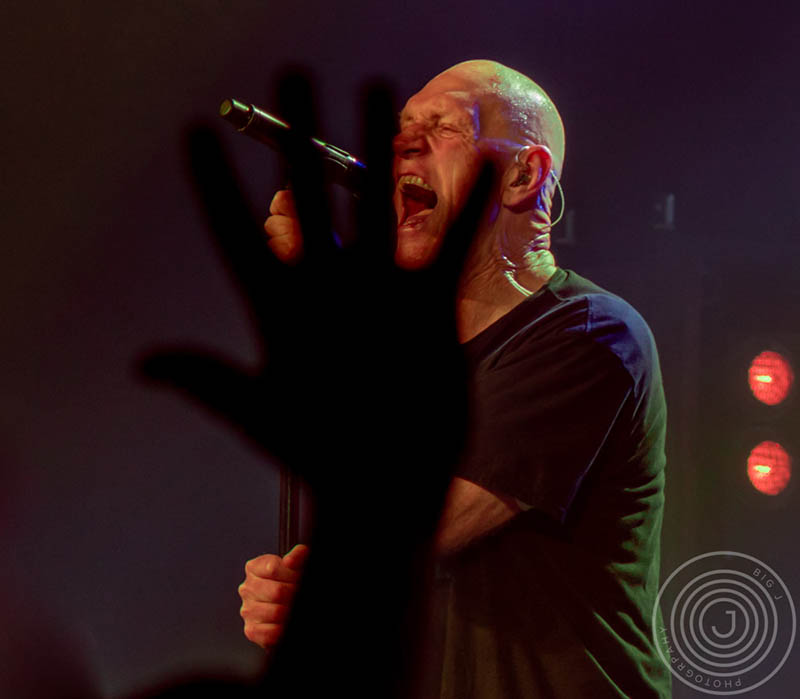 After three hours, the band finally leaves the stage and the "Oils" chant must have been heard right across Sydney's Eastern Suburbs. Of course they come back. Cue: the opening bass-line of "Dead Heart" and the whole Hordern Pavilion is now harmonising, hands raised like we're in a Pentecostal church with the Midnight Oil hand symbol projected in the background. The thunder of the audience is shuddering around the place as if an earthquake had struck. There would be another two encores with "My Country" ending with Garrett quite emotional. There a final encore of "Forgotten Years".
Rob Hirst is the last to leave the stage after the band had clocked 220 minutes onstage. He's visually spent, his legs wobbly as he walks to the edge of the stage with a last "thank you" to the fans. Forty songs spaning 45 years with all their albums and Eps spanned.
We walk out into cold air; thinking about the Capital Theatre all those years ago. As legend had it, members of the band got onto a bus to go home that night with guitars in hand. As for the magnitude of Midnight Oil's career - no Australian band comes close.
Their critical achievements are only a backdrop to the roads they went, the people they met and the artistic vision of each record; that never looked backwards and it was always about the next song, recording or performance. More importantly, they had this vision that they were not just song and dance men". They were on their own journey and the Oils took you along, if you chose.
Many did and remain loyal. There were a few tears shed tonight.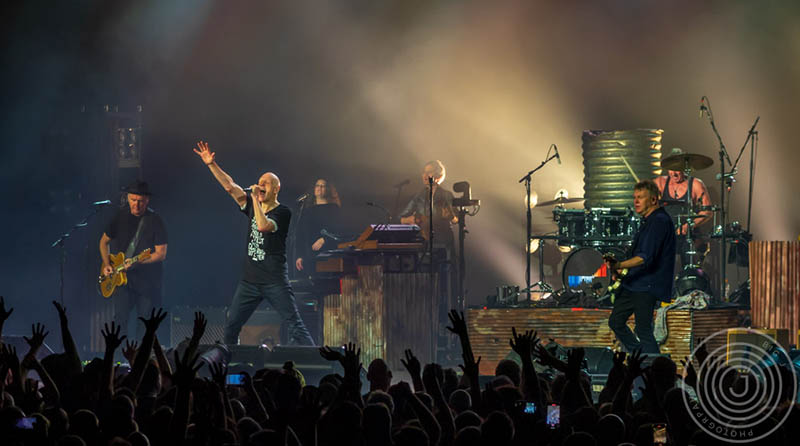 Tags: sydney, midnight oil, peter garrett, hordern pavillion