Radio Birdman in Newcastle and Sydney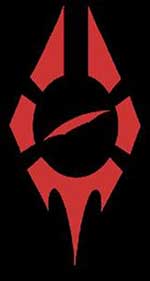 Riding to Newcastle to catch the first show of Radio Birdman tour is the obvious choice. Didn't quite seem like it, trying to get outa Sydney on a Friday arvo. I took a quick spurt up the footpath a few times to relieve the tension. Then we hit the freeway and Jenny gave me that tap on the left hip that means 'slow down' but I was doing 90mph through one of the tighter curves and slowing down wasn't the point. Nor possible. Can't brake a motorcycle unless it's reasonably upright.

1982, the first time I really heard Radio Birdman was the 1976 2JJ show at midnight on a Monday. Used to be a lot of good movies on late back then, 'Vanishing Point', 'Bonnie and Clyde', 'Five Easy Pieces.' One night I walked into my little bedroom at the back of the house, flicked on the radio and my life changed.

Every friend and lover, every beautiful terrible moment, it all started then. It's been one hell of a ride and the road rolls ever on.
Cambridge Tavern, Newcaste, 31 October, 2014
Manning Bar, Sydney, 14 November, 2014
Emmy Etie photos
We pulled up outside Ric and Meg's home, we ate, drank, smoked, played loud music. Pleasantly toasted, and the cab driver passed me a cable so I could DJ the ride to the Cambridge.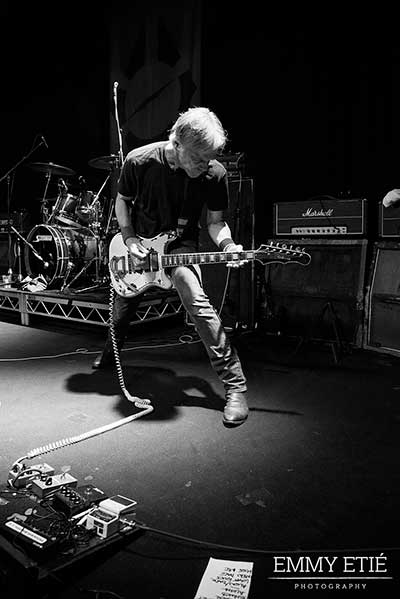 Great to have the right songs at hand. A good friend, who was There Then, said Rob and his record collection never got the credit they deserved.

Check the old tracklists, Radio Birdman played a lot of covers. Maybe it had something to do with growing up with the Rolling Stones and listening to them learn their craft with song writ by others.

Deniz (Turkish for 'sea') moved here to study cos he'd had a family holiday in '67 and wanted to be near the ocean. He met a Shire kid and they put a band together. Why did Rob move to the city? Maybe it was cos of train rides into the city to catch Missing Links at Beatle Village when he was a teenage schoolkid and picked up on that vibe, that in the city you can leave your past behind and become who you want to be.

The Cambridge is a great venue, a curving glass wall and doors means you can sit outside and still hear and see the band. We caught up w April and Ryan and then we dived in.

'Smith And Wesson Blues' and a brace of short sharp rockers that culminated in 'Maelstrom' left us sweaty and exultant. Quietish middle bit, grab a drink, get outside for a gasper and a seat, cos it's gonna pick up soon.

Indeed, and it was on the verge of getting out of hand during 'Hand Of Law', but Ric and I held steady in the middle-aged moshpit, 'Alien Skies' and 'Dark Surprise' were fantastic, but I hit the beer garden before New Race. A man's gotta know his limitations. The venue is funnelish, the stage at the narrow end where everyone gets squeezed into a fireball of rock and roll.

When someone brings a new song along to rehearsal, it only takes one new accent to change it completely. Ron Keeley did a term in the navy and caught Jefferson Airplane in San Francisco in 1967. Forty years ago, when Rob and Deniz said 'fuckit, let's do our own band', they got Ron in on drums. Rob's mate Warwick took up bass gtr, Deniz' medschool friend Pip came in. Five intelligent, strong willed young men in a different universe. Chris came in for Pip and a little later it was six young men.

Radio Birdman inspire something unique. I don't listen to the records anymore. Radios Appear is poorly recorded and mixed (oh, why couldn't it have sounded like 'Love It To Death'?) and Living Eyes sounds like a bunch of blokes from Sydney who couldn't wait to be rid of each other stuck in the Welsh countryside.

The live bootlegs, that's where it's at. That's where you hear the band, an organic entity, young and loose and playing a lotta covers (fifteen of the nineteen songs in a June 77 gig recording) and messing aound with 'em.

Saturday we lay around for a while, eating and talking and drinking coffee before Jen and I leathered up and hit the road. Stong gusty winds kept me focussed out to Cessnock, then we got into the hills and cruised, stopping often to take in the bush. We wound down the beautiful Wollombi valley and stopped in Brooklyn for the night.

We got married a few weeks earlier, so this was our honeymoon. Met Katrina and Nadine at the pub, up from the city for the weekend, they were good company, we drank and smoked and talked and played pool and Jen and I got up at 0630 and were home before 8.

Neat coincidence that Rolling Stones had just hit town. Charlie joined about eleven years before Radio Birdman's first show, a few folks I know racked up some flyers catching both bands, that came outa nowhere and everywhere to create something and spark a fire in the city. There's an English streak in Birdman, too, from Ron to Jim, keeping a phlegmatic eye on those rowdy colonials.

Do pop songs reflect our impression of a moment or create it? Radio Birdman are a Sydney band, wouldn't have happened anywhere else. I can hear the surf and sun and the concrete and grit. And 'Breaks My Heart' can bring tears to my eyes cos it reminds me of Wendy under the streetlights in '86 and how beautiful she looked.

The Manning Bar's a good walk from home and a blustery southerly had come up. I love weather when it really lets you know that it's there. We made it with three minutes to spare, I went to listen.

It didn't sound great to start, we hung around inside for a few songs then went and sat out on the balcony. I like the outdoors and the Manning has an oppressive feel. You can see and hear from the balcony, and sit down and smoke and drink.

It got better. i94, later in the set was the first song that really hit the mark, we went in to that spot inside the triangle where you get the view and the sound and found friends there and they danced and I listened.

I liked what I heard. I liked it a lot, being more or less with it confirmed what my evil twin knew two weeks earlier, Radio Birdman can melt the fucking walls. Hand Of Law was truly impressive, a longer, looser freakout, snaking and rollling.

Never heard Nik play like this, he's loosened his wrists and sounds great. Dave's lean rhythm gives Pip space to play tonal clusters that mesh across Deniz' feedback. Jim's in charge, driving it on, pulling it back and Rob's really moving and everyones' shaking and a young bloke going hand over hand lands on my friend who's been following this band for 38 years and she hits the floor.

"There are a lot of worse ways to die than at a Radio Birdman gig" she said with a laugh later. Next day I asked her for a comment and she wrote back: "Dancing round my living room right now with Radio Birdman on and glass of wine in hand. Nearly 60, feels same as it did at 22. Greatest fucking band in the world!"

Ah, the healing power of rock and roll!

So the vocals were a bit ragged, that's to be expected, especially with the high notes. So the guitars were a bit too grunty when a lighter touch might've worked better sometimes. So what. Could be the last time this band ever plays a show, I'd got the full experience, befitting the venues, swept along in the aural surf at a Newcastle pub, leaning back and listening in the halls of academia. A grand time, indeed.

Now when's the next New Christs show?
Tags: radio, live, sydney, newcastle