Scrotal sacs and mankinis: Just another quiet afternoon in the City of Churches, really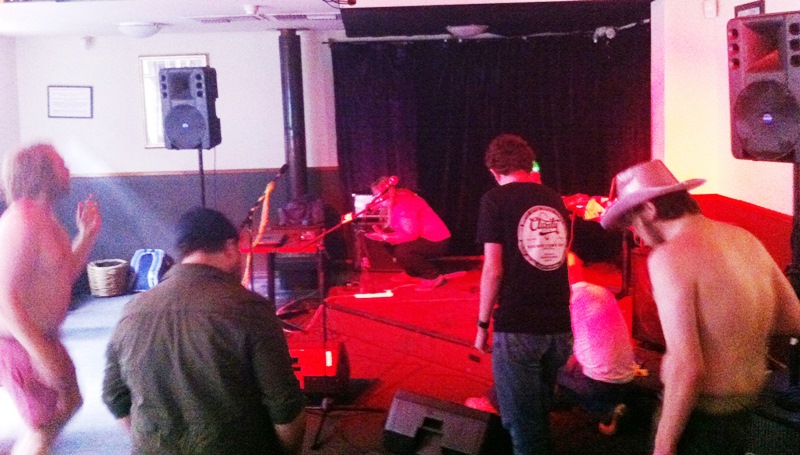 X3 Lodge dpoing what they do, live in Adelaide.
"X Factor", I see from that reliable source of intelligence, has been rocked by accusations of performer manipulation and general bastardry. Strange place, Facebook. You can set up any FB page hating all manner of innocents, and they're fine with that. Indeed, I should imagine Channel 7 pay large sums to FB to 'get their message across'.
We all know Facebook is filled with the 'politics' (a rash word to use in a music review, I admit) of the modern age. Post a picture of a mum suckling an infant - a mundane enough sight as you head to work each day, or as you munch a burger and chug a thick shake at the local cholesterol emporium - and you're banned because you "don't meet community standards".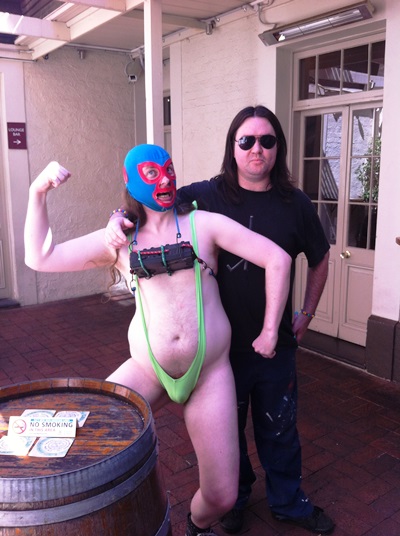 X3 Lodge
Secret Salmon
Hydrocephallus
The Metro Hotel, Adelaide
Sunday, November 20, 2016
But post a picture of someone scarfing down someone's poo … no, apparently Facebook think this does 'meet community standards'. Hands up all of you who saw someone scoffing their own - or someone else's - poo on the way to work this morning.
Hmmm. Crickets chirping.
Adam Blake, in his guise as Hydrocephallus, has been banned frequently from Facebook, which is no mean feat since I don't believe he's ever posted a breastfeeding mum.
I've seen Hydrocephallus once before, at his first gig supporting Fear and Loathing at the Rhino Room (soon to be demolished, apparently). So it was with horror, dread, and anticipatory amusement that I ventured forth to the Metro.
They're doing well, the Metro: great meals, great service, and where the pub is actually placed ensures they get plenty of crowd rushes. But Sunday is a bit of a dead day, so I'm sure they're glad when us lot turn up. There's Dimitri, Em, Sam, Nick Spaulding … who all have excellent taste, and each of whom is profoundly moved by music. After all, they turn up at the best gigs…
And you know, the crowd is intimate, so you can take it easy, relax and enjoy the day. The Lord's Day. The Day of Rest…
Clad only in a blue and red wrestler's mask and a lime-green mankini with a cock sock beneath, Adam is, essentially, somewhat starkers. His garb takes a few moments to take in. Once you do, it's like you've taken part in an initiation. Strapped to his chest is a small synth, which he uses to play I think three songs.
Ridiculous, bouncy, absurd and rather rude. NSFW. (Oh. I should have put that up earlier. Sorry.) Hydrocephallus hails sodomy as something we should all do. Another two songs introduce a mythical universe dominated by Scrod, which is a god, half-lizard, half-man. Don't ask him where the tail goes. We cackled, we danced, we whooped as Adam posed, gyrated and generally carried on. What a great show. At one point most of Adam's scrotum was hanging out. Mark Zuckerberg would've wept with the sheer anti-community standards of it all.
I gather there are some recordings available on Adam's facebook page. But of course the real impact is the live show. Em has never witnessed Hydrocephallus before, and she promptly loses it in disbelieving giggles. Sam loses his shirt. Most of us are dancing. Ludicrous. But rather wonderful. Afterwards, Em is considerably surprised to recognise her friend Adam emerging from under the wrestler's mask. Glass of water - or gin - for Miss Em.
Secret Salmon have escaped the soul deadening burbs and, with two men (Peter and Jeremy) huddled over a pair of laptops, and a pedal board strapped to the chest of the third member (Jed), you know this is going to be unique.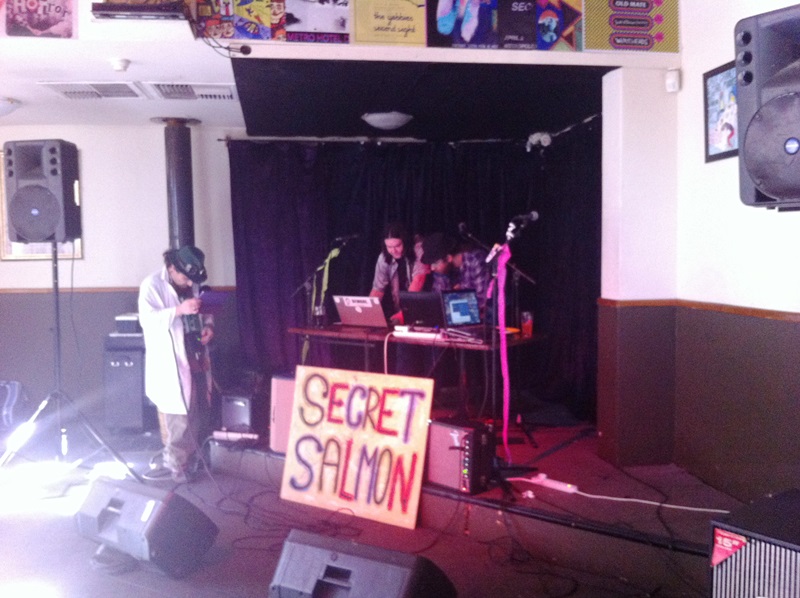 And it is. The music is sequenced and chopped language, soundscape rather than a song. And there's a narrative, involving one John Titor, a metanym or somesuch for an alternate Jesus Christ, who has to go into the future to rectify a past wrong or … well, something. It got a bit woolly in there. We are informed that they are each John Titor, and at the end, that we are all John Titor. One's tiny mind boggles somewhat.
'Good Luck, John!' is their catchphrase tonight and we gleefully join in, fascinated by the sounds (it's a big bloody racket at times) and the lack, really, of visuals. If you were expecting Kylie, you would be disappointed (especially in the boobs department) but again, almost all the crowd are dancing, more tops are lost and I'm sure the world turned day-glo there for a minute or two. Glorious eccentricity, right in the face of the land of the lost. Prize moment? they took up a collection plate which netted two health bar wrappers, a guitar pick, $2.25 and a sock.
Next is X 3 Lodge, whose name seems vaguely Twin-Peaks-ish. Now, Nathan Dale is well known around Adelaide as an innovative, improvisational guitarist with a string of bands behind him. Mike Baraniec is equally well known around Adelaide as a heavy, squalling, innovative and improvisational guitarist who appears in such bands as Fiendish Cavendish and Mexican Blood Egg. Mike Wilczek is equally well known around Adelaide as drummer of considerable power and dexterity, with a string of musical outfits behind him.
So. Mike W and Nathan are on laptops. Mike B uses his bass and amp to set up arrhythmic heart loops and sound textures. It's killer, and as the sound builds, again the crowd is dancing. Nathan tells us that their singer has abandoned them for the fleshpots of Semaphore, and invites the audience to contribute to the vocals, which several do (including Dimitri and Nick). Secret Salmon's catchphrase also finds its way into the mix.
About two thirds the way through, Dot, Nathan's partner, turns up from work, plugs in her iPhone and does some rather moving vocals. Dorothy, currently on FB as Pig Sus, has one of those lengthy Adelaide pedigrees which stretch back to the dark ages of 205 O'Connell Street and, still true to that hotbed of insurrection, has either been in or run bands which have varied from the extreme (White Tiger) to tough rock'n'roll. Let's not forget she's actually studied music at University level, which is more than I can say for most musicians.
If I were to compare X 3 Lodge to anything, it would be the late lamented White Tiger, but with seriously ill dance rhythms. White Tiger have done a bare handful of performances, I expect X 3 Lodge will do more, but you never know.
Now, being psychic, I know what you're thinking. This all sounds very self-indulgent, Robert. Where is the artistry, where is the skill..?
Well. You had to be there. The artistry and skill were there. Everyone was all rather magnificent in their decision to simply … step away. Sure, each of the acts could do with a bit of spit and polish. But who couldn't?
I had a lovely Sunday afternoon with some folk who typify that peculiar, special Adelaide creative aesthetic (which influenced such "scenes" as what came to be thought of as the Black & Red Eye crowd). X 3 Lodge, Secret Salmon and Hydrocephallus should all be playing in the Festival Fringe. They're certainly more entertaining, and honest, than all those wretched comedians twittering to the converted.
Tags: live, adelaide, x 3 lodge, Hydrocephallus, secret salmon