Tears without fears when Andrew and Melinda play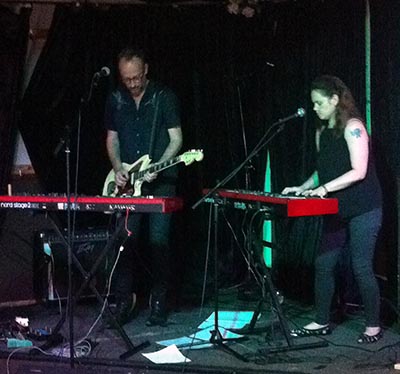 If you've not seen or heard Andrew McCubbin play, or if you have but not seen his current set, drawn from his new LP "Where Once There was a Fire", then I can only urge you to do so.
They're in Adelaide tonight but McCubbin and Melinda Kay toured Europe earlier this year to a strong response from crowds, most of whom it is fair to say, were unfamiliar with the music.
The new album is a deeply romantic, sweet, painful, exhilarating slow burn. So, no, they're not Marky Ramone (who played tonight elsewhere) or the Cosmic Psychos or a Birthday Party covers band.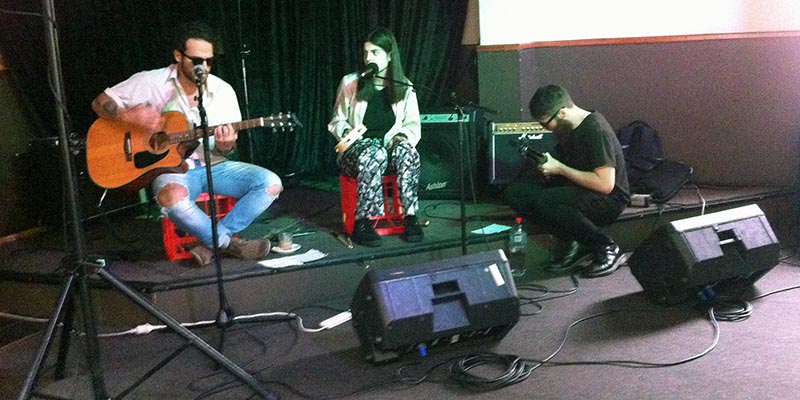 The Vulgars.
Andrew McCubbin and Melinda Kay
+ The Vulgars + Insomnicide
The Metro, Adelaide
November 26, 2017
I've told you about "Where Once There was a Fire" elsewhere, but live … it's a very different animal. The performance tonight was a great deal more intimate, powerful, tender. Some of the songs seemed slightly slower, more graceful, and … astonishingly quieter - to the point where the hum from the speakers was audible … which, bizarrely, added to the effect.
Essentially a series of songs which depict a romance, Andrew and Melinda's, "Where Once There was a Fire" moves through years and through the present. On the one hand it's achingly beautiful and moving, on the other it's quite profoundly uplifting - I can't actually think of another couple who have used song to expose their inner lives with such clarity and understanding.
The sensation we all have - assuming you twig what they're up to, which you should, given the nature of the songs - is of empathy. It's a most extraordinary thing. They played one "new" song, "Do Me In", which had tears welling up; in Europe, at one gig Melinda began to cry as she played, tears running down her face, and Andrew started too, had to walk to the back of the stage to get a grip, still trying to play …
McCubbin and Kay's gig was another top gig of the year as far I'm concerned. Not everyone will "get it", I know that. But you'll be very, very glad you if you take a moment to investigate. You can't always listen to "Raw Power", after all.
Insomnicide were the opener, but without drummer Shakey McGee (perhaps better known on this site for her drumming with Kim Salmon at the Crown and Anchor a while ago) it's Rosie Brennan.
The first song was a well-crafted instrumental which began with a looped rhythm, which allowed her to apply her skills as a player and her sonic imagination. This technique has been in use for a long time, of course, but few musicians use it because it is actually rather hard to pull off successfully. Violinda was rather brilliant, I recall; more recently I've seen Hugo Race, Dean Richards and Rossco Jalopeno use them to spectacular effect. Rosie's next few songs were good, but do seem unbalanced without foils for her to work off. That said, there's a lot of talent and crashing influences here, so where she'll go next is anyone's guess.
The Vulgars were on second, an acoustic, and electric, and a tambourine; two sat on red milk crates, the third perched on the lip of the stage. The chap with the acoustic did most of the vocals, the lass with the tambourine the backing vocals, the chap with the electric guitar, well…
Every song made you smile, like McCubbin there's a familiarity to them. Intimate and unconsciously themselves, completely different from the noisy skrawk before, they proceeded to play a series of songs which, were the music industry still sending out scouts, would have a small crowd of balding men with earnest expressions and chunky gold necklaces waving contracts.
They really are that good; down-to-earth, with the kind of relaxed songs you can imagine being played around the campfire or, more likely, in the back yard after a family barbecue with the bean bags dragged out from the sleep-out.
As Insomnicide are playing around so much I'm sure I'll see them again; The Vulgars I will make a point of seeing again as I gather they don't play every week, and as for McCubbin and Kay… I'll be seeing them play again. Apparently they're launching "Where Once There was a Fire" in Melbourne soon.
By now you should know what to do.