Television + Ed Kuepper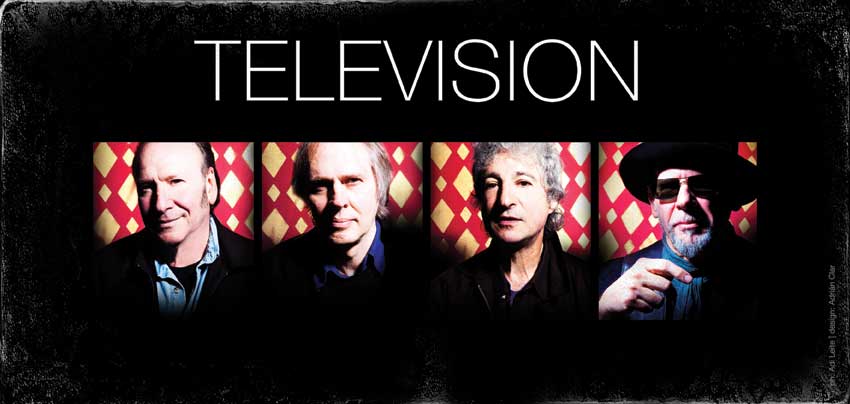 Enmore Theatre, Wednesday, October 30, 2013
Restraint is not often a by-word around these parts but let's at least try to keep some perspective. A visit to Australia by Television seemed unlikely, if not an absurd proposition, just a few years ago. The band was scarcely active, Richard Lloyd having had long flown the coop, and Tom Verlaine had let a label issue two mothballed solo records that were barely promoted. It seemed if the TV hadn't been turned off it was in storage and in danger of being forgotten.
Gigs in South America again raised hopes and by the time that the All Tomorrows Parties franchise announced them on the Release The Bats bill in Melbourne it was pretty much a foregone conclusion that after coming all this way, they'd do sideshows. And so it came to pass.
Me, I've got unfinished business to attend to. I've been a Television fan-atic since my 20s. By luck, I managed to be on a day-off on a work trip to the US in the 2000s when the band was playing All Tomorrows Parties at UCLA. My name was said to be on a door-list and, without a car, I splurged on a taxi from Hollywood to the venue. Said door-list had not been delivered to the box office so I queued to buy a ticket…to see the shutters come down and the House Full sign go up when I was two places from the front. No amount of grovelling to a fuckhead publicist outside the venue would get my sorry arse inside that door. I retreated by cab to Sunset Strip and had a drink at Slim (Stray Cats) Jim Phantom's bar before going on a sweep through Tower Records and a one-man pub crawl.
It's a sober, cool and clear Wednesday night in Sydney and Enmore Theatre doesn't smell like it used to. The overpowering stench of rising damp is gone, thanks to some never-ending refurbishing. Some things stay the same and management still can't open the doors on time. Not that there's a rush to get seated. If support Ed Kuepper hadn't delayed his set by 40 minutes, he would have been playing to three hipsters and a lady on crutches.
What a difference half an hour makes. When Mr Kuepper takes up his place on a stool amid his effects box and three guitars, there's a whole bunch of greying punters in place - mostly blokes, some with teenage offspring (that'd be me, too) – ready to receive what Sir Edmund will graciously give. Which is a set of well-loved and sometimes radically re-invented (as is his want) solo, Saints and Laughing Clowns classics.
Someone really needs to set up a Society for the Protection of Guitars. If they saw what Ed does to his arsenal of two six and one 12-stringers they'd sool a welfare officer onto him. It's a thrashing but when the song demands, he extracts enough light from between the different shades to hammer the ears. Ed is The King of Dynamics. Songs like "Swing For The Crime", a radically re-tooled "Collapse Board" and "Eternally Yours" are all evidence that this old dog can always teach us all new tricks.
The media line that he's a crotchety old bastard has long died a death. Fresh from a national tour of audience request shows, Ed is positively effusive in his interaction with the crowd, even volunteering the back-story that "Collapse Board" is all about him (as tabloid paper reporter) observing an actor on the set of a film where constant re-takes of an execution scene are testing the friendship. Make the most of it folks, methinks, because the Ice Kings are only a kiss away and they're notoriously imperious …
Which just goes to show how wrong misconceptions can be. Tom Verlaine is as close to gushing as he could be tonight. Don't tell anyone but I have about 60-70 TV bootlegs (currently housed at a secret location) and I have never heard him say more than a few words between songs to any crowd, anywhere in the world. Two songs in and we get: "This is a nice town." In fact, there's a string of asides – most of them on-mic, unlike some of his singing. At one stage Verlaine tells us not to listen while he has a conversation with the lighting guy to ask for the stage to be blue-lit.
As again unlikely as it seems, the word of the night is Levity. Billy Ficca is mugging away on his kit, throwing all sort of drumming shapes between songs. Richard Lloyd's well-credentialed replacement (and three-decade Verlaine solo band sideman) Jimmy Rip looks as happy as a pig in poo. Even Fred Smith seems not quite rooted to the spot (his left leg is spotted moving) and manages what looks like a wry smile in parts of the two-hour set.
But back to where we should be. Television's impending arrival is announced by the recorded tolling of bells. Lots of them. For a very long time. The stage is stark, the backline and both lighting minimal. There's a cheer that only a cult band can inspire as the four members walk on. Then there's an anti-climax as they take two minutes to tune up.
"Venus de Milo" is first, majestically unfurling with Verlaine holding down the backbone riff and Rip adding the filigrees. "Elevation" (naturally enough) kicks it up a notch and then there's a detour into "1880 or So", the opening track from the criminally-underrated eponymously named album from 1992.
Here's where things get real interesting, real fast. Rip steps into the figurative spotlight (because, in reality tonight, there isn't one) with an extended feature solo that tears the Enmore, and the skies above it, a new orifice. Almost as tall as Verlaine, knock-kneed with a billygoat beard and a hat, he says more in a few bars than most guitarists manage in a life of lunchtimes. He's no Richard Lloyd (he left in 2007) but he's not trying to be. It's truly a jaw-dropping moment and proof, if needed, that this is no cabaret.
TV plays all but of "Marquee Moon" bar one song tonight and "Little Johnny Jewel" (their debut single) might as well be counted as another if you're a revisionist who has the CD version with it appended as a bonus. To my ears at least, this one was in danger of slipping off the rails in the early stages, with one or both guitarists playing a different song to the one whose bass-line Fred Smith was happily laying down. Of course Verlaine and Rip both ended up where they were supposed to be – which, if you know the tune, you'll know is a lockstep collision of riffing guitars. Verlaine took a lot of lyrical liberties which added a fresh element to what (he says) is a collection of intricately arranged music. The driving "See No Evil" that follows sounds comparatively conventional.
There's a diversion into a new one that sounds strikingly ethereal, if self indulgent. We're not told its name. "Prove It" is a sing-along (this is a seated show but both sides of the room are lined with people standing and, ah, dancing) before the extended trip of "Persia", another unreleased newie. There are comments around (at the time and aftert) that it's too long. I'd put that down to unfamiliarity. "Guiding Light" offers more dramatic soaring leads. You know what's next.
"What you want is a 17-minute spoke word rendition," Verlaine offers before the inevitable "Marquee Moon" pulls out of the graveyard. Rip arrives on cue with his part and gives the song an almost brutal touch. The thought occurs that this band must have played this at just about every show they'd played since 1977. It's a re-tooled Television here tonight, admittedly – if you want to get technical, only Verlaine and Ficca are original members - but its intricate twists and turns still sound fresh and alive.
The ritual of the band walking off and back on occurs. It's called The Encore. Verlaine teases us with the strafing fret runs of "Friction" before the band launches into the song for real. Then he reprises his runs in a way that seems so much harder and faster than the recorded version to (almost) render it redundant.
We get just one more. "Psychotic Reaction" is a throwback (isn't everything?) that's given a drastic re-working. Television dis-assemble it, breaking it down in its second half to a slow, bluesy ghost of itself. It doesn't work for me but many disagree. I could have settled for something from "Adventure" (songs from which are entirely absent - although that isn't a shock considering their festival show was a complete run-through of "Marquee Moon".)
Sublimely great. Maybe not life-changing but life-affirming.
Tags: television, tom verlaine, marquee moon, sydney, ed kuepper, jimmy rip, fred smith, billy ficca