Aints no doubt about it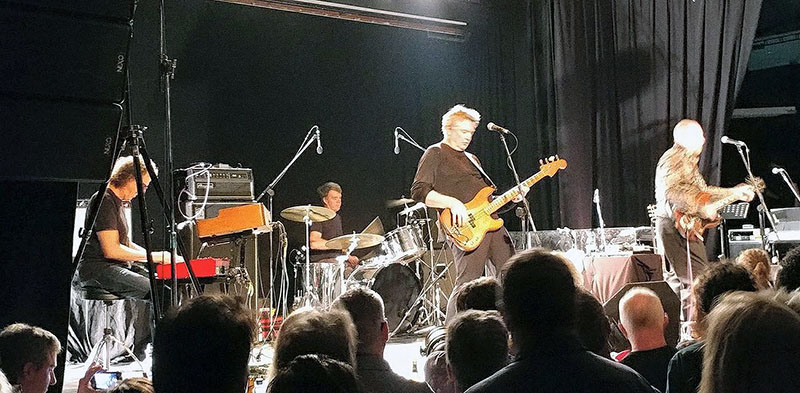 The Aints in Sydney. Iam Amos photo.
It's a concept both risky and bold. The Aints, as they were originally constituted, were a short-term thing that evolved into something more substantial. After a live record and two studio albums, they'd been put to one side for a time (25 years) while main protagonist Ed Kuepper did other things. Many other things.
Much water had passed under the Go Between(s) Bridge since then. History had also put on a lot of weight. The original Saints had re-convened for a tour that did a degree of justice to the band's name, but was clouded by ill-temper.
Thoughts of doing it again apparently reside in the church of indifference, baby.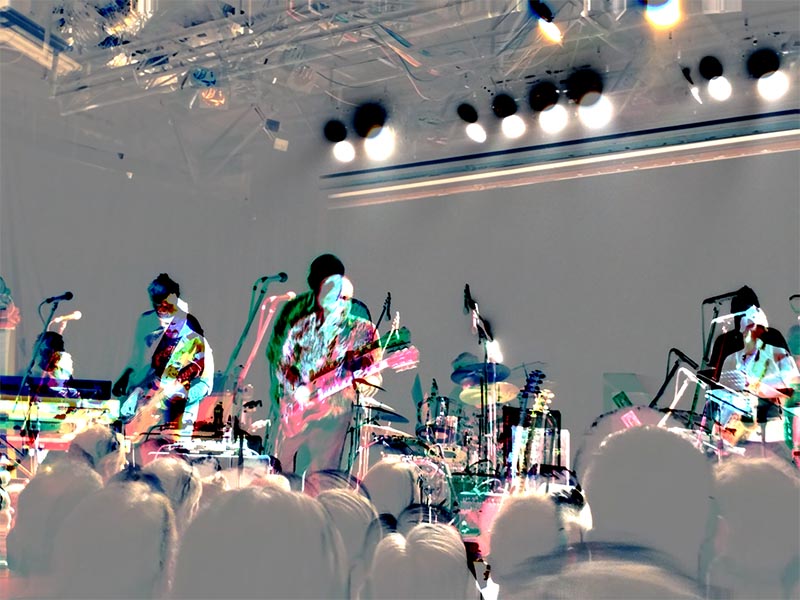 The Aints
Harry Howard and The NDE
The Holy Soul
The Factory Theatre, Sydney
Friday, November 23, 2017
Photos: Iam Amos
The thing you have to understand about The Aints is that there have been distinct phases of them. The first was the cover band, reprising Saints songs from the first three albums and the EP, and the second was built around new songs. Phase Two Aints were exploratory, taking equal measures of inspiration from the Saints' early material as from psychedelia, the "Fun House" Stooges and jazz.
There was a distinct progression. The pre-tour press about this Australian run by a third phase of The Aints made it clear that the intention was to take a new line-up somewhere else again.
If you're struggling with context by now or still too ready to dismiss The Aints as yet another nostalgia trip in a modern rock and roll world wall-papered with them, it's worth recalling this quote from Ed Kuepper from an ABC Radio interview two years ago. The occasion was his release of his 50th album in his 60th year:
But I do think it's important for me to develop. In some ways there's nothing sadder than seeing a lot of middle-aged or older, increasingly people moving into older age, playing music that hasn't kind of evolved with them.
Insert your own reference point here: _____________
That's almost enough rumination. If you want more, this excellent pre-tour yarn by Brisbane's Steve Bell will fit the bill.
It's Sydney and we're at the back end of the nine-date "The Aints Play The Saints 73-78" tour. Two more gigs remain after this. The previous night was a quickly organised extra show at Sydney's Bald Faced Stag Hotel that had been rapturously well received. Tonight's Factory Theatre show has been sold-out for weeks.
As much as I hate reviews that apologise for missing the opening band, I wasn't upstairs in time to catch The Holy Soul. I'm a fan and this was my loss. I did arrive in time to catch Harry Howard the the NDE.
It's a fact that Harry Howard's musical career includes time in Crime And The City Solution, the Birthday Party (filling in for Trace Pew) and These Immortal Souls. It's another fact that most of the Sydney folk here wouldn't be able to identify him in a line-up parade, even if they knew the work of his older brother Howard. Pity because the album I've heard ("Pretty") is excellent.
There's a lot of The Modern Lovers about the NDE. The backbeat is immaculate (Clare Moore on drums) and the songs have room to breathe, so there's a little of Richman's looseness in the delivery. That's a hatted Dave Graney rumbling on bass with Howard's partner Edwina Preston on keys, and the man hisself doing the vocals and guitar thing.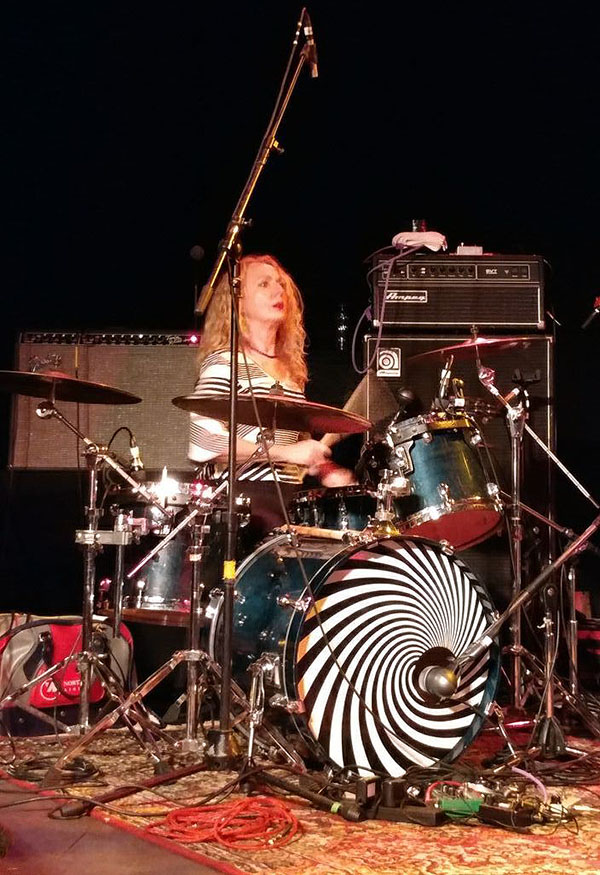 Preston's keys are very prominent in the live mix, giving the songs could and providing a lighter contrast to some of Howard's dark themes. The songs are diverse and swing from dirges to catchy garage skronk and there's even a Boys Next Door cover thrown in towards the end.
The NDE makes a positive impression on the now sizeable crowd (other than Bob Short, who's one word comment is: "Melbourne") and I would have gone to see them at The Union the next night if I hadn't been otherwise engaged.
Changeover time. More $8 beers. The Aints warm us up with an interminable sample of dialogue from "Taxi Driver" and then they're on-stage, the three-piece brass and horn section assembling first.
"Messin' With The Kid" opened and as much as I love that song, it's not the explosive attention-getter you usually expect as the ice-breaker. It's more a mid-set breather after a band has made an audience's acquaintance. It's rendered well, regardless, and the new brass part is a statement of intent. No faithful following of the script to be had here.
"Erotic Neurotic" is next - and strikes like a nail gun to the head.
This is an all-star band. Paul Larsen on drums brings none of Ivor Hay's quirkiness - and nor should he try. He's all killer feels and sure-footed kick - just perfect for the job. Long-time Kuepper sideman Alister Spence adds colour that fills the sound out remarkably, but Peter Oxley's bass is the ace in the hole for mine. He's always been in his own league, mind you. Melodic and massively powerful. He's the glue for this band.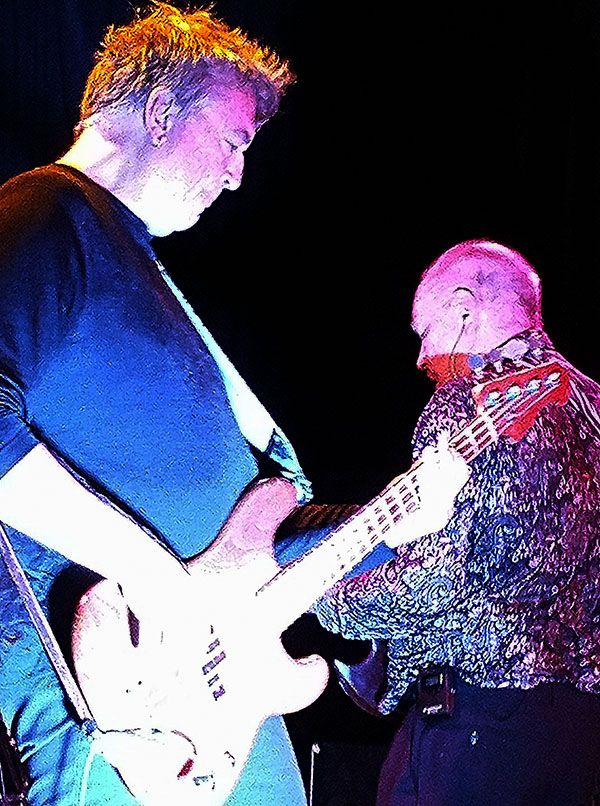 Nights in Marrickville: Peter Oxley and Ed Kuepper.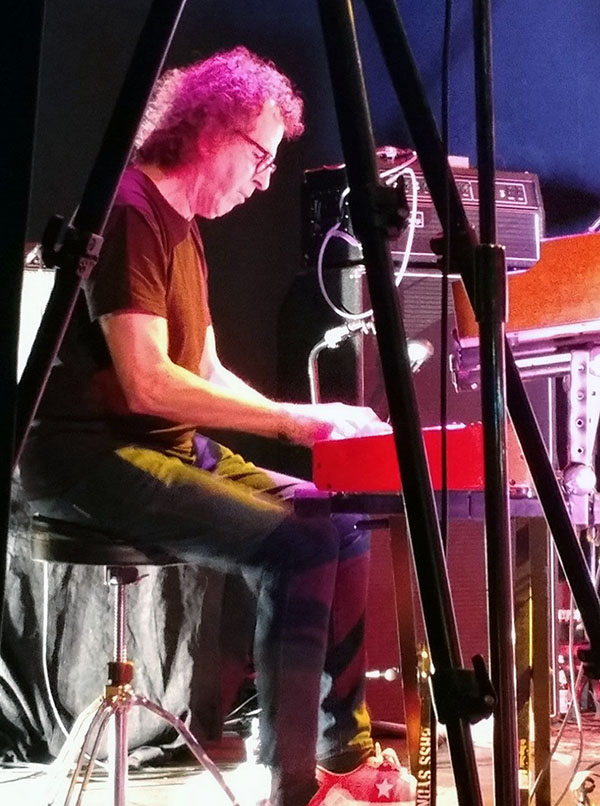 Keyboardist Alistair Spence.
"This Perfect Day" would have been the high point of the night. Would have been, if "Nights In Venice" hadn't been in the set. Guitar players say the Sunbury live version of The Colored Balls' "G.O.D." has no peer for its build of harmonics upon harmonics. Note for note, I'd tell 'em that as much as I bow to their technical knowledge, "Nights" tops it for mine tonight.
Kuepper is just about peerless as a guitar player. Not many people around in Australia today can play like him. No capo tonight. He takes high-powered downstroke to a special level. He's on-point with his comedic game tonight too, throwing self deprecating patter out as he explains the raison d'être for song choices or teasing the crowd with the intro of "River Deep, Mountain High".
For the record, here's the set-list:
Messin' With the Kid/Erotic Neurotic/This Perfect Day/The Prisoner/Everything's Fine/S.O.S. 75/Demolition Girl part 2/Church of Simultaneous Existence/Red Aces/Brisbane (Security City)/(I'm) Stranded/The Chameleon/Know Your Product/Nights in Venice

Encore: Swing for the Crime/River Deep, Mountain High
If you've noticed the unfamiliar song titles at the heart fo the set, you've done good. These are compositions that were written and/or recorded, and rejected, for the first three Saints albums. "SOS 75" and "Church" are especially good. "Red Aces" is an Aints Mark 2 recording in considerably different form.
And here's the nub of that line about progressing the music.
We will hear these songs, outside the live context, and perhaps some other newer ones when The Aints go into a studio in 2018.
Now, that is an exciting prospect.