The day a Rambling Man touched down in Tulsa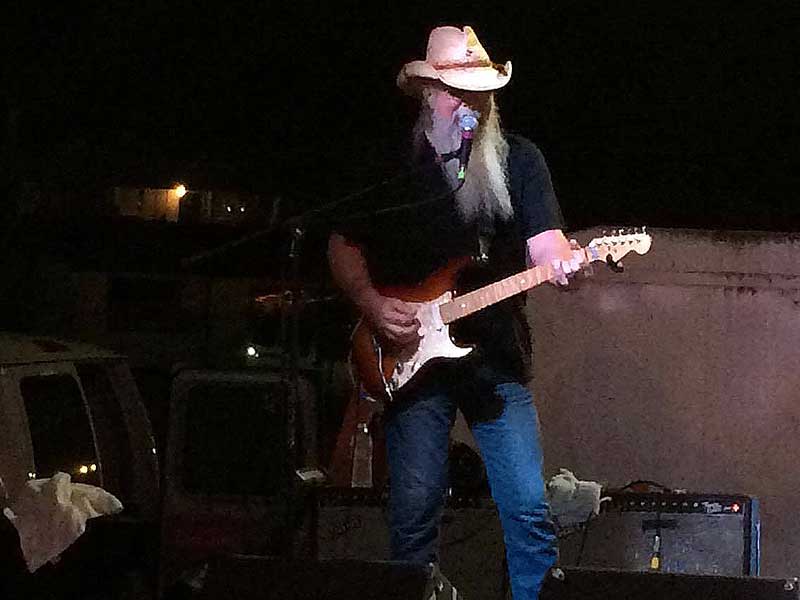 I was taken aback to learn that Les Dudek was booked to play a club date here in Tulsa. Being familiar with his work from years ago, it was a pleasant surprise.
Mr. Dudek recorded a number of albums for Columbia Records back in the late 1970s and early 1980s. In addition, he has worked as a session musician for the Steve MIller Band, Boz Scaggs, and many others. He was also involved with Dickie Betts and the Allman Brothers. writing and playing on their "Brothers and Sisters" album but not receiving any credit. He plays on their major hit "Ramblin' Man", playing harmony guitar on that song with Betts.
Les Dudek and his band
Knuckleheads, Too!
Tulsa, Oklahoma U.S.A.
Thursday June 23, 2016
The venue that Mr. Dudek was booked to play is called Knuckleheads, Too!. It is located at 3156 South Mingo road here in Tulsa, Oklahoma. It is a neighbourhood bar with a friendly, welcoming atmosphere. My brother remarked how relaxed it was.
Mr. Dudek was to play on the back of a Flatbed trailer. I was happy to learn that the show was outside. A cool breeze came up which made it very comfortable and pleasant. It was an ideal environment for enjoying live music.
My brother and I were joined by our old friend Steve Darr as we took our seats.
When Mr. Dudek and his band took the stage and started playing, it was obvious that this was something special. As my brother remarked later, this show was a Treat.
Mr. Dudek was ably assisted by Gary Ferguson on the drums and Dan Walters on the bass guitar.
He and his band were tight. It was a marvel to watch their interplay. On many of the songs, they stretched things out.
He played a full two-hour set. He kept his music interesting. He is a resourceful and creative musician. His music was vibrant and engaging.
Although, the bulk of his set consisted of selections from his latest album "Delta Breeze", he did play a few songs from his older Columbia albums, including "City Magic" from his first album. He also played a cover of "Ramblin' Man". The feel remained true to the original recording.
Mr. Dudek's music could be referred to as Blues Rock but, it is much, much more.
He didn't come out blasting. Rather, his music has a smoldering intensity to it.
He played a blues song "Deeper Shades of Blues". Which to my ears, brought to mind Roy Buchanan. It was tastefully done.
It should be mentioned that Mr. Dudek is a solid songwriter. Often times, there are players who are competent but they can't write very good songs. Poor song structure and lyrics that need a lot of work. That isn't the case here. Mr. Dudek's songs are well put together and he's a got something to say.
Generally, he expresses the emotions and feelings that people experience every day. There's something to be said for that.
Towards the end of the set, Dan, the bass player took a solo. He laid down a supple groove. Then, he was joined by Mr. Dudek and Gary, the drummer. They played a great improvisation.
It was a fitting end to a most satisfying live performance.
Afterwards, We were able to meet and talk with Mr. Dudek, and Mr. Walters and Mr. Ferguson. We found them to be cordial and courteous. Mr. Dudek answered our questions and filled in numerous details about his career. He even signed Steve's copy of his "Say No More" album.
I haven't enjoyed a show this much in ages. I believe that Mr. Dudek's strongest asset is his ability to play his music live. And, it goes down like a storm.
Tags: blues rock, les dudek, allman brothers, steve miller band, columbia records