The night Rickie-Lee was one of us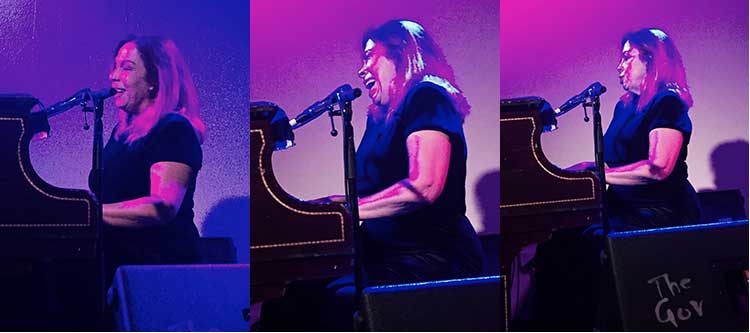 Heads up: Rickie Lee Jones was magnificent. As well as being a great gig, it was quite a strange evening.
So, ho! Once more to the magnificent Governor Hindmarsh Hotel (aka The Gov), to which I have been arriving in all sorts of moods to see all sorts of bands since I think 1979. No Fixed Address (many times), Drum Poetry (once), The Birthday Party (the last of three memorable nights in Adelaide). And so on.
Actually, because the Gov is such a great venue, if you are coming to Adelaide, it is one of a handful of 'I gotta go there' venues. Thankfully it's not a toilet like CBGBs or the 100 Club used to be: the Tonkin family have long-since revamped and reworked the place into a rather wonderful, cosy, recreational area for grown-up. The food is always good, bar or restaurant, the staff always fit into their team (I've never encountered a shit or indifferent staff member) and the place seems comfy and perfect even on Adelaide's famous disgustingly hot days.
Rickie Lee Jones,
The Gov, Adekaide
April 8, 2017
Let's say you've just got off the aircraft. Get the bus into the city. Check in, heave your bags onto the bed, take your keycard and wallet, go into the street and hop on the tram marked "Entertainment Centre" (most of the decent hotels are along the tramline). Now, the Ent Cent is a disgusting concrete bog with huge pretty lights; when you get off at the terminus, head away from the horrid thing, cross the road (at the traffic lights), turn right and head straight for the Gov.
Perfect evening. And the tram usually runs late but if you totter out and miss it, cabs know to head to town past the Gov. There's often unexpected (if wibbly) custom.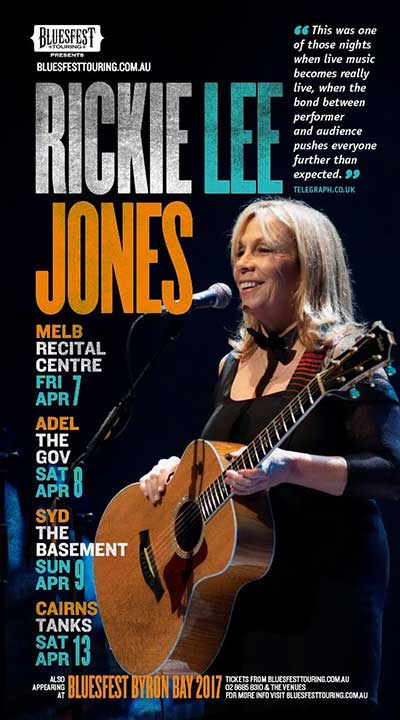 Tonight there was no support. An expectant crowd had turned out to pack the joint, and once more the Gov put out those stackable chairs on two sides of the room for the comfort of the older, more frail fan who frankly cannot stand around waiting for the band at their age. The chairs weren't part of the ticket price, weren't allotted, and of course they're not fixed to the floor.
(Did I tell you my 'why the Big Day Out really lost punters' theory? they didn't take into consideration the fact that a lot of older, much more cashed-up punters eagerly watched out for who the BDO would bring, but were defeated by the endless cluster of unfamiliar names, and when the big names they wanted did come, were discouraged at the idea of standing in a paddock on a 45C day for four hours. Oh. Did I tell you that already? sorry. At least they had the sense to put Kraftwerk indoors.)
And there was an incident, just before the show, because quite a few of the punters weren't remotely elderly or frail, but were hale and hearty. The crowd ranged from teenagers to late 60s, which is always an interesting sign.
So we all moved up to the front as the onstage time approached - just like I've seen before here, with The Troggs, for example; the chair-ridden on either side. Weirdly, and unlike at The Troggs, all the chair-ridden sillies (CRS) moved their chairs determinedly forward. Rather like having a gig in your lounge room, I suppose.
And then some of the CRS began to complain to the few people at the edges of the standing-up crowd that they couldn't see. Which was, you understand, their own fault. Jesus wasn't required to make an entrance and raise them up. "I can walk!" At at a gig, if you can't see the band, you move to where you can. Or head to the bar. Different if the gig's ticketed, unless everyone's standing (like at the Stones).
Nearby, a tall officious jerk (TOJ) began to hassle a couple of people at the edge, 'you're blocking their view', he said, finally grabbing an older bloke.
The bloke looked behind and to his right in surprise to see that the CRS had moved their chairs several metres closer; still, the only people whose view he'd be blocking weren't hapless pensioners or cripples in wheelchairs, but three young women. I didn't hear the answer, but the TOJ was clearly annoying him, demanding he move aside, and his mood went from incredulity to irritation to what looked like rage. But there wasn't any room for him to move. And he was getting angrier with the TOJ, and the three young women didn't seem to be particularly concerned or interested. I wondered if the TOJ was trying to impress them…
So it all happened in a flash, really, and you could see it on the older bloke's face … He'd become really angry really quickly. Either he could allow the situation to escalate by telling the TOJ to fuck off, or headbutt him … and then his face changed as he realised he'd probably ruin not just the immediate people's fun but probably the entire gig for everyone, including the performer. And he decided to leave. The TOJ made another comment to the older bloke as he shoved his way out. There's no way of knowing what the older bloke's reasons were, of course (he might have been out on bail or some such for all I know, and reluctant to cause an affray). Either way, it took guts to walk away from that. Not the way I was brought up. I didn't see him after that, so he might well have walked out, fuming. If you've ever been that angry over something you know is petty and you know you're right… it can take a while to calm down.
The TOJ and the CRS were bang out of order. Particularly the TOJ. Frankly, he was an arsehole. The older bloke had his evening ruined by a bunch of selfish shits - which kind of sums up the world we live in. It's a world riven by violence, where a TV show isn't interesting unless it involves conflict of some sort (even those awful cooking shows). The Tall Officious Jerk will doubtless be braver in future, and he'll hopefully do it where he can be pounded into a burgerish substance, and doubtless he'll learn to talk again after a couple of months … in a kind of code constructed from blood bubbles. It never occurs to self-righteous jerk that not only are they wrong, but that they're putting themselves in danger. Poor Darwin, not allowed to function in our society…
So I was pondering away when, a few moments later Rickie Lee made her entrance through the crowd wearing a tinsel crown, punters helping her up onto the stage. The band was a percussionist (brilliant) and an electric guitarist. Rickie Lee alternated between a baby grand, electric and acoustic guitars.
We were very, very close. Reach out and touch close. But no-one did, we were just so happy to be there.
Oh. Neither of us had seen her before, never heard more than one song. You know, the famous one about Chuck E. Weiss. It could've been a dreadful mistake. The Barman texted me 'Is Rob E in love?'. Bastard.
Rickie Lee Jones was brilliant. Not merely a performer, but a human being performing - there's a difference. The lighting on the stage was all blues and pinks - as she sat down at the piano we heard her mutter to herself, 'It's like being on bad acid up here.'
Which sets the scene. She's vulnerable, strong, powerful, emotional. Communicates.
One of the early songs, when Rickie Lee was on guitar, was so powerful. It was as if she was remembering how she'd been hurt so badly. You had a visceral thump in the chest as you realise she's been through a lot in her life, a lot of heartaches… she heaved a big sigh as she finished that one. There was a big pause as she finished, heaved a big sigh which we all followed her with, feeling the intensity. I'll have to get a few CDs to figure out which song that was.
Rickie Lee really feels what she's singing about, it's not just about the manner and style of putting the voice out. There was such a strong sense of her lost loves, as if she still wonders what if… and it needn't have happened… and we can all relate to that. Rickie Lee joined us together.
Just huge. All of her songs have a quality of depth buried in simplicity. And we watched, hardly daring to breathe…
At one point someone calls out that most patronising of comments, 'You still got it!'. Rickie Lee muttered, 'I hope it's not contagious'.
My partner commented that it was amazing to see an older lady singing with the voice of a young girl; the girl was pouring out of the woman, the girl in jeans and shirt, big smile and a floppy beret. The girl is still in there, she never left.
You gotta listen to Rickie Lee's songs. She has the melodies, she has the presence. She's better in person than any recording. Some people need to be produced in a big studio with big effects to produce a good record. All you need with Rickie Lee is the equipment, the settings, the time and the button that says: Go.
Rickie Lee seemed relaxed and happier as the set went on; but she thanked the people standing up as opposed to the CRS - who didn't seem to understand why she'd be saying that. Thing is, when you stand and cluster round the stage, at a gig, you look like you're interested, involved, keen to hear more. If you're lounging in a seat you look like you're waiting for the news to end so you can catch the weather and get up and get a cup of coffee.
The percussionist and guitarist were well and truly in lock-step with each other, and there was a strong bond between the percussionist and Rickie Lee. No, to my shame I didn't get their names. Too stunned afterwards.
Here's the set list, as it was printed.
Texaco/ Weasel/ Youngblood/ The Real End/ Saturday/ We Belong Together/ Living It Up/ Pirates/ J'ai Connais Pas/ Smile/ Tell Somebody/ Blinded by the Hunt/ Falling Up/ Mink Coat/ Ugly Man/ Road Kill/ Horses/ Love Gonna Bring Us Back Alive/ Chuck E
Rickie Lee altered it as she went, which I suspect she does every night.
And this is what I think it was on the night. And I could be quite wrong about that, too.
Weasel and the White Boys Cool/ Young Blood/ Circle in the Sand/ The Last Chance Texaco/ Love is Gonna Bring Us Back Alive/ Cry Me a River [Arthur Hamilton for Ella Fitzgerald]/ Coolsville/ We Belong Together/ Living it Up/ The Horses/ Chuck E's in Love
Everyone sang The Horses (except me, I had no idea, but I asked my partner how the hell she knew the words and she explained she was a big Daryl Braithwaite fan and it was a big hit for him in the early 90s) (I'll be ditching her this week. Daryl Brackerwacker. I mean fucking hell) and Chuck E's In Love which as you'd imagine brought the house down. "I feel like I'm a rock star," Rickie said.
The mood in the room was huge, sentimental, strong. A hell of a thing, but I guess you had to be there. The best comment I heard was from my partner, who got into it so much that people asked her how long she'd been a fan. She'd not expected to respond so powerfully to Rickie Lee, thought she'd take a few photos and leave. Instead…
Rickie Lee did have several other songs planned, according to the set list (Infinity/ Tigers/ Vessels of Light/ Spring Can/ Firewalker), but she didn't do them. The crowd in front of her were absolutely in love, but for all I know RLJ's voice wouldn't hold out (though there was no evidence of that). My best guess is that she wasn't comfortable up there, not with the sit-down sillies to her immediate left, and possibly the lighting. So she got down from the stage - into the crowd, several of whom gave her huge hugs - and made her very slow way toward the exit. Just one of us.
She was brilliant. Not a performer performer. But a person who also performs. Don't miss Rickie Lee Jones, she's a marvel.
Here's the rest of the tour. Get out amongst it.
9th and 10th April, The Basement, Circular Quay
13th April Tanks Arts Centre, Brisbane
14th and 15th April Bluesfest, Byron Bay
Here's her website, get your wallet out - there's quite a few live cds as well.
If you have the money, get hold of her management and bring her back. But get her to play places with no fucking chairs so morons can't pretend a gig is their living-room and the performer is a lame tv show. The sit-down sillies left their drinks behind, upturned bowls of wedges all over the floor.
We emerged into the night to the ever-tarty Ent Cent, the trams disgorging people dressed in those ugly AFL uniforms, making the world seem rather sordid and limited in scope.
Then we remembered… Rickie Lee Jones.
And we smiled.
Tags: live, rickie lee jones