The Pop Group live in Adelaide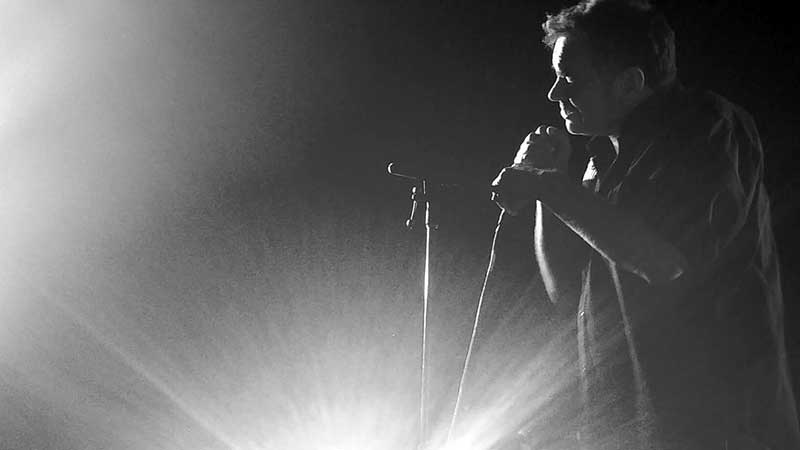 Tom Way Army photo
Supports Simon Barker and Brian Ritchie were on first. Barker had me enthralled, utilising his kit like it was a series of implements to make specific sounds. The musical pieces he and Ritchie made were enthralling. Ritchie (the, er, violent femmes among you may recognise the name) played a succession of rather out-sized flutes.
Now, given that we were in the Freemason's Hall, a very macho, secretive kinda place, and that Ritchie was wearing a sort of rubber cape (with a zip), what looked like Indian love beads and wielded those protuberent, suggestive flutes... well. And there was a dancer, who worked hard but I didn't really enjoy. I was just transfixed by the music. Beautiful, sometimes crushing ... and rather lewd ... hmmm.
Freemason's Hall, Adelaide
5 March 2015
If you were a male of any age over about six during the 1970s, through Benny Hill and associated British telly comedies, you would have been exposed to a certain amount of Cockney rhyming slang, and other rather rude slang, disguised to a certain extent. Hill, for example, made great mileage out of the word "Bristols", for breasts. In context, you instantly get the joke. As a small boy, it raises a dirty snigger when this improbably grown-up yet childish term is used. It wasn't until a bit later that we (alright, I) twigged that it wasn't that women's breasts "bristled", but that link was "Bristol city = titty", hence "a nice pair of bristols".
Ever since then, and certainly in 1979 when I was first exposed to The Pop Group, every time I encountered the name 'Bristol', it was automatically followed by a regressive juvenile (usually mental) snigger. So, when I tell you that The Pop Group come from Bristol (fnaar, fnaar) you will immediately understand that, while Britain does and did have some outlying wasteland-like cities, in one way you really can't be more culturally isolated than if you come from Bristol (fnaar, fnaar).
But that's fine. Because, as The Pop Group started, they threw all their ideas and musical obsessions into the mixing machine, and we're left with a bizarre blend of funk and dub, mixed up with Gareth Sager's minimalist, ice-pick melodies and assorted huge noises. And then there's Mark Stewart, still singing with that astonished, agonized crying sound; the sound of confused desperation. It's very personal, very powerful, and rather difficult to avoid.
Not having seen The Pop Group before, we can only trawl youtube for glimpses of what was...The band broke up in 1981 or something, this line-up is a reformation of the second line-up, the one that endured until it could endure no more.
The Pop Group were dark, bright sharp, dance-your-feet-off fine. Stewart apologised to us after their only encore, the remarkably positive "Where There's a Will" (one side of a split single with The Slits), explaining how the band were dead tired after several nights with little sleep. We understood.
Picture it. A bunch of football-loving local blokes at their lads' club in Bristol (fnaar, fnaar), discovering the new punk world. Stewart's between-song comments were an eye-opener. He thanked The Saints for "I'm Stranded". The Pop Group know about cross-pollination and musical theft. Except it's not really theft, it's discovery and capitalising upon that discovery. Stewart also thanked The Boys Next Door; he knows his stuff. The BND discovered The Pop Group through the UK music press and promptly bought the records. You can hear shards of several bands the BND were listening to on their "Hee Haw" EP, but you won't hear them the first time, you'll be too busy picking yourself up off the floor. "Hee Haw" was initially cut wide, to make the EP twice as loud as any other bastard.
Indeed, we can hear echoes, distant imprints on The Birthday Party in songs like "Trap", "Thief of Fire", "We Are Time", "Words Disobey Me" ... and that, by the by, was the extent of their back catalogue. The rest of the set was from the new LP; "Citizen Zombie", "Mad Truth", "Shadow Child", "Nowhere Girl", "s.o.p.h.i.a." and "Age of Miracles".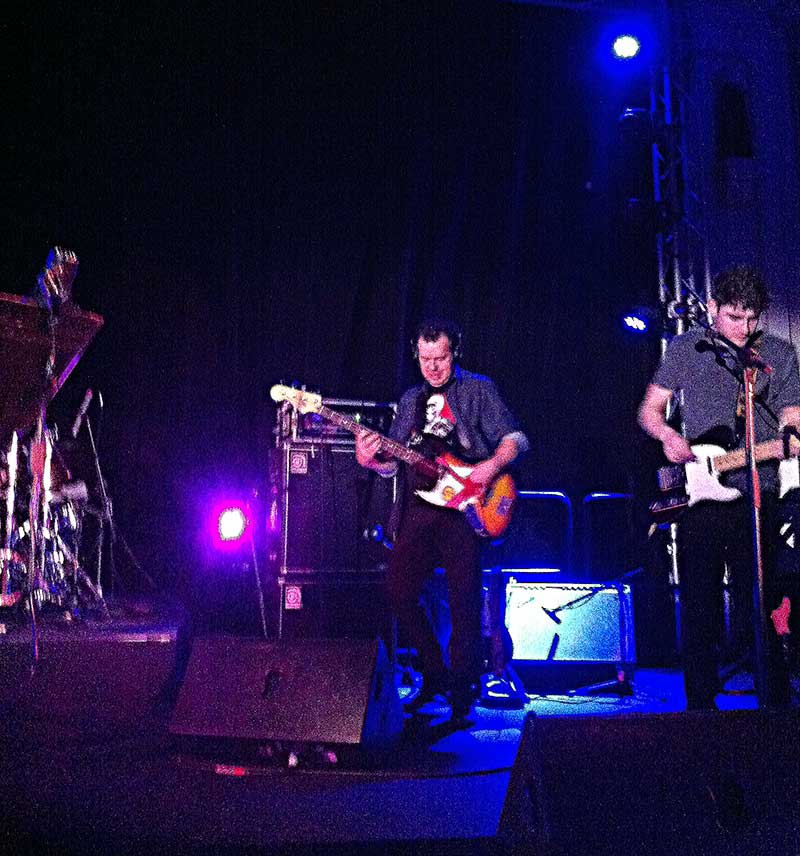 Ben Catsis' bass kept us moving and bopping, smartly in-synch with Bruce Smith's drums, the combination is as deadly as when the band first formed. Gareth Sager's stilettoesque guitar dashes between huge swathes of racket, carefully chosen; he also doubles at the keyboard. Most eyes are on Mark Stewart, whose face-on-his-sleeve delivery veers between harrowing and disturbing, to amusing and matter-of-fact.
Overall? A bit like a wooden clipper in a hurricane. Heaving one way, then the other, sails and spars coming adrift, yowling wind one second, dead calm another. For the entire set.
There is a gang-like spirit among them, and that kinda thing leads to in-jokes and little self-conscious barbs of humour. Some of Gareth's keyboard lines, for example, you can almost imagine him in the studio thinking, 'I'll do this, this'll really fuck Mark up'.
They're human beings, despite their legendary rep, and they packed up their own equipment along with the roadies.
Tags: live, adelaide, the pop group