The Prehistorics, The Stukas & The Dunhill Blues live in Sydney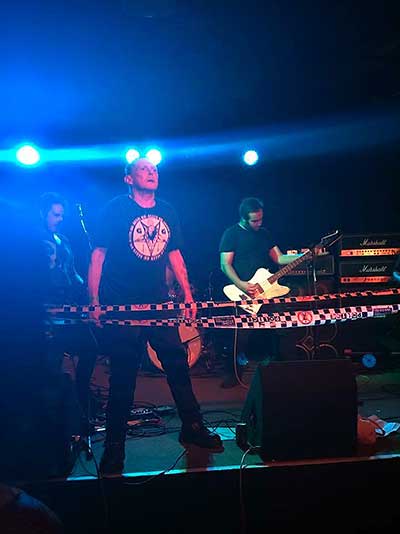 It's Saturday night in Marrickville and the outside space at The Factory is packed with folks in black but most of them are going upstairs to the Theatre to see some punk/hardcore.
The slightly older folk are here for three bands at the Factory Floor.

First up, The Dunhill Blues. Now, "The Dunnies" have always come across as being semi-shambolic, more about fun than artistry but of course they then turn around and whack out great songs that are short and to the point. This is my first time seeing them with "the new guy" on guitar who has replaced Jeff Pope.
Now, to expect him to pick up all of Jeff's sonic sounds and not have any input of his own is unfair but to my ears, they seem to have a lost a bit of variety in their sound with Jeff's departure
To be fair, he was done no favours by a mix that was too loud overal l- more about that later - yet curiously he was hard to hear during his solos.
Don't get me wrong, they were still fun and enjoyable but just a bit off form compared to the other times I've seen them. Nice to see Jeff get up and join them for their last number.
The Stukas (pictured right) are a band I didn't get around to seeing in the olden daze. I used to see their name on handbills etc and thought they were another Detroit-y band of the ME262/Trans Love Energies type.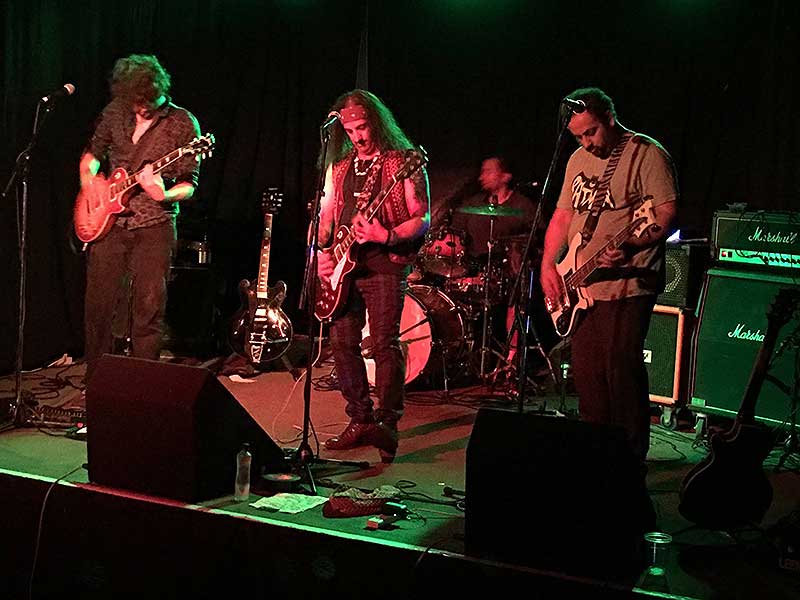 The Prehistorics in full flight. Murray Bennett photo
The Prehistorics + The Stukas + The Dunhill Blues
The Factory Floor, Marrickville, NSW
Saturday, January 7, 2017
Coming back into the Factory Floor as you had to go outside to buy a drink - more about that later too - to a stage sealed off with crime scene tape was novel. A neat bit of staging!
It is easy to see that lead singer Guy De Varine Bohan has an amazing presence and is a great punk singer. He alternated between incredible intensity and light-hearted moments. The sound of the band was not the 100 miles an hour type that many pass off as punk. Instead it owed more to that first wave of British '70s punk where songs were done at a medium speed.

They concluded with a cover of The Rezillos' cover of "Somebody's Gonna Get Their Head Kicked in Tonight", a long-time favourite of mine. The songs are available on a CD of studio recordings, "JU-87", and it's out now!

The Prehistorics were the final band for the night, their first gig Down Under for 13 months, launching their new album, "Storm The Gates".
I've seen The Prehistorics a few times over the last few years and have always been puzzled that they aren't more popular. The songs are very good, their arrangements and playing is great, good harmonies etc but they just haven't quite caught on as I thought they would. Guitarist Stu Greenwood, in particular, is an ace player and worth seeing any time!

Overall, the band was done no favours by a mix that was far too loud and the vocals were lost under a guitar wall. Still, they powered through old favourites like "Rock and Roller Coaster" and "Hell Bent on Destruction" and struck a quieter and more reflective note with "La Fleur De La Liberte".

Now to the venue itself and issues I touched on above. Firstly, the bar inside the Factory Floor, which means you can purchase a beverage and still see and hear the band, wasn't open this night. So punters had to go outside, where they couldn't enjoy the bands, to get a drink and queue up with people from upstairs. This follows on from a gig late last year where the Factory floor bar was closed well before the show ended. Not good enough.

Now, the sound at the Factory Floor. On this night and at too many other nights recently, the volume has been way too loud here. Oh yes, its rawk 'n' rawl and if its too loud you're too old. Bollocks. You only have to go to the Newtown Social Club or Marrickville Bowling club to get sound that has plenty of punch yet doesn't feel uncomfortable.

I don't like criticising venues in this Bairdian age of lockouts and shut downs but both the issues raised can, and should, be fixed quickly.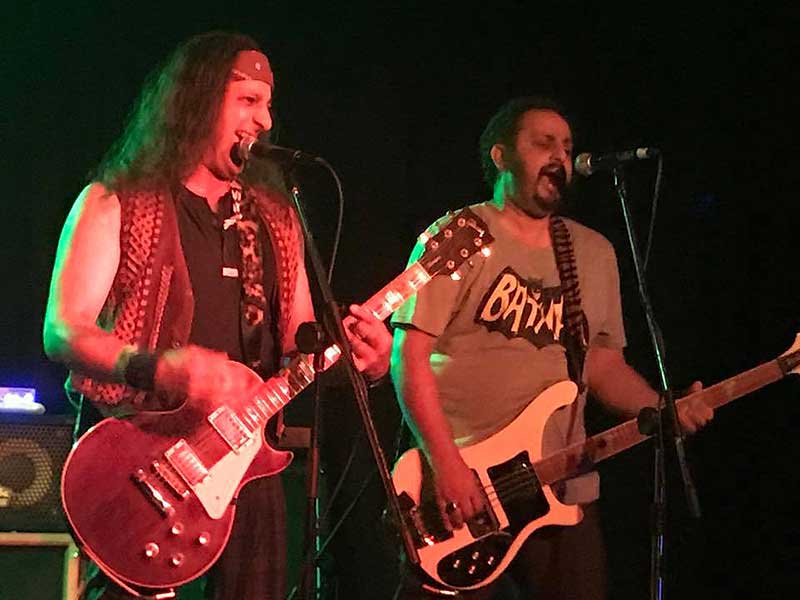 Brendan and Jonathan Sequeira from The Prehistorics. Keith Clarinbold photo