This is the Modern World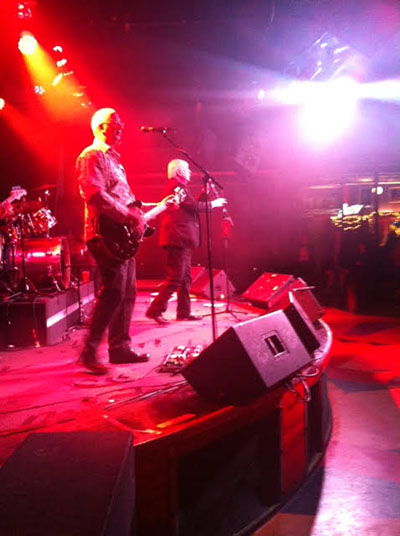 Ho to The Gov in Adelaide once more, for Vic of Mr V Music and the organiser of tonight's barney headlined by Young Modern (pictured right), has kindly placed my name on the door.
As you may know, The Gov is opposite a vile concrete pissoir with the flashing lights known as the Adelaide Entertainment Centre, which also reminds me of a huge birthday cake concealing a rather unpleasant surprise for the party-goers.
Which is one more reason why going to the Gov is so enjoyable, because it is a haven of hospitality, pubby goodness, good cheer and competent and friendly staff.
There have been times when I've been at the Gov and seriously considered not crossing the road to see whatever humungous stars await inside the concrete barn, but simply to stay in the cosiness and get cosily and happily fuddled instead.
The Dust Collection, The Safari Set, Young Modern
The Gov, Adelaide
August 25, 2017
Photos: Ken Gilmore
As I waited outside the main band room, a local couple came up. "Who's on tonight?"
"Young Modern."
"Never heard of them," she says, then adding with the suggestion of a leer, "Are they young?"
"Well, not anymore. They were young in 1977."
"Orright. We'll have something to eat and come back."
They headed in to the dining room - the Gov also does pub food in both front bars and in the main band room, where I was heading. It's good tucker, and it's sometimes a relief to find a few marked-down morsels still left as one totters out, slightly wibbly.
Now, most of you readers aren't going to be from Adelaide, and of those readers from Adelaide, there will be a chunk of you who will be muttering to yourselves "Who the fuck are these bands anyway..?"
Perhaps rightly so. But there's a distinct Sydney connection or two.
See, these three Adelaide bands were quite popular - but long-defunct. And they're reuniting for the first time in yonks. Second, your humble correspondent thinks that each band name is terrible, and thought they were terrible ever since he heard them.
I nicked this from Trove: "Dust Collection formed in 1984 as a party band project with members of some of Adelaide's underground bands. The bands specialty was cover versions of rare songs and flip-sides of lesser known acts from the 1960's and 70's … Dust Collection didn't play very regularly and played lots of party gigs. As a consequence, they didn't practice regularly either but always managed a blistering tight set.
After 1986 the band never recorded again. Dust Collection played a handful of shows in the late '80s and only two gigs in the '90s. Dust Collection never broke up. They just go into very long periods of hiatus, even now" - which Trove in turn nicked from the band's MySpace site.
When I walked in tonight I saw Vic at the merch desk. Now I have most of the Young Modern stuff, so I thought, hell, I've never really heard the Dust Collection, there's a bunch of cheap singles, I'll get them.
After a moment of consternation during which Vic admitted he had considered bringing his card machine but decided against it, and a few moments (well… minutes) which involved me scampering to the cranky ATM in the front bar and scampering back, I was the proud owner of three rather hard to find 7"s plus a CD featuring all three bands.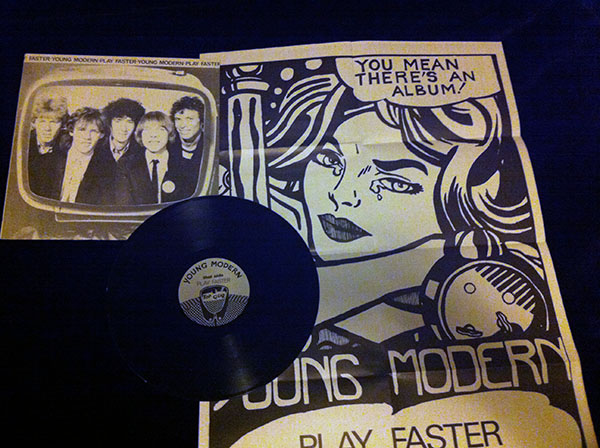 I offered to shout Vic a drink but he looked quite alarmed, and waved with a little red teacup with honey, lemon, ginger and brandy and told me he had a horrible bug which was too vile to discuss.
Upon returning from the car, I stood and looked around. Nope, hardly anyone I knew. All old buggers. As in from their late 50's to their late 60's. The Gov had developed the air of a partly forgotten local RSL, with lone rock ladies prowling around like tigers. I didn't expect the Gov to fill, of course. As Ken Gilmore (who took the gig photos) said, not as many people keep going to gigs after a certain age, and not that many keep the interest in music going. But a distinctly respectable crowd formed.
Ken Gilmore? Known to the police and I-94 Bar users, I'd met Ken at The Fall a while back in Melbourne. I nearly didn't recognise him; the bugger looks like he'd swallowed a swagman feet-first but couldn't quite get the beard in. No, really, Ken, that is one spectacular bushranger beard you have there. Wonderful to see him again, meet his lovely wife, and his friends - they'd all been sentenced to a hearing conference in Adelaide, and, when I wittly jested, "What? What?", it seems they'd never before encountered this particular joke about the hearing profession, so I repeated it several times before unaccountably having a beer jug emptied over my head.
And then the Dust Collection came on and, well, there's Vic with his little teacup with honey, lemon, ginger and brandy and ah. He's the bloody singer.
The contrast between their deeply unappealing name and what they are on stage could not be greater. The Dust Collection are simply fucking terrific. I'd never seen them before because I'm not much of a party person, and the mid-'80s were a bit of a blur.
So listen, squint a bit and you're in 1966, the gorgeous pop songs of the day are pouring out, and get this: unless you recognise these songs, you won't be able to distinguish between covers and originals. These boys nail the sound, without being too prissy about it as many are, and manage to be tight as well. Vic's got a great voice, too, and everything flows naturally.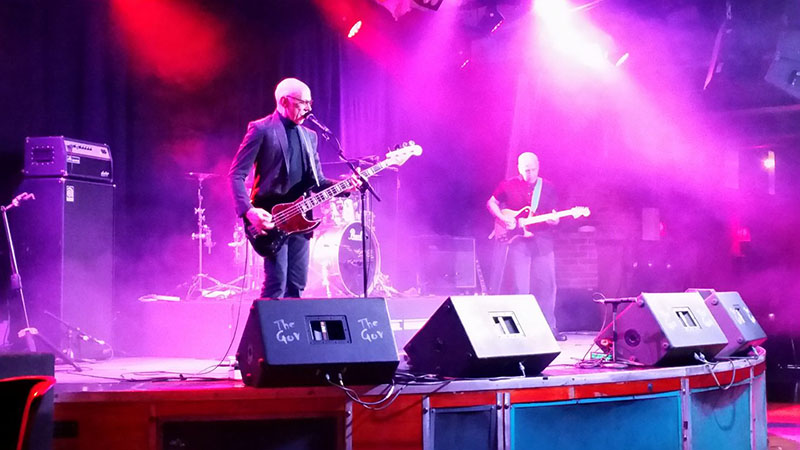 The Safari Set (pictured above) I only saw a couple of times, I think, back in the day, and that was by default as I was there to see other bands. Unlike most of the crowd around me back then, I didn't love the band, and watching them again tonight reminded me why.
That said, they were an interesting blend of that tough, liquid bass sound which was coming into vogue more in 1979-80, and much of the '50s guitar notes worked very well; the lyrics to the songs are still as valid now as they were nearly 40 years ago. There's a good chance that, if you could see them, you'd like them.
This will give you a bit more - and do note the Sydney connections.
Now Sydneyites should recognise the name John Dowler, Young Modern's singer. Fuckit, I'm not going to explain this all again, so here's a link.
Young Modern have been called a prototype power pop band - but that's ridiculous in my view. If you think the band is one of those tough, brawling rawk things from a land of brown and orange carpet and Sunday roasts and beige and lime green wallpaper… no.
Their tone, if Young Modern's LP "Play Faster!" (1980) is a fair representation of the band, was that of a kind of laid-back, smart pop with certain elements of flair which basically have you hauling the LP out at all sorts of moments and finding it both cheering and thoughtful. I've had my copy for 37 years. On the back, Stuart Coupe's liner notes mention an assortment of releases to follow, which of course never quite did. That last live gig, and the other demo recordings, those I'd like to hear.
Ken was rather impressed, I think, even mentioning aspects of early AC/DC and Radio Birdman (there is an element of Masuak to some of the lead guitar), but no, really, they are a rock band who thought they'd get to the top, but … well. The time was wrong, I think. Coupe's description of their support slot to Radio Birdman is striking.
Their first LP title refers to the Sydney crowds who wanted punk or strong rock: "Come on, ya wimps! Play faster!" To people like them Young Modern were, as Dowler drolly asserted, 'an art rock band'. They played most of the first LP, a few from the second, and "I Wanna be A Bird Man", and basically played all the songs they knew, reluctantly doing one encore.
And although it was definitely oldies night at the Gov, there were a large number of young women dancing to each band. And that, frankly, is the most powerful tick of approval for a rock band.
Safari Set have a Facebook page, and it looks like they may have a CD to issue soonish. Young Modern also have a Facebook page.
As Dust Collection don't appear to have a FB page, you'll have to ask Vic whether or not he has any more 7"s. You might as well visit Mr V Music, in the dammit-dammit working class area of Semaphore in Adelaide, which is rather a superb experience. Go there and watch as your wallet magically opens and your home fills with wonderful music. But if you're not heading down there… well, there's the telephone as well.
Tags: live, the gov, safari set, young modern, the dust collection