Touring roadshow brings stoner doom to the Lansdowne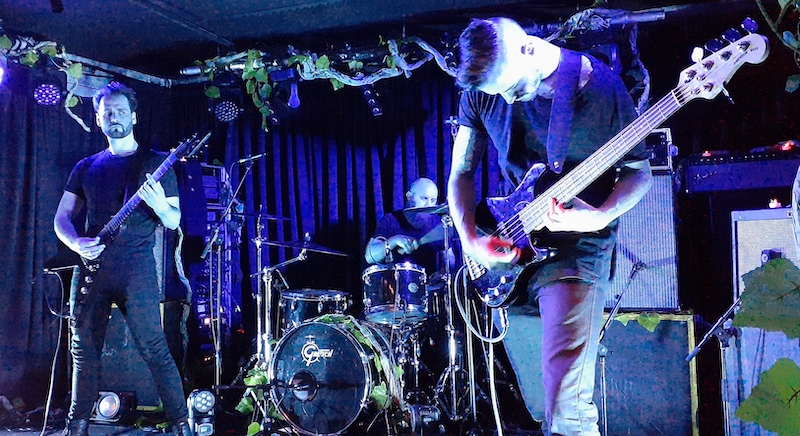 Burden Man make their point.
Menagerie Festival
featuring
Hobo Magic
Khan, Rufflefeather, Hypergiant,
Burden Man, Buffalo Trio
& Dead Eye Currency
Lansdowne Hotel, Sydney
January 11, 2020
Words and Photos: James Wallach
You have to hand it to the revived Lansdowne Hotel. It represents diversity in the genres of bands it presents and the fact that th booking policy supports both upcoming and established acts - much in the tradition of the original venue. Tonight was no exception, with Menagerie Festival 2020 described as a touring heavy psych/stoner/doom extravaganza.


With an early start of 5.30pm, Dead Eye Currency opened proceedings with just a handful of people attending. Described as a stoner, psychedelic band on their Facebook page, we also find that this is their last gig as members are going on to other things.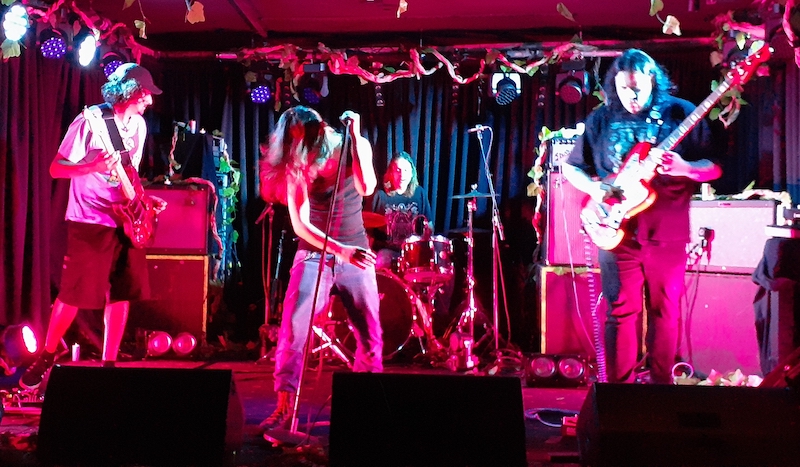 Dead Eye Currency.
The small stature of the lead singer is dwarfed by the six-foot-plus bassist and guitarist who belt out powerful riffs with songs about mental illness and deep psychological suffering. The energetic and psychical performance by the lead vocalist delivers a powerful and enjoyable show. His staggering around, losing the microphone cable numerous times and even donning a Venetian Party mask for some macabre visuals were off-the-cuff, performance art. Sorry to hear this was their last show as I would have seen them again.


Next up are Buffalo Trio who delivered a powerful, tight set of hard stoner rock. Originally formed in Brazil and now based in Australia, lead singer/guitarist Luiz Pettersen, joined by Danilo Brandao on Bass and Andrey Suzdaltsev on drums deliver a high energy experience. Music by Buffalo Trio is avaliable on Bandcamp and I highly recommend it.


Down the rabbit hole you go with Burden Man. What I would expect if Joy Division were a doom metal band. The raw and vulnerable presence of lead vocalist/ guitarist Justin Finch is the first impression to hit. Next, the dark doom of the stark but dense music and the different vocal style from previous bands; quiet and wispy but at the same time powerful and despairing. When he sings: "I am ready to die", you believe it. Their performance tonight was one of the best on the night.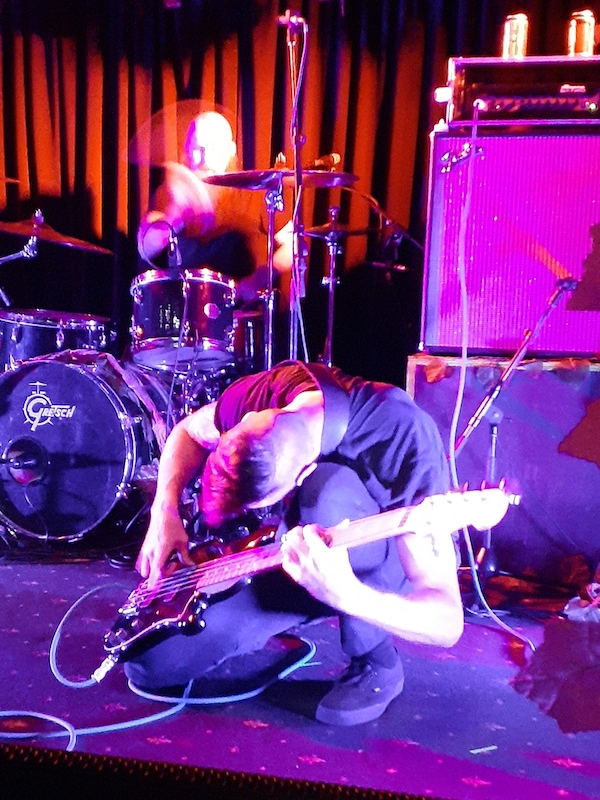 Burden Man takes it down a notch.

Next are Hypergiant, a stoner desert rock band in the vein of Kyuss and Hawkwind. Waves of riffs and the sonic attack of guitars, bass and drums roll over you like tidal waves. The frantic and powerful drumming of Julian Moxon was epecially entertaining, as he's watched over by guitarist/ lead vocalist Nathan Lee, guitarist Gordon Hammer and bass Lachlan Davidson. So taken with this band, I bought both their albums at the gig. I recommend you do also online or, better yet, check them out in person.


Rufflefeather take to the stage with a definitely inner city slant on psych-rock. It seemed a lot of people attending tonight came to see Rufflefeather as, suddenly, the dance floor comes alive with a lot of gyrating and grooving. A competent band who delivered an energetic and crowd pleasing set.


Khan, who are Josh Bills on vocals/guitar, Mitch Kerr on bass/ backing vocals and Beau Heffernan on drums, took to the stage. Describing themselves as heavy, psychedelia with heavy stoner riffs they were another welcome surprise on the night. A strong and tight three-piece who powered through their set.


Hobo Magic closed proceedings with a riff ladened, hair metal, stoner thrash fest. Members Connor Mitchell, Jake Bennett and Luke Hanson definitely were enjoying themselves and the music, at times, took your breath away. I loved this band and their seemingly effortless ability to rock out.


It was heartening to see that these types of bands can get together and put on a highly diverse and entertaining festival. Thanks again to the Lansdowne for being what you are.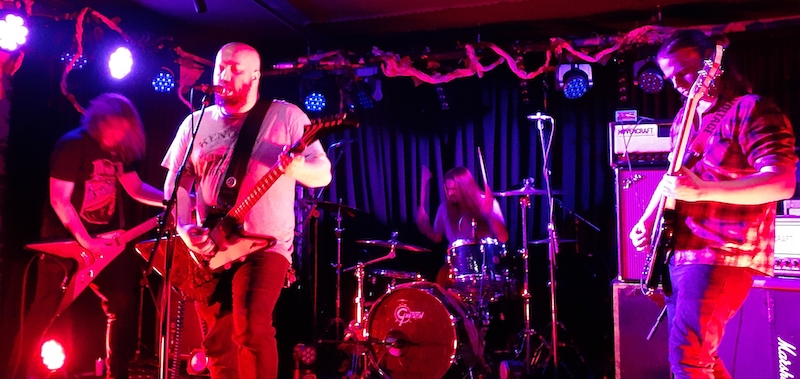 Hypergiant rolling all over the crowd.
Tags: khan, hobo magic, menagerie festival , burden man, buffalo trio, dead man currency, rufflefeather, hypergiant, lansdowne hotel