Weather lifts as Penny Ikinger and band storm Woy Woy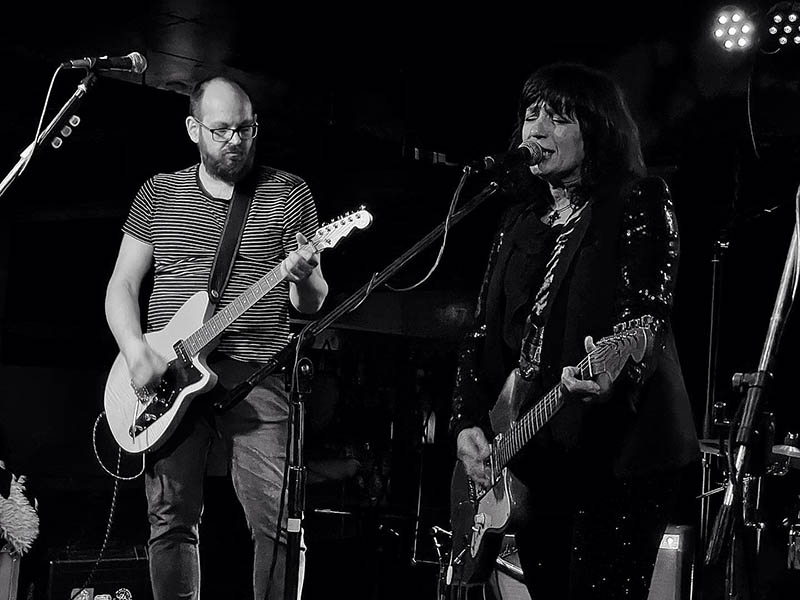 The night before the Woy Woy storm: Penny Ikinger at Marrickville Bowling Club.
After 150 days, the rain stopped. There was sunshine and it was a Sydney long weekend. Not sure how many built arks and were still floating along while I was driving north on the Pacific Highway to the coastal town of Woy Woy this sunny Sunday afternoon - on a tankful of $2.30 a litre petrol with just enough change to buy a chocolate milk.
The Link and Pin Café at Woy Woy has evolved into the coolest gig - and who would thought the birthplace of Spike Millikan would be a new home away from home for veterans of the Sydney Trade Union Club and Hopetoun Hotel?
And why not? It's a 90-minute trip by train, road or by ferry across water. It is an adventure that many Sydneysiders are taking to see that anyone from local metal bands, to alternative darlings to Chad Morgan. The venue even launched the new line-up of the Hard-Ons. There is a vibe here and it's run by hardcore music fans.
Missing the night prior, I had been reading online accounts of Penny Ikinger blowing everyone away at the Marrickville Bowlo in Sydney. Facebook was ablaze with wraps for her solid new band and a set featuring songs from her recent album "Tokyo".
It was a rare appearance by Melbournite Penny who lived in Sydney for at least a decade in the glory days of the indie music scene. Her last album has been reviewed on this website and the only disagreement with that review, in my opinion, is that it's a five-bottle star, effort that takes you on a journey of atmosphere and pure inventive rock.
At The Link and Pin, we get Penny solo for 30 minutes with a set marked by experiments with effects and noise over skeletal songs. Whispers. hollers and vocal monologues with delay pedals and feedback. Then, with the sip of a Margarita and some more loops and noise, Penny takes her seat.
Within 30 minutes, the full band takes to the stage and explodes into "Tsunami", the opening track on the "Tokyo" album. Even with only a vocal PA, the band is precise, clean and with every instrument heard. A medium-paced rocker follows with a hint of Arabic scales and strong, uber cool melodic guitar lines underpinned by the solid drumming of Jason McGunn. Bassist Tim McCormack is cooler than a Melbourne autumn morning with his Rickenbacker producing deep tones.
"Goldrush", a Deniz Tek-penned track has his signature chord progression, rocks along. It's followed by "Southern Man" an original that takes us down into the swamp with our feet dangling for alligators to bite. We "are driving down lone highway and driving down the lonesome highway" with strong and dark imagery of ghosts. One of Penny's two guitar players, Julian Held, is toying with harmonics here and the band displays some killer six-string interplay.
Penny is a superb songwriter and brings her amazing, sensitive yet strong vocal, and clever phrasing. Songs like "Tokyo" demonstrate that this is an amazing guitar band. Penny strums and adds the odd guitar line backed by two great players in Sam Billinghurst Walsh and Held, packing P90 squeals and the distinctive Stratocaster bite."Tokyo" itself is another atmospheric song that builds to a crescendo with guitars flying off with a clever arsenal of effects, including old school delays and echos.
The late set inclusion of "Sailors Dream" was a complete surprise - this Wet Taxis track shoulda/coulda been a massive hit and was one of the strongest garage rock songs to emerge from Sydney's underground in the '80s. Penny has long left the shadow of her first band decades ago, yet it was fitting nod to be playing the song in its home state. And it rocked.
The short set ended with "Ride On Cowboy". It's quite a fitting end to a short tour of three shows. Penny awkwardly mentions she has a few CDs for sale and I have the feeling that her trying to spruik product is a taxing moment. We all line up to buy a CD. It's a magnificent set of songs and you can hear her influences. It also sounds like the record of someone as a talent who we can't ignore.
Tags: penny ikinger, wet taxis, tokyo, link and pin