What's in a name change? Osees break the laws of pigeonholing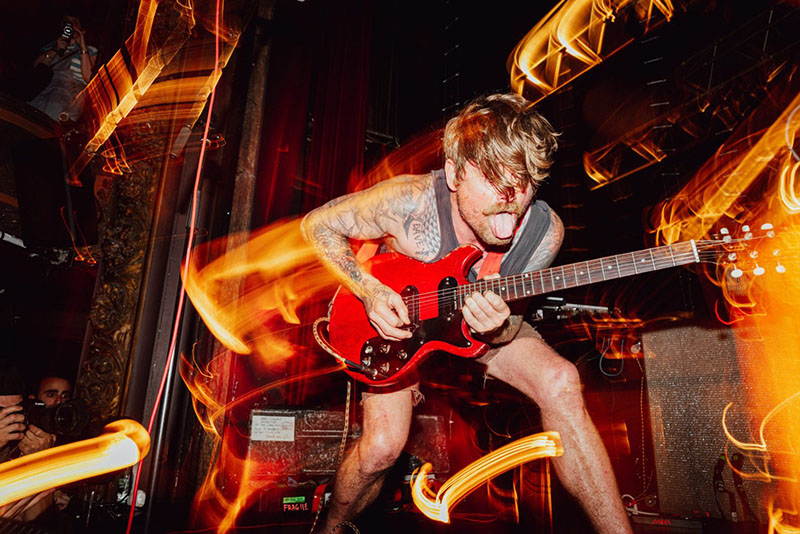 Osees
Croxton Hotel, Thornbuy, VIV
Saturday, February 11 2023
My employer received some correspondence recently from a "sovereign citizen". It was, as so often the case with such sincerely composed missives, a rambling diatribe replete with muddled pseudo-jurisprudence and wilful indifference to the symbiotic relationship between individual autonomy and collective responsibility.
We searched in vain for some discipline of reason, even a vague hint of cogent argument but, alas, there was only nonsensical assertion. It was, someone remarked, the discursive equivalent of a sugar-laden teenager playing free-form jazz on a cheap recorder over a concerto piece played on a defective turntable and then labelling it a work of artistic genius.
Later that night we went to the cinema to see "Tar". Before Cate Blanchett's titular character falls from grace, she explains the often mysterious movements of the orchestral conductor. Crudely, one hand represents timing and tempo, the other conveys the desired shape of the music.
Which brings us to Osees.
It's been a while since we saw Osees. Back then, they were still Thee Oh Sees and supporting Eddy Current Suppression Ring. Since then, the band's name has evolved to Oh Sees, then Osees, and guitarist/vocalist/band protagonist John Dwyer has recalibrated the group to a guitar, two-drummer, keyboard and bass configuration and released about 105 new albums, not to mention various collaborations involving the irrepressibly prolific Dwyer.
I really don't know what songs Osees played tonight. In fact, the concept of a "song" doesn't seem especially fitting. Sure, the set opened with a five or six song salvo of rough and ready garage punk tracks, like a seasoned prize fighter bounding in the ring with judiciously targeted right hand uppercuts. But from then the set was more about movements.
Manic psychedelic explorations into the cosmic ether, tethered to earth via a three-pronged rhythm section whose dexterity defied rational explanation. Moments of mind-blowing speed-addled prog rock excursion, if Lemmy had taken over Hawkwind. Keyboard flourishes ripped from 1986 and passed through a San Diego ketamine filter. There even seemed to be brief '50s sockhop moment, when all seemed calm before all hell broke loose, the tempo exploded and everyone's frontal lobes threatened to burst with potential energy. You never knew what was coming but it was always going to be good.
And on stage left, John Dwyer is the garage rock maestro. Shorts, handlebar moustache, low fringe, the red cordial kid who fell into a cauldron of warped Texas psychedelia and was never the same again. Like Blanchett's Tar, Dwyer has a sense of where all this sonic energy is going, shaping, forming and bending the sound; unlike Tar, he revels in its live mutation, the sense of chaos that underpins the most invigorating of artistic events. Even the random sounds are exciting, noises from the depths of the kaleidoscopic jungle that punctuate and accentuate the prevailing sonic drama.
But in spite of it all, there's a latent order on offer. When the colour and movement breaks, it clears to reveal a solid, cogent beat. Everyone knows what's going on, don't worry, we'll bring it down, take it up and let you fly when you're ready. Just hang loose, free your mind and roll with the moment.
Is Osees the best live band in the world, as some have claimed? Maybe. This was dialectic battle between chaos and order and one helluva wild trip.
Osees play The Metro in Sydney on 15 February. Tickets here
Tags: croxton park, osees, oh sees, john dwyer, metro