Adelaide Entertainment Centre
November 17, 2015
Steve Baccon promo photo
Full disclosure: I grew up about two suburbs from Elizabeth and even we looked down on Elizabeth. I grew up hearing Cold Chisel on the radio. And hated them. I've only enjoyed a few songs of theirs. Mind you, it's 2015 and I've not heard any of their LPs in the last 20 years, because I gave up on mainstream radio years ago; I only encounter FM MEGA whenever I'm unfortunate enough to be stuck somewhere where I can't turn the bastard off or heave it out of a window.
Intolerant? No, I'm not intolerant. Whatever gave you that idea?
Oh, I did, did I? Well, I admit if you'd told me five years ago that not only would I go to see Barnsey support the Stonesies and, within two years of that, willingly go to see Cold Chisel … I'd have sent for the men in white coats.
But. A friend has two rather unexpected tickets and, as this friend is very special, and as he is someone who did see these legendary gigs … I decided I'd go. Also, he knows that while I might occasionally be scathing in a review, I do try to be honest with my opinion. (That Beat gig a few years back, we both looked at each other afterwards and almost said at the same time, 'almost cheesy cabaret' … ). See if you're reviewing a gig, it's not like voicing an opinion over a bevy of cleansing Pale Ales.
My friend is a huge fan. Older than me. Saw them in pubs all over. The thrill for him seeing them on such a huge stage is that he saw these original songs in pubs like the Marryatville and the Tivoli. How did Chisel start, I wondered. "They were a cover band; doing Free, Deep Purple and Led Zeppelin. I remember watching a soundcheck; Don was with them and they did all these new songs which were brilliant. But Don couldn't stay that night, so they did their covers instead."
"I mean they were great. There was no other band doing anything like what they were doing. Then they vanished to Sydney for about 18 months and signed to Warners. They came back and did a big show… We thought they'd conquer the world. But the US didn't want them; that's why they wrote 'You Got Nothing I Want'…' The strange thing is, their stage show would go down damn well in the USA."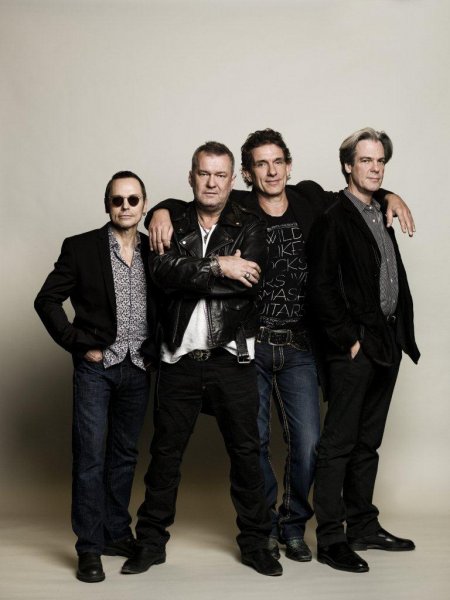 So, I thought, why not go to see Cold Chisel? I'm broke, I have a ridiculously high energy bill due to the clumsiness of the plumber (who hasn't fixed the problem yet), and Christmas looks like being rather Oliver Twisty… so yeah, why not…
So. We catch a tram from the city, drifting past the Adelaide High School, their oval, some pointless art sculpture crap which presumably cost a bomb and means, to 99 percent of us, precisely nothing except, as one small chap exclaimed, 'Look, Mummy, poles! Why are they there?'
We arrived at the venue in the nick of time, stragglers trickling happily from The Gov across the road (the Gov is a natural spot to sink a few before a gig at the Ent Cent), apart from anything else the atmosphere is a great deal more human.
The Ent Cent is huge and there are streams of people everywhere, a bit like a gigantic greyhound race with strobes, flashing lights and great excitement.
We get inside, the lights bang down at about the same time our bums hit the seats and the home town crowd roars. They love it. The Ent Cent has taken the step of removing the initial blocks of seat in front of the stage, which means that there was a solid phalanx of nutters in front of the band. Interestingly, over the course of the evening, only a few looked like they weren't enjoying themselves, and they were the sort of surly boyfriend a girl has to kick to get any attention. Did I enjoy myself? Er …
Yes, alright. In spite of my misgivings, I did.
Only a few rows were dancing for the entire gig, but that's not really the point given the type of crowd I saw; put simply, this didn't look like a rock'n'roll crowd. Hell, it reminded me of a home crowd at Millwall FC. Every second person - children included - wore Cold Chisel tshirts, but of the rest, no other bands featured on tshirts (apart from me). The suburbs had emptied, particularly the not-posh ones, and the result … Oh, hell, I'll get into trouble. Here's the set list as it was delivered to me. I'm sure most of you know it. They rearranged the order of the songs somewhat, as well, but this is fairly representative.
STANDING ON THE OUTSIDE / SHIPPING STEEL / HQ454 MONROE / CHOIR GIRL
ALL FOR YOU/ MY BABY LETTER TO ALAN/ ONE LONG DAY/ LUCY/ THE PERFECT CRIME/ SATURDAY NIGHT / CHEAP WINE / RISING SUN/ YOU GOT NOTHING I WANT / MERRY GO-ROUND / FLAME TREES / KHE SANH / BOW RIVER

Encore 1
WHEN THE WAR IS OVER / FOREVER NOW / DON'T LET GO

Encore 2
LOST/ BREAKFAST AT SWEETHEARTS / GOODBYE
Let's look at them. First up, all living members are present, none have been booted out because one of them doesn't like another. The key point, of course, is that all three song-writers are present, working together despite differences.
Their original drummer (Steve Prestwich, RIP) was replaced in 2011 by Charley Drayton, the late Chrissie Amphlett's husband, sometime X-Pensive Wino and touring member of big-name bands too numerous to count. Drayton is the goods, he really is. I thought he was in his 20's when I first saw him. Their bass player is Phil Small (replacing Les Kaczmarek; again, RIP).
Second, I confess that although Cold Chisel is not the sort of thing I like, I can't say they're shit, because they're not. They've got an excellent light show, solid cameras and editor handling the two huge screens, three excellent, spot-on backing vocalists who add several extra dimensions to the sound, and Moss has an excellent guitar tech who provides him with a new guitar for each song - there are no foul-ups, the tuning is precise and while I've seen guitar-swapping at numerous shows where there was no discernible difference, tonight, every new guitar makes sense for that song.
Third, I notice that Cold Chisel have a new LP out, "The Perfect Crime". For a band who, I have been told, don't much like each other but … when they get together they enjoy themselves, they have been quite busy. "The Last Wave of Summer", "Ringside" and "No Plans" and "The Perfect Crime" may not indicate a steady wave, but the newer songs I heard tonight are solid (with quite a few better than their older). Reliable sources indicate to me that these lps themselves are damn good - readers of I94bar will know me well enough to know that chart success means little to me - so after this outing I shall genteelly dip a tremulous toe in the water and … listen to a Cold Chisel LP.
Really. I will.
The live sound is damn fine, occasionally the bass drowns out the piano but I suspect that's part of the way the songs are constructed live, bringing up some parts while others take the fore. There's no one instrument, of course, dominating proceedings. Even Moss, who clearly has Guitar Player Syndrome, and rightly revels in the many spotlights, doesn't try to claim the gig for his own. Although Barnes has Lead Singer Syndrome, he is remarkably respectful of Moss' time in the spotlights (the lighting folk deserve a pat on the back), giving Moss vast areas of stage space, pacing in the shadows like he's waiting to be let out of a cage.
One recent comment from a Sydneyite was "they should ditch the singer" - which misses the point about Chisel - they're iconic. Fuck with the legacy and the essential personnel and you'll end up with a covers band with a once-important name degrading their credibility. So, no, Barnes was in fine form, partly the backing singers provide much greater depth, and partly the new songs and some of the old show Barnes' voice to be far better than he's given credit for. I found myself wondering if, in the old days, he'd been striving to sound like someone else because he didn't think his voice was so hot. If so, he needs to know his voice is damn good.
Moss is a very good guitarist indeed - I confess (again) that I find songs with too many solos to be tiresome and I get impatient - but my grizzly opinion would not have found favour with the howling mob. Moss maintained his balance well, his guitar is remarkably lyrical, with much beauty, for a band which still has a reputation of being a hard rock band. I'll also add that Moss has a gorgeous voice, which I'd like to hear more of. Barnes brought his son David Campbell on for one song - David has a bloody good voice and great stage presence. I've never heard of the bloke (yeah, that 'no radio' thing) but he's put out quite a few lps. I'd better investigate.
Walker's piano I enjoyed, although I would've enjoyed hearing it a bit more. But there he is, head down, focussed, playing hard. I'd like to see him do a tour on his own, too. The whole band are as tight as the proverbial cat's arse, and I'd venture to suggest much of that is down to Drayton. Local Semaphore chap David Blight came out for several songs and played a mighty fine harmonica; you'll be glad if he continues for the whole tour. There was a sax player as well (Andy Bickers?), he was good fun as well.
Again, for a band who apparently have to grit their teeth to be in the same room, there's a lot of love in the air tonight, and you'd have to be totally insensible not to see it. Barnes wraps himself around Moss constantly (at one point kissing him); the arrival onstage of a rather pricey bra heaved up by (no, I'll be good, I won't comment) causes modest merriment as Barnes drapes it around Moss' guitar. Barnes reacts well to the audience immediately near him, swapping jokes and performing to them (they're probably the only people he can see, those lights would be blinding) at times.
Cold Chisel played a well-structured set of songs which are classics for so many Australians, without sticking to a note-perfect approach, and generated much love in the crowd. This was the first gig of a month-long trek around Australia and New Zealand - the One Night Stand tour. On the strength of this, if a major label was watching its market share drooping somewhat in the US, they'd do worse - considerably worse - than by signing Cold Chisel. I can't think of any other Australian band from that just-pre-punk-era which have been consistently around and developing for so many years (no, Peter Ross, Bon died, so AC/DC does not count).

19 Nov
Melbourne VIC
Rod Laver Arena
21 Nov
Newham VIC
Hanging Rock Reserve
4 Dec
Christchurch, New Zealand
Horncastle Arena
6 Dec
Manukau, New Zealand
Villa Maria Estate
12 Dec
Pokolbin NSW
Hope Estate
13 Dec
Wollongong NSW
WIN Sports & Entertainment Centres
15, 17 and 18 Dec
Darling Harbour NSW
Qantas Credit Union Arena
There are plenty of other Australian bands out there reforming and effectively covering their old songs, and unlike certain outfits of similar reputation, Chisel have reinvented themselves - and they still have it, and that's in large-scale commercial terms, not just the songs on the LP.
As I said, I enjoyed myself a lot more than I thought I would, and you know what sort of a grumpy shitsack I can be. If you've never seen Cold Chisel … well, why not? And if you have, go again.