Flying by the seat of his pants: Robert Brokenmouth's punk rock war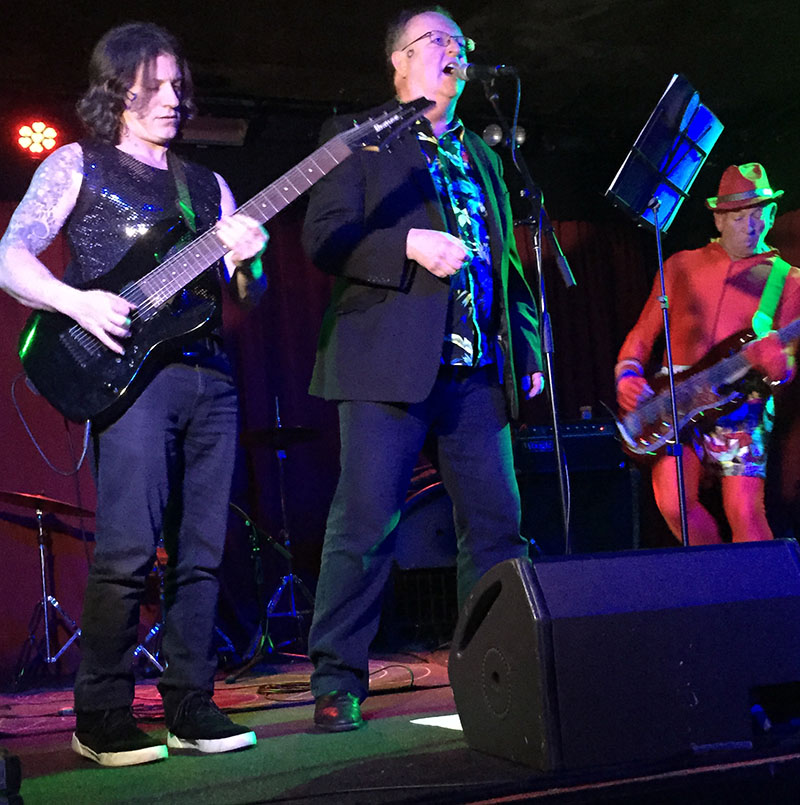 Adelaide-based writer, editor, and sometime-musician Robert Brokenmouth took the time, during lockdown — well, lockdown for us non-South Australians, at least — to reflect on his literary and musical trajectory. It's a curious bundle of projects and interests that Brokenmouth juggles — the war buff and the punk music-buff occupy the same territory (no military pun intended) without apparent contradiction.
Brokenmouth's published achievements include his chronicling of Melbourne's punk scene in the 1996 book "Nick Cave: The Birthday Party and Other Epic Adventures" as well as editing 'fictionalised' military histories such as Australian WWII navigator Ray Ollis's 101 Nights and air gunner John Bede Cusack's "They Hosed Them Out".
For Brokenmouth, war and punk have one thing in common, perhaps: both are opportunities for adventure, in very different shapes and forms, but adventure nevertheless.
With COVID-19 limiting opportunities to meet for an interview, Robert kindly responded to my questions via email — and though you might not getting him talking so prolifically in real life, it's clear that when he puts pen to paper, or finger-pads to keyboard, he's got a lot to say, and a rollicking history all his own.
I've pulled out some choice tidbits from Robert's life and career to give you a sense of the Boys' Own, Boys Next Door fan.
On his childhood love of books, and the seductions of "adult paperback" helves in the 1960s:
Back in those days, paperbacks lurked on creaky, tottery four-sided carousels made of thin, plastic-covered metal. And let me tell you, the paperbacks were well-read. Not merely slightly rubbed or creased. Their spines were heavily concave, more worn paper than coloured title, their covers curled like exotic wings. The images on these paperback covers were designed to appeal, it seemed, to a little boy's baser instincts. The carousels were wonderful. You just turned them and all these amazing books appeared ...
One night, impatiently yanking at a carousel, the carousel spun a little too fast and threw itself at me. This was the only time I've ever seen blood - actual blood, not something usually on the cover of a book - in a library. I've still got the scar, just under my chin (I suppose a particularly bloodthirsty Margery Allingham must have made a lunge for my throat and missed).
It was on such a carousel that Robert found "They Hosed Them Out" (then titled "Rear Gunner"), the war-time novelistic memoir by John Bede Cusack:
'They Hosed Them Out' was like entering another, more vivid world; there is so much happening, and so many incidents significant to the times. This was not the usual gunner's story of 'I sat in a turret, alone and cold, snapping icicles off my nose'. It was one of the first few books where I comprehended the link between the physical book in my hand and the reality of the written experience.
After noticing various Australian Military Classics series, I was puzzled that Cusack's book was not included, and began to wonder whether he would be rediscovered by a later generation. Also, the more aviation material I read, the more I realised that 'They Hosed Them Out' was unique. I was able to get in touch with Cusack's family and ask permission to produce an edited and annotated edition of the book. They responded magnificently with a package of writing which had not been included in the original book, along with letters and his log-book.
'They Hosed Them Out 'has long been regarded as an astonishing, thrilling, vivid portrayal of World War Two from an adult aviator with a keen eye, an enquiring mind, and a bawdy sense of humour despite the most appalling of aerial battles. That he reveals his vulnerability through a veil of machismo makes 'They Hosed Them Out' even more compelling. I don't know how the hell he survived, but he left us this book, packed with action and humanity. Hopefully what I've done will intrigue, if not excite, another little boy who will never know the delights or assaults of rickety book carousels, nor the unspeakable obscenity of war.
How did music rear its ugly head into Robert's life?
Toward the end of primary school my folks insisted I go and spend some time with a boy who lived nearby and went to the school I was starting at. Neither of us knew what to talk about, so Paul suggested putting on a record ... and down another rabbithole I plunged.
Paul was able to afford a couple of LPs a week, together with the two major weekly UK inkies and various 7"s and overseas mags like 'Creem' and 'Rock Scene'. So from early December 1975 I was listening to a swag of often eclectic stuff utterly divorced from mainstream radio (which is what I'd been listening to); the prog rock stuff, glam, the stuff which didn't fit in, the underground in the USA, British pub rock, heavy metal, weird shit from Germany (and anywhere else they had weird shit), and the roots of the modern movements. Anything which got our (well, Paul's) attention, really.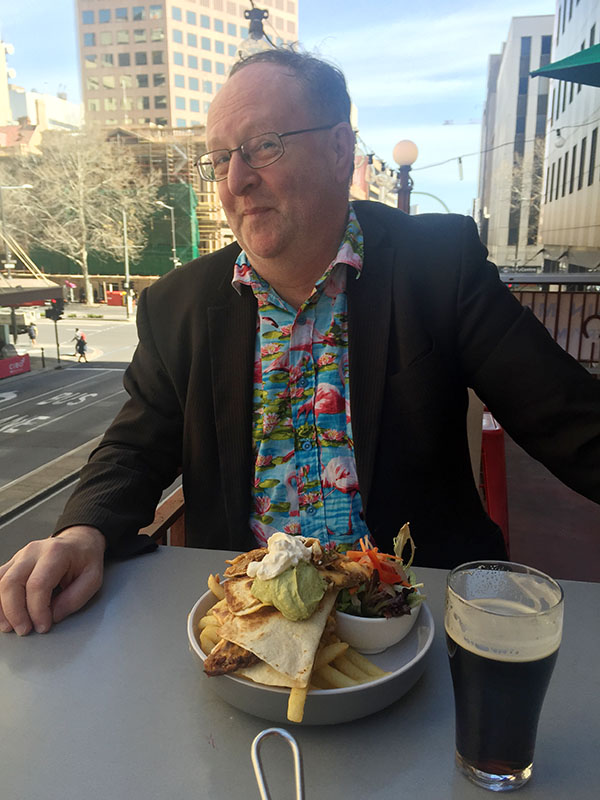 And what drew him to punk music in particular?
My first gig was XTC, supported by The Numbers and Flowers; my second was The Boys Next Door, supported by Irving & the U-bombs. Briefly, I'd heard the support band on relatively new community radio station 5MMM (now 3D) and bought the EP, but I was disappointed with them live. The Boys Next Door, who'd just released a reasonably successful commercial-ish LP on Mushroom, came on with about three glaring cans and made a deafening, piercing racket. They were, frankly, astounding.
And how did writing about music/musicians emerge from this?
I started doing a small-distribution fanzine and when the Bad Seeds toured Adelaide in 1988 I interviewed Mick Harvey. At the time Nick Cave was quite an extraordinary talent, very unpredictable, very intense, and after the fanzine came out I realised that no-one had written a book about him – or about the extremely influential The Birthday Party.
This wasn't a band who scampered through their set, more or less identical every time you saw them. This was a volatile collection of men whose personalities threatened to pull the outfit apart at the seams every time they played.
It wasn't until late 1989 that I started writing "Nick Cave: The Birthday Party and Other Epic Adventures." Then, when I had far too much material, I was advised by my friend Andrew that, hmm, perhaps you'd better interview the band ..? Bit awkward, that, though. I lived in Adelaide. The rest were all over the world. Except Phill, he was back in Melbourne. So I contacted him, and Tracy's mum Nancy, and then found myself interviewing Rowland in Melbourne as well, Mick Harvey on several more occasions, and a raft of other individuals (quite a few of whom didn't want to be named).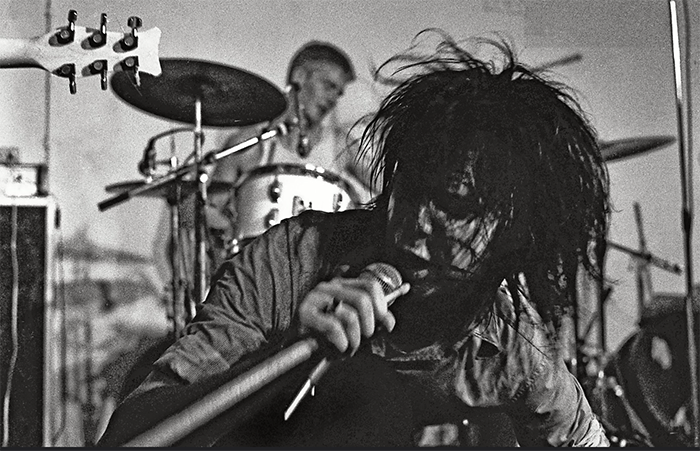 Nick Cave with Phil Calvert in the Birthday Party 1982.
The process took a long time, transcribing tapes (I had a lot of help there), writing and editing, plus lots of travel in between my full-time job to interview people. They were all extremely patient with a rather unprofessional interviewer. It was a hell of a struggle to complete!
Interestingly, rather than launch himself into a career as a music writer or biographer at this point, Robert rekindled his childhood interest in military memoir, first working on Cusack's book, and then turning his attention to a related project:
As I finished the manuscript for 'They Hosed Them Out', I realised there were several other books like this which really merited similar treatment, and decided on Ray Ollis' 'novel' '101 Nights', partly because I loved the writing style, and partly because there were several things in there which had never turned up in any other Bomber Command memoir. As before, I was able to locate the owner of the copyright.
It's arguable which is the better book - I think of Cusack and Ollis as writers of lost Australian classic war stories, right up there with the likes of Ray Parkin and Don Charlwood. And if I had the time there's about another eight out there that I'd love to tackle. Just because I think they deserve it.
In the between-times, Robert has amassed his share of unfinished unpublished manuscripts in desk drawers. ("Don't ask what I have completed and haven't had published. No, don't!") Music, however, with its sociable ramshackle mess-making potential, remains exciting, and he plays and performs irregularly with The Hell With You and, more recently, Smallpox Confidential along with Adelaide undergrounders Bob Lehermayr, Azhurn, and Pete Nico:
There have been a number of obstacles to us practicing, mostly to do with our various commitments, but we've managed a few gigs and for some reason people aren't responding the way we expected them to. We'll have to do something about that. All I'll say is that rehearsals are very noisy, we're recording soonish ... and with luck, when you finally see us, you won't like us one little bit.
Tags: melbourne, bad seeds, edwina preston, nick cave, robert brokenmouth, The Boys Next Door, they hosed them out, 101 nights, ray ollis, john bede, The Birthday Party and Other Epic Adventures