Don't let The Animals of 2018 be understood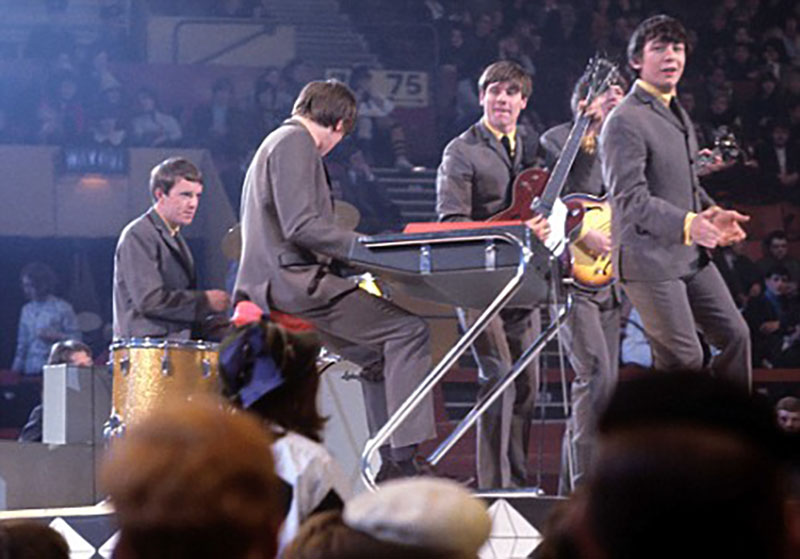 The Animals in 1964 with John Steel behind the kit.
By now you will have heard that The Animals are returning to Australia in October-November.
Now, this isn't the version of The Animals which features Eric Burdon; Burdon also uses the name, which is handy because, like many a frontman who wants a solo career, Burdon's solo career didn't quite end up the way he'd hoped, so he can use The Animals name to get a bit more attention.
But really ... the way things have turned out, when you see The Animals name, most of us aren't thinking of Eric's LPs, however they're badged.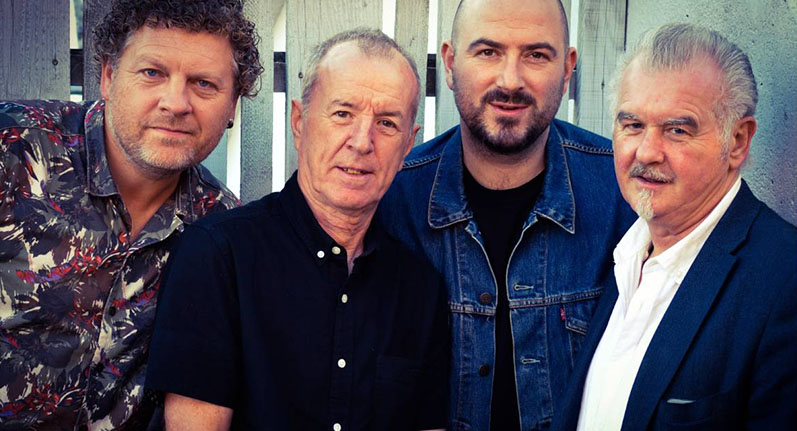 John Steel (second fron the left) and The Animals of 2018.
I suppose that, in the way of lead singers, no matter how much the fans might have appreciated it, when the point came where he needed a boost ... it it would have been perhaps too bitter a pill to contemplate going back to "the old band".
I mean, Iggy took ... wait, how long before he finally twigged that his "old band" had been so loved by so many that putting the thing back together would be a huge boost to his pension fund? Thirty fucking years, wasn't it? He should have twigged, surely, during that 1983 tour of Australia, with the New Christs blowing him off-stage night after night with music inspired by his 20-something self - never mind the fact that they knew all the Stooges songs backwards, FFS. Instead, we got "Blah x 3".
Imagine, if you like, an alternative 1990s: Iggy putting out bad French crooner LPs year after year, while his "old band" lost their patience and went on the road with a similarly charismatic singer: who'd you want to shell out for?
So. John Steel is what you might call a "foundation member", and Micky Gallagher (The Clash, Blockheads etc etc) is a very early member of The Animals.
So, while you might not get Burdon's voice you do get New York bassist Roberto Ruiz' voice, and he's damn fine. He's been with The Animals (in between other gigs) for several years.
Danny Handley plays guitar and has been with the band for several years (in between touring Europe with his own band or solo shows). Early Blues website quotes Danny as explaining what the blues means to him; "Emotion. Human spirit. That kind of feeling where the hair stands up on the back of your neck. Primal stuff..."
I'll add that Roberto and Danny really work hard onstage, they put out as much as they can. They're exciting to watch, too; entertaining. You can see the love they have for the songs, and their aggro nature as well. It's not about performing by rote and note, but by feel and emphasis, and The Animals have been doing what they've been doing for decades now; entertaining crowds who are there to see them.
You can expect the classics; "We Gotta Get Out Of This Place", "Don't Let Me Be Misunderstood", "Boom Boom", "It's My Life", "The House Of The Rising Sun", "I Put A Spell On You", "Bring It On Home To Me" ...
Meanwhile, in between touring The Animals, watching The World Cup, tennis, cricket and enduring a hideous (for England) heatwave, I pestered John Steel.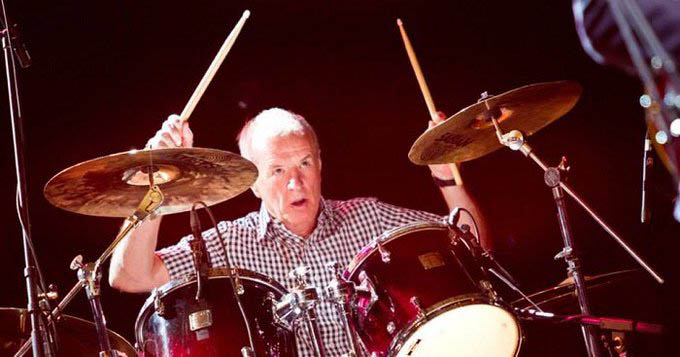 John Steel.
RB: In the early 1960s, there was a code of social taboos. Some of these now seem ludicrously fixed, while others seem sensible, yet over the last 50 years their power and structure have eroded. What examples of those social taboos spring to mind?
JS: For whatever reason the use of the "F" word came to me. I can't remember it being used by my age group growing up in the '40s and '50s until our early teens in the mid '50s, and never at all by our parents.
My dad was a driver in the Royal Artillery Regiment in WWII He served in North Africa, Sicily, Italy, Yugoslavia, then France, Belgium, Holland and on into Germany; and, from the day I opened the front door in 1945 and ran in to tell my Mam "there's a soldier at the door " I never once heard him say "fuck".
It was only when I got to Art College that it started to creep into our mildly rebellious student usage and even then, not in mixed conversation.
Then in 1963 when, as The Animals we arrived in the Big City we found it was suddenly quite fashionable to say: "Oh fuck off darling you're talking rubbish" without being hand bagged by your girlfriend.
But THEN... in 1965, theatre critic Kenneth Tynan said "fuck" in a live interview on national television and the genie was out of the bottle.
It was all good fun then, especially when Mary Whitehouse decided to be the guardian of our morals but, and as always the but, I do find it tedious these days to hear young mothers screeching "Shutthefuckup" at their children in pushchairs.
RB: Was there an 'ah-HA!' moment when you discovered a certain drum pedal?
JS: When I could afford to buy brand new drums after after years of second-hand odds and ends, I chose the latest line from Premier, the top British drum company. Back then Ludwig, Gretsch and other American brands could only be had by importing.
Anyway, I was very chuffed with my new kit and the bass-drum pedal was a revelation after what I'd been used to. It was The Premier 250 Hi Speed Pedal and the foot plate was encased in tough black rubber. I think it was the only model ever made with that feature. I can only guess it was catering to professional drummers playing in trios in supper clubs or wherever, so you didn't get that annoying clicking noise from your leather-heeled dress shoes.
I looked on eBay to see if there where any still around and found several, some of them referred to as "The Keith Moon Pedal"!
- - - - - - - - - -
Eric and I had been together in various bands since 1957 and in 1959 we were joined by Alan Price. By 1962 we were The Kansas City 5 with a regular Friday night at The Downbeat Club.
On Friday, May 18, 1962 Pricey didn't show up. He'd joined a group called The Kon-Tors (with Chas Chandler on bass) who were playing pop covers and getting a lot more gigs and money than The KC5 ever did. So The KC5 folded and I started gigging around, playing wherever I could until I got a regular spot in a trio playing a supper club six nights a week until 2am, getting £15 per week, which was more than I'd ever made before.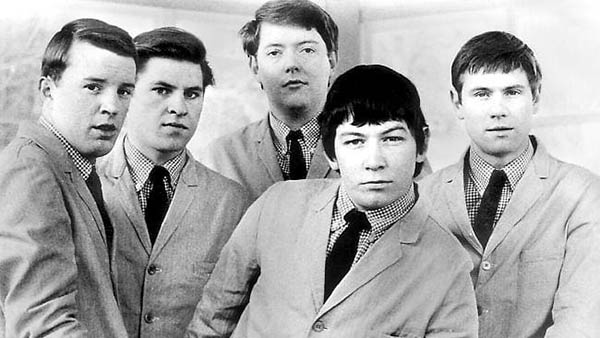 I lost touch with the local jazz and blues scene because of the hours I was keeping, until one August afternoon I bumped into Chas Chandler. Pricey had quit The Kon-Tors and formed an R&B band with Chas on bass, Eric on vocals, Nigel Stanger on Tenor sax and Barry Preston on drums. The band was doing well but there was friction with Preston.
Chas offered me the job, I said I'd love to but I couldn't afford to give up £15 a week, Chas staggered me by saying I would be sure of £14. I agreed to take the job after a short holiday I'd already booked.
Fresh back from holiday on September 11, 1963 I played my first gig with The Alan Price Rhythm & Blues Combo, being introduced to Hilton Valentine on guitar (who'd replaced Nigel, who'd recently left for Oxford University). The gig was midnight to 3am at The Downbeat Club, by the time we got on stage it was packed so, without any rehearsals, we kicked off.
Everything fell into place. Less than four months later we headed for London as The Animals.
- - - - - - - - - -
Robert, I'll skip the question about "new music". I haven't a clue about what's going on and I don't even try to keep up. My excuse is I'm an old man. If people are creating "new" music that appeals to me then it must be pretty retro.
RB: Do you prefer LPs, CDs, or downloads..?
JS: I still love everything about the old 12" vinyl. The artwork, the sleeve notes, even the smell. You need a good quality valve stereo to get the most out the sound though. I don't have one anymore, and I have to admit that the first CD I bought was 'Kind of Blue' as my ancient vinyl was pretty worn out, and it was lovely to hear that album again without all the surface noise. I also have all my collection on my classic iPod for listening on the road.
The Animals Australian Tour Dates:
October / November 2018
Wednesday 31st – Wollongong – Centro CBD
Thursday 1st – Canberra – Southern Cross Club
Friday 2nd – Miranda – Miranda Hotel
Saturday 3rd – Revesby – Revesby Workers
Sunday 4th – Sydney – Factory Theatre
Wednesday 7th – Newcastle Lizottes
Thursday 8th – Rozelle – The Bridge Hotel
Friday 9th – Adelaide – The Gov
Saturday 10th – Melbourne – Memo Music Hall
Sunday 11th – Melbourne – Corner Hotel (Matinee)
Tuesday 13th – Shoalbay - Shoalbay Country Club
Thursday 15th – Sawtell – Sawtell RSL
Friday 16th – Gold Coast – Twin Towns
Saturday 17th – Brisbane – Hamilton Hotel
Tickets here