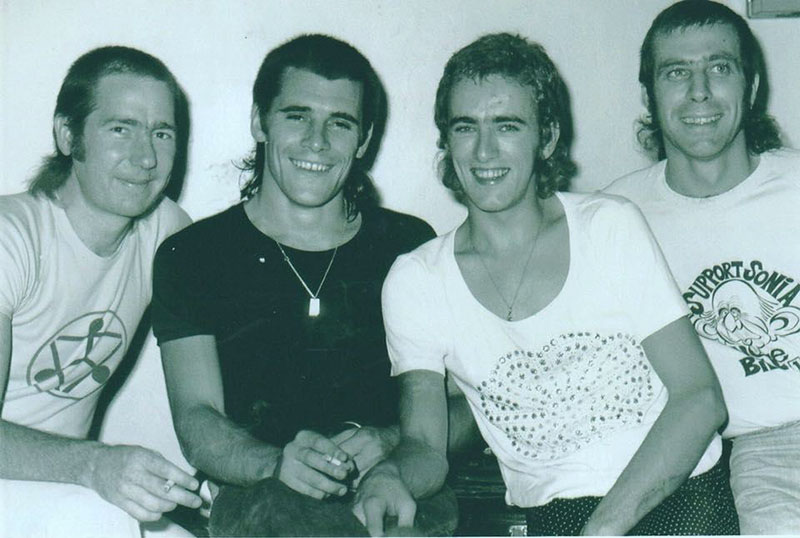 The Coloured Balls: Lobby Loyde, Trevor Young, Janis "John" Miglans and Ian "Bobsie" Millar. Photo by Philip Morris.
Q Gday Jason! Excuse the Australian slant on this but how does a guy in from Northern California get to know about Lobby Loyde and the Coloured Balls? How did you lay ears on them and what was the impact? Do the Coloured Balls have much currency in the US?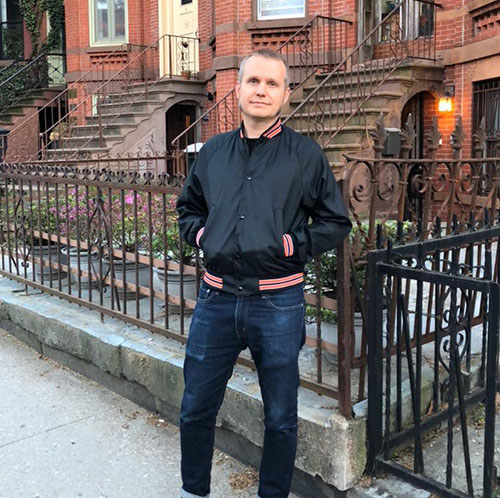 Coloured Balls were just winding down around the time I was born so I certainly didn't grow up with them, unfortunately. I'm not exactly sure when I heard first them, maybe about 12-13 years ago. I heard "Ball Power" on YouTube and was blown away. I've been a big record collector my whole life, and I already knew Lobby's earlier group, The Purple Hearts, from the "Ugly Things" comp. LP on Raven. Bought that around 2000. For my money, that's still one of the best comps ever made.
Coloured Balls are at best a cult band in America. For a country as huge as America, there aren't that many with the good taste to be into Coloured Balls. They do have some crossover appeal like Motorhead in that they are rated highly by punk, hard rock, and metal fans. Hell, I even got my step dad into them. The people here that actually know about them, absolutely love them. There are no casual Coloured Balls fans.
Q We'll talk some more Lobby soon. The Just Add Water story goes back to the '90s and involves a lot of San Francisco underground punk bands. Talk us through that.
I actually started the label in 1993 when I was 19-years-old and living in my home state of South Carolina. I moved to California a couple of years later. I ended up being in a group called The Easys with Russell Quan who had played in The Mummies. Through him, I met a lot a lot of great bands like The Bobbyteens, The Flakes, and Loose Lips. All those bands were sharing members and the scene was actually really small, but made a much larger impact than any of us ever realized.
I released records by all those groups and more like The Demonics. I put out a comp called "California Ain't Fun No More" that chronicled the scene at the time with all those aforementioned groups plus The Fevers, The Loudmouths, etc.
Q More recently, you've released music by Terry Stamp who was a member of UK proto-punk band Third World War, where did you cotton on to his music? What's the background to his "Fatsticks" album released on JAW? Dare I ask, what's a "fatstick"?
I'm pretty sure I was first introduced to Terry Stamp and Third World War many years ago via YouTube - same as with Coloured Balls. My day job is in an office and I'm listening to music pretty much nonstop all day every day. I still get turned on to new/old music practically every week.
The well is bottomless. Unreleased tunes/alternate versions or rare live footage keeps popping up. Since the Covid-19 lock down started, a huge amount of new footage has surfaced since people have a lot more time to dig through their archives while they are stuck at home.
"Fatsticks" was barely even released on A&M back in July 1975. It only came out in the UK. I would guess that no more than 500 copies were pressed. Terry and I have discussed this many times. We're still not exactly sure why they even released it in the first place. They basically pressed it and that's it. No ads, no radio support, no promotion, no single taken from the LP, etc. Terry was so out of place on A&M. You have to remember than this is when The Carpenters were the biggest act on A&M.
As for the album name, I'm not 100 percent certain, but I believe "Fatsticks" is the nickname of a friend of Terry's.
Reissuing that album is one of my proudest moments with the label. It's firmly in my all-time Top 10. I'm currently working with Terry on a double LP collection of his '80s recordings called "Twenty Rough Rotters". Really incredible stuff and none of it has ever been on vinyl - only self-released cassettes and CDs that Terry sold at his gigs. It will be released later this year.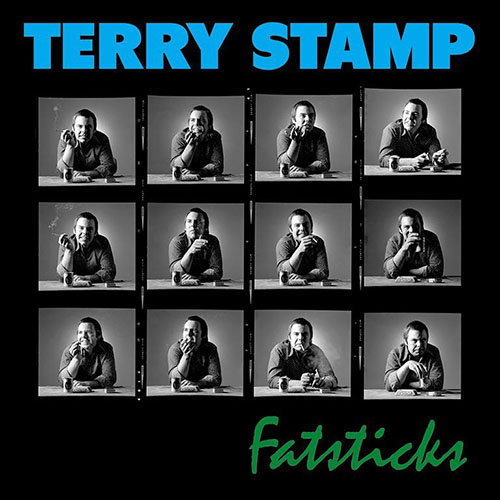 Q Terry Stamp has been called "criminally underrated". Do you concur?
He's the very definition of "criminally underrated". He's one of the best songwriters ever, and I'm not just talking about in the record collector, the-more-obscure-the-better sense either. Sometimes an artist is just "too clever" to ever be generally accepted, or their songs are too varied to be neatly placed in a box. That's Terry.
The sheer variety of styles he can write in is one of his greatest strengths. The same goes for Coloured Balls - they aren't just one thing. I've heard Terry described as a wilder Tom Waits. I think that really does him a disservice because Terry's writing makes anything by Tom Waits sound really weak in comparison.
Q The Hammersmith Gorillas are probably better known than Terry Stamp and have been the subject of many re-issues including by JAW. Did Jesse Hector start punk rock? What is Jesse up to these days?
They are definitely much better known due to all the coverage the Gorillas got during Punk's heyday and the fact they were on Chiswick along with so many other great London acts. It must have all been old hat to Jesse Hector because he formed Crushed Butler in the late '60s and they were definitely Punk before Punk.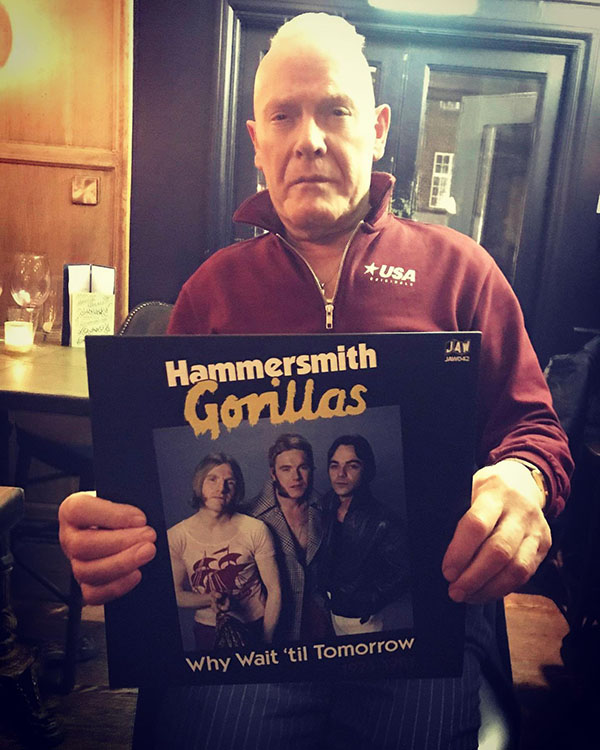 No. Jesse Hector liked the re-issue job. The Royal Mail times for delivery? Not so much.
There are a lot for contenders for starting Punk and I don't think any one person is responsible. Jesse is definitely one of the people who help define it.

Jesse still has a job at the same place he was working for back when he was in the Gorillas. He could have retired years ago, but I think it's what keeps him going and he likes the structure it gives his life. He's a really lovely man, and has the best Rock 'n' Roll stories you've ever heard.
Q For most Aussies, Trevor White was a bloke who played the lead role in the stage production of Jesus Christ Superstar in the '70s, and no relation to the Englishman who led junk shop glam band The Jook. Tell us about the latter and what your label has issued.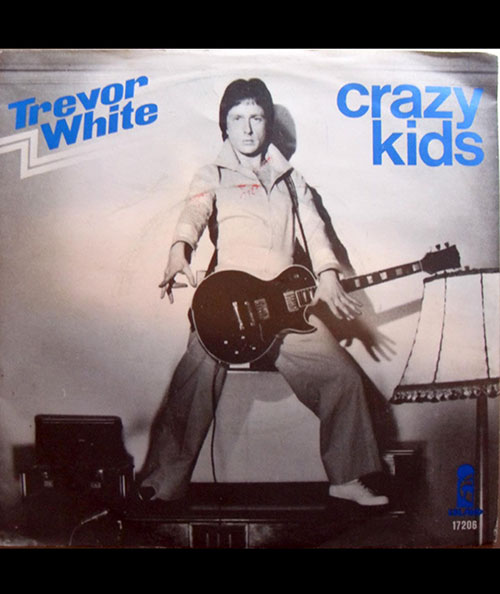 I had never heard of the Aussie Trevor White until after I reissued English Trevor White's "Crazy Kids" single. I think outside of Australia, most people would know the English Trevor White due to the fact he was in Jook and Sparks. Sparks were massive in the UK. Jook should have been. They are 100 times better than Sparks, in my opinion.
Trev has been plagued by bad luck for most of his music career. He had joined John's Children to replace a departing Marc Bolan, and they band broke up before he could even have a chance to rehearse with them. In 1970, he released his debut solo single, "Noel Highway", under the name Indigo Jones. It was issued in the UK and America. It went nowhere.
Jook released five incredible singles on RCA from 1972 to 1974. None of them came close to charting. The nail in their coffin was that they had a UK tour that never happened supporting labelmates, The Sweet, who were at the height of their fame. Jook were set to release their strongest single, "Bish Bash Bosh", to coincide with the tour. Two weeks before the tour, Sweet singer Brain Connolly, was injured in a bar fight and the tour was canceled.
It was too late to book anything, so Jook had no money and no prospects. They did one last recording session and then called it a day after Trev and Jook bassist, Ian Hampton, joined Sparks. Sparks were currently in the UK Top Ten with their "Kimono My House" LP. I've also released Trev's "Understood" single which was an unreleased tune recorded at the same time as "Crazy Kids". He also recorded an album that was never issued around the same time, but only four out of the ten songs have been found. I'm hoping someday Trev finds those other tracks.
Q The ex-Aztecs drummer Gil Mathews has become something of the guardian of the Lobby Loyde legacy. How did you connect with him to the point where presumably he's entrusting you with tapes to master from?
Gil Mathews manages Lobby's recorded works that are owned by Lobby's estate. They own most, but not all of his masters. I sent a message to Aztec Records, trying to find out whom to license Coloured Balls' material from since I knew Aztec had done some CD reissues. EMI/Universal Australia controlled the rights when Gil did his reissue CDs.
Since then, Lobby's family has regained the rights to the EMI material. Gil owns the Havoc Records back catalog, so that covers the first two Coloured Balls singles too. "The First Supper Last or Scenes We Didn't Get To See" LP is owned by another company since it was on Rainbird, not EMI, back in the day.
Gil has been a pleasure to work with. We've done six releases so far and have more in the works. We're really lucky that the master tapes still exist and that Gil has the right equipment and knowhow to make everything sound fantastic.
Gil will be the first to tell you that these vinyl reissues sound better than the original '70s Aussie pressings, which were never great to begin with. He's very honest about the shortcomings of the Australian music industry of the '70s. Some people have a hard time wrapping their heads around the fact that sometimes the original pressings don't sound best.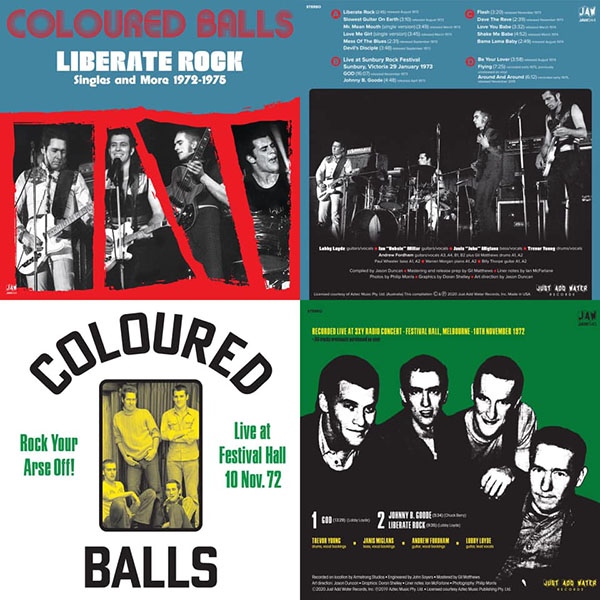 Q Your Lobby Colored Balls 45 re-issue campaign appears to have excited a lot of people Down Under. From where in the world has the bulk of the interest come? Any surprises?
Lobby still gets a lot of love from Down Under, and rightly so. Most of the orders have been from here in America, followed by Australia, UK, France, and Germany. Interest has also come from all over, places like Japan, Brazil, Scandinavia, etc. I have a core group of devotees to my label that seem to order anything that I put out. I really appreciate their dedication.
Q The imminent "Liberate Rock singles and more 1972-1975" 2xLP and "Rock Your Arse Off! Live at Festival Hall 10 Nov. 72" issues seem to be a logical extension of the singles. Is there anything else not previously released that we should watch for?
As far as I know, there isn't any other unreleased material that is worth issuing. Sadly, the studio recording of "GOD" was erased decades ago.
There is one other live gig I have that is of great historical significance, but the quality is just too rough. It was literally recorded with a one-track mono tape recorder from the back of a Holden Ute at a drive-in during a performance of Coloured Balls supporting the great Bo Diddley.
At the opposite end of the quality spectrum is our upcoming "Rock Your Arse Off! Live at Festival Hal 10 Nov. 72" LP. The quality is sterling since it was recorded for broadcast. Miraculously, the master tapes still exist. Both of these upcoming releases are 100 percent analog sourced directly from the master tapes. We spared no expenses.
Q What's your take on the more experimental Lobby stuff, post-Colored Balls? I'm talking the "Beyond Morgia" space rock album.
I haven't actually heard it. I have heard the "Obsecration" album, and some of it is pretty out there. I really wish Lobby sang on it instead of just playing guitar. I love Lobby's voice. No one ever talks about his unique voice. It fits Coloured Balls' music so perfectly.
Q To these ears, it seems Lobby mined a rich seam of American music and applied his own rough veneer. In the unlikely event of The Colored Balls making it to the USA in the early '70s, how would they have been received?
I think they would have been met with indifference or disdain from the general record buying public just like The MC5 or Stooges. I think Coloured Balls would have fared much better if they had relocated to London and joined the same live circuit as Pink Fairies, Hawkwind, Third World War, Edgar Broughton Band, etc. Coloured Balls were an anomaly in Australia at the time and I can only imagine the minds that were blown when "Ball Power" was first issued.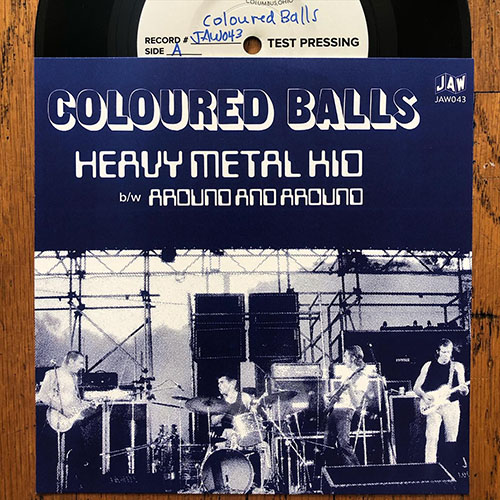 A test pressing for "Heavy Metal Kid" b/w "Around and Around" on Just Add Water.
Q How hard is life for a label operator in these COVID-19 times? Has the ban on anything but express international postage made a dent on you?
It's even more difficult as you can imagine. You have to be a bit of a masochist to be in the music biz in the first place. It's definitely an addiction. I'm a lifer. Luckily, my pressing plant and printer were only shut down about a month. In America, we've been able to ship worldwide without too much in the way of delays. Certain countries like Japan and Germany will only ship here via DHL, UPS, or FedEx. No international postal service at all.
I'm plowing myself into working on the next batch of releases and getting ready for the two new Coloured Balls releases coming out on 26 June. It's all I can really do.
Q One advantage of having your own label is getting to release your own stuff. Tell us more.
It's all about total control. I get to control how the records sound, artwork, promotion. I'm too much of a control freak to let another label touch my band's music. So What was gearing up to record our second LP when the virus struck. Hopefully, we'll get the chance to get back in the studio this summer.
Q Seeing as we're in a bar, what are you drinking?
Mine's a large Dark & Stormy. Don't forget the lime.
Buy Just Add Water releases here