The best music writers I know of are Frankie Delmane and Falling James and I don't even know if they are currently being paid for their exceptional talents. "The Village Voice" is gone. Rolling Stone and Spin are still around, but it's smarmy rich NYU whores writing about distinctly untalented fakeass A.I. slutbot, mousepad DJ, great reset muzak, hostage puppet-hookers. That manufactured lap dancer, one-eyed, stripper-techno shit ain't got no heart or soul, ya know? I mean, not everybody wants to hear more about Taylor Swift, or Katy Perry, or Dave Grohl or the fackin Kardashians, again, and again, and again, after all these years of having the same 10 faces thrust upon us, all day long. I don't need to know nothin' else about Jennifer Anniston, or Kelly Clarkson, ever again, okay?
Growing up in John Deere country, us little Joe Dirt punk rock nobodies from the pink houses and cornfields, we liked all the dummy hair metal. Summa my best friends used to shoplift all the heavy metal magazines from the chain bookstore in the mall. That's how we found out about Cinderella and L.A. Guns. Sneering at the arcade.
I have not seen a Mojo magazine in years, 'used to be all Oasis and Pink Floyd, but I don't even know if it still exists. The coolest thing about being a dropout media amateur at this point, is you may not get to live in Manhattan anymore or go to karaoke night with the famous people, but you also get to say whatever the fuck you want and never have to pretend to like Miley Cyrus or Bella Poarch or Kanye West or Ariana Grande for money. Everybody says they miss Creem and Flipside, but if those mags still existed, one wonders would they be required by parent media-companies to employ the same check cashing rich kid monopoly rawk sham merchants who are paid so handsomely to promote soulless Coachella robot shit, everywhere else?
The unconditional worship of unearned wealth and privilege in this country is off the hook. You know they almost made handbag designer, Ivanka Trump the head of the World Bank?? Same exact craziness with Facebook censoring any embarrassing facts about fortunate son Hunter Biden before the election. All that fucking model, rich kid, "don't you know who my parents are", right this way, sir-corner office nepotism, idle heiress, Spin magazine, V-I-P room, electronica shit makes me wanna puke. Honestly, I'm not even a big Wolfgang fan. He reminds me more of like Creed or Three Doors Down or something, than his Pop's group.
Mercifully, cats like me 'n' you, we can all still belly up to the I-94 Bar, have some drinks together, and talk about the real junk. Now's the time for you to break the seal on that $8 fifth of Pabst Blue Ribbon Whiskey you been saving out there in the garage. We might be here awhile. Get comfortable, take your shoes off. Sit a spell.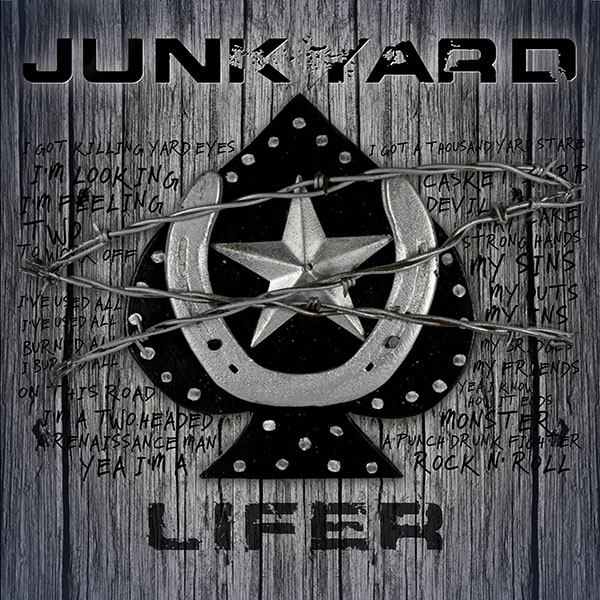 - - - - -
EDITOR'S NOTE: Junkyard is an Los Angeles hard rock band with punk and hardcore roots that assembled in Los Angeles in 1987. David Roach is a founding member and frontman. As Mark Deming explains at Allmusic:
"They formed with a bunch of like-minded acts who were tired of the L.A. hair metal scene and the pay-to-play gigs that had come to dominate many Hollywood venues. Playing smaller, more artist-friendly clubs like Raji's, White Trash a Go-Go, and Club Lingerie, Junkyard opted for a rougher sound and more dangerous image, suggesting a handful of bikers who somehow learned to play instruments."
Their latest single "Lifer" b/w "Last of a Dying Breed" is out via Acetate Records on vinyl, CD and digitally any tick of the clock. Four long-players, a best of and an EP into their career, David Roach remains up front and behind the mic. Back to J.D. Misfortune.
- - - - -
My extraordinarily talented friend, the Rev. Paul S. Cunningham, singer/songwriter/guitar dynamo of Gun House Hill, and me are both brothers of the darkness and watchers of the night. When I asked him about Junkyard, he said:
Junkyard has been a huge influence on me musically since the late '80s. I met the guys at The Channel in Boston, throwing back beers as The Black Crowes played as the opening act. We just talked music and influences, it was a very cool moment for this guy with a fake ID and a chip on his shoulder!!
Cult hero, Blackboard Jungle bassist, and ridiculously charming host of the exquisitely entertaining "Metal Social Sundays" essential (!!!) '80 podcast, DJ Britt Pennella:
It's strange I first saw Junkyard in June of 88 at The Roxy and they blew my mind but it's almost like they make more sense now. The music and lyrics are so timeless....I t's just so pure and honest. It's Texas meets Hollywood. There is no band more honest than Junkyard. Tim Mosher is like Junkyard's Frusciante. He understands the bands concept and keeps the runaway train on the tracks.
Shaman, Author, Late Night Tv Host and Noted Highway Chile, Alex Mitchell, from legendary thunder gods, Circus Of Power, says:
I'm glad Junkyard is still together, like us they don't have a choice- it's what they do, it's who they are. I recently asked David to sing on one of our new jams and he was like 'fuck yeah I'd be honored' and that warmed my heart, made ME feel honored. He showed up at the studio, ass pocket of whiskey, we talked about politics and the way the world was, about women and then he walked into the vocal booth and killed it, first take. That's my fuckin' boy right there.
Nasty Bastard, the hard chargin', Malcolm Young style, splayed legged, scuzzy hoodlum, rhythm guitarist from Allston Rock City's Four Horsemen and Beasts of Bourbon-influenced,leather clad, gutter punk outlaws, the Original Suffering Bastards, sez:
Lifer" by sleazerock survivors, Juunkyard, is my theme song from here on out. An absolute crusher, complete with filthy skull cracking guitar riff razor blade vocals and a thundering rhythm section this little slab has it all! It will stick to you like napalm. What else do you expect from a band that's been crawling the sewers of the seamy sleaze rock underground since the '80s. They haven't softened with age like most have, they are still hard as granite and uncompromising. Get ya some…!
I suppose it's only natural that when our contemporary reality is nothing but gloom and doom and horrible news that seems to get worse every day. Advertisements for stuff we can't afford it makes sense that so many of us would long for the simpler, carefree times, when we were kids in combat boots, kickin' around the dirt trails behind the drive in and the old barn out back, showin' off yer new checkered Vans, when the girls were gorgeous and loved Modern English, and the music felt genuine. But check out Britt's podcast, it's one of the best things still goin', in my heartfelt opinion. He remembers everything and has mad love for all the same music you and I do. He's like our own Lester Bangs or Nick Kent-only his Creem or NME or Melody Maker is in the form of a podcast. He packs so much quality into every show!
Lower East Side Legend, Love Pirate Gass Wild said:
Oh yeah smokin' love it, I'm a Rock'n'Roll Lifer, too.
Britt Pennella on Junkyard, again:
In the tradition of Motörhead it's almost like Junkyard are a gang and Still In Hollywood is their Ace of Spades. I always go knowing Roach will empty the tank on stage. Their shows and music make me feel like I'm on the corner of Hollywood and Western smelling exhaust and hot sauce at the same time on a 100 degree day.
Geffen recording artists Rock City Angels bassist, Andy Panic:
Rock City Angels played many shows with Junkyard and it was always a great time as bolth bands were very blusey and punk! The first time we played together was 1986 at the soundcheck club in L.A.it was one of our first. Junkyard was going by the name the Strapdoes and had just got into L.A. that afternoon from Texas. We were fresh from Florida and Jimmy James was in Rock City Angels at that time and of course, decades later, he himself would be in Junkyard! I could tell that very first night Junkyard were real good! I also remember David Roach walking around the club he was wearing a cop hat and a blazer just like me! Very fuckin cool!! We played many shows at the Coconut Teaser together courtesy of promoter and our very good friend friend the late Len Fagen (RIP) I remember David Roach getting on stage once with us at the Teazer to do a great version of 'Jumpin Jack Flash!!!
Tom Sanford from underground El Lay bands like Winter kills and Moonchasers remembers:
I really dug JunkYard's sound and image back in the day and the affiliation they had with bands like The Hangmen and The Nymphs, SeaHags, Shanghai and Decry etc.. I remember buying Zodiac Mindwarp's album the same day we picked up JunkYards first release. It's great to see Todd Muscat and Jimmy James jamming with those cats now. It's perfect. And they really truly are 'Lifer's. Cheers to that and the old dogs that are still out there doing it. Bless 'em.
Fleet-fingered Circus of Power quicksilver super hero, Billy Tsounis told me:
Circus Of Power did a few dates with Junkyard like two years ago and that was a lot of fun. The band gives it 110 percent every show . We enjoy playing with them. David Roach is singing on the latest COP tune 'Working Class Superstar' along with Alex and Danko from Danko Jones . Will be out in, like ,three weeks. But yeah , Junkyard are rock and roll lifers!
Circus Of Power guitar legend and Tom Petty/Paul Westerberg-like songwritin' man Gary Sunshine:
Been a fan since the old days, and I like the old days. Also, Junkyard is one of the best band names. They've always been cool and remain so. Real Rock & Rollers.
Which all proves that even aliens from outer space are Junkyard enthusiasts.
Way back in the MTV 1980's when we all had a lot more laughs, enthusiasm, optimism, and hair, the great George Carlin prophetically warned us to make the most of all our moments of being alive right now, because he insisted it was not going to get better, and we should sponge up all the precious time we had left, because the corporate oligarchy military industrial complex tyrannical overlords who were buying up everything and subverting democracies both here and abroad did not have any intentions of improving our schools, health, the environment, or overall quality of life. Boy, was he ever right!
I'm really not sorry that every time I sit down and start typing furiously about some rock 'n' roll band I like, it ends up somehow turning into some longwinded state of the underground address, because to "People Like Me", to borrow a phrase from Hanoi Rocks, Real Rock 'n' Roll is still everything, and I have not heard a song as good as Junkyard's "Lifer" probably since "I Don't Care About Nothin' Anymore" by the mighty and immortal Beasts Of Bourbon. Let me tell ya all about it!
Acetate Records is the best label for rock 'n' roll in the USA, aside from maybe Rank Outsider Records. Everything they put out just rocks like fuck. Someday, they might even release the Coma-Tones Complete Archives, but right now, the coolest thing you can buy your most beloved rock'n' roll motherfucker is probably this "Lifer" 45 right here - and a "Lifer" t-shirt to go with it.
I've loved Junkyard since I was about 17 or 18, living in a sucky town in Ohio, being hassled by the man for underage drinkin' and wearin' makeup, back combin' my big hair like Steve Stevens, and trying to put my own sleazy punk bands together, playing some wild shows at biker-hillbilly bonfires in the woods, and on bills with country bands or thrash metal kids at VFW halls and boy's clubs, lookin' cool, and offending the jocks, the cops, the juvie judges and nutty, superstitious evangelicals, and the creepy stepdads of beautiful new wave girls from the other side of the tracks.
We had the Junkyard videos recorded on VHS. We watched 'em over and over and dreamed of relocating to Hollywood. I dunno how many times I quoted that Generation X lyric from "Paradise West One" to all my friends on postcards about how "I'm signed on for life". The front porch of our band house was wallpapered with pinups torn from Star Hits, Smash Hits, Circus, Hit Parader, Kerrang!, Metal Edge, Faces Rocks, Rip, and Creem. I even had summa their heavy metal bubblegum cards!
Last rock show I saw was L.A. Guns and hell, even that was about 12 years ago. Phil Lewis, Steve Riley. "One More Reason" and "Electric Gypsy" and a psychedelic motorcycle helmet that shot sparks at the end of the show. A skull spark joker. I'd love to see some rock 'n' roll again before I die. Been a long time. Ya know? The cos-play astronauts at the top of the capitalist food-chain want us to forget what sincere rock 'n' roll with soul feels like in the artificial muzak soundtracked, death plague, factory line, yes sir obedience, hideous new world order. Man fuck that shit.
Sal Canzonieri from Electric Frankenstein, whose debut record is one of the last records I sincerely remember enjoying, he used to fret about The Anti Rock Conspiracy, which at the time seemed like paranoid hyperbole, but here we all are like twenty years later, and what do we got? Trust Fund Electronica and banal model-duos on every channel. Just garbage. Nothin'. Two or three overfunded kid bands with wealthy benefactors might have gotten the costumes, right, but they had nothin' to say'. Nothin'. Same shit on every channel. It's just like all Nickelback, and Lil Nas X, now. Lady Gaga or some other shite that sounds like Lady Gaga. Cardi B, or that rapper with the big behind, whatever her name is. That ain't rock 'n' roll-that's a product brand.
Junkyard music will pick you up when you're outta gas, on the side of the road, ya know, when ya feel like givin' up. If you ask me, David Roach is a real rare march-or-die love-trooper, a shining example, a real, true, hard livin' soulman. I hope all my friends, everybody in the sound of my voice, all my brothers and sisters and friends of the revolution will buy his new record. I really do, it'll help ya. Remember. If he can keep goin', maybe we can keep goin'.
He has similarly even lost loved ones to media induced red versus blue culture wars hysteria, just like me. Always so senseless and saddening. Unbridgeable divides. We lose so many along the way. I lost some to sushi and the Strokes and others to the 700 Club and talk radio, ya know? What happened to principles before personalities? What's on the inside that counts? Character, not the color of a person's skin. Crazy times, friends. In the midst of all this bullshit oppression and batshit deception and corporate bait n switch duopoly and billionaire space tourism, it's a real breath of fresh air whenever somebody is just saying what they mean, sayin' it mean, tellin' their truth, and singin' their hearts. Junkyard have endured as underground folk heroes, defying all the trends and laughing at the years and actually GETTING BETTER WITH AGE!
Back in the day...
One of the only nineties pop bands I liked in the grunge era were Hollywood's own Hello Disaster starring a Ronsonesque Kevin Bombay (Spirit In The Room) who says, "…All I know is that they've had some of the best guitar players in Los Angeles play with Junkyard. Brian Baker obviously, but Jimmy James and Marc Diamond are the last of the Los Angeles guitar heroes."
With all due respect to their scattered alumni and long storied history, Junkyard is a more vital, alive, electric, energizing, full-stop punk and roll band, right now (!!!) then most of the other metal-years groups were, all the way back then! I guess it's apropos for a band of reckless bruisers who named themselves after a Nick Cave record. They are still barnstorming, absolute Yeeehaww hellraisers. Junkyardd are one of the only '80s hard rock bands that have survived and thrived in this Mockingbird Media Monopoly era of Tik Tok pop garbage and ubiquitous corporate rawk generica. Where other bands might have super fame and stadium status, Junkyard still have coolness, sincerity, relatability, integrity, unpredictability, volatility, and songwriting ability.
They are probably at the peak of their powers right now (!!!) and some of those guys are probably 10 years older than me, and I am old. Somehow, they even wrangled my favorite Murkkkan underground guitar honcho, the legendary Jimmy James from the Coma-Tones, Rock City Angels, and Hangmen fame into their notorious Hollywood street gang. Times are tight all over so I'm not on the Acetate promo list anymore so I can't tell you much about the new Hangmen, except that any band Jimmy James is in, automatically, becomes one of the best around.
Junkyard's extremely influential rhythm section of Pat Muzingo and Todd Muscat is the kind of elusively hard hitting, savage rock action that all us long forgotten, punk rock, also ran, deadenders always dreamed about finding. They are unwaveringly impeccable. Tim Mosher is like Steve Jones producing the first Buck Cherry record, he brings a real hardass working class, frayed denim and brass knuckled riffology to the proceedings. Mark Diamond from NY Loose/Motorchrist sits in for JJ when Jimmy's in Europe with the Hangmen. Clay Anthony died, Brian Baker went back to Bad Religion, or Minor Threat, I think, Chris Gates is doing his own thing, and energetic lone star pistolero,
David Roach, is still right here, reliable and ever ready in his iconic battle vest, stomping the stage, casting a long shadow, looking you in the eyes, singing his belligerent black heart out, better than ever. Danger is his business.
Right the fuck on, ya know? He is a standout, stand alone, scarred for life, EXCEPTIONAL hard rock motherfucker with vulnerability and honesty and common people horse sense and raw guts galore. A blue collar poet, storytellin' man. Junkyard stubbornly remain five from the heart, talented, working class heroes.
I was walkin' around the foothills on the desert trail lookin' at cactuses and clouds and thinkin' the other day how in tumultuous times like this, all you can really depend on not changing much, or being moved by the tides, or Tide commercials, is Billy Idol, Junkyard and me. Like a Slave To Love, I will be the same.
Junkyard's high impact new song, "Lifer" is like the feelgood, hell yeah, hotshot, surefire, turn it up full blast motherfucker, stone cold, roman candle, play it again #1 hit of the year. Maybe the decade, honestly. The get out of your old man chair, bustin' loose outta this L7 convalescent home call of the "we ain't dead yet" motorcycle wildness. These O.G. sleaze punks are living proof that you're never too old to break out of the glamrour punk retirement community and make a break for the nearest strip joint or liquor store or fire-pit in the desert. Feather boas blowing in the wind behind ya. Put on your favorite pair of sunglasses, look in the mirror.
Play "Lifer" by Junkyard. Play it loud. It will move your old bones back into the black leather pants, even if you can't button the top button all the way, anymore. Their back to the garage, gloriously exciting YouTube videos are cool as fuck, and sure to piss you off that the Big 5 media monopoly Orwellian corporations won't play hard rock 'n' roll on MTV or the radio anymore.
Trust me on this: you'll wanna buy your old diehard rocker loved one a "Lifer" hoodie in time for the holidays, probably a size medium, but the most important things you should know about Junkyard are how they still rock like crazy hoodlum motorcycle barbarians live, they never fail to capture the whole room, bring everybody back together, inspire their audience to wanna go do something, be great, kickass, jump up and down in a sweaty frenzy, and come back outta retirement, to seize the lingering last days of indian summer to be ALIVE! To act like we're alive while we're still here.
You got any kinda bucket list? The fact that they still write exceptionally high quality, meaningful songs that us everyday people can identify with is really impressive to me. Like Dramarama and Lazy Cowgirls, Richard Duguay, Reverend Paul S. Cunningham, and Billy Idol, they still have the "it factor". They can still do it, 4 Real. It's a Dwindling Party, my friends. They are an endangered species. Being something of a three minute story teller myself, lyrics are real important to me. To give a shit about your music, I kinda have to want to sing along. My favorite part of JUNKYARD is the real heart they all invest into the songs, you can feel it, just press play. If you ask me, it's irresistible. They have sincerity, like Iggy Pop. It's music to make friends, drive fast, or fall in love to. Roadtrips, cookouts, come together. Fuckin' A right, nothin' but more hell yeah.
While most all their former peers are fakin' it, sleep walkin', lip synchin', outright straightup plagiarizing and hoping the inattentive masses never notice, goin' through the motions for the money, honey, these guys in Junkyard still get down like angry firebrand, real livewire , bourbon stankin' wildass motherfuckers.
Tattooed-millionaire brand owner Axl bores me, nowadays-he looks like Kid Rock, kinda has a "stop resisting" cop sensibility. All his Post-Izzy & Adler unchecked power trip songs seem to be like, him just.... threatening somebody. It always feels like Metallica. He is more like an authority figure now, always punching down! "Comply Or Die!!" That does not feel like rock 'n' roll. Don't get me wrong. I understand being stunted emotionally, getting stuck, suffering from trauma, believe me. Me, too, man, but the dude only ever conveys one human feeling. Empty rage and authoritarianism. Where's the outsider artistry in that? Might as well be MMA fighting, which is Duff's thing, now. Real estate and fighting. Charging fans to shake their hands. Where's Steven Adler? "You're Fired!" Remind you of anybody?
Live in Madrid in 2008.
All day we are browbeaten with new laws against existing while poor, with fake history, non stop violence on innocents, wars on whistleblowers, racist tanks and mercenary firehoses grimly deployed against our sacred water protectors, and even on people demonstrating outside the White House on Indigenous People's Day. All that unforgivable boot-stomping on a human face forever and stop n frisk racist bullshit, and show me your papers, Ice checkpoints on the highways, some armed asshole giving us the business whenever we step outdoors! Hand's up, don't shoot…
I dunno about you, but me, personally,....I don't need that shit in my life. I've had enough aggressive hospitality from loss prevention flashlights who profile me as an infidel if I loiter too long in the frozen section reading ingredients on the back of their booj gluten free overpriced Whole Foods products, cause my kid's food sensitivities, to last several lifetimes. I'm seeking relief from all that police state barking orders shit. I'm not gonna pay to be browbeaten. I'm just tired of that rich guy in all the bling yellin' at me, at this point. Stop trying to boss me around. It's absurd, alrite. No Izzy, no new songs, ya know?
They want to charge you top dollar to hear those same five songs and worn-out, screechy covers, again. The bloated operation, 10-piece metal machine muzak reminds you of like, a conservative Catholic school girls' basketball coach, at the steakhouse after a few too many scotches, complaining about the immigrants, again. That shit feels abusive. It's like Trump having dissident journalists roughed up at his cult rallies. It's like the DEA or TSA or ICE badges yelling, "stop resisting", ya know? I'm not giving that middle school cafeteria bully any of my fuckin' milk money. We get it, you're gonna beat somebody, who didn't listen. It's all Greek to me. I'll wait for the Izzy Stradlin comeback album. I liked the non-compliant, fortified wine guzzling, disgruntled "Out To Get Me" underdog resistor sleepin' under the stairways behind Target Video with his rattlesnake suitcase and stylish cigarette . Way more than the dude spoutin' off like somebody's dad on the patio who's been listening to too much Hannity or Morning Joe on Fox, who got hazed into the trademark owning, Do What I Say, capitalist real estate and money generating big club, bossin' his salaried employees around from his Dave Grohl throne. Speaking of the unavoidable Dave Grohl. He's not on the new Junkyard record, which is another powerful reason to purchase it. Monopoly Rawk still sucks.
Meanwhile ba-ba-ba-back in the jungle, Junkyard are all still down to earth, everyday barfly, Joe Strummer street urchins-like FIVE IZZYS. You know what I mean? When he casually walked away from super fame, Izzy took all their cool, street punk, Johnny Thunders "All By Myself"/"Tell The Truth Even When I'm Lyin'" vibes with him. Guns 'n' Roses just trade on fame, now-performing for sports people with lots of money to burn, TV people, who don't really like music. Junkyard stayed punk, signed on for life.
Roach lives in a shed by himself. No helicopter. No bullshit. Ain't many rockers left out here.
Motorcycle Boy still play shows, but infrequently. I think the Snatches Of Punk reunion only lasted one night. The Joneses and Horseheads and Little Kings all seem retired. When Greg, Brent, and Stacy left Faster Pussycat, Taime turned it into a fetish night, techno, Nine Inch Nails tribute for a few years, before releasing a back-to-their-sleazy-club-roots cover of "Pirate Love" last year with hard partying cool cat, Dannny Nordahl from the Throbs on bass. That was a sweet jam. Mark Michaels is suspected dead. I don't know whatever happened to Zowie Ackerman and was sad we lost Ryan Maher, but Circus Of Power are still making good music after some line-up changes. Cinderella's guitarist died. Ratt is just like, one guy, and his spandex, now. I feel sorry for fat old Sebastian, cursed to pine forever for his old band who imprinted on him as a kid, who own all the publishing and name brand trademarks but sadly want nothing to do with him now that he's not a glam metal Adonis selling zillions of Skid Row albums to Midwest farmer's daughters, anymore.
Some of of KIX have gotten sick. Nobody knows who is in either version of L.A. Guns. Probably Jizzy Pearl and Carlos Cavazo. Rudy Sarzo rejoined Quiet Riot, only original. Brett Michaels is like your high school jock popular kid in a bandanna. Motley Crue have been terrible for years, Vince is like an obese, unapologetic, lazyass, big, bad wolf, huffing and puffing and hoping the audience will sing the words for him. It's like he's so rich, he can't even be bothered to punch his own hookers anymore. KISS have all the overpriced pyro but lip synch. Aerosmith can't get along. Joe Perry is fuckin' around with Alice and Johnny Depp, when ex Rock City Angel Johnny isn't busy guest starring with Patti Smith. Roth is playing five final shows in Vegas before he retires, God bless him. I was still mourning Paul K and Brett Smiley, Joe Strummer, Mark Blum, and Dave Andra from Mind Dust Music, when in seemingly rapid-fire succession, deeply revered and appreciated rockers Mike Mindless, Taz Rudd, Dave Kusworth, Clay Anthony, Spencer P. Jones and Brian Henry Hooper, Yvonne de La Vega, Syl Sylvain, Darrel Bath, Timo Kaltio, and Dee Pop from Gun Club and the Bush Tetras all left the party. Holy shit-that's basically the entire roll call!
Dogs D'Amour is just Tyla, now, ya know, and some employees. I'm not as into it. Waiting for Jo Dog and Paul Black to release a new LP. The purple haired Zeroes are playing a reunion show at the Whiskey. The Stones are down to the final three plus Darryl Jones, and the original SNL and Late Night with David Letterman drummer.
Junkyard are the only real full strength, badass, fully functioning action figures I can think of, who still got the fulltime urge to play no apologies heavy rock 'n' roll with the street soul and working-class realness. You could meet those guys at work, carrying a toolbox, or lurkin' 'round the jukebox, or waitin' in line at the taco truck. They still got that "there goes the neighborhood" feel. My kinda people. Like old Motorhead, the Blues Brothers, or Cheech 'n' Chong, or the 70's animated, Saturday Morning Junkyard Gang from when we were kids, that first made us wanna wear those velvet newsboy caps. They probably ain't that welcome at the Florida golf course with OJ and Trump and the Kushners and Kardashians. If they lived next door, your grass would die, their albums "Old Habits Die Hard" and "High Water" melted all your other records.
When my dearly beloved older brother and rhinestone cowboy bass player, Bobby Cloyd, the dude who first got me into Junkyard, Dogs D'Amour, Mother Love Bone, and Rock City Angels "died unexpectedly", a couple months ago, it really fucked me up. I'd been trying to contact him about "putting the band back together". All my bands had that tense chasm between the daytime people and the night time people-ya know? I used to stay up with that guy, boozin', laughing and caterwauling til the dawn's early light, I missed him. Hunter S. Thompson said the truth is never spoken between nine and five and I tend to agree. Now he is gone forever. Ain't nobody left to singalong to old Junkyard records with!
His passing kinda reminded me how precious and fleeting it all is. I wrote a postcard to David Roach thanking him for carrying the torch for truth and soul in down n dirty streetwise rocknroll and for writing "LIFER" which has become a big anthem for people like me, and this was his response:
You sent a freaking post card?!
No one writes anymore!
I am moved, thanks for your sentiments.
Fame and fortune destroys the soul.
Let's both remain wild and free!
JD MISFORTUNE: So yeah, here goes a long-distance interview we conducted over our devices in blips over the past couple months. Okay, Let's start at the beginning. What was your family of origin like, describe your school years, how did you first discover music? Which came first drawing and painting or singing and writing? Were you a rascal? Did you get in trouble?
DAVID ROACH: I'm not a writer/ wordsmith, like yourself. I was born in Dallas, 1965. My father was gay. He died of AIDS when we were recording our first album. I didn't talk about it then 'cos the rock scene was very homophobic. That was fuelled by Axl and Sebastian Bach and the like.
Dad moved to Austin, a sanctuary for gays in Texas (see Gary Floyd from the Dicks and Biscuit from the Big Boys, two men who encouraged me to pursue my dreams when I started my first band, the Pagans, we broke up when the East coast biker gang of the same name suggested we change our name.
My mom and siblings followed soon after.
Mom was my biggest influencer.
She gave me a chronological history of rock 'n' roll. She started with Hank Williams. We'd go to Goodwill and I'd pour over the 45's looking for Elvis singles. I loved the 50's stuff. Elvis, Drifters, Platters, Buddy Holly, Eddie Cochran, all of it.
Then, she introduced to the Beatles and Stones and the 60's garage stuff, 13th Floor Elevators, Doug Sahm...
Our home in Austin was right up the street from the Armadillo World Headquarters where later I saw Devo, Taj Mahal, BOC, the outlaw country guys, and many others. The Bandidos MC sold acid in the parking lot. My introduction to the finer things in life.
Austin obviously is a Mecca for live music and mom spoiled me, taking me to Antone's to see Bobby Womack, Gatemouth Brown and others.
My good friend, Nick Ferrari and his sister moved from Lubbock and opened a hole in the wall called the AusTex Lounge. Stevie Ray Vaughan was in tow and he had a standing gig Tuesday nights with Double Trouble and Lou Ann Barton.
Across the street, a few years later, at the Continental Club, Little Charlie Sexton and the Eager Beaver Boys had a residency. Also, the Austin punk scene flourished and I saw everyone, as punk was a tight knit community that depended on each other from town to town through pay phones and offers of couches and floors. Needless to say my exposure to live music and the lifestyle was priceless.
I think these influences are why Junkyard is kind of a round peg, square hole band.
I'm sorry this is rambling and incoherent and it's gonna take some time. Let me know if I'm saying too much and I need be more brief.
JD MISFORTUNE: You know when I was a pre-teen, I was already forming my first doomed punk band called Harlot with two metal shredders. I had a girlfriend from church, whose parents were advertising/marketing arts people who were working for Tokai guitars and they gave me a Tokai guitar autographed by both SRV and Nile Rogers and that is the guitar my longtime sideman learned to play on, until I met this other girl-"just like Brigitte Bardot", the profound, blindingly beautiful light of my young life, and she called the church where the first girl's parents got me my first janitorial job and both girls found out about each other. One came over and took her guitar back and the other came over and took all her poetry notebooks and Depeche Mode and Smiths records back. I wrote all my early songs about the Smiths chick.
Anyways, that's my SRV story. My guitarist learning to play on a SRV endorsement guitar. White people from Ohio love saying he's "better than Hendrix". Please discuss your early bands, the music scene where you came from, what are some of your best memories of being a teenage punk rocker? How the hell did you ever find a drummer who really wants to do it?
When we frontmen are young and full of bravado and Jim Morrison quotes, we sometimes think we are the most important part of a band, but without a real drummer who is seriously dedicated and motivated, we ain't goin' nowhere. Where'd you get those guys and how did you stay together so long? Bands are such fragile ecosystems, and then comes age and wives and money and kids. How do you keep it together? What's your opinion of Tex and the Horseheads, Jason and the Scorchers and Chris Isaak and James Calvin Wilsey!
DAVID ROACH: My opinion of Tex and the Horse Heads. I've recorded two songs by Mike Martt. Horseheads "Clean the Dirt" and Mike's "Don't Give a Damn". I saw them in New Orleans in '84 and became friends with them in LA. I regarded Mike as a Keith Richards and Bob Dylan in a punk package. One of my favorite songwriters of all time. He , Chris Gates and Steve Earle hung out and had bad(?) habits in the late 80's. Smog Vomit and Rock Vodka were a couple of the nicest guys I knew back then. I used to work with Texicali and she's a jewel. Her and her beau at the time , Harvey, hosted a Thanksgiving I attended and were we jammed with UK's GBH.
That was a Thanksgiving.
I saw Jason and the Scorchers booed offstage opening for the Ramones in Austin. I thought they were great. I played with them in Spain and reminded them of that gig and we had a good laugh. Also tremendous gentlemen.
Chris Isaak is great, I'm not familiar with Wilsey, have to research. I can't place where you've been but Arizona is a place I keep thinking. Heard of Naked Prey, Thin White Rope or Gray Hounds?
JD MISFORTUNE: Wilsey was Isaak's real torchy guitarist-some call him the King Of Slow-he also played with the Avengers and Spent Idols. I have not heard of those Arizona groups. Only Arizona rockers I can think of my being that hip to are the Beat Angels, Jeff Dahl, Alice Cooper and Mighty Sphincter. Some other of your favorite bands from back then? What was your relationship to the Little Kings? Did you know Charlie Sexton? Best bars from back then? Favorite colleagues or contemporaries? Did you ever see the Lame Flames? Coma-Tones? Do you know Circus Of Power?
DAVID ROACH: So many interesting questions, my brain hurts. Being the lead singer dictates you're the most important member of the band. I was diagnosed a megalomaniac with low self-esteem by an unlicensed ex. I am nothing without the talent around me. I'm a loose cannon that needs a corral.
Chris Gates had a great vision. My girlfriend before I went to LA said I had to have an image. She said if you want to make it in LA you won't if you look like you just got off your job at the gas station on stage. I said, isn't that an image? Chris's vision lent itself to that ideology. When glam was so predominant, it wasn't gonna work with a 250-pound guitar player and a bunch of average Joes, so we had to use that to our advantage, hence "sleaze rock" bands like us, Circus of Power and Raging Slab, bucking against the system. Chris Gates said it's like putting antlers on a Buick, akin too lipstick on a pig. Still a Buick.
Pat and Todd grew up in Monrovia and played in Decry and Shanghai, they credit themselves for teaching Izzy Stradlin how to dress. I know you know what you get with a rhythm section that have been together forever. After Chris left , Tim Mosher took the reins as the visionary of the band. He started Broken Glass who we played with often , and start songwriting with us in '90. We didn't really ever audition people, we kept it in the family. Brian Baker, Marc Diamond from the Dwarves and now Jimmy James on guitar, I've been blessed with talent supporting the asshole up front.
We are nothing without me and I'm nothing without them. How we've stayed together this long I don't know. People don't understand why bands don't stay together. I say, do you still have the same four girlfriends for 30 years? We love each other and if it ain't always like that,cos it ain't, we like and respect each other and we love the power of what we create as a whole, not separately, it doesn't work like that. Not a band. That's for Englbert Humperdinck superstars with hired help. Not a rock BAND. The greater sum of the whole ( I probably mis worded that phrase but you're smart) that's all I got now, more will be revealed , I'm enjoying this. Hope you are and hope all's well you and yourn.
Our first bass player was skateboarding legend Tony Alva. It was short-lived as he wisely decided we were just a bar band. In the interim Nick Ferrari of the Little Kings sat in along with Wino from St. Vitus, a hero of Henry Rollins back then. We rehearsed in a warehouse maintained by Sam Man of the Apes. He lived in a school bus in the front and Nikki Alexander lived on the floor inside. At that time, Guns 'n' Roses and LA Guns also practiced there. It was also the weekly meeting. place of the Loyal Order Of The Water Buffalo Lodge where Chris Bailey, the Little Kings drummer, was the Grand Pooh Bah.
We were lazy and did audition the best and the beautiful - we just wanted someone to fit in. I came into practice one night and Clay was sitting there with his dog Zeke. He knew all the songs so we said OK cause that's how we roll. Clay turned out to be the embodiment of the image we were trying to portray. He was a junkie with jail time and he was more street than all of us put together.
One night in Ohio some bouncers got on our bus because one of our roadies had stolen the eight ball from a pool table. Clay stepped in front of the door and kicked one bouncer in the chest , the fuck out of our bus. As we gathered ourselves and peeled out of the gravel lot , Clay explained in full jailhouse verbatim: "You don't disrespect peoples home".
He and Pat were our toxic twins they liked " loads" back in the day. Loads were a combination of 5 pills that I can't recall. It was two of one and three of another and had the effect of heroin but at the time was easier to score. McArthur Park was a good source.
Fuck man I'm drunk and tired and lost my reading glasses but I'm really enjoying this so be patient. I love being a name dropper.
I spent the last few days with my friend Chou Chou who is close to Hank 3, Willie Nelson, Charlie Sexton and SRV, I got stories, man. The '8Os LA rock scene is bout the most boring part of my story.
JD MISFORTUNE: Didn't you have a band with Jo Dog from Dogs D'Amour?
DAVID ROACH: I don't remember how Jo Dog and I met but we did. We started Borracho as an acoustic thing. We played lots of covers, Cash's Blistered, Elmore James etc

We formed a band with many line-up changes. JonE Hell, Junkyard's original drummer, then, Bam from Dogs D'amour Timber Gilliam played bass, then Tommy from Little Kings, Smutty Smith and finally, Cher from Vixen. On second guitar we had a friend of mine from Austin, Thierry Levi. He was Frenchman from a teenage rockabilly phenom band whose name escapes me, then Ted Hutt. Ted is a producer now, I think he won a Grammy.Loved Borracho, my favorite band . Rick Browde produced a lackluster demo for us and it was the time of Grunge and nu- metal so we never got a foothold. Not making a Borracho album was a deep regret for me.
Sorry, I've been addressing these questions in the midst of moving and readjusting. Your questions come fast and furious and I want to take the time to answer with the proper for-thought. I'm enjoying this immensely, but I want to get it right. Years of drug and mainly alcohol abuse have rendered me a cripple in processing context and the ability to be cohesive. I miss the days of four-hour interviews at Boardners ( I think you asked my favorite bar back then) where you spoke face to face and might get a better sense of my fragmented context. I don't know if I'm making any sense, but if you like , I'll continue at this pace.
I don't know how to write songs. I can't play guitar because I have no hand to eye coordination.
Most of our songs are one of the guys having a riff and a loose chorus or title and I take it from there. I have to have some connection to a premise or it just doesn't work. I think having integrity about the content is crucial , or I can't sing with conviction. I have written songs, like "Styrofoam Cup" where I had to explain the guitar part phonetically. So it's always a different coon you're hunting up that tree. Again, I've been blessed with a lot of talent around me, or I'd be holding a cardboard sign right now
I'm a drunk by trade so apologize if I repeat myself from question to question, well, you're a writer so you deal and edit. Fortunately and unfortunately, Top Jimmy took me under his wing when I first moved to LA.
I think one of my favorite 80's experiences in Hollywood was when my roommate, Nick Ferrari talked Len Fagen at the Coconut Teaszer into starting the Monday night Eyetalian Sportscars jam night. He and and Jonny Hell and Fritz Friedman were the house band and they'd start the evening off with some Link Wray or something instrumental. Then it was an open mic event. It started with a whimper, but a few months in, everyone wanted to be on stage. Bobby Durango, Joe Ely, Mitch Mitchell, the guys from Blondie, a who's who that transcended genres. An ideal Nick understood, cos in the end, it's only rock 'n' roll and I like it. Other than that, Dayle Gloria and Michael Stewart (our former managers) did the Scream, another cool gig, as I'm sure you know, cos genre didn't matter. You could have rockabilly on one floor, goth on the next and punk or rock 'n' roll on the third and 1200 people got along and enjoyed it all.
JD MISFORTUNE: Did you like goth, new wave, rockabilly, synth pop, any of that stuff? Like, what are like ten records you wanna hear when you get discouraged by these trying times-like what music do you go to for fuel, to recharge and seek that energizing, healing and mystical, soul reviving rock 'n' roll spirit? What rejuvenates you?
DAVID ROACH: I cringe at the thought of naming top tens as I will always forget something crucial. I can say B"lood on the Tracks", I still listen to in its entirety. "Melophopia" by Cage the Elephant. Arctic Monkeys. But I'm inspired by songs more than entire albums.

As far as pulling my head out of my ass, lately…Nina Simone's "Ain't Got No"…"Fire", Ohio Players…Riff Raff…"Into my Hand" by the Church. I'm all over the map. Songs of any genre affect me deeply and randomly and top 10 lists are just too constrictive.
JD MISFORTUNE: Corporate media brainwashing and partisan propaganda have divided everybody, I got people I grew up with that kinda went over to the dark side of the force. Do you write songs with bringing people together consciously in mind? You've always had such a truly diverse audience-punks, headbangers, bikers, veterans, country music people, skateboarders, cowpunks, even elderly goths like me. when you are performing live, do you still have that experience of unity with the crowd? Last show I saw was Joan Jett at a county fair-she had camo clad hillbillies embracing punk haired emo kids, gay people, yuppies, everyboy freaking freely to the sound of Alan Merrill and Paul Westerberg tunes. do you get to see, have, or experience that anymore?
DAVID ROACH: Your next question is precarious. Which dark side are you on? My girlfriend of eight years and I broke up 18 months ago. It ended when she told me Sandy Hook was staged and all those grieving parents were "crisis actors ".
I was never politically inclined but I like history and current events. When I was a kid and my dad came home from work ( he taught high school English at a Jesuit in Dallas then was a writer and staff guy for Dept of Human Resources and then department of corrections, he expedited David Crosby's drug case cos he dug C,N,S, and Young) I digress.
So he'd come home and roll a joint and we'd watch the evening news with Cronkite or whoever. He taught me to be aware of the world around you. He'd say a hurricane is a fact. Mount Helena is a fact. Wars and politics are facts but you have to read between the lines when it comes to unnatural disasters.
I fly below the radar, not much interest in politics, but Trump changed that. It was only due to my interest in history and I knew this administration was hysterical, sorry, historical.
So I watched MSM all the time. It drove my girlfriend nuts and she called me a brainwashed sheep and said Bill Gates and Illuminati owned me and shit. I said I was taught to use the most reliable sources for information, but always discern bias, but she wouldn't buy, I was a sheep. Y'know when extremists go so far left and so far right, eventually they meet in the circle and hold hands and skip happily to The Apocalypse.
But I digress.
I try to write songs about personal shit. Otherwise, how do I sing with conviction?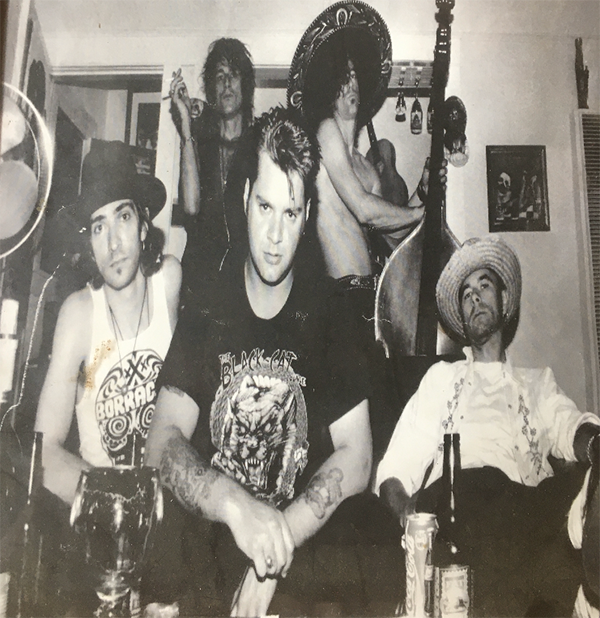 I thought of Junkyard as entertainment, escape. I didn't want to use it as a platform. Didn't want to go political like Rage Against, or god forbid U2. I tried to write a song about the '92 riots and I heard Sublime's "April 221992", and I ripped it up.
Four or five years ago I wrote "Rome is Burning". It's cliched as fuck but it was my first attempt at social commentary beyond a personal level. I feel more obliged to start writing more soci-poli stuff, or would that just fuck it up?
Ok, it's late. I either answered that question or rambled for two hours.
I didn't answer half of that last question. It was about diversity and music bringing people together and some such shit?

The beautiful thing about Austin was the diverse music scene.

I believe the Big Boys created punk-funk and Red Hot Chillip Peppers took it

I think the Offenders were the first punk/speed metal crossover band

The Dicks were the fucking Dicks. Mudhoney covered Dicks "Hate Police!" If that's not success, well…

Diversity, reaching different audiences

The two biggest punk bands in Austin had fat, gay frontmen. They got to open for Trouble Funk, Misfits and Bad Brains! The guys playing with these gay frontmen could drink you under the table and kick your ass.
I could go to the Opry house, (owned by Willie Nelson) in a week and see Tina, Echo, Priest, Elvis Costello, James Brown and Ramones in the same fucking week! That's diversity.\
I think I once said we got pegged as southern rock which lends itself to southern flags.
I played in Chicago and Atlanta and got business cards from cops saying: " if you ever have a problem…"

I had a Hells Angel In Oakland give me a card saying: "if you ever have a problem…"

I had hard core punks say: " I thought y'all were some stupid hair band…"

Girls tell me their grandma thinks I have an interesting voice.

Hippies, punks , rockers, grammas, they see integrity.

So I think in a minuscule way, we've blown thru some boundaries. I'm drunk and have no filter but I think everyone who sees us or meets us walks away thinking: "Those dudes are real as fuck".

I don't like misconceptions.
JD MISFORTUNE: Tell us something about each Junkyard member the fans might not know...
DAVID ROACH: Things you may not know about current Junkyard members:
Pat and Todd grew up in the same neighborhood in Monrovia. Their tales of life in so Cal in the late '70s inspired a JY demo (never released) called "Pasadena Kegger" about how they went to those backyard Van Halen house parties back then. ( I got a decent David Lee Roth story for later).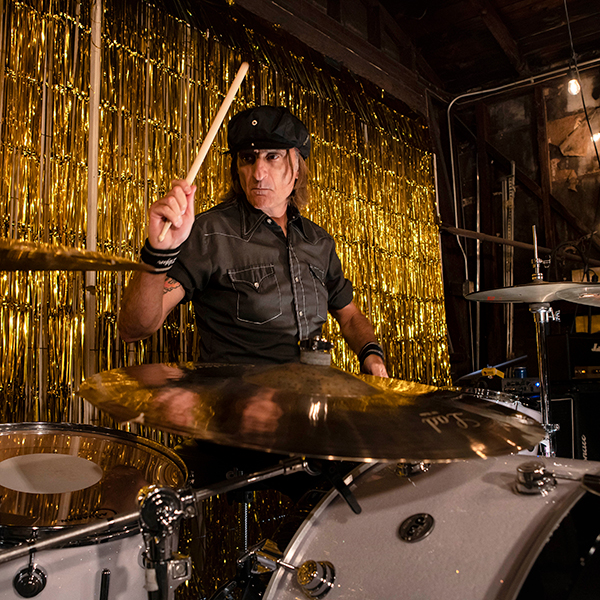 Pat Muzingo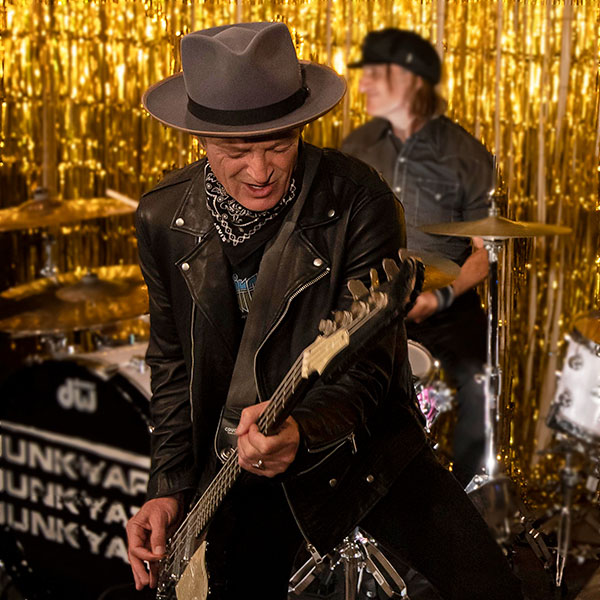 Todd Muzcat
They went on to play together in SC punk bands , Atom Bombs, America's Hardcore, and Decry, Shanghai. They both take credit for showing Izzy Stradlin how to dress when he got off the boat from Indiana with Bill Bailey or whatever his name was.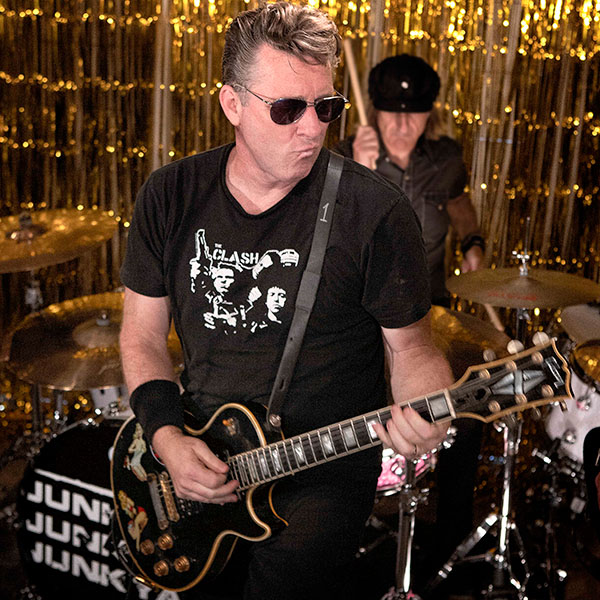 Tim Mosher
Tim Mosher grew up in DC same time Brian Baker did but they weren't friends til Hollywood. His band, Broken Glass, played shows with us a lot early on. Tim has been writing with Junkyard since '91 and he and Baker still collaborate with new Yard songs. Hard to call him a new member.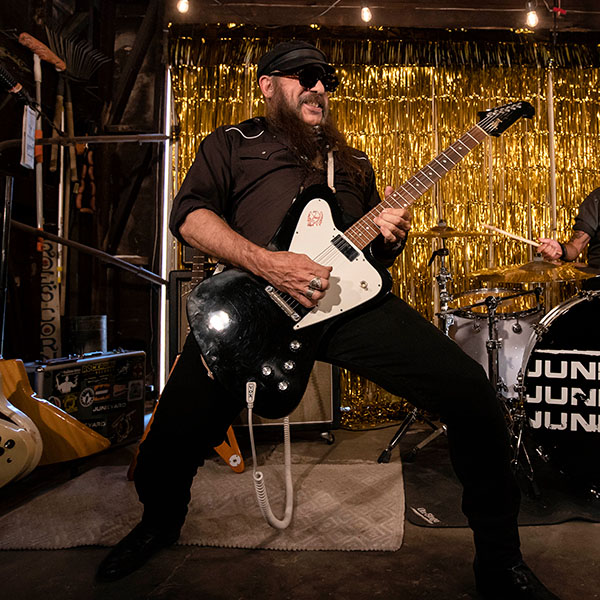 Jimmy James
Jimmy James is Fucking Jimmy James. He came from Florida with Bobby Durango (a lovely gentleman, R.I.P.) and the Rock City Angels. He's played with everyone and now with us the last five years and also currently with the Hangmen, another band we came up with in the east of west Hollywood scene.
I'm David, from Austin Tx, I had bad punk and garage bands and moved to LA when I was 20.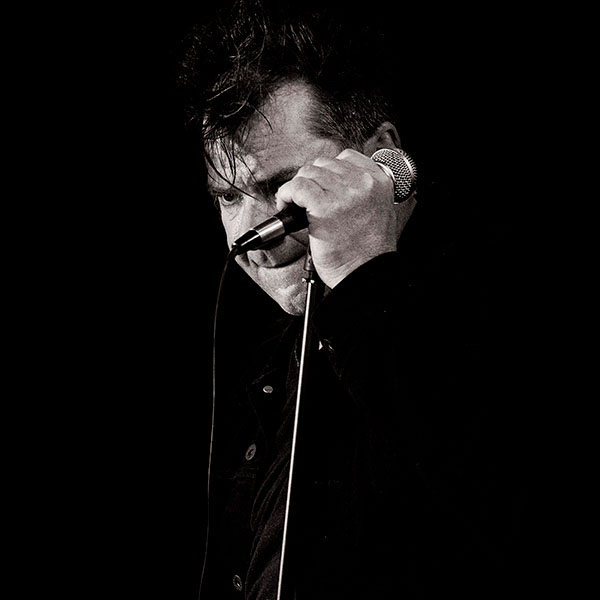 David Roach
I'm a cook, construction worker, warehouse worker, a Jack of all shit, artist(?) and, ya… oh! And JJ likes pot a lot.
J.D. MISFORTUNE: I ruined my knees by bending all night in big boxes and as a warehouse worker, myself! don't live near a bookstore anymore but a kind friend sent me that "Reckless Road" book by Marc Canter about Guns 'n' Roses. it's pretty entertaining to feast your bloodshot eyeballs on all those early pictures of their wasted glam daze with the strippers and stuiff. i love reading trashy rocknroll books. do you have favorites you'd recommend?
DAVID ROACH: I think another question was about books and I might have already answered this, so disregard if I did. I read "No One Here Gets Out Alive", "Cash", "The Dirt", Keith Richards autobiography, and shit I can't remember.
Straying off subject, as I do. S.E. Hinton (in high school).
The book that changed my world view, (probably in a negative way) that I've probably read five times is "Confederacy of Dunces" by John Kennedy Toole. He received a Pulitzer Prize for this post mortem. Great story about that in the forward. He also wrote "Neon Bible" when he was 16, another great read. Currently readin' Peter Frampton's autobiography. More interesting than I gave him credit for.
You can't dismiss people like book covers.
I've recently been chatting with Tracii Guns, who was someone I dismissed, errantly.
I told him as much and he asked if it was the lipstick.
I said yes, that and the Lip Service gear.
Don't ever hand me a line like: "I can barely use a computer or iPhone…" it's disrespectful to people with real issues dealing with this brave new world, like me.
This morning I tried to check my checking balance, couldn't remember my password.
Then I got a royalty statement from BMI ( probably $23.47)
Couldn't remember password. Now I can't find your questions again…
I think it was, what's next for Junkyard type stuff, but I feel like I missed something.
On a personal note, I've been crushing on Iris Berry the last few days and I know better. So what's my fucking problem?!
J.D. MISFORTUNE: Aw man, I totally feel ya, she is a soulful powerhouse, a bombshell, and in addition to writing some exquisite books about Life In Hollywood, she also turned me onto some kindred spirits who became my friends. Like Yvonne de La Vega, Rich Ferguson, and Dan Denton. She is a real punk rock survivor soul sister. Shane "The Rocknroll Bank Robber" Williams from Flipside magazine got me into her stuff. I can see why you and her have stuff in common-I wanna read her friend Pleasant's new book, "Rocknroll Witch". I just wrote and recorded a song on my Panasonic tape recorder in the cold garage called "Desert Witch".
Who are some of your favorite visual artists? Film makers? Fave singers, songs or songwriters of the past 20 years? How would you advise other artists to bypass the whole death incorporated media monopoly muzak industry and put their original work in front of the people? Do you feel like a success after all these years of highs and lows? What brings you the most joy? What are summa the songs you are proudest of helping create?
DAVID ROACH: It shames me to say I'm not familiar with many contemporary artists. I'm influenced by folk art, it's simplicity makes it feel accessible for me as an undisciplined artist.
Two of my favorite artists aren't contemporary, Jose Guadalupe Posada and Francisco de Goya.
Film makers: I like pretty much everything by the Cohen brothers, Scorsese of course, Wes Anderson, Guillermo del Toro, Paul Thomas Anderson…Alcohol has created huge holes in my brain so my recall isn't great and I always overlook people when I'm asked about favorites. I'm also really old school and you're asking about my favorites of the last 20 years. Recently – like 20 years - l like Wilco, Arctic Monkeys and Cage the Elephant a lot.
I have always had an aversion to the business end of the industry, I avoid it completely and let my bandmates who are more inclined handle things, it sucks the soul right out of me so I have no advice for anyone but do what you do.
I can't say I feel like a success.
I still feel like we're waiting to be discovered. I do feel extremely fortunate to still be able to do this and travel and play and record. I feel like it'll be like a posthumous B-level cult following thing. I promise I'll wrap this up in a few days, sorry I'm lagging.
When you ask what brings me the most joy, I don't know if you're asking about my private life or music life, so I'll answer to both.
I never wanted to be a parent, I didn't feel qualified. Nineteen years ago, I had a girl that brings me more joy than I could've imagined. Four or five years ago he began taking testosterone and changed his name to Ray. I don't think of him as anything but my beautiful child. I love to cook and I taught him. I taught him some art and we've collaborated on some paintings; his talent far exceeds mine. Spending time with him is my greatest joy.
I also enjoy solitude. I live in a shed on the property I work. It's quiet and beautiful and I get joy from that, but I also have profound lows, as solitude isn't always healthy for an alcoholic.
"Professionally" I get great joy from the attention, the accolades, and the fringe benefits of being a "rockstar"
The doors that are opened to you. I really enjoy being able to travel and see different places. Wherever I go I drop my bag in the motel and do walkabouts.
It's especially cool overseas when you're not the ugly American tourist, but someone who is welcome. You're privy to experiences a normal tourist doesn't get. Authentic homemade meals, free tattoos, so much…
I'm proud of "Blooze". I was 20 and wrote it in 10 minutes. It came pouring out cos I knew the subject. When you write, the longer it takes the more you can't see the forest for the trees.
I'm proud of "The River", "Styrofoam Cup", and "Wallet".
I don't play guitar, so I had to hum the guitar part to Tim.
I'm also proud of "Hands Off". We just moved to LA and Nick Ferrari of the Little Kings was my mentor, along with Top Jimmy. Nick also mentored Stevie Ray and collaborated with Stiv Bators (good company huh?)
JD MISFORTUNE: You might know Stiv was like my main man childhood hero. Stiv, Joe, Abbie, Baldwin, Hunter.
DAVID ROACH: Chris Gates came up with the riff and Nick says "that's too pretty, y'all need some ugly lyrics , like, get your hands off my throat"
Magic, as I had girlfriend when I was 16, she was 24 with a young daughter and we lived together three years. One-night, long story, I woke up and she was choking me. So again, if you live it , it's easier to write it.
A couple of years ago I reunited with Lori's daughter at a gig in Portland. She was married with three kids.

I learned Lori had moved to Costa Rica six years prior. She had opened a diner with the aim to start a spiced rum business. She had a neighbor that didn't like her and he broke in one night and beat her into a coma.
She died three days later.
It was hard to sing that song afterwards. I did it in London where my sister lives and we both cried in front of everyone.
Lori was hurt by that song but it's a fan favorite so I do it.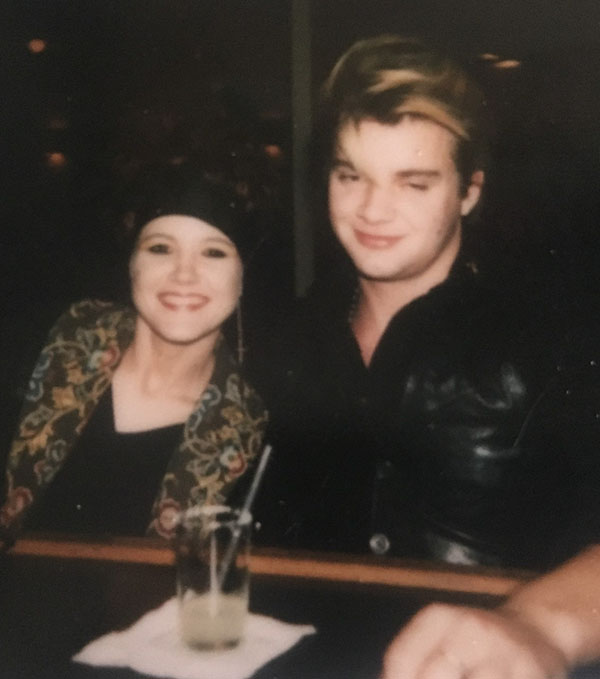 Lori with former Junkyard member Chris Gates.
JD MISFORTUNE: Did you want me to submit the Lori pic to the Barman to use in the layout of the article?
DAVID ROACH: I hadn't thought of it. If you think it has context, sure. People ask if it's a true story all the time so it might be of some interest, I don't know....
We were downtown in Austin one night and got in an argument. We were walking up Congress Avenue on opposite sides of the street heading home.
At one point a car pulled up to her and she got in.
I went home and went to sleep thinking, well, that happened.
Apparently, he offered her coke but he expected something in exchange. She got out of the situation and came home and strangled me. I'm not sure what my part was, but she was pissed.
Hence, get your hands off my throat. And that's just the chorus part of the story. Ain't love grand?
JD MISFORTUNE: Please talk about writing and recording "Lifer" and the shows you been playin' and about that new Circus Of Power tune you sing on...Also, when can the fans expect to see more new original music and where will you be performing in the near future? How can people purchase your artworks and other merchandise? What else do you wish to convey to all the rock 'n' roll people who love you?
DAVID ROACH: I met Alex and COP probably in '90. That was when Gary and Ricky were in the band. I think it's crucial to have legitimacy. With only Alex as starting player on the roster it's difficult but I always respected his heart being in the right place, but Ricky and Gary are irreplaceable.
I happened to be rehearsing around the corner from the place Alex was recording the day he asked me to come in.
I think it went well.
Bands like us, Hangmen, Miracle Workers, Nymphs, Little Kings, we're totally anti Sunset Strip. COP, Raging Slab and others were doing the same thing on the other side of the coast.
Hence, Sleazerock?
I was flattered Alex asked me to sing, feels like our tiny dent in rock 'n' roll history had a little substance.
JD MISFORTUNE: Oh yeah, I know a lot of people who love your bands and draw all sorts of consolation and inspiration and take courage from your examples I loved the Nymphs and Little Kings and Tex and Hangmen a lot. Especially vibed with the Coma-Tones. I knew Ricky and Gary and Alex when I was a kid, they'd always let me backstage, one time I drank too much of Ricky's hotel room beer and passed out at Axis. My old guitarists had to put me in a cab. I love those guys.
You ever hear that Fat Nancy song "Fuckedup, Lonely, and Blue" or "Circles"? Alex is a big jokester comedian but he has a lotta soul. "you gotta save the American Wolf" is like, catchy as all get out! I got the Little Kings cassette for Christmas last year! The last time I really felt connected to a rock'n' roll subculture in this country was when you guys were all on MTV and little bands like the Ultras and Pillbox were in the clubs. After that our whole scene got infiltrated and taken over by these nauseating private school people like "the Hills" or some shit. I had to walk away from it all not long after that. Thanks for keepin' the embers alive
Please remember to tip your bartenders:
Buy "LIfer" and other Junkyard music