Aussie troubadours take their brands of darkness on the road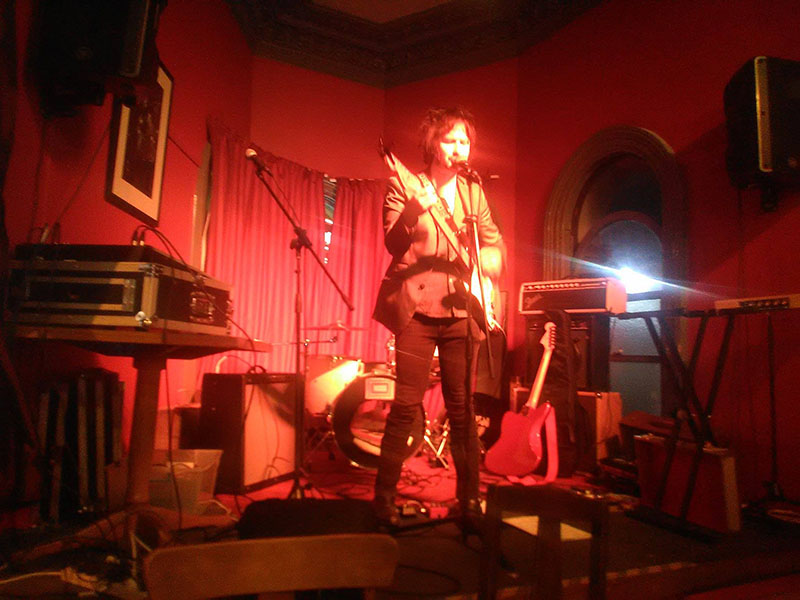 Michael Plater live. Fawnia photo.
Now, there are a few of you out there who read The I-94 Bar regularly. You may have noticed I'm rather a fan of Australian musician/songwriters Michael Plater and Tim Hudspith.
Plater's music spans various indie, gothic folk, country and "noir" influences, and his first two albums "Exit Keys" (2012) and "Mythologies" (2016) have received worldwide critical acclaim. Hudspith plays guitar with Goldentone, Colourhweel, The Low-Fi Cowboys, Death Valley PTA and Dead Eyed Seraphim and is a solo artist in his own right.
This month Melbourne-based Plater and Adelaidian Hudspith (a Ballarat expat) will be touring select interstate venues with intertwining dates, plus some shows in their own right at the end. So, Sydneysiders, Brisvegas residents, Canbrites and Newkies, get out of the house. Dates are at the bottom of the article.
I was hoping to see the two Sydney shows, but ... as you know, Adelaide's electricity bills aren't what they used to be, so I had to content myself with doing an interview with both Plater and Hudspith..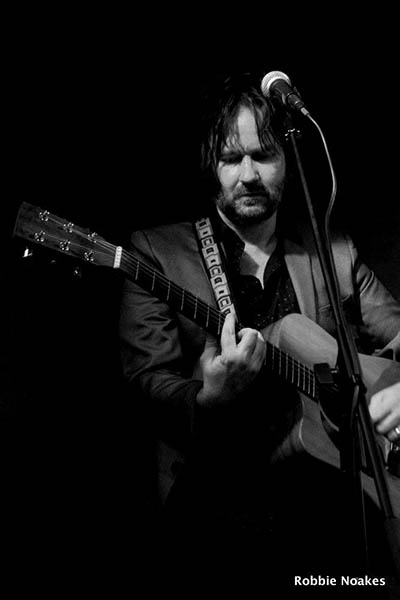 MICHAEL PLATER
Tell me about your new album with Dean Richards, "Ghosts of Electricity." How did that come about?
Dean and I had been talking about doing an instrumental/experimental album together for the last couple of years. Over the last 12 months or so, I've been writing and recording a whole bunch of instrumental pieces and getting various European friends (the UK-based Australian musician Mark Kluzek, Italian violinist Massimiliano Gallo, Portuguese pianist Jaime Oliveira) to play on them.
Often, I'd send them a track of me playing guitar and they'd overdub multiple accordion, piano and violin parts which I'd then edit and mix. Myself and Dean also did some fairly informal recordings together, with the two of us sitting around playing guitars in my kitchen.
Eventually, I had quite a few pieces together, which I sent to Dean, who did all kinds of mixing and arranging of the tracks, putting them through tape delays, manipulating the sounds, looping them and adding guitars, harmonium and bass. The final result of all of this was an album "Ghosts of Electricity" which is now available on our Bandcamp pages.
You're touring the U.K and Europe soon. Is there still a happening underground in the U.K?
Yes, there's a really thriving, vibrant underground scene in England at the moment. I was lucky enough to have my album "Mythologies" re-released on the U.K label Reverb Worship earlier this year. Reverb Worship is a label run by a guy named Roger Linney that specialises in limited edition releases, usually within the psychedelic/folk/drone/experimental scheme of things. I really love the music he releases, acts like the Hare and the Moon, Sproatly Smith, Zeuk and Alex Monk.
I've also got a track coming out on a forthcoming cassette/download compilation, "Undulating Waters," on the Woodford Halse label. Woodford Halse is a new U.K label run by Doncaster musician and radio host Mat Handley, which, again, explores the intersections between electronic, experimental, psychedelic and folk music.
There's a really strong, interesting scene happening around this kind of music, which is heavily influenced by such concepts as "hauntology" and "folk horror," and is inspired by everything from 60s psyche-folk to films like "The Wicker Man" and Ben Wheatley's "A Field in England." I find all of this fascinating, and it's very much in line with my own obsessions and preoccupations, so it's great that I'll be playing with many of these acts over there in September and October.
I've always thought you'd be excellent at arranging the music for soundtracks. What do you think?
Yes, it's very much an area I'd like to get into. I had the pleasure, of course, of providing music to your short film with Jethro Heller, "The Devil's Bridge," and that really opened my eyes and ears to the possibilities of creating soundtrack music. I'm increasingly drawn to creating
instrumental music and experimental soundscapes, so if anyone out there wants something scored get in touch!
What motivates your lyrics? Is it a moment, a thought, a concept, a misheard word?
I tend to write fairly automatically, which involves letting the subconscious take over. Whenever I try to consciously write about a subject I tend to freeze up. So, there's a lot of waiting around waiting for inspiration to strike, and I probably don't write as much or as often as I should. I'm not someone who can sit down and write at will, I need to be in a very particular mood. Having said that, I'm currently working on a "cowboy noir" project with my friend Tony Millman – "Trails of Dust and Cordite" - and having those kind of set references and concepts definitely helps.
You're playing in Sydney this week. You seem to have made quite a few friends there, but more importantly, which place does the best mulled wine?
Even though Sydney sometimes gets a bad rap musically-speaking (with licensing issues and the closure of music venues etc) I think there's some great acts and venues out there, particularly around Marrickville and Newtown. I always love playing with Jo Meares and the guys in Golden Fang, and it will be great to catch up with Ben Aylward from Fabels (who I had the pleasure of playing with in France and Amsterdam a few years back). I'm heading over there with my friend Tim from Goldentone, so it should be a great weekend.
Best mulled wine? I seem to remember knocking back multiple mulled wines with you and the guys from Chickenstones at the Gasoline Pony last time I was over there, so I'll have a few in your honour this time around!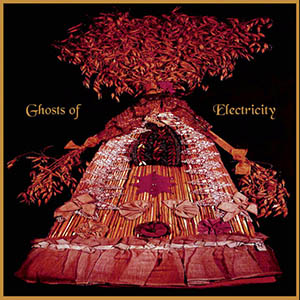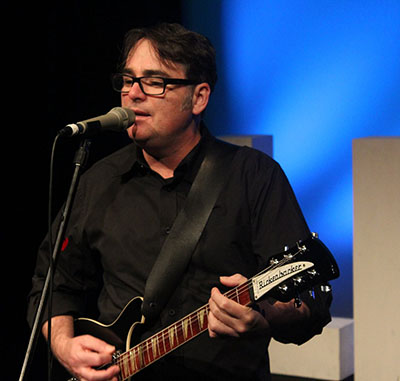 TIM HUDSPITH

Tim, your lyrics strike me as being incredibly personal, not so much confessional as actually bleak.

All of the songs on the album deal with aspects of the human condition. Everyone experiences loss and grief at some stage in their lives. That is where my songs come from. I prefer to tell sad stories about the human condition because I believe they are more authentic and believable.
Is this sense of desperate failure still in you - how the hell do you cope?
Failure is part of life for most people but in some respects it is a taboo topic in western societies. I think the songs on the album are more about loss and grief than failure though.
Does the melody come first, or the topic/ lyric..? or do you hear the lyric as a song and have to scramble to find the notes...?
Most of the time the chord progression comes first then the melody and finally the lyrics. I often hum along to a chord progression until the lyrics finally come to me. I find it reasonably easy to come up with a chord progression and melody. The hardest part is writing the lyrics.
I try to avoid clichés and write original, meaningful lyrics. I usually struggle to write lyrics as it is so hard to come up with something original and meaningful. I often re-write the lyrics many times before I am satisfied. Even then there is usually one or two lines in most of my songs that I don't like. I am rarely truly satisfied with my lyric writing. It is always a struggle.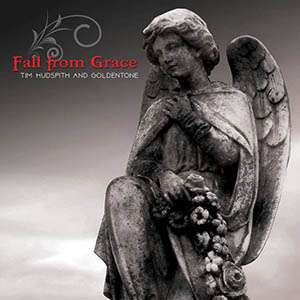 Michael Plater & Tim Hudspith
AUS East Coast dates
Smith's Alternative, Canberra - Aug 22
(Michael Plater only)

Gasoline Pony, Marrickville, NSW – Aug 23
w/ Jo Meares, Carl Redfern & Goldentone
The MoshPit (Sydney)
Friday Aug 24th, 8pm
w/ Ben Aylward & Goldentone
Lass O Gowrie (Newcastle)
Sunday Aug 26th, 2pm
w/ Goldentone
Tim Hudspith & Goldentone
Ric's Bar, Brisbane
August 31

Michael Plater
Swamplands, Melbourne - Sept 7
w/ Stu Thomas

Michael Plater
UK-France
September 28th, Betsey Trotwood (London)
w/ Charlie Marshall, The Doomed Bird of Providence
October 5th, Grapes Cellar Bar (Hereford)
w/ Steve Ashley
October 12th, Dartmouth Inn (Totnes)
w/ Sproatly Smith, Diamond Family Archive
October 14th, Centre and the Circle (London)
w/ Alex Monk and more TBA
October 19th, Jour de Fete (Albi, France)
"Ghosts of Electricity" is available from Michael Plater, in person, on Bandcamp, and from the Reverb Worship website. See my review here. Tim's new album (with Goldentone) "Fall From Grace"- well, pester the man when you see him, or befriend him on Facebook to procure a copy. See my earlier review here.
Tags: tour, australian, michael plater, dean richards, tim hudspith, ghosts of electricity, fall from grace