No farts are sacred when these girls light up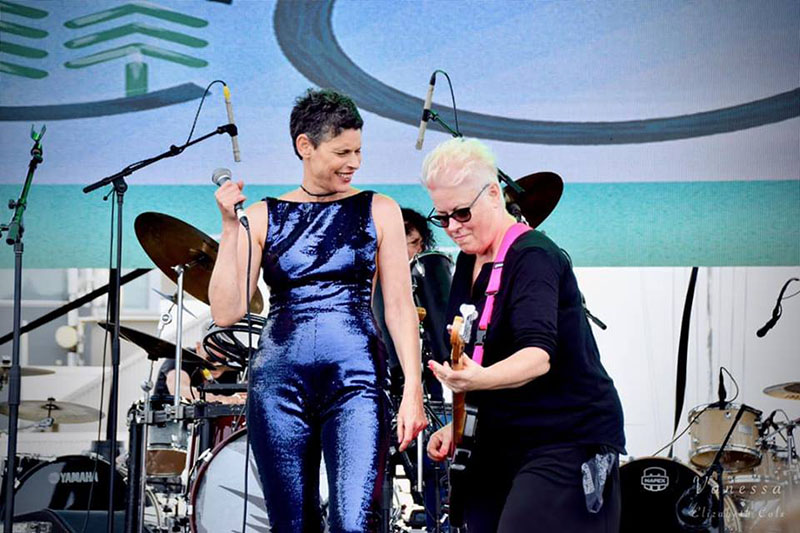 Do Re Mi's Deborah Conway and Helen Carter. Vanessa Elizabeth-Colo photo
At this point I suppose I'm expected to wax lyrical about the number of times I saw Do Re Mi in the 1990s, the number of sweaty situations I got into, and how I finally threw out my dancing shoes because they were attracting cuckoos.
As you have probably guessed, I cannot do that, because I never saw Do Re Mi; not once. In fact, when the band split up and simger Deborah Conway's face and name suddenly began appearing when she launched her solo career, I had no idea who she was, nor her past. In fact, I still haven't heard a single Deborah Conway song.
So much for the huge clout of the record companies back in the day - I was focussed on other stuff. Doesn't matter what. And I am not alone in this.
Do Re Mi were one fo the biggest Aussie acts of the 1980s, recording three albums and garnering mainstream support for their post-punk funk songs full of sharp lyrics about gender and sexual politics. The band reformed for the Australian Women in Music Awards in Brisbane last October and was invited to join the Sunnyboys on the bill of the By The C outdoor festival shows this summer.

Bassist Helen Carter and vocalist Deborah Conway are fronting a reonfigured, all female line-up.
As people have been rewriting and re-examining and rebadging themselves and their mythologies rather a lot lately, I think it's worth having another listen to Do Re Mi - and, they're playing a few gigs soon - more, I think, for the fun of it rather than with a big master plan.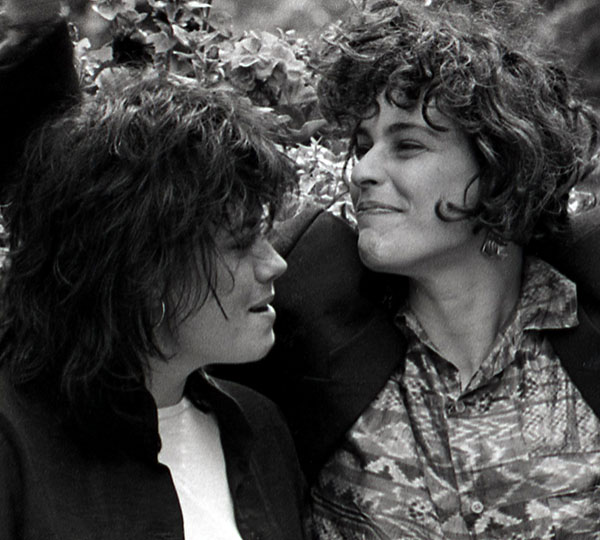 Helen Carter and Deborah Conway back in the day.
I was able to do a brief interview with Helen Carter.
RB: I'm guessing that that 2018 reformation for the Australian Women in Music Awards went down well with you all - how did it feel after (gulp) so many years?
It feels GREAT! Slightly physically painful, but GREAT!
RB: Why did you and Deborah decide to continue the reunion? Is it just a fun thing, or do you think there are more songs to be written? There certainly seems to be no shortage of source material for songs these days...
Mainly for fun, but we'll see how things pan out. 2019 is chockas so whatever happens will happen later in the year or next year.
RB: What course did you take after Do Re Mi split up?
I became a lion tamer…oh wait, not I didn't. I got into a career in non-profit management, working with Greenpeace and a few aged care and disability organisations. I was a CEO for a while! Loved making positive change for people who could be vulnerable in society.
RB: Was the third LP ever completed; are there songs waiting to be released - and are you looking at new songs?
We recorded an album's worth of material and mixed three tracks to a reasonable standard. But we split before that project moved forward. If we had enough money we might think about a 'best of' or releasing some of the 'third album' tracks. Any millionaire benefactors out there?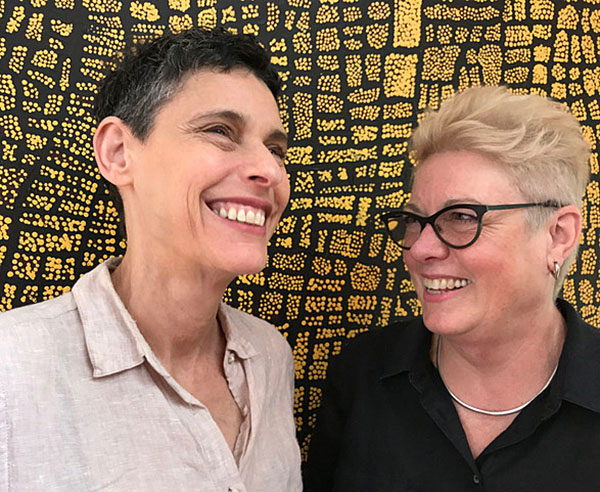 Deborah Conway and Helen Carter today.
RB: Fancy sharing a few most memorable moments in Do Re Mi's career?
Winning three Countdown Awards and performing at the London Hippodrome is one very memorable event. We almost had too much fun that day ;) But every tour had its brilliant not so brilliant moments.
In the early days I remember a guy coming to our hotel room door and asking if he could do a poo in our loo. No, we said. Next morning, guess what was on our doorstep? Gary our roadie accidentally trod in it and walked it into the room. It was a long weekend and there were no cleaners. Gross.
(Photographer) Tony Mott was on tour with us in the UK and we were in Birmingham. Tony was in the venue and the band was in the dressing room, lighting farts for fun. There was a particularly spectacular gaseous explosion and Tony came running in, most concerned that our dressing room had caught fire! That fart is still legendary.
I must confess I never saw the band back in the day; many of my friends have fond memories of the band - what do you think made the band such a popular live act?
We were great live. Tight and energetic. Our songs were jam packed with percussion and funky guitar and bass, as well as having Deb's extraordinary voice – what's not to love?
JANUARY
31 - Newstead The Triffid
Thursday 31 January 2019
Special guests Ups and Downs
Tickets via thetriffid.com.au
FEBRUARY
1 - Marrickville - Marrickville Bowling Club SOLD OUT
2 - Coolangatta Queen Elizabeth Park
Saturday 2 February 2019
With Icehouse, Sunnyboys and Mental As Anything plus special guests
BOOK NOW
8 - Melbourne - The Corner
+ Cookin' On 3 Burners & Grace Cummings
Tickets via cornerhotel.com
9 - Curlewis - Leura Park Estate
With Icehouse, Sunnyboys and Mental As Anything plus special guests
BOOK NOW
10 - Adelaide - Glenelg Beach
with Sunnyboys and Mental As Anything plus special guests
BOOK NOW

Tags: do re mi , deborah conway, helen carter