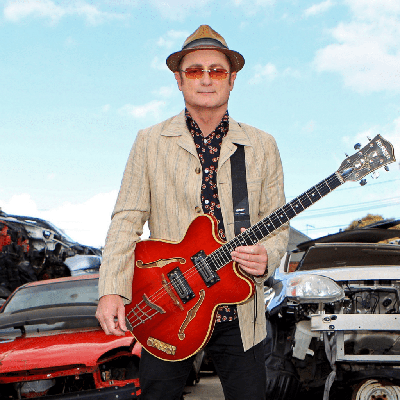 One of the most important people to come out of Perth's music scene since the 1970s is Dave Faulkner. Whether he's playing punk, pop or electro music, he's always trying to create something new and exciting. The Hoodoo Gurus' latest single "Hung Out To Dry" is a perfect example.
Faulkner picks a target in the current US President, someone who has been a punching bag for many people, and sticks it to him in a fresh and personal manner.
As well as the new Gurus single, Faulker's reconstituted former band The Victims had their first release in many moons this year. It was a physical EP featuring recordings of four songs ("Charlie", "Horror Smash", "I Wanna Be With You" and "Everynite") that were written, but never recorded, when the legendary band formed in Perth in the 1970s.
The re-born Victims reunites Dave with original member James Baker and new recruit, the great Ray Ahn of the Hard Ons, who give a slightly modern touch to some classic tunes that were birthed at the dawn of punk rock. 

 Dave spoke to me via Zoom in Sydney where he tells me he is fresh from mastering the next Gurus single.