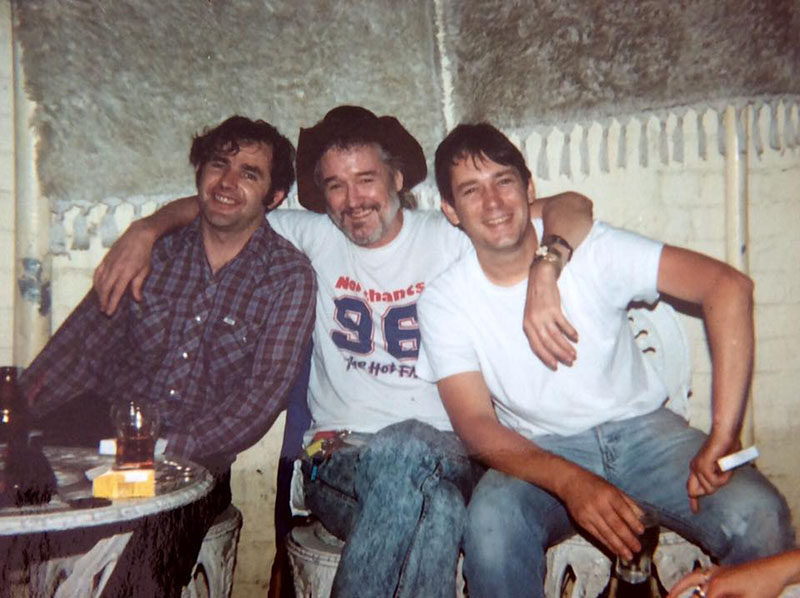 Promoters Brett Stevenson abnd Clyde Bramley with PJ Proby (centre).
Twenty-five years later, Cornwall was living in inner-city Sydney and Proby was largely a distant pop culture memory, at best the answer to an obscure music trivia question. Like many of his generation, Cornwall assumed Proby "was dead or in prison, or suffering in terrible, grinding poverty".
So when Cornwall heard a rumour in early 1990 that PJ Proby was on the ground in Sydney, he was intrigued. Even more intriguingly, Brett "El Dorado" Stevenson and ex-Hoodoo Gurus bass player Clyde Bramleyhad decided on a whim during Stevenson's birthday celebrations to entice Proby out for an Australian tour.
But the pair's best laid plans were disrupted from the moment they met Proby on the tarmac at Sydney airport. Proby – alcoholic, temperamental but with occasional flashes of brilliance – could only manage two gigs before Stevenson and Bramley decided to cut their financial and psychological losses and send their would-be draw card back to England.
Five years later Cornwall suggested to Stevenson that Proby's tumultuous 1990 Australian tour be documented in print. When Stevenson demurred on the idea of writing it himself, Cornwall suggested they meet each week at the pub and Stevenson recount to Cornwall the strange, sad and sometimes painfully amusing story of that fateful PJ Proby tour, and Proby's recollections of his own colourful career delivered to Stevenson in the course of the tour.
The result is Cornwall's new page-turning book, "PJ Proby and Me", part turbulent tour history, part Proby biography. Told via Stevenson as the book's narrator, the dramas of the tour are interspersed with the one-time pop star's vivid, if self-indulgent recollection of crossing paths with Elvis, passing on Tom Jones' career-breaking "Delilah", falling victim to the brutal commercial reality of the music industry and battling the threat of financial penury.
When he embarked on the project, Cornwall was surprised to discover "that no-one had ever done Proby's biography, which surprised me because it's absolute gold, all the players, with Elvis, the Beatles, Tom Jones, all the way through to The Focus and that Manchester scene in the '80s."
Cornwall became a ruthless fact checker, interrogating historical databases, newspapers sources and even contacting various people who remembered Proby from back in the day, like New Zealand-born pop star Dinah Lee, who'd played on the same bill as Proby back in the day. And, to Cornwall's amazement, the majority of the stories Proby recounted to Stevenson over the course of the tour turned out to be true.
Cornwall met Proby a couple of times during the tour, and recalls a fading, somewhat delusional, faded pop star who was prone to treating any given social interaction as an interview.
"He said to me straight out of nowhere when I happened to be sitting at the same table as me, 'If it hadn't been for Jack Good, everything would've gone fine, he destroyed my career and one day he'll pay for it', and then he segues straight into 'That Tom Jones, he ripped off my whole act, if it wasn't for me he'd still be playing working man's clubs in Wales'," Cornwall says.
The story features cameos from members of the Sydney alternative music scene of the late 80s and early 90s, including Rob Younger ("a massive Proby fan") and Spencer P Jones. Spencer, who'd come across Proby at the same time as Cornwall, went so far as wrangle his way onto the welcoming committee when Proby landed in Sydney and did his best to convince him to record some music while he was in Australia. "
Spencer was really keen to bring it to fruition, this record with Proby singing and Spencer playing along and presumably Tex (Perkins) singing as well and others from that crew as well. If only Proby had cooperated, it would have been bloody magic."
The tour came to a farcical end at the Paddington RSL when Proby, drunk and dazed from prescription pharmaceuticals, stumbled and struggled through his set, to the amusement of some punters and the ire of others. Proby had already caused his original hired band to quit en masse, ruined an appearance on "Good Morning Australia" and burnt a hole in his promoters' pockets and patience with his alcoholic proclivities and prima donna behaviour.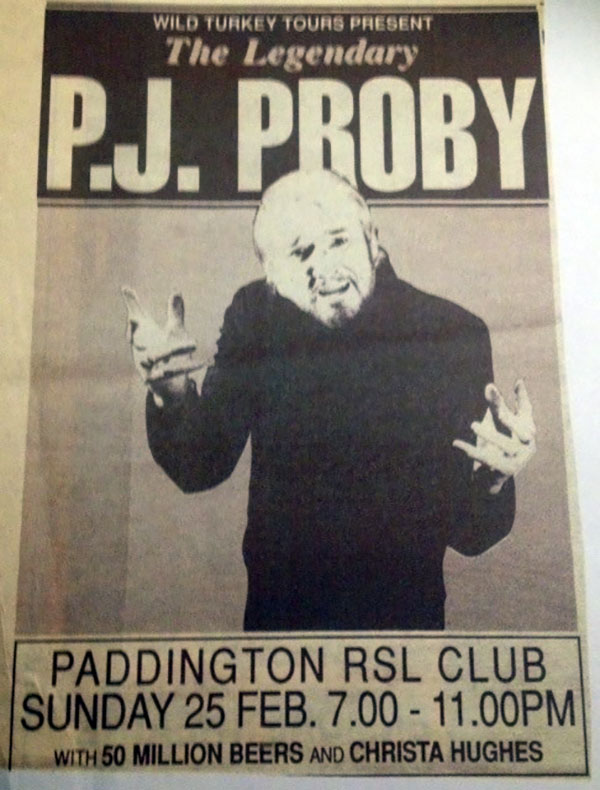 Proby, in a rare moment of self-awareness, realises how much of a fuck-up he's been. But Stevenson and Bramley have had enough.
Cornwall opines that "the six albums he did between 1965 and 1968, they're absolute classics.
"Both Brett and I believe that what we're hearing when you listen to that stuff is the closest any of us will ever to get to hearing what Elvis would've done in the '60s if he hadn't gone off and done B grade pictures in Hollywood with shit soundtracks to match. Had he actually been in a proper recording studio, that's what he would've done."
But Cornwall tempers this artistic assessment with reference to Proby's dubious sexual antics and moral perspective, including relationships with teenage girls, defence of Jerry Lee Lewis's marriage to Lewis's 13-year old cousin and, worryingly, Proby's close friendship with Jimmy Saville.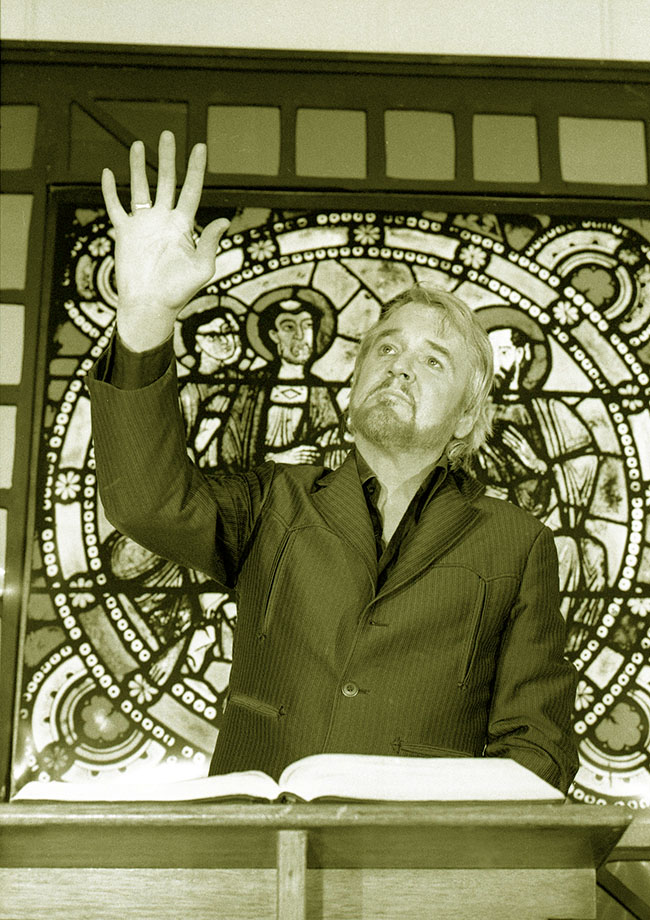 "I've kind of left it to the reader to decide what they think of this bloke PJ Proby at the end of it all," Cornwall says. "Was he unjustly maligned, was he a predatory sex monster, it's really not up to me to say. I can present you with what I know to be the facts.
"Proby's manager actually got back to me and said they couldn't find any egregious errors. And that's good enough for me!"
Despite suffering a series of heart attacks in 1991 and 1992, the now-sober Proby is still kicking around, even touring Australia in 2004 with the remnants of Gerry and the Pacemakers.
"I went along to that show, expecting to see that dropped pie from that 1990 tour and here he is, 20 years older and he's killing it," Cornwall says.
So what does Proby think of his unofficial biography? "His manager got in touch with me and claims Proby's read the book and he recommends it, which knocked me for six," Cornwall laughs.
"A couple of people have told me he'd like being presented as this out of control hellraiser, not humiliated like some other people would be!"
Read our review here. Buy the book at Amazonor good local stores.