LIke Shifting Sands through the hourglass, these are the days of their lives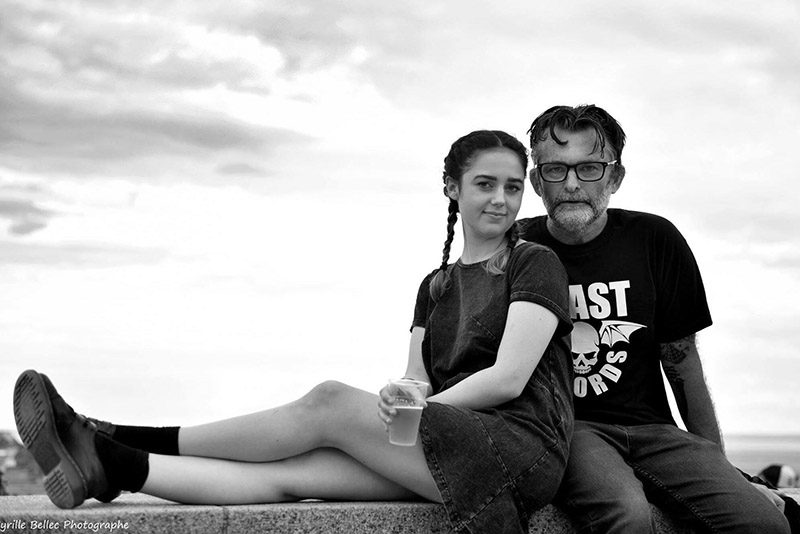 Izzy Mellor and Geoff Corbett. Cyrille Bellec photo.
Sydney rock and roll fans are in for a special treat on November 17 when a roadshow of diverse but related Brisbane acts rolls into town. Marrickville Bowling Club will bear witness to the spectacular, self-destructing antics of Six Ft Hick, fronted by Geoff and Ben Corbett. The undercard is full of quieter moments, with Gentle Ben & his Shimmering Hands - a vehicle for Ben - and Shifting Sands, led by Geoff.
Gentle Ben plays a unique strain of noir-lounge that the band dubs "A.M. radio death-pop tragi-twang" and it's spawned a couple of formidable albums, "Magnetic Island" and "The Beginning of The End", on Spooky Records.


"Beach Coma", the debut album from Shifting Sands also on Spooky, sparked rabid reviews from Bar staff when it landed in 2015.

Robert Brokenmouth mentioned "throbbing strings, the gently nudging emotion, the glorious choirs" while The Barman raved that"'Beach Coma' won't walk up and grab you by the short and curlies, as much as creep from behind and whisper drunkenly in your ear."
A five beer bottle rating from both should tell you everything else you need to know.

Live, the focal point for Shifting Sands are Corbett the Elder and pianist Izzy Mellor, whose angelic tones are the counterpoint to her weathered bandleader's world-weary pipes. 
At the heart of Shifting Sands are beguiling yet deeply sardonic songs with dark, lovelorn lyrics about overdoses, jealousy, lust and sex.


We asked Geoff and Isabella to talk about their unique musical partnership.
GEOFF CORBETT:

I first witnessed the majesty of Isabella Mellor up front on keys and vox of some of Brisbane's finest '60s pop-inspired acts.
Izzy was all bangs and stabs and harmonies. Instant fan.
The lineup of Shifting Sands has been one of near constant flux. Ebbs and flows of vocalists, guitarists and drummers. Perpetually fluxed.
When Izzy drifted into a sparsely populated West End dive bar Sands vocal duties were burdened across myself and the original femme vox Danielle Golding. Tonight was a Sands vibe, raining and hot. Only the dedicated and self medicated were catching our fever. Izzy propped herself upon a bar stool, hovered her lashes above a glass of water and proceeded to be sober. How strange.
She seemed familiar but I couldn't place her straightness tonight.
She wasn't like the others.
Was she here for the music?
Then the penny dropped.
We sat for a while after the show talking each other up. I got sideways, she drank her body weight in water.
She told me that she loved the Sands.
A short while later Danielle departed the band in search of Melbourne. Fair enough, but leaving big shoes to fill. I tracked Izzy down and hit her with it straight "Do you ...um..er... wanna be in the Sands? The band you love like no other".
Straight away she said "No".
Shit.
She was about to finish uni and had other projects on the stove.
Izzy flicked me the number of Anna "Cliffy" Clifford, ace troublemaker and solid band mate of Iz.
Cliffy was all over the Sands like a rash and for a while we took turns at seeing who would end up in hospital. After a year or so, Cliffy too succumbed to Melbourne (it's a Brisbane thing), the planets aligned and it was Izzy's time to burn.
The first show I played with Iz was pure stripped-back naked flame to a heaving crowd. We were by far the quietest band on the bill but Izzy just smouldered on straight through. She's become my rock, my carer, the hand that keeps me on my barstool.
On tour she punches hard. Real hard. She's a dead pan, chanteuse rock and roll machine and sometimes deep in the middle of song I catch myself laughing at how much she kills me and how I wound up in her band.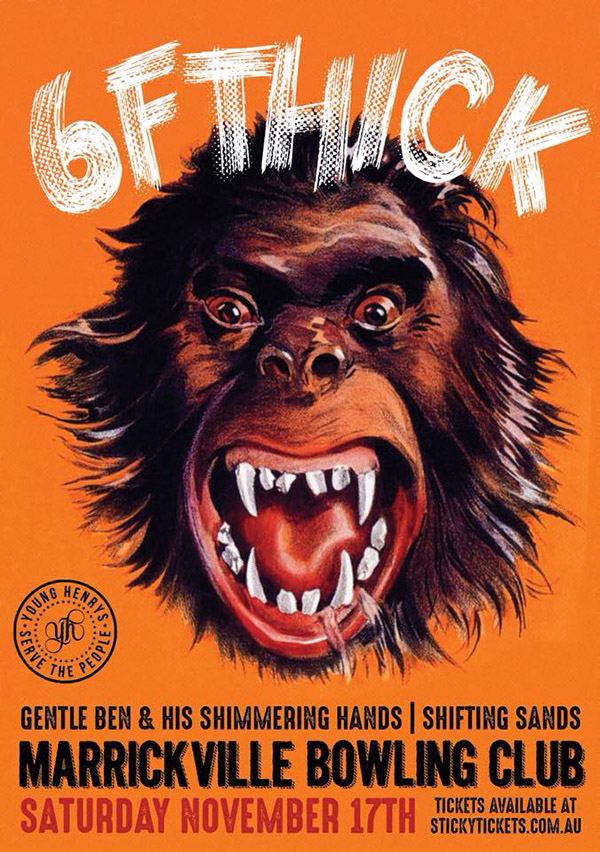 ISABELLA MELLOR:

I saw Geoff on stage for the first time in June 2013 when Shifting Sands were supporting Texas Tea at the Black Bear Lodge. I was very drunk and had just discovered my new favourite band and decided to go to their next gig a couple of weeks later at The End.
It quickly became obvious that I was the only person there to see them, so Geoff came over and introduced himself between sets. We had a chat and spent the next six months going to each other's gigs and talking about music whenever we ran into each other.
About a year later Geoff asked me to join, as their keyboard player was moving on, but true to form I played hard to get and palmed off my dear friend Anna Clifford as tribute.
(In reality I was in my last semester of uni and already in three other bands).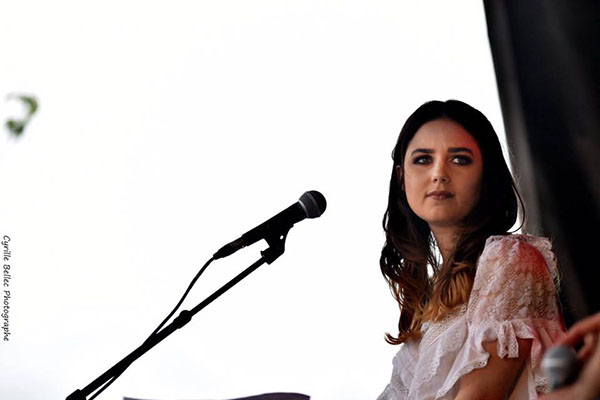 Cyrille Bellec photo.
Fast forward another year later and Anna's move to Melbourne meant I had to stop fucking around and actually join my favourite band once and for all.
Since then I haven't looked back. I've learnt almost everything I know about making music from Geoff and (guitarist) Dylan (McCormack) and my drug use is through the roof. When I was living in Ashgrove we had a phase where Geoff and Dylan would come around to my house for a Sunday afternoon song writing session. Geoff on words, Dylan on music, me on the tea and coffee.
Once we have a few songs formed we'd usually sing along as slowly and softly as possible to avoid sounding too RG's. I always admired Geoff's volume of work, we constantly were spoilt for choice with words and ideas when it came to writing a record or changing up the live show.
Geoff's thirst for playing gigs and making albums is also something that has kept this band moving and expanding for as long as it has. I've never met anyone who can command a room of rowdy rock-n-roll-er's into silence like Geoff can. He also looks incredibly tough while sitting on a stool.
These days we have found ourselves surrounded by an air of mystique, where people can't quite figure out how we came to be in the same room as each other, let alone sharing a stage.
We aren't sure either.
Shifting Sands opens the bill with headliners Six Ft Hick and Gentle Ben's Shimmering Hands. Buy tickets here.
Geoff Corbett Six Ft Hick interview here.
Tags: beach coma, shifting sands, gentle ben, marrickville bowling club, geoff corbett, isabella mellor, siz ft hick