Q: Tell me, Sister Morphine, when are you coming round again? A: Thirty years later.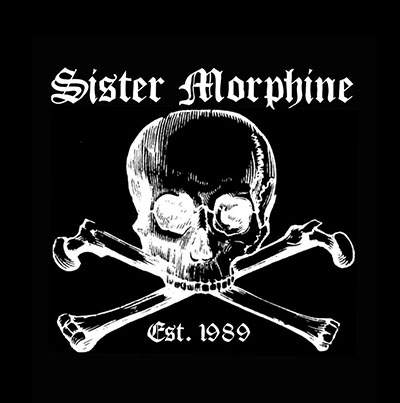 Hello all my brothers and sisters and friends of the revolution, I-94 Barflies, and incorrigible sleazepunks of all ages , it's your ole pal JD here.
Ya know, I don't do a lotta interviews no more mostly cause I'm a lazy sod and probably still salty about takin' all that time to pen questions for little known artists who couldn't be bothered to reply after agreeing to do the interview-rock 'n' roll is full of flakes and fakes, as you know, and that shit gets old quick.
But one new band that ain't fakin' it is from South Wales of all places and they're making a real gorgeous fuckin' wild and untamed rocknroll racket you're gonna love, called SISTER MORPHINE, who my dear comrade Laur from Vague Scare turned me onto.
Wow! What a fuckin' GREAT band! They reminded me of the Diamond Dogs and Rock City Angels, the Quireboys and Rose Tattoo! I already said somewhere else those guitarists remind me of Thunders, Jeff Drake's Joneses, and Greg and Brent or whatever studio dudes played on that first Pussycat record.
Sister Morphine's Gaz has an awesome and exemplary rock 'n' roll voice somewhere between Angry Anderson and Zodiac Mindwarp. These guys write glamtastic songs, part grebo, part sleaze, with power pop hooks, and vintage lads at the pub Hoople/Faces heartfelt sentimental alcoholic feeling. Fuckin' A righteous! Only thing I've liked this much in modern years is Richard Duguay's stuff! What a beautiful, romantic myth they've carved!
I was watching Duran Duran being interviewed by Austin City Limits last night, and they were all talking about the lost art of give n take, and team work involved, in being a group and how now, in this "producer driven" just me, me, me, time of mousepad muzak where everybody's just make a buck and ruthless and only out for themself, there aint no real rock' n' roll bands around no more, and how they miss that tradition, and hope somebody rises from the ashes and does it again, someday, and of course I was there, thinkin' "yeah, me, too". Just like magic, I discovered Sister Morphine.
They're a long-lost, late '80s, sleazy rock 'n' roll group who'd broken up in their early 20's and saw fit to resurrect the group and finish their aborted album some 30 years later. Wow, what a victory for this crack team of hard fightin' rock 'n' roll rabble rousers. How seldom it is we've seen any groups who ain't in it for the money that can ever overcome creative differences or youthful acrimony and stage such an epic, marvellous, and maybe totally unprecedented comeback, of such grandiose proportions.
Every song on their record "Ghosts of Heartbreak City" is a hit, man. The band can really write songs, and whether you're an old time punk like me who grew up on the Lords and Hanoi and Generation X and the Clash, or maybe even somebody who got in on the '90s Hardcore Superstar and Backyard Babies sleaze metal revival, if you love dirty, decadent, dive bar debauchery like I do, you're going to be as equally thrilled by SISTER MORPHINE as I am!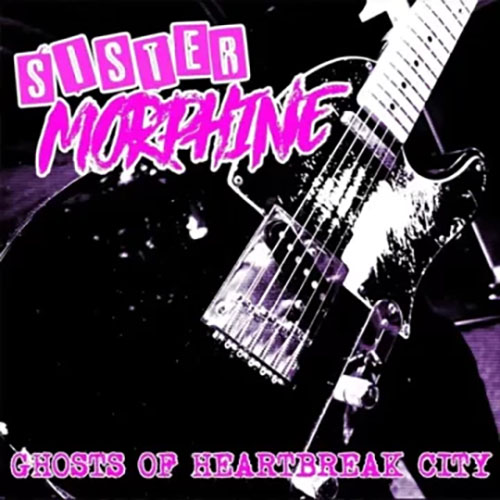 This record is heroic and historic and in heavy rotation here at the Last Outpost, and I wanted to know more about them! "Get Back Home" sounds like Rod Stewart or Ian Hunter wrote it! "Waiting For Salvation" might be my favorite song on the record right now, but it's so hard to say, cause they have so many good songs.
"Red Eye Juice" is another big winner that's sure to please fans of the Boys or Hollywood Brats, it's perfect, really. "Black Hearts & Bruised Egos" has a big Bob Ezrin era Alice Cooper feel. "Days Of Wine & Roses" is pure power poppy romance like Rose Tattoo meets Electric Angels or something? I love "Do You Wanna Get Wasted", and I do, actually, it reminded me of Rock City Angels and the Love Reaction!
_____
JD MISFORTUNE: What was it like where you grew up, were there record stores and underage venues, how did you first get into rock 'n' roll? Did you read Creem or Kerrang!? Who were your favourite bands as kids that made you wanna start your own gang?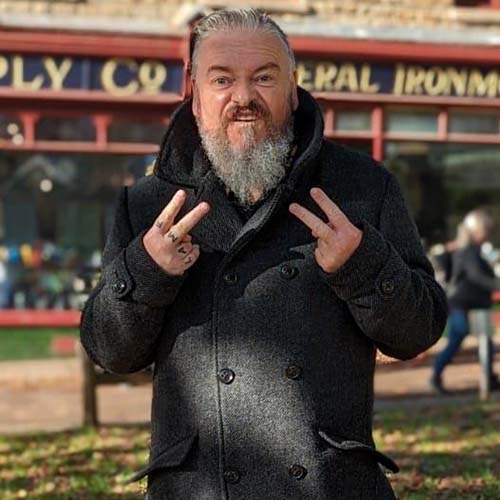 GAZ TIDEY: I grew up in a small town in the Welsh Valleys; a mining community that had been stripped of assets by Tory greed. They could take our jobs and amenities, but they couldn't take our collective heart. Us kids lost ourselves in music and movies and comic-books. The first band I ever got into was The Police in the late 1970s. Then my best school friends (Matthew Blakout who plays drums in Tigertailz, and Lee Nichols who actually sings backing vocals on the Sister Morphine album) and I got heavily into KISS.
An independent record shop opened just around the corner from my house at the start of the '80s – Jim's Records – and it was revelatory to us. We had scratched around for info on our favourite bands in
mainstream pop magazines and legendary music paper Sounds until Kerrang! launched but then, on the day that Jim's opened, we discovered that he was selling used copies of iconic US magazines like Creem and 16. Going from black and white photos of Gene Simmons with Cher cut from a tabloid newspaper to three-page posters of The Demon from 16 Magazine – it was mindblowing! That Matthew, Lee, and myself are still great friends, and still involved in music, is rooted in Jim's Records. It was our Mecca!
JD MISFORTUNE: What were some of your favourite records growing up, and the most memorable shows you saw?
GAZ TIDEY: I loved make-up KISS so "Alive II" was the childhood favourite, but I also loved the pop sensibilities of "Unmasked" which was divisive to fans. I was a massive Alice Cooper fan too – I loved 'School's Out' and 'Billion Dollar Babies' – so the fact that both KISS and Alice had Marvel comics out was incredible. I still have them all! Show-wise, I was lucky enough to see some amazing bands and gigs while I was still a teenager Ramones, "Appetite" era Guns N' Roses, AC/DC, KISS, Frehley's Comet, Faster Pussycat, Aerosmith, The Dogs D'Amour, Circus Of Power, Quireboys, The Black Crowes, The Almighty, Michael Monroe. Precious memories.
JD MISFORTUNE: Did you ever see Zodiac Mindwarp play live?
GAZ TIDEY: Yes, I saw Zodiac Mindwarp and the Love Reaction a couple of times. At one of the gigs, Zody sat on a chair during every guitar solo with his fingers in his ears! "Tattooed Beat Messiah"' is one of the greatest albums of all time in my opinion. In fact, Zody was one of the names I referenced in regards to vocal sound when in the studio recording the Sister Morphine album.
JD MISFORTUNE: Were you in other groups prior to Sister Morphine? Tell me something about everybody in the band and how you met them.
GAZ TIDEY: I had sung once before joining the band, at a messy jam in a local venue where they served alcohol to kids who weren't old enough to legally drink... like me! I got asked to sing some tunes because "I looked like a singer!" I had big, bleached-blonde hair as a teenager so, yeah, maybe I did. I remember we played "Pretty Vacant" and some other standards. Unbeknown tome, someone videoed it and, suddenly, I was mentioned in the conversation between a friend and the guitarist of a band called Self Destruction Blues that was looking for a singer.
By the end of the week I had gone to one of their rehearsals, been told that they were changing the band name, the drummer, and, eventually, the guitarist, and that I was in, joining guitarist, Jamesy, and bass player, Mike DeSouza – the Pontyclun Matt Freeman. Jamesy was singing and playing guitar previously. I was 17.
Drummer Denley Slade then joined the band. He told us that he had been in some cock rock band called Snakebite, but we just knew him as some Thunderbird-drunk guy hitting on sleaze rock girls at infamous local haunt, the Space Bogs. He seemed the perfect fit.
We played one gig with that original guitarist that got me in, Azzo, then he was replaced by Jonesy. Jonesy's first band action was recording a four-track demo, "The Agony and The Ecstasy of Sister Morphine", then his first gig was supporting Last Of The Teenage Idols in London. That DeSouza/James/Jones/Slade/Tidey line-up is the one that has recorded the "Ghosts of Heartbreak City" album.
JD MISFORTUNE: I have to presume you were always like big Dolls/Hanoi/Stiv/Hollywood Brats fans?
GAZ TIDEY: New York Dolls, Hanoi Rocks, and Lords Of The New Church were the names mentioned when I was asked to join, but we also loved The Clash, Faces, Ramones, and Rolling Stones. We tried to combine them all into our sound. Who couldn't love those bands, or the Hollywood Brats, right?!
JD MISFORTUNE: Your press bio said you played shows with Last Of The Teenage Idols and Gunfire Dance. What do you remember about all those guys? Did you know ANT? I LOVE those guys!
GAZ TIDEY: Within a year I had gone from seeing Last Of The Teenage Idols (with Tigertailz headlining and Soho Roses opening at the Metal Hammer Xmas Party) at the Astoria in London to supporting them in the same city. I had loved The Babysitters so that was really special. We did a number of shows with a little line-up package consisting of Gunfire Dance headlining, Silver Hearts as Special Guests, and Sister Morphine opening. Every one of those shows was memorable.
Gunfire Dance had such a buzz around them at the time – they should have been huge. I remember we crashed at one of their houses after a gig and it was an archaic, old- fashioned place – like an old woman had just died and they had moved straight in, stuck a T. Rex poster on the wall and called it home! Ant was great. Such a cool frontman and singer. A tragic loss, for sure. I'm thrilled that there's new Gunfire Dance product out there.
An honourable mention to Silver Hearts too: they evolved into Last Great Dreamers, and Denley was drummer for them for a few years when they regrouped. He still plays in Marc Valentine's solo band. We are good friends with Marc and Slyder – good guys.
JD MISFORTUNE: To me, you guys sound kinda like the Quireboys, The Dogs D'Amour and Crybabys - were you guys hip as teenagers to Gunfire Dance back then, or Smack and Hanoi Rocks?
GAZ TIDEY: Before we'd even met, the future members of Sister Morphine had all been in attendance at an infamous Dogs gig at Cardiff's Square Club – Feline Groove supported who featured Guy Griffin before he joined... The Quireboys! I had been lucky enough to spend some time with the Survival Records Quireboys line up – unbelievably I saw them support Yngwie Malmsteen!
When The Dogs D'Amour and Quireboys both hit the UK Top 40 and became very fashionable it was achingly uncool for us to be compared to them but, c'mon, I love the comparison these days! The Crybabys too – fantastic band that we always wanted to be as loose, but tight, as. Smack? Wow, what a band – a major influence, attitude-wise. And Hanoi Rocks? The Masters. Remember my teenage blonde hair that made me look like a singer?!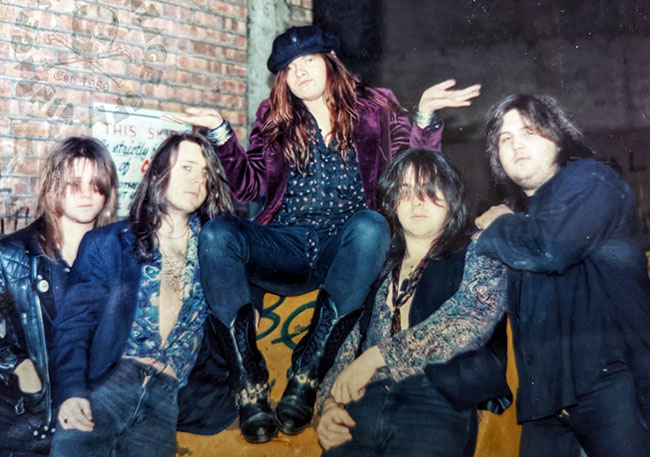 This was then...
JD MISFORTUNE: What were the high points of your band's original time together?
GAZ TIDEY: There were great gigs, some great songs, some crazy mishaps, but the high point was that feeling that you are part of a brotherhood, a gang, bulletproof. It's like bottling lightning. We felt that if we could harness even just a little bit of that lightning three decades after we'd stopped operating as a band then we could really do the songs, the band name justice with this long-awaited debut album. I think we've done that.
JD MISFORTUNE: Where did you record this masterpiece album?
GAZ TIDEY: After we had found long-lost songs on long-forgotten cassettes, the plan was always to record the best-ever versions of the songs at the studio owned by Lyndon Price, RedRock. Lyndon was the guitarist in Wild Pussy, an infamous Welsh metal band – the band we supported at our first gig! It had that cyclical feel to it. We recorded from July to October 2022.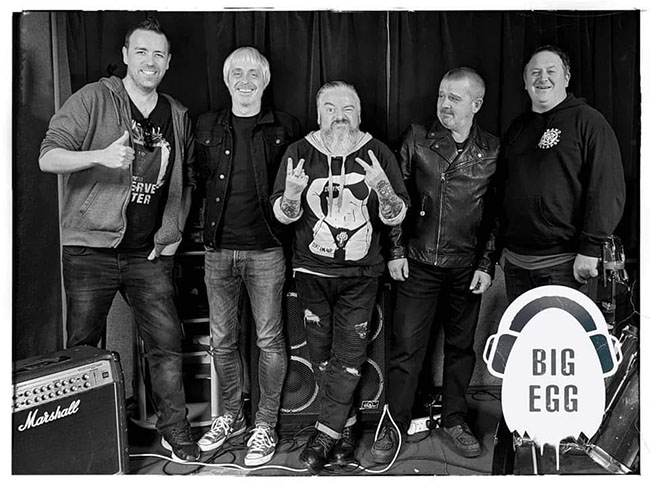 ...and this is now.
JD MISFORTUNE: Was it fun getting back together after so many years?
GAZ TIDEY: It was cool, yes. It's like a school reunion – meeting up with someone that you were close with three decades previously who has gone on a totally different journey to you in the intervening years. That one common thing that we share brings it all together, though. It's a helluva story and accomplishment... even if it's just us that think it!
JD MISFORTUNE: How do you guys approach the songwriting process? There ain't no guitar players like yours in my country!
GAZ TIDEY: Back in the original band days we were quick! One acoustic guitar, one voice, several beers –new song! Jamesy and I famously wrote a new song, "Red-Eye Juice", on a Friday night, took it to the rest of the band at rehearsal the next day, thrashed it out several times on the Sunday, then played it in our set supporting Gunfire Dance on the Tuesday! There was none of this Mutt Lange "Hysteria" shit in the old days! Since we did a Blues Brothers and got the band back together the process has changed massively. We couldn't even meet up after we had decided to record the album as we were under regional lockdowns.
We wrote three songs – "8-Tracks & Zodiac"' and the two singles, "Ghosts of Heartbreak City" and "Nothing Dirty In The Truth" – over a messaging app: Jamesy or Jonesy sending me a riff and me sending it back with vocals over the top, screen-recorded on my phone.
Regarding Jamesy and Jonesy, "there ain't no guitar players left like yours in my country!" Take 'em, they're yours! Seriously, they are supernatural in their ability to work together: two parts that combine to make an unbeatable whole – like Station out of Bill &Ted's Bogus Journey... but with worse hair! In the Sister Morphine wilderness years they worked together under the Friday Night Sound System moniker. In fact, three of the songs on our album – "Do You Wanna Get Wasted"', "Living With Snakes", and "Black Hearts & Bruised Egos" – had their genesis in FNSS sessions when they asked me to help them out with some lyrics and vocals. I can't think of many modern albums with such effortlessly cool guitar work on them.
JD MISFORTUNE: The whole band is amazing!
GAZ TIDEY: Thank you! Denley has been playing great shows with fantastic bands ever since the original
Sister Morphine days, and he's never played better in my opinion. Mike DeSouza, though – that four-stringed Adonis hasn't played anything for thirty years and suddenly he's throwing out bass runs like a glunk rock Joey DeMaio! As for me, I'd performed several shows in an acoustic band in the last decade so thought I'd be able to do a decent job vocals-wise, even if I was a 50-year-old guy singing songs he wrote as a teenager! I think I did okay!
JD MISFORTUNE: Tell me about 'Get Back Home' - that song is already an instant classic, so good! Like a cross between Rev. Paul S. Cunninham from Gunhouse Hill and the Quireboys - just so soulful, a vintage Stones/Faces feeling.
GAZ TIDEY: 'Get Back Home' was the ballad that we wrote to replace the one that we already had in our headline setlist back in 1990 – a cool tune called 'Broken'. There was little wrong with that song, but we felt that "Get Back Home" had that certain something special. It was meant to be on the four-track EP that we were set to record for SBS but as that never materialised the song existed only as a rough rehearsal take on a C90 cassette. Recording a great version of "Get Back Home" was probably the driving force behind me suggesting that we regroup to record this album, to be honest. It needed to be heard.
JD MISFORTUNE: Tell me about your affiliation with SBS...
South Bank Studio was a local place with aspirations of starting a record label, SBS Records. Manic Street Preachers released their debut single, "Suicide Alley", via SBS. We agreed to release a four-track 12-inch with them, but it never happened. I never found out why. Doesn't matter anymore!
JD MISFORTUNE: What did you think of Manic Street Preachers and 60 Ft. Dolls?
GAZ TIDEY: Manic Street Preachers were local to me and a revelation when they really hit their stride with the Heavenly Recordings releases. I will always love those first three albums – I am, I believe, a member of the Cult of Richey! I actually have a letter to myself from Richey framed on my wall so, yeah, I guess I am! 60 Ft. Dolls were such a great band – that time when Newport, Wales was "the new Seattle" was a crazy time with some incredible bands: Flyscreen and The Wild Family were personal favourites.
JD MISFORUNE: What did you make of all the L.A. hair bands that got record deals in the Metal Years? Who were your favourites? Guilty pleasures?
GAZ TIDEY: Some great hairstyles got signed on the coattails of other hit bands... but not many had great
songs! I have great memories of those times, though. I checked out Kingpin because Zinny J Zan had been in Easy Action and I loved their record and that shit horror movie that they did, "Blood Tracks". I loved Jetboy, initially because of the Sami Yaffa connection. That little cool-as-fuck subgenre of down 'n' dirty bands like Little Caesar, Junkyard, Sea Hags, Dirty Looks, Johnny Crash, and Smashed Gladys was always my favourite. Guilty pleasures? I had a life-size poster of Lorraine Lewis on my ceiling when I was a teenager – guilty as charged, your honour!
JD MISFORUNE: Did any of the glammy sleaze and punk bands from the USA make it over to your part of the world like the Joneses, Little Kings, Hangmen, Flies On Fire, Dogtown Balladeers or Uncle Sam?
GAZ TIDEY: Uncle Sam was flavour of the month with Kerrang! for a while... and rightly so – nasty yet fabulous rock 'n' roll. The Joneses, like Gunfire Dance, should have been huge.
JD MISFORTUNE: Little Kings?
Wow, I loved that record – still have it. "I Wanna Die Like Elvis Did" has always been one of my favourite songs from that era. I would have killed to have seen them.
JD MISFORTUNE: How did you get discovered by Big Egg Records and negotiate your record deal?
GAZ TIDEY: Some of my friends' bands (Deathtraps, Dropping Like Flies, Chesty Malone and the Slice 'Em Ups) had featured on a compilation album from THIS new Welsh label, Big Egg Records. The label had asked on social media for suggestions on who they should be working with in the future. I sent them a couple of rough versions of our songs and told them the story of how we had originally operated between 1989 and 1991 and had regrouped during lockdown when a load of previously-unheard songs had been discovered on some old cassettes.
Owen and Luke from the label came to the studio when we were recording and we came to an agreement. When the last thing you released was on unofficial cassette three decades previously you might need some assistance in the modern age! They have been a massive help and I can't recommend them enough.
JD MISFORTUNE: Tell me about Uber Rock - are you a music journalist?
GAZ TIDEY: I was! I started the Uber Rock website alongside one of my oldest friends, Johnny Hayward, in 2009. What you are doing reminds me of what we did with Uber Rock so it's a thrill to be on the other side of this! We had been writing for the Glitzine website, but wanted to do something that covered every rock subgenre – a little like the Kerrang! of our youth when different writers covered different genres and readers knew that if a certain writer recommended something in their particular favourite subgenre then they would be sure to like it!
It was an incredible time, and it gave us the opportunity (alongside Rob "The Butcher" Watkins and "Calamity" Chris Phillips) to record 60 live episodes of "The Uber Rock Radio Show" and put on many memorable gigs. It also gave me the chance to write the book that accompanied the release of the second album from The Loyalties, "Til The Death Of Rock 'n' Roll". Didn't get a penny for doing it, mind – but having a book with your name on the spine on the bookshelf is cool! Uber Rock still exists today under different ownership, but it's like the Gary Cherone-fronted Van Halen.
JD MISFORTUNE: Are you guys playing shows currently and will you be touring in support of this big CD digipak release?
GAZ TIDEY: We actually had an album launch gig booked – poster done, support band confirmed – but the venue closed and we now find ourselves in the gig negative zone. Getting the album finished and released was the priority; now that's done we can look into making a return to the stage – for the first time since November, 1990! We have had loads of offers of support slots and festivals so hopefully the planets will align and we will be back treading the boards and playing to tens of people.
JD MISFORTUNE: We seldom hear new rock 'n' roll that's as good as Sister Morphine, so I'm telling everybody I know about your record. I hope you guys blow up big.
GAZ TIDEY: It means a lot to hear someone say that, honestly. We recorded these songs and this album for ourselves, with the hope that some other people may be interested – for someone as far away as yourself to have heard the band and be into the music is both incredible and humbling. Thank you so much.
JD MISFORTUNE: I am a sincere fan and wish you and your band much success and continued creative excellence! I'm really floored by how good your record is. Like Ian Hunter sings, I still love rock 'n' roll. You guys are amaaazing!
Tags: sister morphine, gaz tidey, ghosts of heartbreak city, uber rock, SBS records