Black and white photos: Emmy Etie Photography
Since then, I have made a point to check out Leadfinger on many occasions and they never disappoint. They're a real meat and potatoes bar band, with lashings of melodies and classic hooks. The recent Sydney record launch of their latest LP, "Friday Night Heroes", was another memorable night with such a rich and full sound, and guests like Doug Hazell on sax, Carrie Phillis on backing vocals and Andy Newman on piano.
The band was focused and delivered a set primarily focused on the new album, with a few oldies like "We Make The Music" and a Warren Zevon cover. They were on fire. Stewart is a magnificent vocalist and guitarist. You might already know that. What this band also has is a rhythm section that's so locked in that it's not funny. Dillion and Reggie were solid and never overplayed. They rock out like the best, yet know how to bring the song out and let it breathe. The second guitarist, Michael Boyle, is a tasteful player who went from striking, Church-like arpeggios to a Fred Sonic Smith solo with a hit of his footswitch.
From modest beginnings, only playing gig after gig can imbue a band with this sort of magic. It such a rare thing to see a group that's "together" these days. With shows so sparse, it is just so hard to keep consistency and focus. Leadfinger is a rare species, then.

And every song on their latest album is a killer, each sparkling and well thought out, as well as having a sense of immediacy. "Friday Night Heroes" fully deserves all the praise it's received. As Robert Brokenmouth wrote in this very web magazine:
"There's no filler on "Friday Night Heroes", not a single wasted note, everything fits like the sparkles in a well-cut diamond. 'Friday Night Heroes' is one of my few favorite LPs of 2016, and it'll be playing to admirers and cut-throats and dancers and musicians long after we're all damned dust."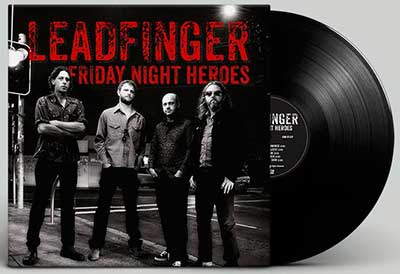 My own take on the album iss that here was a band with 10 years of gigs and thousands of hours in rehearsal spaces and studios and they have a talented songwriter; records like don't appear by accident. It was great that a bar-room band can deliver. I think comparisons to the E Street Band and The Band. Yet you have the classic Australian sound, the classic local rock 'n' roll band.
"Man I Used To Be", "Heart On My Sleeve", "Bite My Tongue" and "Mean Streak" lyrically have an Australian colloquialism about them. They're a solid Aussie bloke talking to us – one with a streak of sensitivity. I mean, there's the blokey rock you can find with Cosmic Psychos, but these songs are much more "real Australian" conversations. I would place Perry Keyes in this category of artists who are speaking through Australian lyrics and capturing a lingo, but who are not a parody in the Paul Hogan sense.
I am damn glad Cunningham has captured this quality.The songs are intelligently arranged never overplayed and - most of all - Leadfinger has soul. It is real music and I openly admire Stewart's writing these days.
One more thing about Leadfinger: I reckon between the members they probably own 10,000 albums. There is a deep sense of the history of rock 'n' roll in their set - specifically Australian and American.
Musically, the record actually should be flogged on mainstream radio. I mean it makes sense when they play Springsteen, Dylan or Mellencamp. Why not a local street artist with equal portions of melody and soul? One with an appreciation of the long history of Australian rock, embodied in Radio Birdman Midnight Oil and the Celibate Rifles,with a hard backbeat and a blaze of guitars. We know the answer to this: Music like this does not fit the model of a "Youth Network", nor is itbeing pushed by corporate major label suckheads (aka the Music Elite.)

I shot Leadfinger (the man) a series of questions via email, as I felt the songwriter is better placed than the writer to tell the story. Here's the result.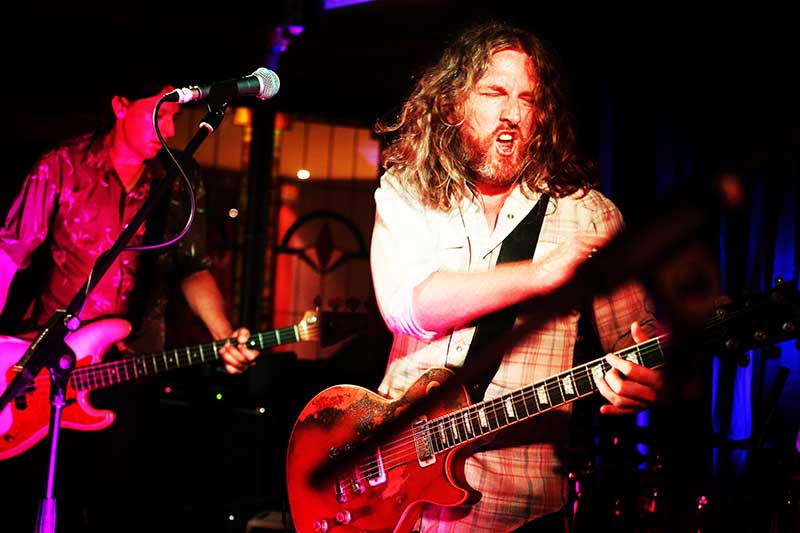 EG: Leadfinger has been paying around now for the best part of a decade. What was the original concept when the band started?
SC: I had this vague concept in my head that my next band would be super original sounding and every song would be in this alternate guitar tuning, mixing blues, slide and sonic riffs, heavy overdrive and feedback etc with melodic vocals…sounds good now when I think about it but the reality never panned out that way.
When the first line-up of Leadfinger hooked up (with Steve O'Brien on drums and Wayne Stokes on bass) but time and commitment restraints made it hard to experiment much; we had to put together a set pretty quick too so my vague original concept got diluted and some more standard guitar rock stuff crept in which was cool too.
Songs like "Rich Kids Can't Play Rock'n'Roll" and "Fade Your Brilliance" were just easier to play and arrange than the alternate tuning stuff… I still think it was a great idea but I was too easily distracted and wasn't hardline enough about having some sort of 'idealogical' restriction on my songwriting and the band.
I still write songs in open G and we still occasionally play open G stuff live…maybe someone else can take the idea and run with it.
So it's five albums…can you tell me the development in your mind over those records?
There have been varying objectives and situations in there so each album was different in approach and budget!! Overall, I feel I have tried to make this band and my songwriting not get stuck in one place or in the past, to push beyond expectations and keep exploring musically and technically as well. It's always been about making the next album better or at least different, about refining the songs and writing and becoming better players without taking the fun side out of it too.
For instance on "Friday Night Heroes" I decided to tackle the lyric writing differently. As much as possible I tried to come up with lyric ideas and vocal melodies in the rehearsal room…react spontaneously to the music as we are playing it, right from the start, so it was more directly connected to the way the music made me feel. On previous albums, it was usually me sitting at home with an acoustic and sourcing lyrics from notebooks or pre-writing songs and bringing them to the band room. Right or wrong, unfashionable or not, I grew up with some sort of noble punk ethic that creativity and art
I don't often go to see reunion acts, I'd rather go watch my mate's new band play to 20 people at a pub. I feel like the odd man out at times and it confuses me that so much of our underground scene focuses on bands doing the same music for 20 years or reforming to play songs that are 20, 30, 40 years old, the familiar and safe has become god!! I mean how many times can you genuinely get excited about so and so reforming??
It's kind of boring...my musical heroes (Dylan, Westerberg, Roky Erickson, Nick Lowe, Chris Bailey, Ed Kuepper et al) always seemed to be moving ahead of and taking their listeners with them to a new place.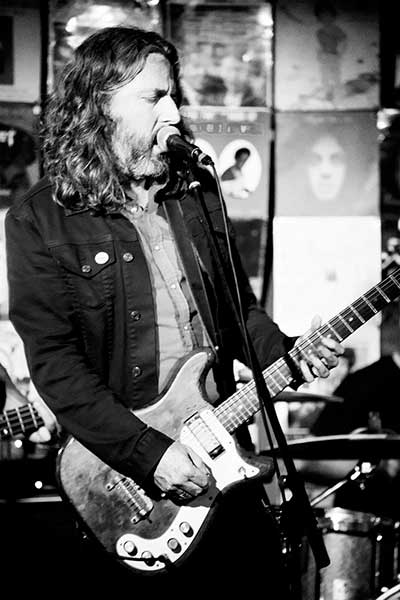 That idea of artistic intention has always been part of my mindset and even more so with this band…I guess the other side of making albums at our level is that the situation dictates what happens and your limitations….sometimes it was about getting some songs down quick 'cos the opportunity was there (second album "Rich Kids" was recorded with a couple of weeks notice for free in a run down farmhouse on the South Coast of NSW one weekend). With "Friday Night Heroes" it was a more serious "lets make a proper album" and put some thought into it.
The first album is really just demos that I sent to Bang! Records in Spain 'cos they were interested in what I was doing and then they wanted to release them…if that happened now I'd probably be uncomfortable with releasing demos, it was me learning how to record and trying new things, it's lacking in polish…but somebody offers to put out your songs, you can't really say no can you? I owe them a big thanks though as it got the band started and led to many things.
The third album, "We Make the Music" was the first time in the studio for the current line up and the first time that Mick, Reggie and Dillon had ever recorded an album so it was kind of learning on the job and us finding its feet. There are some great songs on that album and we got to dip our toes in a few genres.
The fourth album that came out on Citadel, "No Room at the Inn" is the one I have most regrets about…it was started as a lo-fi knock it out quick, follow up to "We Make The Music", but once we got into making the album I realised that it was the most incredible collection of songs, So I changed course and tried to make it into something it was not, it deserved a bigger budget than the $3,000 we had to spend on it.
There are so many influences on "Friday Night Heroes". Who are the writers that most inspire you?
Could be a long list if I start, it's a collection of many influences and songwriters, after all these years mining the seam, I don't know if I could name them all without leaving someone important out.
But maybe/hopefully we are now getting into territory that we define. I did set out to write a collection of songs that were real and meant something, like I was saying before about coming up with the lyrics and vocal melodies, I wanted it to connect with people so it had to be genuinely heart on sleeve lyrically and maybe a bit more to the point musically.
Some songs on the album - I honestly don't know where they came from. Others - like "Raining in the Dark" – I can say for sure was inspired by Roy Orbison and Tom Petty type stuff, that sadness and beauty. I listen to and enjoy all sorts of stuff, I have my favourites artists, the ones I go back to again and again – I guess there are influences that first inspire you and there is always a bit of them showing through but I'm a lifelong student of the guitar too so it's not just about writers. T
he guitar inspires me…going down to my shed with a sad sack hangover and plugging my '63 Epiphone into a vintage Marshal amp is a good cure and can be a very rewarding creative experience. If it's got a guitar in it chances are I'll listen to it and appreciate it – alternate tunings, 70's rock, fingerpicking, folk, blues, vintage amps, power-pop, records and different guitars fascinate me and inspire me and make life pretty damn enjoyable and all of that is on the album.
I play guitar every day, it's meditational at times and if I'm not doing band stuff I just revert to being a civilian fan dude with an interest in playing and learning again. A big influence on this album was discovering the 12-string electric and playing around with that sound, also a lot of the acoustic sounds are using the Nashville tuning...the stuff that originally inspired me is always going to be a factor – Flamin Groovies, the Blues, MC5, SRB, The Saints, NY Punk, The Replacements, Big Star etc as well as lots of obscure stuff.
And even mainstream rock like Springsteen, Zeppelin and Hendrix – as a guitarist you get drawn to that stuff too…occasionally I throw things in for fun or reference things (riffs/lyrics/books/poems) that myself and the listener can play a little recognition game on, some sort of post-modern thing that I find fun I suppose.
I respect the listener and don't underestimate their knowledge – it's not about ripping whole riffs off like Jet did, it's about reinforcing the songs with the odd obscure reference and bringing the listener into your thing, adding another level of meaning and shared knowledge.
Maybe the most important thing that influenced "Friday Night Heroes" was wanting to make a record, and when I say that I mean a vinyl record, with a particular sound. We are all audiophiles in this band and we all take it seriously how we listen to music…we wanted to make a record with a sound like the great records we love, stuff from the '70s and in Australia in the early '80s (Sunnyboys, X and Chris bailey era Saints come to mind).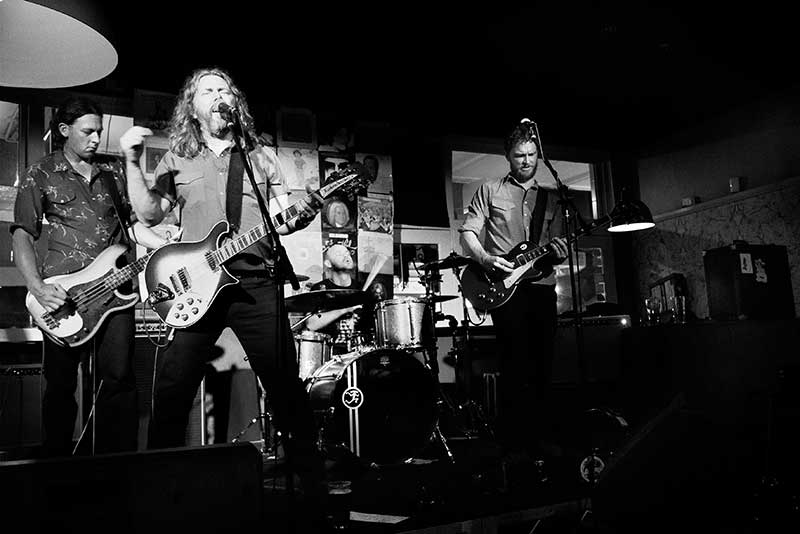 Emmy Etie photo
"Excitable Boy" by Warren Zevon stands out, The Byrds, early Tom Petty, and British stuff like Rory Gallagher, mid period Stones and Thin Lizzy too, they have that big bottom end and a certain glow about the recording, some space and simplicity about them too.
These days, many albums sound like they've been edited to death on a computer, the guitar solos are all note perfect and somebody's playing fancy pants with the production, the drums and bass have been quantized and edited to perfection…it just starts to sound so clean and sanitised it doesn't sound like a band anymore, even in the supposed underground scene this has become the norm.
We intentionally made this record in an analogue studio, recording to tape to try and capture something about us. It wasn't about being retro either, it was about being genuine, I think the songs have a cut through relevance even though your triple j crowd won't be listening to them…we mixed the record old school style on a desk with faders and masking tape etc, we didn't use a computer to fix everything up and cover the flaws.
I think that shows through on "Friday Night Heroes". It's not made to be played on your phone, it was made to be heard on a turntable, through speakers. It's not perfect but it's a record that sounds like a real band, it has a glow and thickness about it and a beautiful bottom end.
Stewart, can tell me about you felt when you were recording this record was there anything that stood out?
It was a very positive and fun experience...we went into the studio (Linear Recording in Leichardt – an inner city suburb of Sydney) in great spirits and the four us in the band had a fantastic time as we usually do when we get together. Our producer Wade Keighran was great to work with and a really interesting guy who was on our level and kept things on track. We had some guests play on the album – Doug Hazell on saxophone and Andy Newman on piano, it was a real highlight hearing them playing away through the monitors.
I remember most of the time in the studio feeling great and enjoying the experience. Unfortunately other shit that happened to me personally during the following months made it a difficult time as well. Life can't always be champagne and diamonds and I suppose doing the album helped me get through that time.
My mum was sick and I was told she didn't have long to live about a month before we started recording…it's a pretty confronting thing to hear and hard to take on board but we had spent the previous 18 months working on these songs and the session was booked, deposit paid so I went ahead with it thinking/hoping we would finish it before she went so I would have time to spend with her…alas it wasn't meant to be.
In the end she went really quickly which I suppose was a blessing for her but took myself and the rest of the family by surprise, it was a conflicted time – trying to play guitar and sing and think about this music we were in the middle of making and being grief-stricken about my mum. I couldn't sleep because of the grief and ended up getting a serious chest infection, I was lying in bed at night and I sounded like a dying old man, my chest was wheezing and I could only sleep on one side…so by the time it came to do the vocals I was so sick I was unable to sing. I thought it would heal itself but it got worse and worse.
I couldn't do the vocals for about a month and even then I was struggling to get back to where I was before the session started when I felt really confident. I ended up doing the vocals at a good friend's home studio in Wollongong once I got better, looking back now, the way the band and everyone involved in the record pulled together to get it done was pretty special, it could easily have not been finished.
Does that describe how I felt…maybe a little, maybe it's impossible to describe all that going on in your life, you just get through it somehow…fuck, how did I get through that time? I don't look back on making the album with anything but positive thoughts either which is strange… I guess making the album was a distraction and an emotional outlet that kept me together.
I tried to draw some strength and did from my mum's life to see it through…maybe that sounds trite but she came out here from Scotland in the early 70's, leaving all her relatives behind and brought up a family of five on her own pretty much. Some things that she went through would knock other people for six, she would eat for breakfast and keep going, so I took something from that.
My mum gave me my interest in words and music too (I can remember "The Last Waltz" being on TV in 1979 and she made me stay up to watch some of it). She would always drop by with poetry books, music biographies, records and novels, she never stopped giving and encouraging me. Even if she wasn't going to be around to hear it, I wanted her to be proud of me and finish the damn thing at least.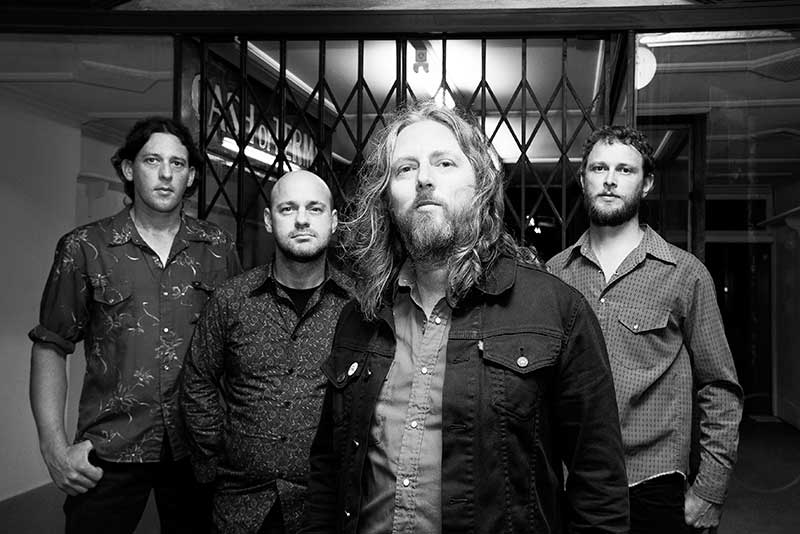 Hanging out on a Friday night: Reggie, Dillon, Stew and Mick. Emmy Etie photo
Live, the band draw from so many angles; if you were going describe Leadfinger as live band how would you nail it?
I'm not sure I am able to describe it beyond my impressions and what I hope it's like…it's a rock band for sure but we try to mix it up a bit. We try and do our thing and show a part of ourselves, hoping it's genuine enough to connect with people. These days it can often be a month or two between playing or you might see us in a front bar with a vocal PA one week, full front-of-house next time...it's not always gonna be as happening as we'd like and that depends on the crowd too…
Sometimes we play great and it all clicks but other times it doesn't and I hope the quality of the songs carry us on those nights. The technical side of it is important to all of us, we proudly play with pretty awesome vintage gear that sounds amazing (to me anyway) and we always try to use our own gear… as a band we've worked out our levels so what we sound like at rehearsal and on the stage is balanced and in the sweet spot.
My days of playing 100w Marshall stacks and screamingly loud were fun. I did that for years in The Protons, Brother Brick, Asteroid B-612 and The Yes Men but I have no desire to do that anymore, nor do I want to scream and shout at the audience, I'm not 24 and angst ridden young man anymore. It's about the tone and dynamics, and playing great songs, I'd rather play a small amp on 10 that's jumping off the chair than a 100 watt Marshall that's on 2.
I know we are stretching ourselves musically, doing stuff that is a few steps beyond barre chord garage rock, using other tunings, the 12-string guitar etc and delving into some higher plane of musicality…we want people who come and see us to hear a bit of variety in the set, not nine songs all of the same genre and volume, makes it interesting and challenging for ourselves too. I think that mine and Mick's vocals are a big part of that, we work pretty good together live and off the cuff when we have to.
The four of us have been together for about eight years now so it's probably tighter than I realise, but the other side to this band is we are all friends. We share the same interests in the same music AND we like to have a good time, we all drink and stuff…we are sloppy at times and a bit affected, maybe not to the extent of the Replacements in their prime but maybe one of us shouldn't have had those three extra beers before playing!
Realistically though we ain't getting paid for doing this so we'll be having fun and trying to balance it out, sometimes the balance tips too far to the bar than the stage. I sometimes think we should be more responsible but that's who we are and we aren't playing to thousands of people, I doubt it would be different anyway.
The title song from "Friday Night Heroes "was partly inspired by our Friday night antics, I had noticed on our adventures interstate and around the place we'd often find ourselves having too good a time at the Friday night gig, seeing the sun come up then scraping through the rest of the weekend somehow, playing well below what we are capable of.
Friday night heroes, Saturday night paupers, it can often be a while between gigs so for Leadfinger playing live is as much about catching up with the other guys and the gig is a celebration of that.
Catch Leadfinger's last shows of 2016:
Supporting Garry Gray & The Sixth Circle with Chickenstones
Factory Floor, Marrickville, NSW - Nov 18 Tickets here

Dicey Riley's, Wollongong, NSW - Nov 26
Leadfinger + Wrong Turn, Tago Mago, Melbourne, VIC - Dec 2
Buy the album at Conquest of Noise Records