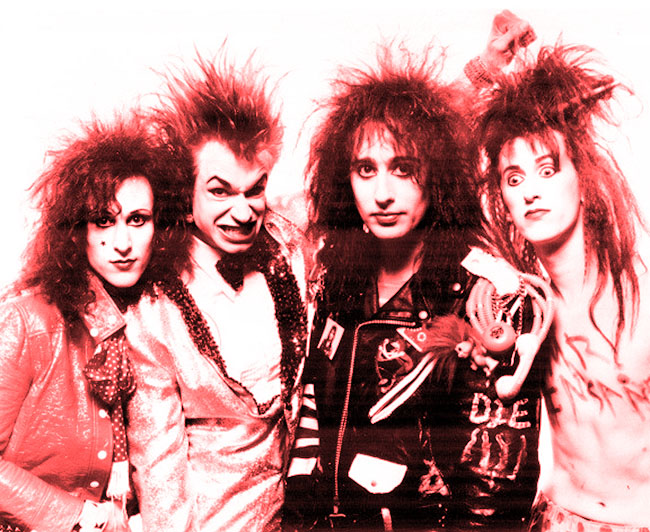 The Zeroes.
By the time I arrived in Hollywood seeking fame and fortune, gangster rap and grunge had already sorta taken over, and the glam scene was dying down, past its prime, ruined by all the assembly-line Cathouse wannabe spandex legions, but the Zeros were regarded as absolute heroes by all the Loreal blue/black hair-dyed, last call straggler sleaze punk kids I was meeting from small towns all over the USA, USA, who'd very similarly arrived with big dreams of following in the footsteps of Guns N Roses and Faster Pussycat, Poison, and L.A. Guns.
Sebastian Bach was on the cover of "Rolling Stone" but the article inside was a depressingly real cautionary tale about the mostly harrowing, hard knock life that awaited all us no hopers from nowhere towns. How many of us outta towners really had Sebastian Bach's photogenic goldenboy looks or impressive vocal range, or any songs as good as his sore winner bandmates, Rachel and Snake?
Most of us had no idea how showbiz really worked, we were just fleeing from smalltown abuse traumas. I did not know you needed a car in L.A. Even my friend, the "Flipside" magazine columnist, Shane "The Rocknroll Bank Robber" Williams, the town's most infamous pedestrian, got killed while waiting at the bus stop by a hit and run driver. It really was the fuckin' jungle, back then.
The world famous Coconut Teaszer had been painted purple in homage to the purple haired darlings of the scene and Joe Normal was collaborating with my childhood hero, Stiv Bators, Brian James and I believe even Nigel Harrison on the "Tapeheads" soundtrack. I met the good brother while fucking up an audition for a Hollywood supergroup when I was still in my heavy drinking daze; he was a super sweet and immediately likable, good humored guy, who was so down to earth, it was almost as if he had no idea how talented he was.
Guitar players I knew with maybe one third of his talent had at least twice his ego, Ya know, he really was a blue collar average Joe when I knew him, but there was nothin' normal about his abiliies. I fell deeply in love with some of the songs he was writing with his catchy pop band back then, the Hutchinsons, particularly a very poignant autobiographical tune called, "Elizabethtown". The songs were so unbelievably good, I was surprised they did not get snatched up by a major label.
I continued to follow his adventures from afar, even after I reluctantly left L.A. because my girlfriend at the time was pregnant and I had to go back to the dreadfully bleak midwest. She left me anyway, like less than four years later. His psychobilly band c- starring former members of the Zeros, Jetboy, and Glamour Punks; the Cold Blue Rebels, were big favorites among the Murray's pomade greasy, goth and glam and hot rod show off rockabilly ravers.
His next band, The Anytown'rs, with members of Fiona Apple and Aimee Mann's bands, Dramarama, and Lions & Ghosts were even better, like a cross between Tom Petty or Cheap Trick "Americana" with Badfinger and Mott The Hoople-like flourishes. He was also a featured player on one of the most underrated albums of the'90s, Slow Motorcade's stunning "Pop Music On A Grand Scale".
His solo songs have been generating tons of buzz and excitement from every corner of the rock 'n' roll world. Almost no one plays guitar as good as that guy, and he writes really glamtastic, melodic pop songs, and sings about as good as anybody, from any town. I thought I should introduce his newest LP, "Public Works" to our punk as fuck Australian underground rock 'n' roll brethren.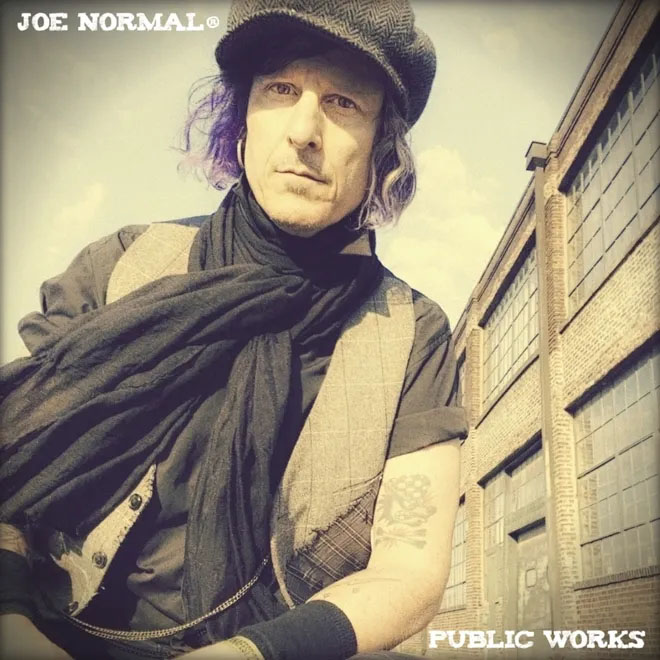 JD STAYFREE: I know you met Diamond David Lee Roth in real life and wrote a song with Sammy Hagar his replacement, did you ever get to see the original Van Halen line-up play live?
JOE NORMAL: I never got to see the original lineup, but I did go to the Sammy Hagar and David Lee Roth co-headline tour in 2002. I was invited as Sammy's guest, and got to meet everybody backstage. It's always so weird to meet celebrities, I never know what to say. I just smile a lot, shake hands, and feel awkward.
I know a lot of people only like the David Lee Roth-era Van Halen, but Sammy really put on a great show and played all the hits. Roth basically had a Van Halen copy band backing him up. I wasn't into it, for me the magic of the earlier material was having the brothers there, at least Sammy had Michael Anthony join him on bass.
JD STAYFREE: What were some of the first albums that really changed your life as a kid? What did you think of that new Iggy Pop record that just came out?
JOE NORMAL: My older sisters turned me on to the Beatles, T-Rex, Bowie, Queen, and Elton John, that's kind of where it started for me. Before that it was AM radio. I also loved Simon & Garfunkel's greatest hits album. As a teenager seeking out my own music I discovered Elvis Costello, Joe Jackson, The Cars, Cheap Trick, The Ramones, The Clash, and The Police. And then later on I got way into The Who's "Quadrophenia" and also Prince and Revolution's "Purple Rain" really captured me.
You know I don't want to sound uncool or anything, but I wasn't aware of the new Iggy Pop stuff. I don't usually have my ear to the ground. Probably because my head is usually so far up my own ass! Seriously though, when a recommendation or a mention comes from a friend I always check it out, so that's what I'll be listening to tonight!
JD STAYFREE: I know you mentioned how you've been doing all your own music lately like Prince or Todd Rundgren, how is that different than the dynamics of working with a group and which do you find more creatively satisfying?
JOE NORMAL: Honestly, when I'm writing a song it's just me and my guitar, so being able to complete the painting by adding all the instruments on my own really allows me to fully realize whatever vision I have for the song, much like a potter sitting with a ball of clay at the wheel, wielding and forming it by his own hand into something that didn't exist before. I love that independence and spirit, that truth untainted that comes through when I work alone.
On the other hand, playing with other people and making music together is equally as rewarding, as long as it is FUN, and doesn't feel like work.
Having to always be a leader or having to manage people and personalities or having the pressure of always having to be accountable gets to be a drag. It really slows me down, it hampers the progress I feel I can make on my own. And I'm not talking about the Anytown'rs, I'm talking about a state of mind in which you get the spark to do something, to take action and you want to LEAP, but then you realize there's other people involved, and your actions can impact them in a negative way or in some adverse way that you didn't expect.
Sometimes you just want to be carefree and plug in and play rock and roll with friends without any expectations.
You can tell I'm torn between the two worlds.
JD STAYFREE: How did the Anytown'rs end up working with Rank Outsider, what is your relationship with Pat Todd like? Tell me all about the Anytown'rs experience. I am a real big fan of Tony Snow, did you ever catch Shiteland Ponies? Did you ever see or play shows with Lions & Ghosts back in the day? How is Michael Lockwood getting along? I'm a big goofy fan of Aimee Mann's as you might know, we play her around here a lot.
JOE NORMAL: Pat and I used to work together and talk all day about music. He's the real deal. Prolific, singer, songwriter, rocker. He really inspired me to keep going when I was teetering on giving up many years ago. He helped me put out a few rootsy folksy things I did around 2015, so when I put The Anytown'rs together after, we started gigging together, trying to get something going around LA.
The Anytown'rs kind of went on hold during the lockdown craziness and haven't really fully emerged since. I pushed on throughout the lockdown with a weekly solo livestream, not wanting to follow the herd of bands trying to play together on Zoom and the multiple screen ridiculousness. It was a joke seeing the Stones do it. I said Fuck that!
We did go into the studio midway thru the pandemic, but I could sense something was amiss. We tracked four songs despite, and I just released our cover of The Four Tops' "Reach Out I'll Be There" which sat for a year unfinished. I finally felt inspired enough to do my vocals and lead guitars and then mixed it.
I thought "Reach Out" came out great, so I released it as a single and to complete an official album, "From Anytown in the USA."
Ya know, with the band thing I wanted to keep evolving, so we brought in Michael Lockwood, who I truly admire and love his guitar playing. I loved his band Lions and Ghosts, I saw them live in 1986 at the original Scream club downtown Los Angeles. I knew in that moment he was my favorite guitar player in LA. He had the right look, the right sounds and best licks, and the right guitars. The whole package. He can do no wrong in my book. I had their "Mary Goes Round" 12" and first album on vinyl.
When Michael was with the Anytown'rs I thought we worked great together, and I wanted things to get moving quicker for The Anytown'rs, on the business side of things. Michael stayed on for about a year, but it was a big commitment to rehearse, travel, and do menial gigs for no pay. In hindsight I think we were burning him out by playing too many low key gigs, and he moved on. The other guys wanted to continue as a trio. I personally felt that me staying the sole guitar player was a step backwards for me and I began to feel stifled and disillusioned. Then the pandemic hit.
<
JD STAYFREE: You, me and our mutual friend John all have kids impacted by Autism issues, please discuss your side project the Conductors and how Drayke became involved with the train museum you mentioned to me?
JOE NORMAL: When we first got the diagnosis of Autism, there wasn't a lot of information available out there. It was mainly parents talking to parents.
So many families we encountered who were having a similar experience felt like complete outsiders in typical family settings like playdates, children's gyms, playgrounds, classrooms, restaurants, family gatherings, and any place where kids would get together and expect to interact socially in a typical way.
Most of our kids have sensory issues that are off the charts, so when it would come to anything where there was music or loud voices, or large echoey spaces kids like ours would just totally deregulate.
I was really struggling to connect with children's music and the sort of family stuff that didn't suit my own Rock and Roll family's mold.
When I realized that Drayke loved trains, I finally found a way to make a connection with him through the music using trains as our common bond. I felt a real calling to put together The Conductors as a group that would appeal to the special needs community with a gentler acoustic sound and rhythm, to be somewhat educational, while using the Train theme and costumes as a way to be visually appealing and fun for us and the kids too. I also wanted it to be an enjoyable experience for the parents. Not the kind of music that would make you cringe.
I've seen so many rockers in the decade that followed go on to do children's music as well. It seems like a natural evolution for a musician when they become a parent, but I'm rather suspicious that many realized there was money to make in the children's music genre at a time when opportunities in the Rock world were drying up.
There's a couple children's music artists out there that I really do honestly love and felt were the real deal like Gustafer Yellowgold. Morgan Taylor was a fantastic songwriter and singer, as well as visual artist / illustrator, an artist through and through. He passed away last year. It was quite sad as I had connected with him when Drayke was very young and I was getting the Conductors going. He was a real inspiration to me.
Drayke is now 21-years-old, and over the years has repeatedly said he wants to drive a train. In my heart of hearts I wanted him to fulfill his dream, but was clueless how he could ever get a degree or license or whatever is education is required to follow through on that.
My brother told me about a Railway Museum in Southern California that has a "Run One" program where Drayke and I both actually got to ride in a real vintage Union Pacific engine and operate a real darn diesel locomotive! I still get choked up thinking about Drayke sitting in the seat driving the train! We signed up to become volunteers, and look forward to doing it again and helping out at the Railroad Park there.
JD STAYFREE: Didn't you once travel to the UK with Dramarama? What was it like playing with them? You know he's in my top five all time favorite songwriters! What do you recall about being in that "Haven't Got A Clue" video with Syl Sylvain and Rodney Bingenheimer? Did you ever get to meet Iris Berry? Does Rodney spin any Zeros stuff on his show?
JOE NORMAL: I have a history with Dramarama going back to around 1987 when they first came to LA. We heard about them through Rodney's KROQ show and found out they were from New Jersey. We ran into them at Rock and Roll Ralph's supermarket on the Sunset Strip and became friends. The Zeros opened several theatre size shows for them around 1991 when we were getting our record out. I was definitely into their sound and their roots, especially John as a writer and artist, and his mystique, which he still has to this day. I liked a lot of the same music, and though they weren't really a Glam band, I knew they were into Bowie and Mott the Hoople and good rock and roll.
The Zeros attended a couple parties at Chris Carter's and also the music video shoot for 'Haven't Got A Clue'. It was kind of a party/mixer in a warehouse with cameras rolling around and a loose production happening around everybody. There were members of Blondie there, New York Dolls, and of course Rodney Bingenheimer. I remember there being a pinup-style cigarette girl and a Lancelot Link monkey and just a weird combination of freaks, like you would imagine at a Warhol silver factory party. Dramarama was set off to the side playing on a stage area like they were the party band, and I think we were instructed to ignore the band. I guess it was all very surreal.
Around 2014 I was at a crossroads trying to figure out what to do with my career and to make money, so I thought I would loan myself out as a guitar player to get extra work. I made a list of bands that I would consider playing with - and Dramarama was top on that list. I had reached out to John and I said if they ever need a Mick Ronson/George Harrison/Brian May-type of guitar player that I'm available. He messaged back and said I just nailed the triumvirate of guitar players and that he would let me know if they ever needed a hand.
Three or four years later when Tony Snow joined my band, my callback came, and I started doing shows with them when Pete or Marky couldn't make it. Some of the gigs were really big ones. Like 10-11,000 seaters and stuff. We were playing a lot of '80s themed festivals, and had total Rockstar treatment. It was really a high mark. I would love to be doing more of that level of work.
I filled in for Marky and we went to England for 10 days and played a few shows over there. I felt like I was back home again. I love England and look forward to going back there to play my own shows sometime.
You asked about Iris Berry. In '86 when we first came to LA, I recall hanging out at a Lame Flames house party, where Iris and Pleasant lived together on a Hollywood side street. There was a calendar of local bands that was circulating from, I think, "Rock City News" and The Lame Flames were in it. I had that hanging on my wall and would never change the month because I wanted to see Iris's picture the whole time. I was definitely smitten. Did you know that she was the one who helped get The Zeros on the "Easy Street" TV show with Loni Anderson and Peter Noone? Did you ever see that?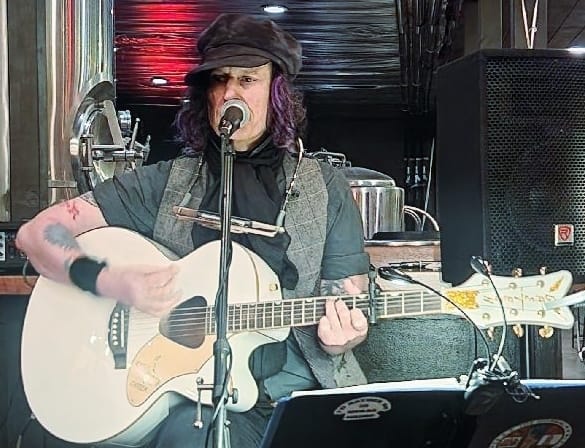 JD STAYFREE: Do you have a place where you get to regularly interact with other artists and musicians? I was watching a Netflix series that Martin Scorcese is doing, interviews with Fran Lebowitz about NY and how the world has changed and been taken over by these heavy censoring, controlling, nannying oligarchs and they argue that artists and musicians hanging out is important for society.
JOE NORMAL: That's funny you ask, I like to meet up for coffee with one-on-one type chats with my friends who are like-minded. We talk about everything from spirituality, artistry creativity, conspiracy truths, and generally to keep each other motivated and inspired and to be a sounding board for each other. I love to just mingle with other songwriters no matter what their take on the world is.
After this whole three years of nonsense I realize I just want to be someone who is or at least is perceived as less of an agitator, and more of an uplifter, a positive distraction from the negative distractors, if you get what I mean.
Now I just want to be a beacon of light, more than a loud horn of truth. There's a time and a place for that, and I think people are smart enough to get the message when they're ready.
I think what you're saying can really apply to artists and musicians in the underground, but I'm wary of the groupthink type of scenarios that happen when good meaning people are infiltrated by fear or threat of losing their stability. What I've seen from mainstream artists over the last three years has been quite disillusioning, disappointing. Especially from the punks who once prided themselves on being anti-establishment.
JD STAYFREE: Did you ever see Celebrity Skin, or the Ultras? Motorcycle Boy? Gene Loves Jezebel? What were summa the best performances you've witnessed as an audience member?
JOE NORMAL: Celebrity Skin! I loved those guys, they were kind of like thrift store glam fashion kings. The crazy and wild genius Don Bowles on the drums. Tim the bass player had a very San Francisco vibe that I liked. Did you know that guitarist Jason is also an autism dad?
JD STAYFREE: I did, we actually used to speak quite a bit before I got shitcanned by Facebook spooks for being anti-war!
JOE NORMAL: Celebrity Skin had a great duo guitar attack and played those kick ass non-reverse Firebird guitars, man they rocked! I loved those guys and we did many shows together. Our first show together was at a place called Power Tools which was a small room off of the main Scream club's new Park Plaza location at the time.
Francois and Motorcycle Boy - legendary. Another band that we did many shows with. They played last year with the Zeros on our 30-year reunion show. Francois is still great looking, rockstar thin, sweet as ever.
Gene Loves Jezebel played the original downtown Scream if I recall, we might have been there and I might have been blacked out I don't remember.
I love bands that have brothers.
The Jezebel brothers reminded me of the Davies brothers. Both very good looking, both Glam and mod in their own way. I loved the whole gypsy shrieking thing they did. They had a sort of goth meets glam thing, I got to play guitar in Michael Aston's version of the band on several shows. You would never guess how much of a Led Zeppelin fan he was. When I was introduced to him he said I reminded him of Gilbert O'Sullivan with my newsboy cap. Fine with me! In Dramarama we did a HUGE 80s festival show and Jay Aston's version of the band was on the bill. I got to chat with Slim Jim Phantom backstage all about the old New Jersey and New York scene from the early '80s and about his book which I had read.
We also got to play with The Alarm. Mike Peters is one of my heroes, and I got to shake his hand and take a photo with him. I got to have a close up look at his cool acoustic guitar as well.
JD STAYFREE: How are you influenced by Ian Hunter, I love that old Hutchinson's song you wrote, "Hipster", as you probably know, when did you and your brother Jimmy first discover glam rock as teenagers, what was it like growing up back then and did you meet Mick Ronson?
JOE NORMAL: My sister Rita brought home T-Rex's "The Slider" when I was about 10 years old, I instantly loved that cover of Marc Bolan with the top hat. I didn't know if it was a man or a woman I just knew that I wanted to look like that!
I didn't even hear the music yet. I've always had an eye for image and flash. Probably because of my five older sisters who were into music. They would wear platform shoes, satin pants, Rita was the first person in our neighborhood or our entire world really to dye her hair. I think that was in 1975. In the 11th grade talent show I wore my oldest sister Nanette's clothes. A faded blue jean pair of enormously wide elephant bell bottoms and a skin tight satin shirt that looked like something Bolan would have worn with a glittery star on the front of it. I don't know if I was a crossdresser, a gender bender, or a glam rocker. I didn't care, I just wanted to look cool, and I grew up knowing that chicks had the best clothes.
We were lucky to grow up in a time where bands looked fucking great. How you looked was just as important as how you sounded. And how you sounded informed how you were going to look.
Years later when we started playing with Sammy in the Double O Zeros, he introduced me to Mott the Hoople, and I was really getting into Bowie, at least the Mick Ronson years.
Back to my childhood for a second, Rita also had two Bad Company albums which I then figured out was Mick Ralphs of Mott the Hoople, so it started to make sense to me and I really gravitated towards that kind of style... That Les Paul guitar sound of Mick Ralphs and Mick Ronson, who both played similarly to my ear.
My sister Ellen brought home Queen's "News of The World" in 1977 or '78 which was when I fell in love with Queen and Brian May's guitar sound. All the harmony parts, the melodic solos. His attack and tone. Damn!
I loved "Sleeping On The Sidewalk" which was like a Cream style electric blues, and the story of this musician guy we would all eventually become or relate to. And who wasn't embarrassed to listen to "Get Down Make Love" if the parents were in earshot.
So forward to 1985 when we lived in London, Mick Ronson was at a Marquee show that we attended and Sammy went straight up to him and gave him our "Be A Zero" EP. I didn't really recognize him, he was wearing kind of a long trench coat, not what I expected. It wouldn't matter anyway because I was dreadfully shy and was happy enough to just be in the same room with the guy! I had a girlfriend named Ziggy Zowie who took me round London to the K. West doorway spot where the famous album cover was shot. A pilgrimage.
JD STAYFREE: When did Jimmy first take up drums and how did he wrangle a kit, I seem to recall you inheriting a guitar? What is your brother up to nowadays? Is he still making music?
JOE NORMAL: Jimmy and I both played drums in the 7 + 8 grade school band. I was the timpani player and Jimmy I think was on the snare drum or the tomtom's. He was a year behind me so we never played in band at the same. He stayed on in High School long enough to be recruited for marching band. I dropped out of Orchestra by then to be a guitar player.
My sister Linda's boyfriend Alan Abraham gave Jimmy his first snare drum. Alan was a jazz drummer and really inspired my brother! Jimmy made his first bass drum out of an old cardboard barrel my dad brought home from the factory, and over time he scrapped together a drum set out of mix-matched pieces he either stole or found or was given.
In 7th grade when my grandfather died, his folk guitar went to me and Jimmy. Jimmy was a faster learner than I was on the instruments, so I had to be constantly playing that guitar so he wouldn't get a turn, I thought that would keep him from getting better than me. So the drums became his thing instead, and I became the guitar player.
These days Jimmy is a children's books author/illustrator. Before he was a musician he was always artistic, so he's kind of returned to his original passion.
JD STAYFREE: I know you played with Spazz Draztik in Cold Blue Rebels, summa the Glamour Punk dudes lived with my old girlfriend in L.A. who I was really influenced by, as a kid, she was really smarter than me and got me into so much good music, film, literature, etc. I liked Dizzy Damage more than most of the metal kids on the Sunset Strip at that point, the Seaweed Eaters and Dawg Mafia blokes had a big Zeros poster in their living room, what do you remember about seeing the Glamour Punks back in the day and what were the highlights of the Cold Blue Rebels experience and do you still own a hearse?
JOE NORMAL: I met and friended the original four members of Glamour Punks when they arrived in LA fresh from New York. Mandy, Stacy, Mickey, and Fly. They changed and evolved quickly over the first year or two. They were my favorite band on the strip, they were exactly what their name implied.
They were on their way up kind of right behind The Zeros, and really hit their groove when they became theatrical, more of a show, with all the extra characters and shenanigans and shit! I wish they could've kept going. Poor Dizzy, just heartbreaking. Spazz told me just some of the craziest shit they got into together. Real brotherhood stuff, bonding with bandmates for life kind of secrets and shit. They lived it hardcore. Long live the Glamour Punks.
Cold Blue Rebels with Spazz: Danny, Mickey, and I was the complete picture, like KISS, or the Beatles. We had the 4 legs of the table as Gene Simmons would say. I truly believe if we could have kept the original line-up together another two or three years and kept hammering away on the road we would've been opening big shows for Alice Cooper or Ozzy or the like.
Ya never know why things change, or people bail out, or things turn out the way they do. I mean I'm in a totally different mindset now than I was during the CBR days. It's like that window had opened for a moment in all four of our lives and we all wanted it so badly. We lived, ate, and shat that band completely and intensely for three plus years, and shit was beginning to happen. But at our age, it needed to pay off much faster than it was, and it wasn't.
Spazz and I really needed more stability in our personal lives. For me the touring meant long periods away from Drayke and I was trying to put my marriage back together and there were intense financial pressures always on my family. Danny and Mickey were so supportive and always stuck by me. But my place was at home.
<
JD STAYFREE: How many times did you get to see the Smithereens? I had an embarrassing encounter when I was drunkenly offering to let Pat DeNizio use my apartment across the street from the venue cause I knew there really was no private backstage dressing room at the scummy dump club he was playing, but you know, there I was, reeking of blues and garbed in all the usual feathers and velvet and sequins and makeup I wore back then, and I think he thought I was either a lunatic or trying to pick him up! Fave songs by the Smithereens?
JOE NORMAL: Haha great story about Pat! First time I met him was in the men's room urinals at L A Music Awards in 1990, I thought that was embarrassing! LOL.
Our bands used to play The Dirt Club and The Rathskeller in New Jersey, but I don't think ever at the same time. I always say that Smithereens and Dramarama were Jersey's best bands. They had that four legs of the table thing too. I was a fan of their music for sure. The Beatles and Who and Buddy Holly influences were all there.
I had every album of theirs! The "11" album was my favorite. Fave tracks are "Cut Flowers" "Deep Black" "Baby Be Good" "Yesterday Girl" dang so many great songs, and it takes a Jersey person to appreciate "White Castle Blues" like I do!
We were label mates briefly when The Zeros signed to Enigma. I raided the CD vault at Enigma and took a copy of every Smithereens album, and same with all the They Might Be Giants records!
I opened for Smithereens once or twice and saw them live maybe four or five times.
JD STAYFREE: When you made it out to Hollywood did you go to the Scream or see shows by Tex and the Horseheads, the Gun Club or Jeff Drake's Jonese or Amanda Jones? Where is IZZY?
JOE NORMAL: Yes, definitely went to Scream many many times. I was an extra in a couple movies filmed there as well. A Robert Downey Jr movie with Chili Peppers as the "bar" band, and "Jumpin' Jack Flash" with Whoopie Goldberg.
Texicala and the Horseheads were just before our time, but I wasn't into that kind of thing at the time. They were what we would call a Raji's band, which was a club and scene that was for what we thought were older bands outside of the Glam Rock thing. Like the cowpunk thing.
There was a guy we liked called Glen Soderling who said he was in the Joneses that roadied for us a couple times in those very early days. He made some Zeros t-shirts for each of us too. What a cool guy to do all of that and to be in such an influential band.
JD STAYFREE: What are summa your fave WHO songs? Anthony insists I am really missing out on the Who cause the only lp by them I ever had was the one with "Eminence Front", but you know it is nigh impossible for me to resist a song that mentions old T. Rex...
JOE NORMAL: Haha "Eminence Front!" That's funny! I don't think any Who fan likes that song, but you know that the band throws it in the set every gig because it's a good break in the middle of a long show for people to go get another beer or to use the restroom!
The Who "Sell out" and "Quadrophenia" are great records, as well as "Who's Next". Those are my top three who albums.
Pete Townshend is one of my heroes, I love the ferocity of his guitar playing and the sensitivity of his lyrics. He's an incredible rhythm player especially when you pair him with Keith Moon. Just incredible! That was me and my brother!
Pete has an artistic approach, conceptual, a British storyteller. And the power that the of the original band imbibed the songs with really spoke to our working class DNA, I just resonate with how they channelled so much spirit and desperation into their playing.
JD STAYFREE: How did you first meet Anthony Castillo and tell me about recording that album "Pop Music On A Grand Scale" with Slow Motorcade. What were your fave songs from that project?
JOE NORMAL: Anthony and I go way back, I can't remember how or where we met the first time, I just feel like I've known him forever. He's one of those people when I get on the phone with him we're going to talk for four hours!
There was some point before I worked on the "Slow Motorcade" album that we got together in Hollywood to co-write songs and came up with a few cool riffs actually.
By the way, I heard recently that David Walsh, who also played on that album, had passed away recently. It was quite sad to hear because his brother Brian had died tragically years ago. I'm sure that that haunted David. That brother thing. They were guitarist and drummer as well like my brother and I.
David played some amazing guitar solos on that album. When I played guitar at some of the live gigs with the band after the album was released and was learning his guitar parts, I was just blown away at how incredibly good he was on the guitar. Just smoking hot.
"Martial Law," "Helpless Mystery," "Life In A Moment," "Juggernaut." I enjoy the whole album but these are my faves.
Looking back on these songs and album I realize how this influenced my own path. Anthony was mixing together social commentary, Rock, and guitar pop songs. I think in a subconscious way I started opening up to that and eventually began doing the same thing, so I thank Anthony for really putting me on that path without even realizing it!
Another thing Anthony did was introduce me to drummer Thom Sullivan through this experience. Thom also played on the record, and we really connected musically as guitar player and drummer. Kind of a similar thing like with my brother. I hadn't experienced that before with another drummer, so it was a natural thing for us to want to play together outside of Motorcade. Thom eventually joined me in my band HUTCH, and we did one album "Turn It Around" and even recorded it at the same studio that Slow Motorcade had been working, Lincoln Lounge with engineer Steve Refling.
JD STAYFREE: When did you first discover the Pretenders? How do you feel about Generation X? I was so sad I could not attend those Generation Sex shows they performed in Hollywood in recent years.
JOE NORMAL: Two bands that were very influential on me! I love Chrissie Hynde. Her voice, her songs, her look, she always has incredible guitar players. James Honeyman-Scott is one of the greatest guitar players of the early New Wave '80s if you want to call it that. He played on the first two albums. I devoured that second record! The third Pretenders album was great too. That had Robbie McIntosh on guitar. Another great player.
A lot of old school punks seem to not like Billy Idol for some reason. I don't get it. But you can't deny that Kiss Me Deadly is just the total Punk anthem. It resonated with me similarly as the "Quadrophenia" movie did. Even Billy Idol played the Bellboy in the Who's "Quadrophenia" concert. There's a great clip online and Billy Idol is just f****** fantastic as the Bellboy!
JD STAYFREE: I remember hangin' around with El Duce at the free buffets on the Sunset Strip and shoplifting forty ounces from convenience stores with him. What are your most vivid memories of the Teaszer, how well did you know Len Fagen? We used to argue about stuff like Huey Lewis and Thirty Eight Special, me and him...
JOE NORMAL: Len was a big time supporter of The Zeros. He booked us some of our first, and even last, gigs in town, and eventually would paint the Coconut Teaszer purple when we got our record deal. We would go see and played with Rock City Angels at the Teaszer, Len was a big supporter of them as well. That was Johnny Depp's original band when they came to California.
I saw this band called Lock Up there with this incredible guitar player who turned out to be Tom Morello. Willy Mink DeVille was doing acoustic shows in the downstairs room playing to nobody. I saw him there and even played that room myself later on when I started as a solo artist.
The Teaszer was very band-friendly, with their free buffets on Monday nights where a starving band could get some hot dogs or some barbecue wings or something out on the patio while your band waited to play inside on the stage. They were one of the first clubs to actually have a back line that you could just show up and play. That was really key to their success I believe.
The Whisky also had their No Bozo jams as well which had backline. Those types of gigs were desirable for any band. And they were usually free or only $3 to get in, so they would always have a crowd and you had enough money to buy a drink left over if all you had was a tenner. Which I can't say we even had that much in those days.
JD STAYFREE: Do you go to big concert festivals? You know that Cruel World bill is almost enough to lure me away from my desert planet-Love & Rockets, Siouxsie, Iggy, Adam Ant, Billy Idol, all the new wave one hit wonder bands, were you ever into the new wave, new romantic, goth and post punk bands from the eighties?
JOE NORMAL: I don't really like crowds, I am not a festival goer. I think it's that sort of empathic energy sensitivity thing I have. It's just overwhelming to me. I can handle those type of crowds if I'm on the stage though!
Yes I definitely loved all those bands and that music in the '80s! Some others I'd throw in there are Ultravox, Psychedelic Furs, Softcell, Dead Or Alive, the early Cult stuff, Lords of the New Church, Jacobites, early Cure all floated in the spaces in between. I loved the music in the clubs during those days because you heard all those bands played alongside mainstream artists like Madonna, Prince, and even U2 was still floating between mainstream and what would eventually be called alternative or dark wave.
Love and Rockets' album "Earth, Sun, Moon" is still one of my favorites from that time. I never realized until recent years how much influence Syd Barrett had on that, for instance "The Telephone Is Empty." I also realized recently how "No New Tale To Tell" influenced one of my Hutchinsons songs, "She's Got Me Flying."
I used to work at CBS in the TV music department, one day Daniel Ash came in asking for work as a composer. I got to shake hands and say hello and smile a lot. Nobody else knew who he was or that he was a legend.
JD STAYFREE: Current operations, plans for the near future, how do you juggle raising high needs kids with making music and generating income streams?
JOE NORMAL: Well this summer I plan to do some touring. But like you said balancing the kids thing with my own pursuits, I'm planning to do an Amtrak tour and I'll take Drayke with me. He's way into trains like we said before, so it will be a good way to have a father and son experience, but get the job done also. I imagine the train tour to be like the folkies used to do, like Simon & Garfunkel would have did in the 60s. I can just bring an acoustic guitar and a suitcase and we'll make it happen!
I'm also committed to doing music videos regularly. I feel like they are a way to reach new fans over time, and it's creating something that will outlive me, something that will prove that I existed.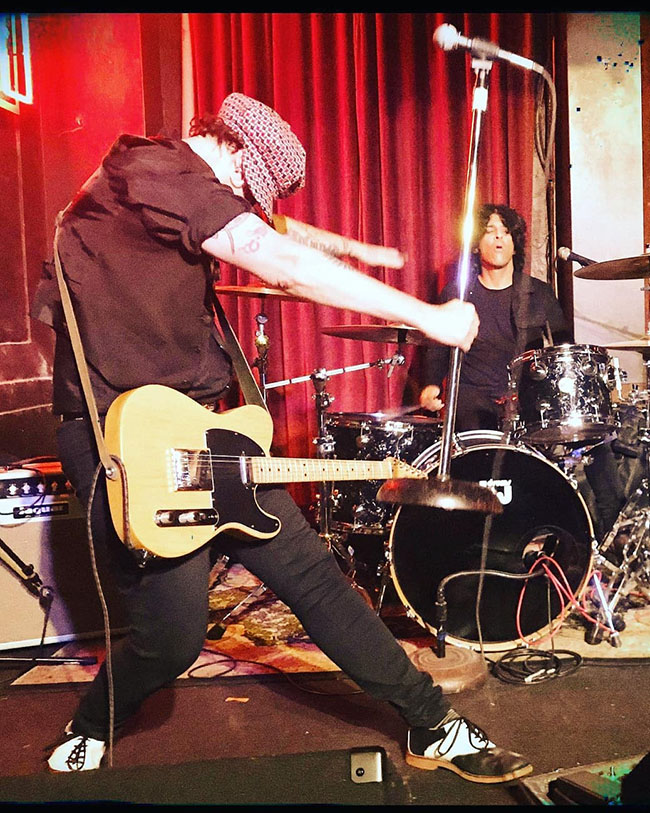 JD STAYFREE: Do you still have those old demos we collaborated on twenty five years ago stashed somewhere? You know I was real influenced by Little Steven as a teenager, his style that obviously influenced my own, his song about freeing Leonard Peltier, his organizing Artists Against Apartheid and bringing all the early rappers together with the boomer mainstream dinosaurs and underground glam and punk artists, have you ever dug into any of those old Disciples Of Soul records, they were doing some good work back then in spite of that corny dated eighties production value, I don't understand why Springsteen would wanna charge so much for tickets, it's like he only wants to be around hedge fund managers and lawyers in love and Obama, other rich people, fat actors. Bums me out a little bit.
JOE NORMAL: Yes I do have the song writing demos we did, they're on cassettes in my archive. I still remember a song we did called "Dazzle Drunk" that would be fun to release the way it was as an outtake. I think I did two versions of that song, but there was one that was more of an acoustic vibe that I thought was really magical.
That Little Steven video for "Sun City" was definitely ground-breaking, everything that it stood for and the idea of bringing together sort of a Brotherhood of musical artists. If I remember correctly Stiv Bators and Joey Ramone were in that as well as all these underground New York rapper guys and I think even Miles Davis was in it, am I correct?
Little Steven was definitely on the right path back then. I heard a somewhat recent interview with him where he said he had regretted not staying on with Bruce Springsteen after the "Born in the USA" album, so he could continue to pursue his solo career and humanitarianism. He remarked that he could have done both, his own thing and to stay with Springsteen, which would have been better for him and for Bruce in the long run. I thought that was good wisdom for any musician who feels torn between two projects.
I try not to pay attention these days to those guys new political and celebrity interests. I love the music too much to let that spoil the memories.
JD STAYFREE: Tell me all about that big Zeros reunion concert on the Sunset Strip, what other bands played that night, how you were able overcome all the bad baggage with former bandmates, who brought that whole thing together, how you guys were received by the old fans...weren't you guys supposed to be managed by the Poison management team at some point?
JOE NORMAL: Yes actually, Howie Hubberman was Poison's manager, he worked with us as well, and with Guns n' Roses in the very early days.
Danny helped to get that Whisky show, he's always remained friends with the owners and the guys that work there, so it was really Danny who put that together for us. Howie stepped in and took charge of working with us again like he used to in the old days at rehearsals, keeping us motivated and together, negotiating for and representing us. I love working with Howie. He's like the drill sergeant every good band needs.
The show was a 30-year reunion of our "4321" album. During the pandemic I think everybody began to worry about losing friends because we kept hearing stories about people dying and stuff.
Somehow we all got to talking with each other I think to just heal old wounds, maybe thinking that one of us was going to die of covid or something and things were never resolved?

I remember talking to Sammy for several hours on the phone and thinking I
was open to playing a reunion show, but my reasons were because it was something that would uplift people. That was really important to me was to be a part of something that was going to be positive and entertaining for people after all the crap we were going through. I was doing it for the sake of humanity, to be an escape from the manufactured reality fans and music lovers had to deal with for two years.
There was certainly a lot of stress leading up to the show, because you have four guys that all have their own opinion and their own Pursuits outside of that. There was a real power struggle going on under the surface and I wasn't into it. I just wanted to play music for fun and it wasn't fun getting ready for the show. The show itself was pretty good. Motorcycle Boy played with us. And there was a great crowd. A lot of the old school friends and fans and memories and laughs, and some new ones as well. It was cool seeing two generations of Zeros fans!
JD STAYFREE: Who collaborates with you on all these awesome videos you've been making?
JOE NORMAL: You know, I do it all on my own, and I was thinking about what it is that is so attractive to me about making these videos or mini films to go with the songs. When I mentioned earlier about "Quadrophenia" and "Purple Rain", there were other movies that really inspired me Like A "Hard Day's Night", and the Gary Busey "Buddy Holly Story" movie. It really captured me and were life-changing moments for me. So in the back of my mind there's always been a correlation between the music and the visuals and the messages and imagery.
In this day and age you have access to a decent camera on your phone and some simple editing software on a computer. In the Zeros days we fought for a video budget when we got our record deal and it was $35,000 for one music video. And that was an low budget for those days.
My mindset today is that an artist can wait around for people to get involved in your career and to manage you and stuff, or like in my case, just say fuck it and start doing shit yourself. I'm getting older I don't have a lot of time left, so I've got plenty of motivation to do shit myself, like make videos, which I feel like it legitimizes an artist if they have them. Without them you don't really exist.
JD STAYFREE: You've been releasing some radical protest music in recent years, how were you influenced by the message of the Clash? What's left of the left in this country is so Cointelpro subverted by controlled opposition narrative managers with the safespace cancel culture and culture war nonsense, do you think there is any hope in raising people's consciousness with the nonstop juggernaut of Big 5 mockingbird media's top down repetition propaganda, or in bringing people together to unite a meaningful antiwar movement before the oligarchs start WW3 given the limited access we have on monopoly media airwaves?
Fran Lebowitz says she is really angry from having no power. How do you manage to stay so positive and optimistic? You've seen some shit in your days-from police corruption and family tragedy to career sabotage and as you sang, "Setbacks", but when I hear your sunny pop songs, I'm like wondering how you keep that upbeat attitude!
JOE NORMAL: I'm actually laughing out loud because you totally nailed it all! The way I stay so positive is because I remember that I I'm not OF this planet, I'm only ON this planet. I'm a visitor, an observer. I don't want to get all spiritual and metaphysical and stuff, however when you do have that sort of enlightened sense, it takes the power out of all of that shit going on around us. It deflates it all. It's like you stepped outside the Matrix. That's the state that I live in now.
I was saying before how I decided I'm going to be a beacon of light with my work, and I've dropped the bull-horn of Truth to step above the shit show. It's kind of like turning the other cheek. If you engage in the fight, then they've won no matter what. They want you to be angry. That gives them more power. But by responding with laughter, humor, and love and positivity you win. I think that's the way to raise consciousness and open minds. Well-meaning people are smart, they will see it in their own time. In The Wizard of Oz it took the silly little dog to go pull the curtain back on the wizard because everybody else was frozen there shuttering with fear.
JD STAYFREE: What can you tell me about the social activist and political songwriting podcaster, Mr. John Dissed?
JOE NORMAL: Anthony introduced me to John. They did a podcast together. John is another singer-songwriter who infuses his music with the messages, same as Anthony was doing, and he's quite active on Twitter. We share each others' posts. I saw him last night at my record release show and we were chatting for a while. He's also another person who can see through the bullshit. I think Joe Strummer has made an impact on the type of songs each of us have written regarding issues.
JD STAYFREE: Where can Joe Normal fans look forward to seeing you next?
JOE NORMAL: You can always check out my music videos on YouTube. If you like what you see, please share it with your friends and keep in touch with me. I'm planning to do small patches of touring this summer as well. New Jersey, New York, Pennsylvania areas, plus a stop in Nashville.
I want to focus my efforts on the blue collar towns east of the Rockies at first, with a run up the West Coast. I really want to get back to England as well. At least this is the dream I have for the summer. We'll see how much of that I can manifest.