Perth is a boom town in 2014. The mining industry has gone off the boil but it's still a far cry from what it was in the early '70s. Back then, cultural links with the outside world were tenuous at best. Punk was an imported record and an image on the cover of a hard-to-find magazine. In local hotbeds, its gospel was spread largely by word-of-mouth.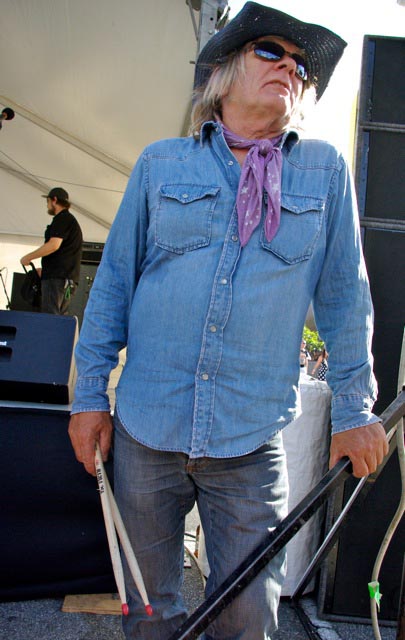 "I'm moving house right now and I'm packing up all my old Rock Scene magazines," says James, down the line from his Perth home.
"You could get those magazines in a few places only. My idols were the New York Dolls. Rock Scene was the only magazine that would write about them - apart from Nick Kent occasionally in NME.
"The British were the only people that liked them, of course. Which is strange. Imagine Middle America not liking people in women's clothing!"
That last observation is accompanied by a raucous laugh. If there's one thing James, drummer for The Victims, The Scientists (in their original pop-punk state), Le Hoodoo Gurus/Hoodoo Gurus, Beasts of Bourbon and Dubrovniks, enjoys almost as much as playing furious and trashy rock and roll, it's talking about it.
Which is what we're doing in the lead-up to an Australian reunion tour by The Scientists, the band that presaged a lot of the Australian music of the '80s and '90s while existing in the relatively splendid isolation of far-flung Perth.
We're talking the early version of The Scientists and a line-up of Kim Salmon (guitar-vocals), Boris Sudjovic (bass), Roddy Ray'da (guitar) and Baker seen by relatively few people. True originals and part of the first waves of Australian punk.
Of course as far as Perth is concerned, a rehearsals-only band called The Geeks came first. Baker was part of them and was in the audience when they were beaten to the live performance punch by the Cheap Nasties, whose number included future Scientists frontman Kim Salmon.
But before either band drew breath, James Baker had been indoctrinated into the music of punk's most esteemed precursors by an American expat.
"I met this guy called Ray, he used to play in a band with me called Black Sun. We would cover The Stooges and the Velvet Underground and The Doors," James explains.
"We only played high schools. We couldn't play at all. We used to cover those bands. He was 16-17 and American - from Detroit. His father got sent out there because he was an oil company worker."
Shades of Deniz Tek and TV Jones in Sydney, circa 1974…
"Ray turned me onto all those bands - Stooges, the MC5, the Velvets. And the New York Dolls. Between him and me reading all those magazines, that's how I found out about them."
Punk became even more ingrained in the Baker psyche when he took off to London as a 16-year-old. He was accosted on a bus by a pre-Pistols Sid Vicious who was attracted to his T-shirt, was approached by members of the seminal Clash (also attracted by his dress sense) while they were auditioning drummers - and turned them down because he was out of practice.
Fast forward to Perth in '77. The Cheap Nasties were up and running. The Geeks stalled in the practice room and Baker teamed with Dave Faulkner (aka Dave Flick and a future Hoodoo Guru) and Rudolph V to form The Victims in May.
The Victims recorded and released Perth's first contribution to Australia's independent punk recording treasure trove in April '78, the "Television Addict" b/w (I'm) Flipped Out Over You". It remains a stunning 45, and the tape was sent away by mail to be custom-pressed in Sydney in its barely mixed state, recorded for the equivalent cost (in today's money) of a case of beer.
"We just borrowed the money. It's as simple as that. When we put out Television Addict in The Victims we just did it ourselves, just post it away and get it back. I don't think that was even mastered.
"I was at a disco the other night and they played Radio Birdman, the Ramones and 'Television Addict' and it didn't sound weak at all compared to them. And it cost us 50 bucks. It was all done (three songs) in one night."
Despite a genuine vinyl nugget arriving in its midst, Perth's punk scene remained enthusiastic but small.
"A hundred people. That WAS the scene. The Victims were the only band. There were the Cheap Nasties but they didn't last that long. We were the only band playing original songs. The Triffids came along along later, halfway throughout the life of the Scientists. Us and Dave Warner were the only people playing original music."
Like fellow Australian punk trailblazers The Saints and Radio Birdman, The Victims began in blissful ignorance of what was happening elsewhere in Australia - and in spite of whatever else existed around them. With no real prospects in Perth, however, they fell apart at the end of 1978.
Which was opportune because ex-Cheap Nasties member Kim Salmon's band was in need of a new drummer.
"His band were The Invaders. I remember - we sat out at Victim Manor trying to think up a name for the group. Apparently I came up with the name - which I don't remember.
"Kim didn't play guitar in that band. I said I'm not joining unless you play the guitar. I thought it was stupid - the best guitar player in Perth not playing guitar I thought was fucking stupid.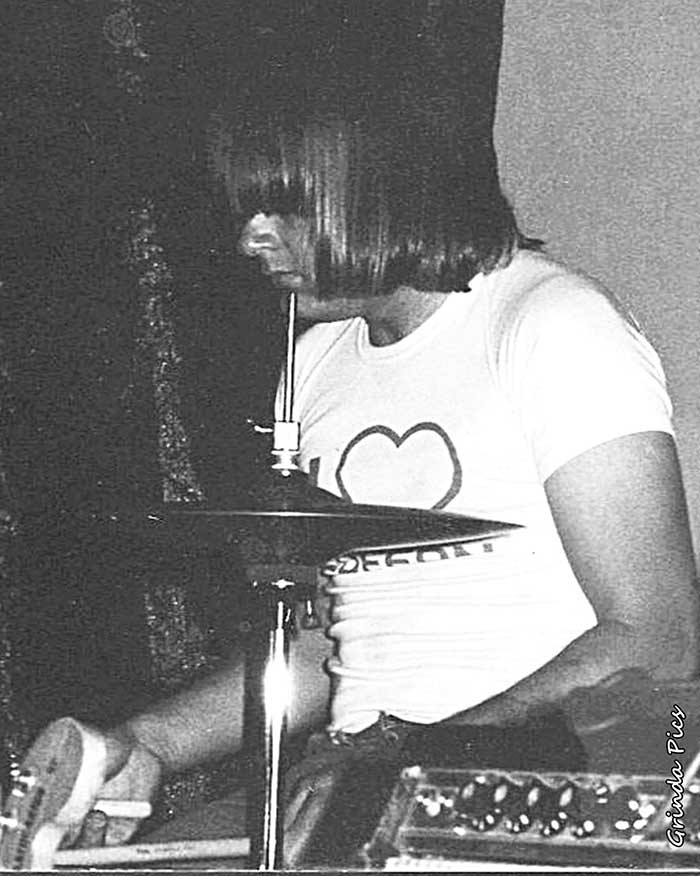 James as a Guru. Photo by Greg Walsh of Grinda Pics
"And we started to write songs right away. We wrote 'Drop Out' and 'Frantic Romantic', I think, in the first week. We did our first gig at a party in North Perth, I think. Then we started a residency at Hernado's Hideway.
"We played mainly Hernando's and the Governor Broome Hotel - to a mediocre response. The arty, post-punk crowd didn't get our fucking Chuck Berry influences. So were weren't that hip any more like the Victims had been."
The Scientists started life with a 10-song set list, eight of which were originals.
"I guess we wrote about 30 songs over the three years I was in the band. Not all of them ended up being on the records. 'Drop Out' was not even recorded by The Scientists.
"We didn't even do it much in The Victims because the bass player didn't like it. We had to stop playing it. Then Salmon played it one day to the Beasts of Bourbon. (Tex) Perkins loved the lyrics and the riff and it's been in there ever since. The only surviving song and it was rejected by The Scientists."
By June 1979, The Scientists had recorded and released "Frantic Romantic' b/w 'Shake (Together Tonight)" under their own steam and it perfectly showcases their punkish-pop sensibilities, equal parts Dolls and Flamin' Groovies. Two tours of Australia's Eastern States ensued in December '79 and February '80, separated by the release of 'The Scientists' EP.
James has few fond memories of the tours, undertaken in the pre-cheap flight era, painfully, by car.
"The first tour - we did one good gig at the Crystal Ballroom (Melbourne) with the Boys Next Door. We played with the Lipstick Killers at Selinas in Sydney of all places - which holds about 8000 people or something. That gig got about100 people.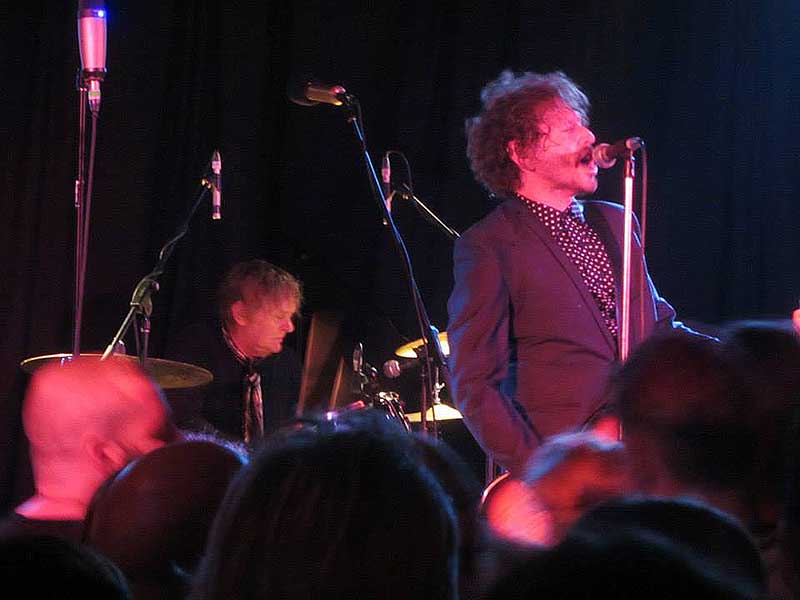 With Kim Samon at The Bakery gig in 2013. Stuart Liljqvist photo
"The second tour - it was absolutely fucked. It was the worst ever tour. We played with crap like Jimmy and the Boys, Midnight Oil. Sherbert, when they changed their name to Sherbs, at the Moonee Ponds Hotel in Melbourne."
Agency-booked tours were notorious for mis-matched bills. The Scientists runs were no exception.
"We played a support to Mother Goose. We're trying to look like the Heartbreakers in our leather jackets and scarves and there's a guy getting dressed up as a bumble bee! It was fucking hilarious!
"Mother Goose playing 'Baked Beans' and we're playing 'Chinese Rocks'! Out in the suburbs and people are throwing cans at us. It was hilarious! And we had no money either - we had to steal beer from them - we were penniless!"
The second tour was significant for The Scientists becoming the first Perth band to make an appearance on Countdown, the massively influential and largely mainstream TV program that went out on ABCTV nationally every Sunday night. The band played 'Last Night' (from their EP) and were probably crossing the desert of Australia's Nullarbor Plain when it went to air.
"We almost didn't make it back to Perth. Ben Juniper (guitarist) was in the band. His father is Robert Juniper, the famous artist. He lives in the Perth Hills.
"We stopped at his house as we'd run out of petrol and money. He gave us five bucks. We put a dollar's worth of petrol in the car and bought four cans of beer! We'd crossed the Nullarbor with no food. All we had was water!"
The Scientists shrank to a trio and recorded an album ("The Scientists" aka "The Pink Album") that's been re-issued, along with their other recordings. By the time the LP came out, the band had broken up and Baker had left Perth for Sydney to play with former Scientists bandmate Roddy Ray'da and ex Cheap Nasties/Victims guitarist Dave Faulkner in Le Hoodoo Gurus.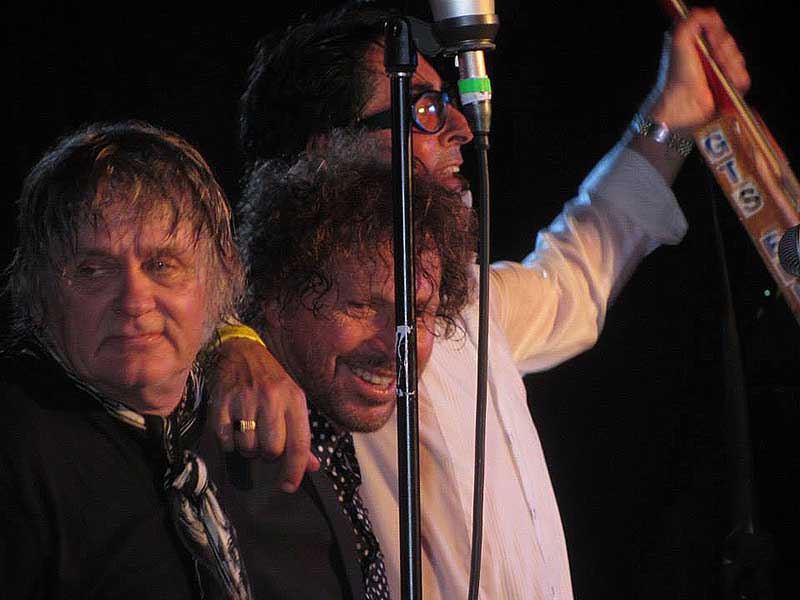 Taking their bows at The Bakery (fron left) James Baker, Kim Salmon and Roddy Ray'da. Stuart Liljqvist photo
Kim Salmon stayed in Perth, played with a band called Louie Louie. Late in 1980, he also upped stakes, headed to Sydney and formed a different line-up of Scientists (with earlier bass player Boris Sudjovic) to take a very different path. These Scientists, playing a noisy deconstructed version of the blues full of drone, has been credited, in part, for inspiring grunge.
So why revive the Perth edition of The Scientists so many years later?
"Boris and I and Kim got together with the Beasts to do the festival reunion thing last year and we thought why not do the Scientists for the fun of it?" James says. "I didn't think it would happen. I didn't think Kim liked the idea."
A one-off show in December at Perth venue The Bakery garnered excellent reviews.
"We recorded it and it actually sounds fucking great! It's powerful and raw - better than I thought it would be.
"I don't know if it will come out. The songs much better than we played them 35 years ago."
Punters can expect a set much the same, with the early songs supplemented by occasional iconic covers that might surprise.
The tour's timing is perfect for James Baker. He's moving house because he's recently engaged to be married. His main band, The Painkillers (a primal duo with blues guitarist Joe Bludge), has been on a sabbatical. The first show of the tour in Perth will be a curtain-raiser to a landmark birthday party.
"I've got my 60th birthday party coming up the night after the Scientists gig in Perth. On that night, I'll do a Painkillers set with Martin Casey (Bad Seeds, The Triffids) on bass. We'll get a few more bums up on stage hopefully. You might as well celebrate your 60th with rock and roll!"
The Scientists 35th Anniversary Tour
Saturday 15th March – The Rosemount Hotel, Perth
Thursday 27 March - The Trans, Brisbane
Friday 28 March - The Factory Theatre, Sydney
Saturday 29 March – Howler, Melbourne
Sunday 30 March - The Governor Hindmarsh, Adelaide