They Will Persuade You: Huxton Creepers return to home town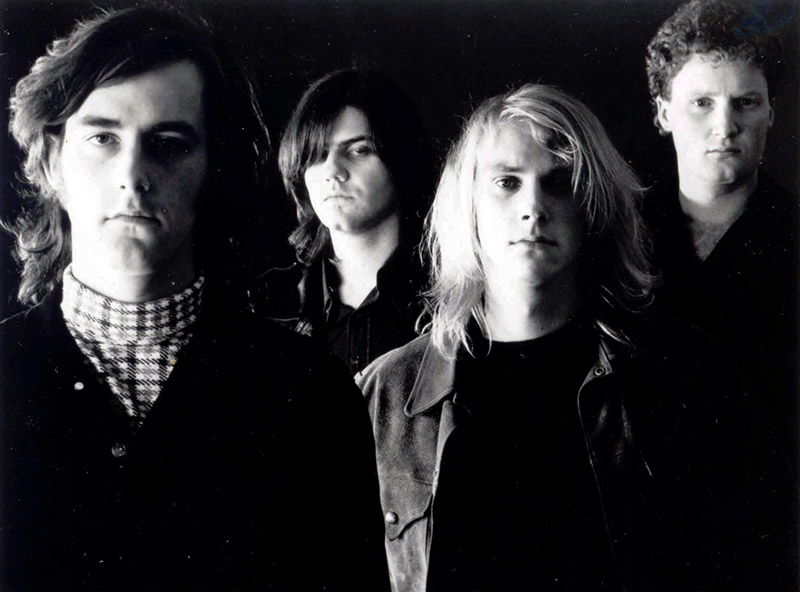 Huxton Creepers in their '80s heyday.
Combining elements of powerpop, grunge, and the sort of hard-edged rock 'n' roll that only comes out of Melbourne, the Huxton Creepers were one of the of the best bands in Australia in the '80s. With three well received LPs and non-stop touring, the Creepers, while only round for five years, certainly made their mark on the scene in Melbourne but also all over the country, playing anywhere and everywhere.
The Creepers are back playing a rare show at the Corner Hotel on Saturday, 27 August, along with other '80s legends the Gas Babies and Intoxica.
Huxton Creepers lead singer Rob Craw was happy to reminisce on the bands original run, and also what keeps them coming back for more.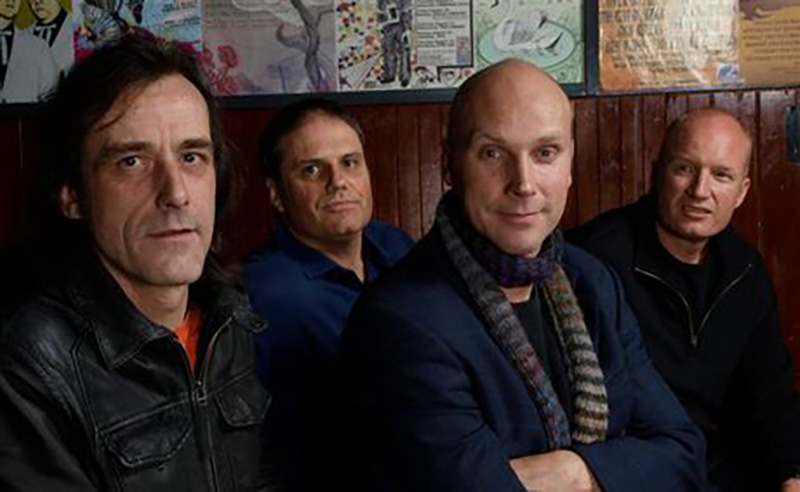 Huxton Creepers today.
I-94 Bar: you're playing a gig at the Corner, a rare show for you guys, what led to this?
Rob: Essentially, two-three years ago we did a gig at the Curtin Hotel. We hadn't played for a while, we used to play every three or four years. A lot of people want to see us and we get feedback on Facebook. We were meant to do two shows at the Curtin, one was sold out, but we decided to do one show, and do a bigger one at the Corner. Then COVID hit, so we delayed finishing what we planned to do.
We might even have a new song to play around with, a different cover. We have an audience that want to see us and we still all enjoy each other's company, weirdly enough after all these years,. When you're a young band, spending hours in a van together you annoy the car out of each other after a while. But it's good to catch up, and that's why we do it.
I-94 Bar: And this Corner gig will be the Gas Babies' first gig since the '80s?
Rob: Yes. I was speaking to Russell (Baricevic) a while back and he confirmed it is. I think there missing one member who is in London. We used to love playing with them, and we have Intoxica, and several members of Intoxica used to be in the Corpse Grinders, we used to play all these swamp nights, not that where a swamp band, at the Prince of Wales and Seaview ballroom, and we loved the Corpse Grinders. It was great to play with them.
I-94 Bar: Essendon Airport a few years back had a re-release, and I read an interview, and when asked if the band was going to reform for some shows, one of the members mentioned they had a rehearsal but the magic wasn't there any more so they didn't bother. I take it the Creepers don't have that issue?
Rob: No, as you get older you have your differences of opinion on somethings, and that's always there, but we were young, Matthew self-taught himself the bass, I was a hack, Paul was the only one that could play an instrument properly. We should be a little bit better then what we used to be with our skills. But there is nothing better than being match fit, because we used to tour endlessly, so we could play our songs with our eyes closed.
It's funny how it always comes back to you, but we should be better at our craft but not necessarily the case. But we still have the energy and fun, we joke around never took ourselves too seriously. And that's why we can still do this, as there's no pretence about what we were. We were a rock n roll pub band, good time enjoy yourselves, and chat with the crowd, so there was no super high benchmark to reach.
I-94 Bar: You guys all met in Scotch Collage, how did you all met up, and what connected?
Rob: I got together with Paul, as we both had elder sisters that were into alternative music at the time. Paul's sister was a Birdman fan, I was into the Saints, my sister gave me one of my first singles which was "Human Fly" by the Cramps. So we were exposed to indie music at a young age.
Paul was a great guitarists, and a really good double bass player. Matthew said he was interested in playing, he never played bass but we thought about it so we said you're in, Archie had played drums, and I wanted to write songs.
Our first rehearsals, we loved the Saints EP "Paralytic Tonight, Dublin Tomorrow", so our first rehearsals was going track by track and learning that EP. I played with Paul and played other songs. When he was younger he was in soul bands as well. so we had a mix of influences, we liked soul music but we loved inde rock as well as new wave rock, the Pretenders, Elvis Costello, and also inspired by that melodic pop aspect, hence the Flamin' Groovies. But our first rehearsal was "Paralytic Tonight, Dublin Tomorrow".
I-94 Bar: Listening to your records, there is a variety of styles, bit of pop, bit of punk, but also a bit of grunge, and you guys were after the Scientists' but pre Nirvana.
Rob: Yeah but there was a lot of influences. We were into the Stooges; we used to cover "Search and Destroy", so we were influenced by what they call punk. I just call it good rock n roll, like the Clash.
We were influenced by a rough sound, but when we recorded our first LP, all the rough edges were smoothed out…big studio, two producers, and the record company trying to break us into the mainstream. A lot of our sound was processed but that was the '80s, it happened to a lot of bands, such as the Models. We were young, we didn't know how to say no, too many thing sway you when you're 20.
I-94 Bar: You mentioned people trying to change your sound to break the band into the mainstream, did the record labels want you to tighten thing up a bit or did they want a 180 degree version of your look and sound?
Rob: We signed with an indie label called Big Time, that the Hoodoo Gurus were on. They were great as an indie label, and they really wanted our songs to be heard. We didn't shy against being played on top 40 radio, as we write guitar rock songs, and we would fit into that market. We didn't see ourselves as the darlings of the indie scene. Just saw us as a band that produced rock/pop songs, and we could have a chance at getting our songs heard.
With that process, going into the studio with a bit of money, the engineers want to play with technology, there's pressure from radio, I was even told our songs need to be 120 beats per minute to get on commercial radio. So there's all these pressures coming from all directions, and unless you have a solid idea yourselves and a manager backing you for your vision, the process drives you to that cleaner sound. I
f you're spending weeks in a studio you may go through that organic process, so it's a whole lot of factors that push you in that direction. But looking back I wish we had said to ourselves, 'This isn't what we wanted when we started'. I so wish we dug our heels in and said, 'The songs are good, let's not do the drum machine because radio wants it'.
I-94 Bar: The Creepers to me seemed like one of those bands that had that cross over, like the Sunnyboys or Hunters and Collectors, in the sense that you could see a band like your being playing on both Triple M and Triple R. A band both the mainstream and the underground can enjoy.
Rob: I mean we wanted that crossover, but didn't necessarily achieve it. The only times we really got played on commercial radio was when we did covers, and we thought that would be the lead in to maybe our next LP which was recorded more organically: Real drums, not too processed. And we had some songs that I thought would be a step into it, but we didn't get picked up. And our label Big Time got picked up by BMG, and we got assumed into BMG and got lost in the process.
But hey, that's the story of rock n roll. Also we didn't work hard enough on our craft. You know, write 40 (songs) keep 10. Fun was what we were about. So we aimed for the mainstream, just didn't get in there.
I-94 Bar: Considering in the '80s there was a bunch of Australian bands based in Europe, was there any plans on an attack on Europe, or the States?
Rob: Absolutely. We had a few songs on the college charts in the US. Our manager went over to line up a tour for us, he went to LA and New York, and that when Big Time got taken over. So he went, and we had plans, and then it fell apart. We did get to New Zealand. So that was something. Again we got lost in the process and things slowed down. So due to the college radio thing we aimed on the States, but it didn't happen. It's not a sad story. We did have fun. Frustrating, but not sad (laughs)
I-94 Bar: A mate of mine wanted me to bring this up, he says he saw you guys perform in his high school gym, somewhere in NSW in 1986, when the school won a contest on Triple M, and the prize was a band playing at his school, but they didn't know who the band would be till the night of the gig.
Rob: And they got us! (laughs). One year we played over 350 gigs. Back then, there was no house PAs and we worked really hard gaining a live audience. So we would push for gigs and do things like high schools. I remember the high school where I work - I played there once, and when I went for the job, that was brought up. We had Jeremy Oxley as the MC. So high schools, Leagues clubs, gyms in the middle of nowhere, we did everything. All these places like Parramatta Leagues. Sometimes it's empty, or sometimes full but no one's paying attention. So your mate would have seen us as we toured relentlessly.
I-94 Bar: What does the future hold for the band? Any plans on returning to the studio?
Rob: Maybe back to the studio, but I'd like to do a giveaway vinyl release. When we first played, we had a giveaway seven-inch that was done before we recorded properly. That kind of thing, I'm interested in. And I'd like to get our second LP ("So This is Paris") on CD as well. I think we released it on CD at the time, but I've lost my copy. Got it on vinyl but want it on CD.
We'll still do shows, but we don't want to be that heritage act that plays every year, maybe do Sydney, Brisbane then come back a few years later. I don't want it to be 'Hey there's a festival, let's jump on that'. It's nice doing it when we can, and to pub audiences who want to come back. It's also a great way to catch up with people. For our last gig at the Curtin, friends from Brisbane and Perth came down. It's a great community to be around.
Huxton Creepers play the Corner Hotel, Saturday 27 August, with Intoxica and the Gas Babies. Tickets here.
Tags: melbourne, huxton creepers, rob craw, the corner