Houston had been "mucking around" with home demo recordings since returning from a lengthy stint living and working overseas, "sampling tracks, layering guitars, didn't have even bass or drums, just had one guitar just with different tone effects to try to get different instruments".
The name aside, Houston was sufficiently satisfied with his initial recording foray to take the Black Bats project a step further. In late 2016, the first live incarnation of Black Bats appeared, with Andrew Fazio on bass, Grace Kindellan on guitar and Jacey Ashton on drums.
A debut eponymous album reflecting the "surfie, '50s garage sound" Houston had taken as his original inspiration was released in 2019 on Houston's Cactus label (the CD version was released on Mick Baty's Off the Hip label).
By the time Houston got to recording Black Bats' second album, "Psychic Retreat", the band's core line-up had changed again, with Tim Rowles (Bad Bangs, Foggy Notion, Double Polyester) assuming drumming duties.
"With the second album, I moved more into a Western-y surfie-ness," Houston says.
Scroll forward a couple of years, and Black Bats has evolved again. Rowles decided he was spread too thin across various projects and decided to focus on Bad Bangs ("Black Bats was the last band he joined, so it was the first for him to leave"). Black Heart Death Cult leader Sascha Smith suggested recent Black Heart drummer Keith Ratnan as a suitable replacement, while Kelly Watson from The Braves entered the fray as second guitarist, with Neil Smith on bass.
For Black Bats' third album, "Stay Dead", Houston wanted a "more chilled feel" because "sometimes in the night time or morning you just want something a bit more cruisey in the background", Houston says. "I was keen to get some organ, something a bit more lush that grows on you, rather than a straight up garagey sort of thing.
"I was always saying that this album is more of the loungey record, but people have said 'What are you saying, it's not lounge at all!' I think it's really chilled, but people might just listen to it and say it's just the same, what are you talking about! But when I was recording, I was saying to err on the side of less tempo, less attack."
Unlike the previous albums, "Stay Dead" was recorded as a band, with Jesse Bolte from The Braves and Shelby De Fazio from Bad Bangs contributing saxophone and guest vocals respectively.
"Stay Dead" will be launched at Houston's recording studio and venue, Cactus Room, in Thornbury in Melbourne on Saturday 19 August. Originally a belt and button factory back in Thornbury's halcyon light industrial heyday, the premises had been turned into a rehearsal studio 20 years ago, hosting predominantly louder, metal-inclined bands.
Finding the studio on the market was the catalyst for Houston leaving his job as a project manager with a suburban housing development company.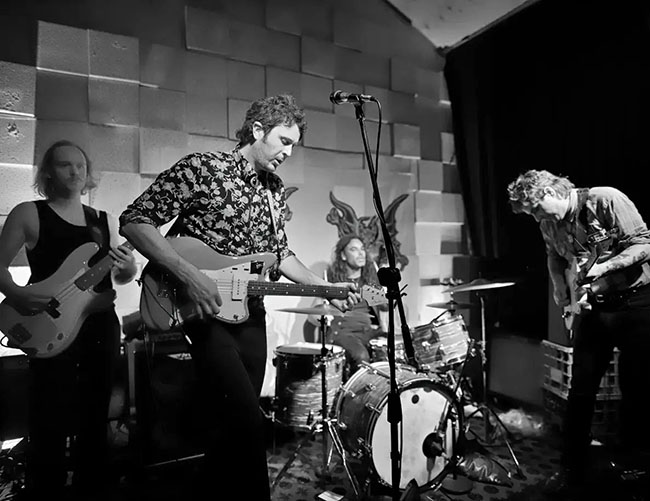 Peter Cahil photo
"That job was pretty stressful, hated it, so I wanted to do something else," Houston says. "Neil [Smith], who plays bass in Black Bats, was in a similar spot. This place popped up, so I rang the real estate agent and asked if all the sound proofing was still in, and they said 'Yeah, we'll rip all that out' and I said 'No, that's not what we want!'."
The venue was quickly renamed Cactus Room and, after an initial BYO period while government authorities assessed the business's application for a liquor licence, it became a fully-fledged live music establishment.
"[Cactus] was way looser back when we started it," Houston says. "People would drink a lot more and leave it, but when you've got a licence it's way easier to control. But I guess at the time we were only having gigs once a month, maybe once every two months."
Importantly, Cactus Room has become a haven for younger bands who might otherwise struggle to find a place to ply their craft.
"You need a launching pad for new bands," Houston says. "A lot of bands rehearse here, so you get to know them and book a gig. And because it's a small venue, even the headliner isn't going to be a band playing the corner, so the supports will be smaller still."
Back to Black Bats, and once the dust has settled on "Stay Dead", Houston aims to return to another, more angular record that he sees balancing the more reserved tempo of 'Stay Dead'.
"At the same time we were doing this album, I was keen to do another album that was a bit more upbeat and angular and aggressive. So this was the slower option of the two I was making at the time. So there's another one to go. Not angry, but more angular, less reverb, a step away from the psych-ish feel."