All-star Simon Chainsaw recording exhumed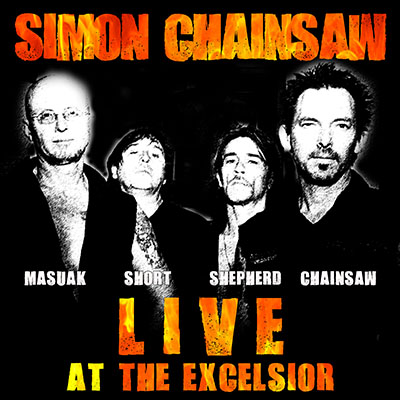 The year was 2010, Sydney-born Simon Chainsaw had been living in Brazil for about 10 years.
His local band S.C.H.K. (Simon Chainsaw & the Hippy Killers) had recently broken up. Now a free agent, he could take up opportunities to play in different territories.
He'd recently toured Brazil, Europe and Argentina and released "Fuck The Neighbours!" (cover versions of '70s Aussie Punk) and a proposal came in to play back in his home turf of Australia to promote the new disc.
He hooked up with three original '70s Aussie punks for the shows: Chris Masuak (Radio Birdman, Hitmen, Screaming Tribesmen) on guitar, Murray Shepherd (Fun Things,Screaming Tribesmen, Hitmen and The Monarchs) on drums and Bob Short (from arguably Sydney's first punk band Filth and later Dead Rabids) switching from customary guitar to bass.
One of a handful of shows was captured live at Sydney's infamous Excelsior Hotel on a sweaty November evening. Recorded live off the desk with no overdubbing, it's a raw spontaneous rock'n'roll powder keg!
Simon Chainsaw "Live at the Excelsior" brings you a mash up of Simon's originals plus some choice cuts from '70s Aussie punk. It's available digitally.
Tags: hitmen, bob short, radio birdman, filth, simon chainsaw, screaming tribesmen, chris masuak, murray shepherd, live at the excelsior