Bowl me over! The Johnnys are back.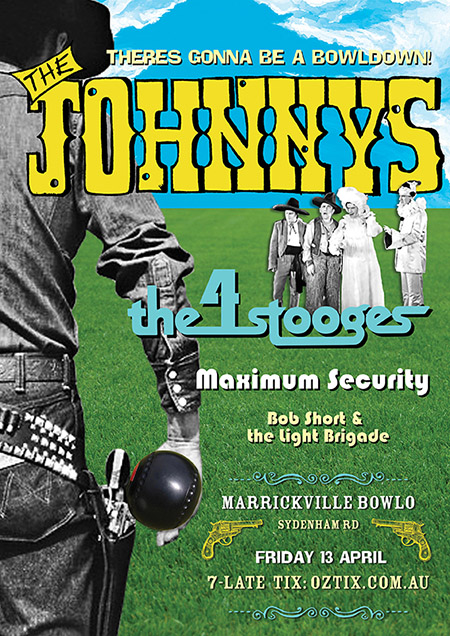 After seven years, thousands of kilometres and innumerable demolished backstage riders, The Johnnys were Australia's indisputable, rough riding champions of cowpunk.
Fresh from two gigs in New Zealand, The Johnnys – Graham Hood (bass and vocals), Slim Doherty (guitar) and Billy Pommer (drums) - will play their first Australian show in two years, headlining Marrickville Bowling Club on Friday, April 13.
They'll be joined by The Four Stooges (Australia's only Stooges homage band), Maximum Security (launching their debut album) and Bob Short & The Light Brigade.
The Johnnys formed in Sydney in 1982 when bass guitarist Graham Hood tried out for the Hoodoo Gurus after quitting the Allniters. He met Hoodoo Gurus' guitarist Roddy Ray'da and, with drummer Billy Pommer, they formed The Johnnys, playing their first show at Palms Disco on Oxford Street in Sydney.
New Zealand-born Spencer P. Jones joined on guitar and the four-piece released their single "I Think You're Cute" in October on Regular Records. Ray'da left and the band signed with independent label Green Records before joining major imprint Mushroom.
They racked up eight singles and three albums, playing almost every pub and club the length and breadth of Australia and convening an instant party wherever they went.
The Four Stooges are not a Stooges tribute band, but a self-described live Stooges fan club featuring members of the New Christs, X-Ray-Spex, Celibate Rifles, Buffalo Revisited and Filth. Led by Mushroom Planet singer Ripley Hood, the songs are played with all the love, passion and science they deserve.
Maximum Security is led by Guy de Varine-Bohan and includes members of Sydney's most hated band, The Stukas. A product of Sydney's punk scene of the early '80s, they're launching their CD, "Never To Be Released".
Bob Short & The Light Brigade is the latest project for Bob Short, one of Sydney's original punks who played guitar for Filth, forerunners of Radio Birdman favourites The Psychosurgeons and The Lipstick Killers.
Tickets are selling fast and can be procurred here or on the door on the night (if there are any left.)
Tags: bob short, the johnnys, marrickville bowling club, the stukas, 4 stooges, four stooges, maximum security