Buzz as Melvins man heads Down Under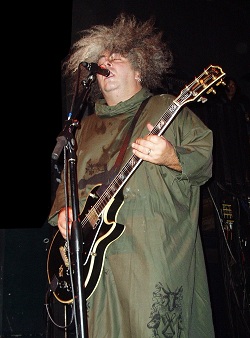 Melvins frontman Buzz Osborne (aka King Buzzo) is headed to Australia for a 10-date solo acoustic tour of Australia in August. With a career spanning 31 years, 30 albums, and over 2,000 live performances, this tour marks the first time that the monarch of metal has performed acoustically in intimate settings.
Buzz is the frontman and founding member of Melvins, whose dark and sludgy sound influenced the work of many acclaimed grunge and metal bands including Nirvana, Soundgarden, Green River and the Seattle music scene itself.

Last year The Melvins released their 19th studio album "Tres Cabrones" which was declared to be a "psychedelic hard-rock gem." King Buzzo's solo and acoustic debut "This Machine Kills Artists" is out on May 30 through Ipecac Recordings. Across 17 tracks, it uses no electric guitars, amplifiers or direct boxes, offering a surprising new side to the grunge progenitor and a rawness that spotlights his skill as a songwriter.
KING BUZZO AUSTRALIAN TOUR AUGUST 2014
All shows 18 and over. Frontier Members pre-sale via www.frontiertouring.com/kingbuzzo from 26-27 May with general public on sale from 10am local time on Thursday 29 May
Wed 13 Aug - Adelaide - Enigma Bar www.Moshtix.com.au
Thu 14 Aug - Geelong - Barwon Club www.Oztix.com.au
Ph:1300 762 545
Fri 15 Aug - Melbourne - Ding Dong Lounge www.Oztix.com.au
Ph: 1300 762 545
Wed 20 Aug - Newcastle The Small Ballroom www.Oztix.com.au
Ph: 1300 762 545
Thu 21 Aug Sydney -Newtown Social Club www.Newtownsocialclub.com
Ph: 1300 724 867
Fri 22 Aug Wollongong - Anita's Theatre www.Yoursandowls.com.au
Sat 23 Aug - Canberra - Transit Bar www.Oztix.com.au
Ph: 1300 762 545
Sun 24 Aug- Brisbane- Black Bear Lodge www.Oztix.com.au
Ph:1300 762 545
Tue 26 Aug Perth - Astor Lounge www.Showticketing.com.au
Ph: 08 9370 5888
Tags: punk, solo, tour, king buzzo, melvins, grunge, acoustic