Cheetah Chrome takes to the streets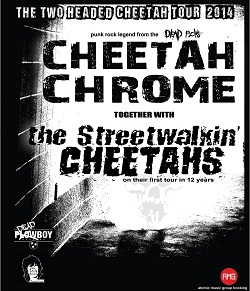 It's an entirely name-worthy pairing: Los Angeles' best punk rock and roll band, The Streetwalkin' Cheetahs, are teaming with Dead Boys guitar legend Cheetah Chrome to hit the road in the USA.
The Cheetahs (and Cheetah) have announced a series of gigs in California and Las Vegas starting with a live-in-studio show on KXLU radio 88.9 FM Los Angeles on March 26. If you're not in LA you might want to go here to stream it.
Cheetah (Chrome, that is) is promoting his solo record on Plowboy Records. The Cheetahs (the Streetwalkin' ones) are celebrating playing together again after sporadic get-togethers. Sounds like a lethal combination and one well worth hocking your house and your first-born to catch.
Two-Headed Cheetah Tour dates:
Thursday, April 3rd at Soda Bar in San Diego, CA
Friday, April 4th at Whisky A Go Go in West Hollywood, CA
Saturday, April 5th at M-15 Concerts, Corona, CA
Sunday, April 6th Stories Books and Café, Silver Lake, CA (4pm in-store)
Sunday, April 6th Spike's, Rosemead, CA
Thursday, April 10th at Dive Bar in Las Vegas, NV
Friday, April 11th at Blank Club in San Jose, CA
Saturday, April 12th at Thee Parkside, San Francisco, CA
Big-name partnerships arte something of a past-time for the Streetwalkin' Cheetahs who have previously worked with Deniz Tek (Radio Birdman) and Cheries Currie (The Runaways) on recordings. The tour will be their first substantial run for 12 years.
Tags: punk, cheetah, chrome, cbgb, boys, dead, cheetahs, streetwalkin