Details

By

The Barman

The Barman
Chris Masuak's Dog Soldier to assault French stages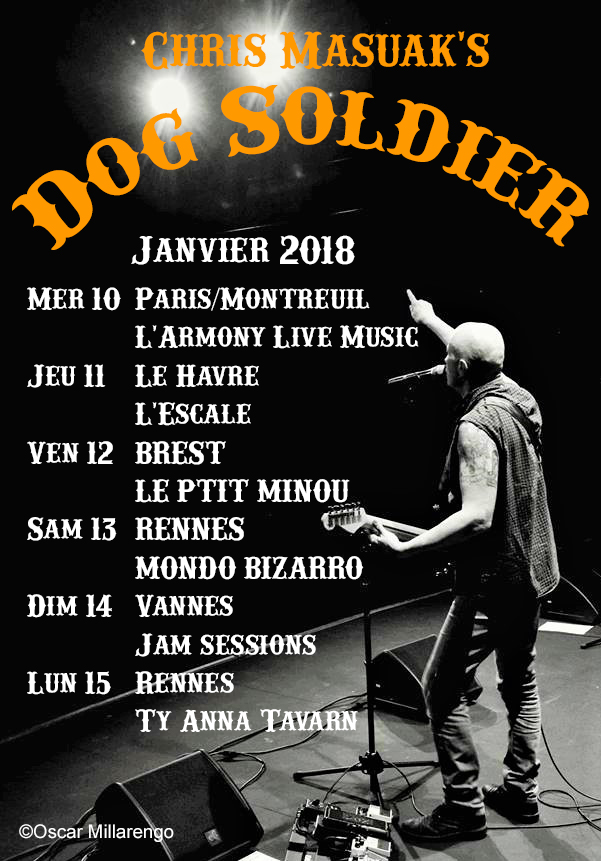 Chris Masuak is embarking on his first French tour in three years in January 2018 with a new band, Chris Masuak's Dog Soldier.
Masuak carries one of rock 'n' roll's proudest pedigrees, his musical history reading like a "Who's Who" of the Australian underground, so he should need no introduction around here.
The Canadian born Masuak first achieved notoriety as the teenage guitarist for legendary Radio Birdman, the torch-bearers of punk rock in Australia.
He subsequently went on to form The Hitmen, played in the New Christs and the Screaming Tribesmen and now lives in Spain where he plays and tours regularly.
Dog Soldier celebrates and preserves that proud tradition, with members from Europe's underground and cult elite.
Bruno Mondo, bass player from The TV Men, Gunners, Trotskids and The Outside, is a veteran of France's punk rock scene. Juan Martinez El Karaq is the drummer, from Spain's hardcore elite and Masuak's power-punk trio, Viveiro Wave Riders.
JANUARY
10 - Paris/Montreuil - Armony Live
11 - Le Havre - L'Escale
12 - Brest - Le Ptit Minou
13 - Rennes - Mondo Bizarro
14 - Vannes - Jam Session
15 - Rennes - Ty Anna Tavarn