COVID-truncated trip births new Johnny Casino 45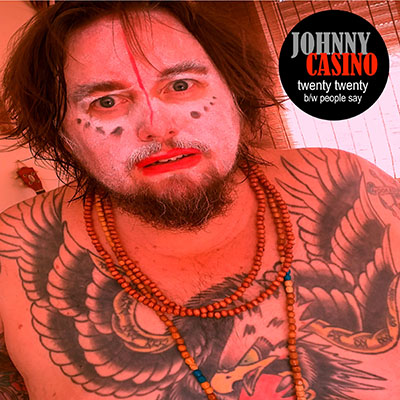 It's said great songwriters know to write about the things they know about. Johnny Casino has a new 45 imminent and it reflects the strange times in which we all live.
"Twenty Twenty" was written and recorded in the early days of COVID-19 as the expatriate Australian was stuck in Philadelphia, trying to work out a way to get back to his adopted home of Spain. The flip, "People Say", is a Bored! cover recorded in Spain in stripped-back style as a tribute to that band's late frontman Dave Thomas, who passed away in 2020.
The vinyl single is out on Spanish imprint Folc Records on January 15 and available for pre-order here.
"'Twenty Twenty' explains how i was feeling during the months of March and April 2020," Johnny says. "I had just touched down into Philadelphia International Airport and my brother-in-rock Billy was waiting to pick me up, and his first words were: 'Brrother I´m surprised they let you in.¨
"I had no idea what he was talking about!"
Casino explains: "Me and my wonderful wife Mayra live in a smallish seaside town called Denia in Spain and we knew there was ¨something¨ happening but not exactly what! We ain't much for watching news or current affairs programs.


"I had work planned and concerts planned for the next three months in America and Australia and all those plans were now off the table! And the only thing left on the table was trying to get back home to Spain!"
Local band St James and the Apostles were on hand and supplied the backing for nine songs, with "Twenty Twenty" the first taste of that session.
"Twenty Twenty" was recorded and Mixed by Jamie Mahon and Mike Kiker at Green Rock Recorders in Philadelphia, Amorica. Produced by the Cousins. ¨People Say¨ was recorded live and mixed by Pepe Tigruss at Estudio Tigruss in Els Poblets, Spain. Both songs were mastered by Loki Lockwood at Spooky Manor in Melbourne, Australia.
Tags: johnny casino, bored!, folc records, people say, twenty-twenty